A customized print-friendly version of this recipe is available by clicking the "Print Recipe" button on this page.
Crunchy Whole Grain Chocolate Chip Cookies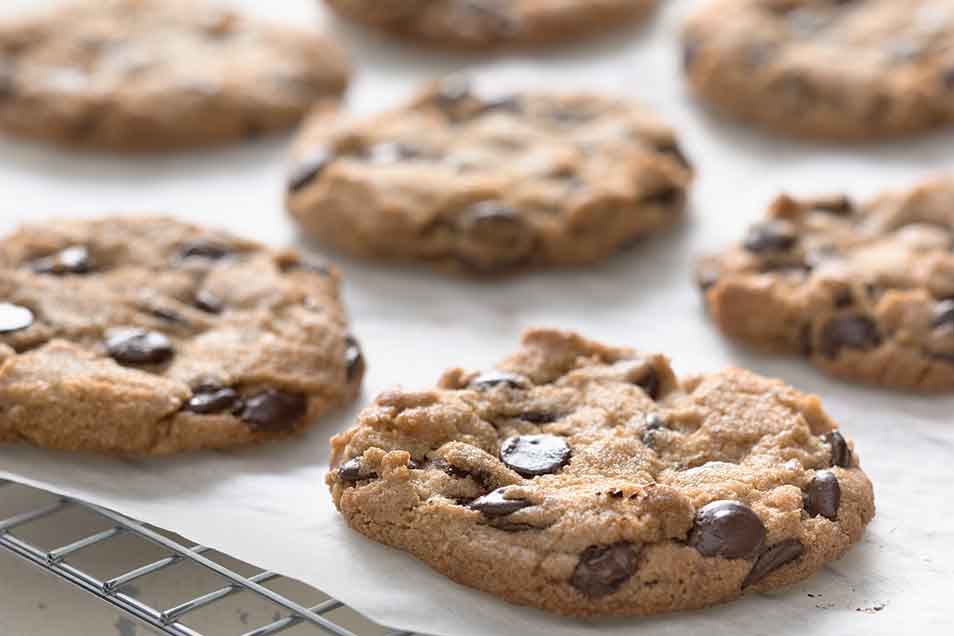 Light and crisp, absolutely packed with chocolate chips, this is the quintessential crunchy chocolate chip cookie. The addition of barley flour to the dough gives the cookies a pleasant, mild taste. To ensure crunchiness, be sure to bake these cookies thoroughly; they should be golden brown all over, without any hint of softness in the center.
Instructions
Preheat the oven to 350°F. Lightly grease (or line with parchment) two baking sheets.

In a large bowl, beat together the butter, oil, sugars, vanilla, espresso powder, and salt until smooth.

Beat in the vinegar, egg, baking soda, and baking powder. Stir in the barley flour and whole wheat flour, then the chocolate chips.

The dough will appear oily, and because of the quantity of chocolate chips, it won't be completely cohesive; that's OK.

Drop the dough, by tablespoonfuls, onto the prepared baking sheets. Bake for 15 to 17 minutes, until the cookies are an even golden brown.

Remove from the oven, and allow to cool for 5 minutes before transferring to a rack to cool completely.

Store in a cookie jar for up to 5 days, or freeze for up to a month.
Tips from our bakers
Substitute whole wheat flour for the barley flour, if desired.
Reviews
This is a great recipe as is, however, it is a great basic recipe that you can modify to meet your needs. I use the stevia sugar and brown sugar (reduced amounts) and half the amount of chocolate chips. I've used all graham flour as well as 1/2 whole wheat and 1/2 oat flour. No matter what the cookies come out wonderfully.
I've never used barley flour but wanted to use graham flour. I did 1c graham, 1/2c whl wht, 1/2c white flour. I substituted 1 1/4c turbinado sugar & used bittersweet chips w pecans. They are awesome! Light crispy delicious ! Dough was loose so I just used my hands to lump dough onto sheet.
Great flavor. Made this with the barley flour, espresso powder and cider vinegar (what's the purpose of the vinegar?). But made modifications as others have. Reduced sugars to 1/2 cup each. Used 1 cup pecans and 1 cup choc chips - just the right amounts. Dough is gooey, not stiff. Refrigerated 1/2 hr prior to forming and baking, came out more cakey than crisp, but quite good texture - crackly tops. (Maybe they'd bake up crispier if not chilled first, but I worry about spreading due to dough consistency.) Baked at 325 convection for about 15 mins, rotating pans halfway through.

We're glad you enjoyed these cookies, Susan! The vinegar is there mainly to work with the baking soda as a leavener but it also cuts the sweetness to give a more well-rounded flavor. If you're looking for a crispier texture, try replacing some or all of the brown sugar with more granulated sugar, or, shorten the rest period in the fridge to about 30 minutes and see if you enjoy the texture that results in. Annabelle@KAF
I had to bake them a but longer (20 min) but they turned out wonderful! I'll reduce the amount of chocolate chips and sugar next time as I always add some pecans to my cookies, and it was hard to scoop the "batter" onto the baking pan (too many particles, too little dough).
These were fantastic! Everyone at work loved how the espresso powder enhanced the chocolate flavor. I typically prefer a softer chocolate chip cookie but these had a nice crunch to them. Will definitely make again.
Yummy cookies baked as written. Next time I will reduce the sugar and butter as suggested by other reviewers.
I love these cookies!!! That being said, I also give the original recipe a 4 star rating because I cut the total amount of sugar called for by 1/3, used half the amount of chocolate chips, and half the amount of butter. The cookies were still lovely and crunchy, and more than sweet and "chocolatey"enough--I cannot imagine using the 24!!!!!! tablespoons of sugar! originally called for! In a recipe that calls for the healthy use of whole-grain flours, using that much sugar makes absolutely no sense--and I speak as a baker who has a sweet tooth! I also notice quite a few comments about adjusting the amount of sugar in this recipe, so I guess I'm not the only one who felt the need to do so....
Me and my 3 year old son use this recipe today. We love the result!. So crunchy! We replaced vegetable oil with olive oil, only used 2/4 cup of brown sugar and only used all whole wheat flour. We didn't add chocolate chips but replaced it with flex seed and unsweetened chocolate powder. Turn out so delicious! Love it!
I used the reviewers comments to modify this recipe. Used olive oil and fig balsamic vinegar instead of what the recipe called for and used only the brown sugar, whole wheat flour and added only one cup of dark chocolate chips. They are crispy and delicious.
I have made this recipe several times now with great success. It is now my go-to recipe for cookies that I am taking to an event. They have come out great each time, look good, taste good, and travel well. They are delicious, crisp, yet have a lightness to them. I would guess they are a bit healthier (as much as a cookie can be) because of the whole grain flour and oil rather than shortening or butter.