A customized print-friendly version of this recipe is available by clicking the "Print Recipe" button on this page.
Crunchy Whole Grain Chocolate Chip Cookies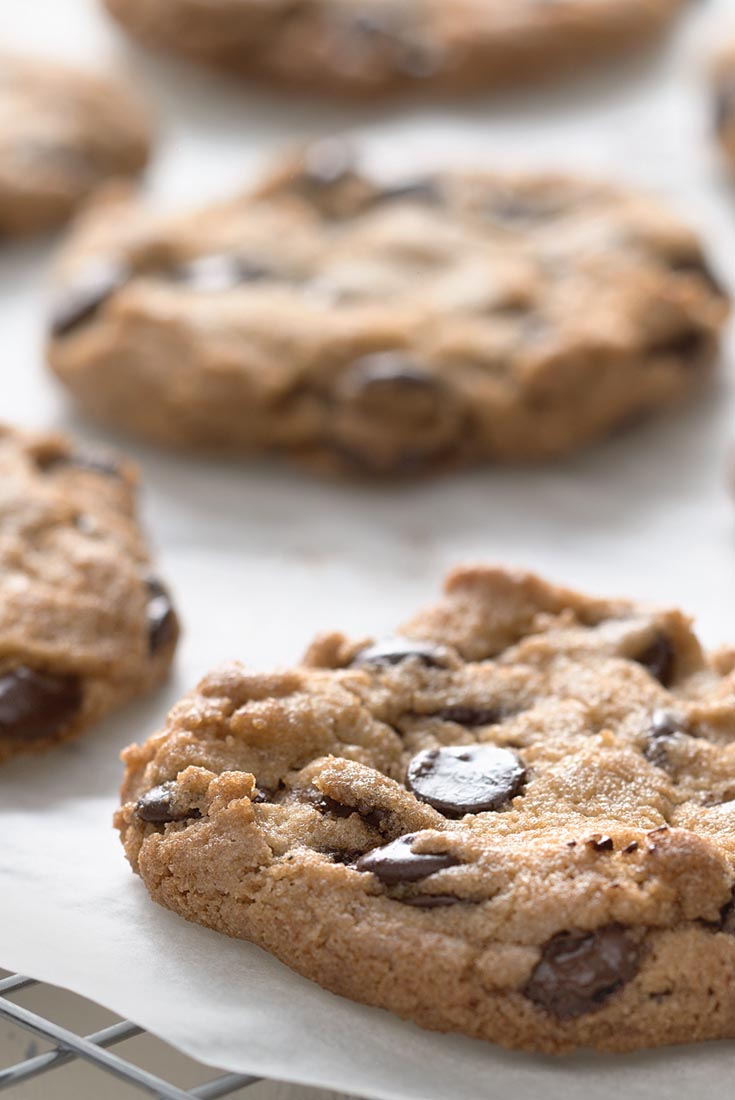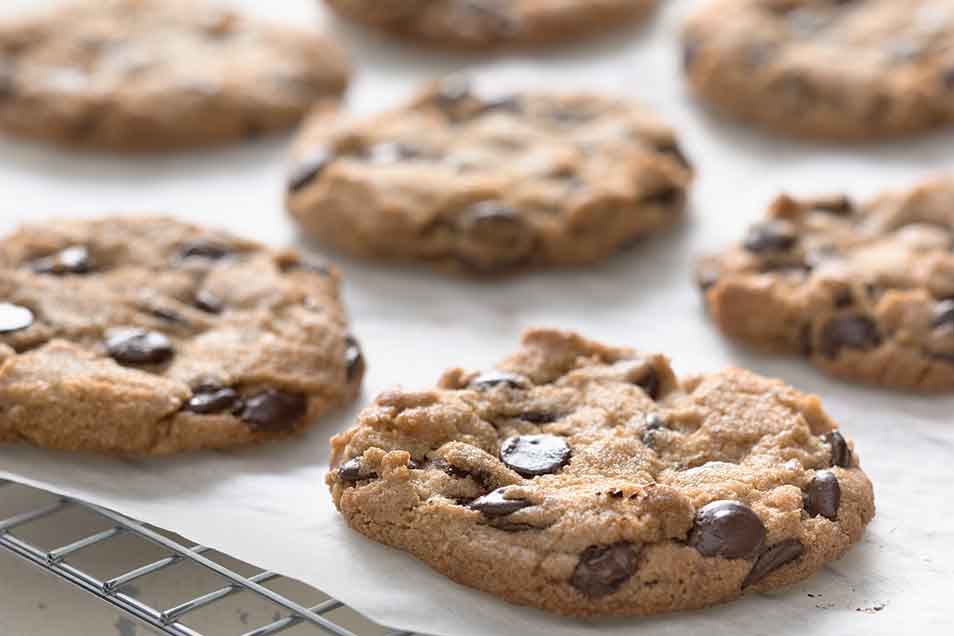 Light and crisp, absolutely packed with chocolate chips, this is the quintessential crunchy chocolate chip cookie. The addition of barley flour to the dough gives the cookies a pleasant, mild taste. To ensure crunchiness, be sure to bake these cookies thoroughly; they should be golden brown all over, without any hint of softness in the center.
Instructions
Preheat the oven to 350°F. Lightly grease (or line with parchment) two baking sheets.

In a large bowl, beat together the butter, oil, sugars, vanilla, espresso powder, and salt until smooth.

Beat in the vinegar, egg, baking soda, and baking powder. Stir in the barley flour and whole wheat flour, then the chocolate chips.

The dough will appear oily, and because of the quantity of chocolate chips, it won't be completely cohesive; that's OK.

Drop the dough, by tablespoonfuls, onto the prepared baking sheets. Bake for 15 to 17 minutes, until the cookies are an even golden brown.

Remove from the oven, and allow to cool for 5 minutes before transferring to a rack to cool completely.

Store in a cookie jar for up to 5 days, or freeze for up to a month.
Tips from our bakers
Substitute whole wheat flour for the barley flour, if desired.
Reviews
These were fantastic! Everyone at work loved how the espresso powder enhanced the chocolate flavor. I typically prefer a softer chocolate chip cookie but these had a nice crunch to them. Will definitely make again.
Yummy cookies baked as written. Next time I will reduce the sugar and butter as suggested by other reviewers.
I love these cookies!!! That being said, I also give the original recipe a 4 star rating because I cut the total amount of sugar called for by 1/3, used half the amount of chocolate chips, and half the amount of butter. The cookies were still lovely and crunchy, and more than sweet and "chocolatey"enough--I cannot imagine using the 24!!!!!! tablespoons of sugar! originally called for! In a recipe that calls for the healthy use of whole-grain flours, using that much sugar makes absolutely no sense--and I speak as a baker who has a sweet tooth! I also notice quite a few comments about adjusting the amount of sugar in this recipe, so I guess I'm not the only one who felt the need to do so....
Me and my 3 year old son use this recipe today. We love the result!. So crunchy! We replaced vegetable oil with olive oil, only used 2/4 cup of brown sugar and only used all whole wheat flour. We didn't add chocolate chips but replaced it with flex seed and unsweetened chocolate powder. Turn out so delicious! Love it!
I used the reviewers comments to modify this recipe. Used olive oil and fig balsamic vinegar instead of what the recipe called for and used only the brown sugar, whole wheat flour and added only one cup of dark chocolate chips. They are crispy and delicious.
I have made this recipe several times now with great success. It is now my go-to recipe for cookies that I am taking to an event. They have come out great each time, look good, taste good, and travel well. They are delicious, crisp, yet have a lightness to them. I would guess they are a bit healthier (as much as a cookie can be) because of the whole grain flour and oil rather than shortening or butter.
These are the very best crunchy chocolate chip cookies I've ever made, and 100 % whole grain to boot! My 29 year old son can be enticed to visit his mother on the promise of a fresh batch of these cookies! KA you are wonderful!! Lisa
Wow, very crunchy, crisp biscuits. Nothing like pure butter biscuits. I made these before and found them far too oily, but what would you know, a few years later, these have turned out great thanks to the handful of oats I added to soak up the excess oiliness: it worked a treat. Otherwise, they would still be far too rich and greasy for me. Light too, thanks to all those raising agents. Don't be alarmed how un-cohesive the dough is, they look like they'll be hard, dense, stones without enough egg to bind it neatly, but they melt, spread and puff up charmingly. The wholemeal flours aren't that strong. Next time, I may add some bran to boost the flavour (and nutrition naturally...!)
I need this info. about the amount of calories and ingredients, fats, soda, carbs, sugars, proteins? (this is helpful)
I am sorry to say that we do not have this information at this time. We hope to have nutritional information for all of our recipes in the future. Jon@KAF
Making them right now. I usually don't make changes on a first time recipe, but I am trying to cut down on sugar as a precaution. I used 1/2 cup (100 grams) pure cane sugar and 1/2 cup (95 grams) regular dark brown sugar (didn't have light). I only had 1 bag of chips - Ghiradelli and it was semi sweet 12 ounces. They came out perfect and crunchy. I refrigerated the dough 20 minutes before scooping them out to make sure they wouldn't spread too much. Baked at 325 convection for 20 minutes. Tried second sheet on 350 convection and even though the dough was chilled - it spread. Went back to 325 convection. It yielded 32 cookies using the #40 Zeroll scoop. I am so pleased I followed up on the e-mail and made this recipe.