A customized print-friendly version of this recipe is available by clicking the "Print Recipe" button on this page.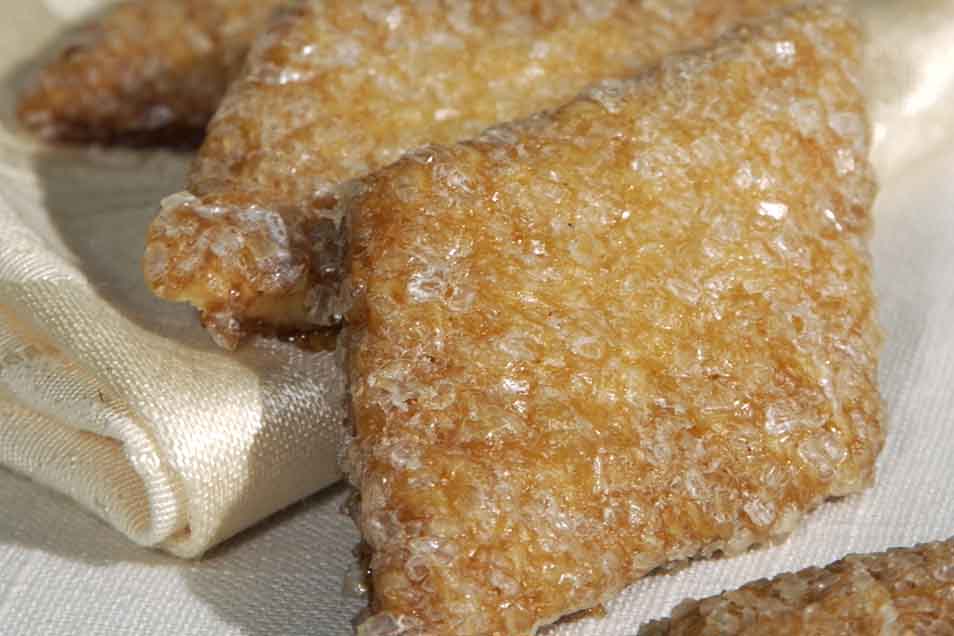 These crisp-crunchy cookies feature the wonderful rich taste of caramelized sugar. Pair them with a dish of blueberries or blackberries (or the fresh, local berry of your choice) for a simple end to a summer meal or picnic. Or use them as a pretty (and tasty!) garnish in your next ice cream sundae.
Ingredients
1 1/2 cups King Arthur Unbleached All-Purpose Flour or 1 3/4 cups Italian-style flour (See "tips", below.)
1/2 cup + 1 tablespoon whole milk
2 drops lemon oil (See "tips", below.)
1 teaspoon instant yeast
1/2 teaspoon salt
1/2 cup (8 tablespoons) unsalted butter, cut into 8 pieces
1 to 1 1/2 cups sparkling white sugar or Demerara sugar, for rolling
Instructions
Mix together the flour, milk, lemon oil, yeast and salt until well combined.

Using an electric mixer, beat in the pieces of butter one at a time, beating for 1 full minute after each piece is added.

The dough will be very smooth, shiny, and elastic. Remove the dough from the mixer, place it in a small bowl, cover the bowl, and refrigerate it for 2 hours, or as long as overnight.

Preheat your oven to 275°F. Sprinkle your work surface heavily with coarse sugar (white or Demerara).

Divide the dough in half. Or divide it in four pieces, if your counter is a bit cramped and you don't have a large work surface.

Working with one half at a time (and keeping the other piece or pieces refrigerated), roll the dough on the sugar-covered surface as thinly as possible; 1/16" is ideal. Add additional sugar to the work surface if the dough starts to stick.

Halfway through the rolling time, turn the dough over so that both top and bottom surfaces end up heavily coated with sugar.

Using a rolling pizza wheel, a bench knife, or a sharp knife, cut the dough into squares or diamonds. Try to cut pieces about 2 1/2" in size; they'll shrink a bit, and by the time they're finished baking, they'll be about 2", a nice size for this particular cookie.

Transfer the cookies to parchment-lined baking sheets. Repeat with the remaining dough.

Bake the cookies for 50 to 60 minutes. They should be a deep, golden brown, almost mahogany, but not burned. The closer you get to deep brown, the better they'll taste, and the crisper they'll be.

Remove them from the oven and transfer them to a cooling rack as soon as possible, so that they don't stick to the parchment.

Store, loosely covered, for up to a week at room temperature.
Tips from our bakers
Italian-style flour, with its lower protein content, makes a cookie whose dough is easier to roll.
Yes, 2 drops of lemon oil. You want just the merest hint of citrus here; it should be almost unidentifiable, just enough to make people wonder what they're tasting.
Note: If you make these cookies too large, the edges brown way before the middle; the goal is an evenly browned cookie.