A customized print-friendly version of this recipe is available by clicking the "Print Recipe" button on this page.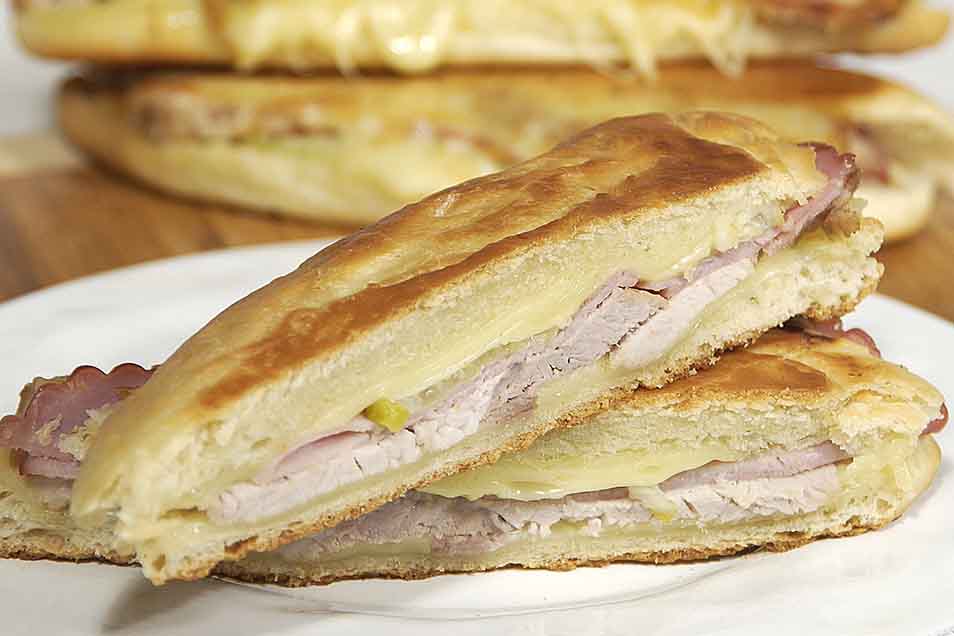 Customers have written begging us to provide them with a recipe for Cuban bread, so that they can replicate sandwiches they had in Miami. As always, we're happy to oblige!
Ingredients
Rolls
4 teaspoons sugar
2 teaspoons salt
2 1/4 teaspoons instant yeast or active dry yeast
4 tablespoons butter or 3 tablespoons fresh lard, cut into small pieces
1 1/4 cups lukewarm water
Roast Pork and Marinade
1 1/4 pounds boneless pork: roast, ribs, chops, or pork tenderloin
3 tablespoons minced garlic
3 tablespoons minced parsley
1 tablespoon paprika (preferably hot)
2 teaspoons ground cumin
1 teaspoon ground black pepper
1 teaspoon salt
2 tablespoons lime juice
2 tablespoons vegetable or olive oil
Sandwich filling
sliced roast pork (from above)
1/4 to 1/3 pound thinly sliced smoked ham
3/4 pound thinly sliced Swiss cheese
1 1/2 large "pickle barrel" pickles
1/4 cup melted butter or olive oil
Instructions
To make the rolls: Mix, then knead together all of the dough ingredients — by hand, or using a stand mixer or bread machine set on the dough cycle — to make a smooth, supple dough.

Transfer the dough to a lightly greased bowl or dough-rising bucket, cover the bowl or bucket, and allow the dough to rise until it's puffy, though not necessarily doubled in bulk — about 1 hour, depending on the warmth of your kitchen. Gently fold the dough in upon itself and turn it upside-down after 30 minutes; this "turn" helps eliminate some of the excess carbon dioxide and redistributes the yeast's food, both imperative for optimum yeast growth.

Deflate the dough, and divide it into six pieces. Shape each piece into a rough log. Let the logs rest for 15 minutes, covered, then shape each piece into a smooth roll about 8" long, slightly tapered at each end. Place the rolls on a parchment-lined or lightly greased baking sheet.

Let the rolls rise, covered, for 1 hour. Towards the end of the rising time, preheat the oven to 375°F.

Brush or spray the rolls with water, and slash one long lengthwise slit down the middle of each. Bake for about 30 minutes, or until golden brown. Remove the rolls from the oven, and cool on a rack. The rolls may be made one day in advance and stored at room temperature, or several weeks in advance and frozen.

To prepare the pork: Mix all of the marinade ingredients together (all of the ingredients except the pork), and rub this mixture over all surfaces of the meat. Cover well, and refrigerate for 6 to 24 hours.

Preheat the oven to 425°F.

Place the pork in a roasting pan or ovenproof dish, and roast for 30 to 40 minutes, basting occasionally with the pan juices, until cooked through. Remove the pork from the oven, and cool it completely before slicing thinly.

To assemble the sandwiches: Slice the rolls in half horizontally. Brush the cut surfaces of the rolls with olive oil or melted butter.

Layer the sandwiches as follows: Swiss cheese, sliced pickle, ham, sliced roast pork, then additional cheese.

Now comes the somewhat challenging part. You want to grill these sandwiches, top and bottom, while at the same time flattening them slightly. This helps meld all of the filling ingredients. If you have a panini iron, this is the perfect place to use it; don't tighten down the cover too much, as you don't want the sandwiches completely flattened.

If you don't have a panini iron, heat two large skillets, or a griddle, to medium, about 325°F. Lightly grease the griddle and/or skillets. Brush the bottoms of the sandwiches lightly with olive oil or melted butter.

Grill for 5 to 7 minutes over medium heat, checking often to make sure the bottoms aren't burning. Adjust the heat downward if the bottoms are becoming brown after only a couple of minutes. Turn the sandwiches over and grill for several more minutes, until lightty crisp on both sides, and the cheese is melting. Remove from the heat, and serve warm.
Nutrition Information
Serving Size

1/2 sandwich (202g)

Servings Per Batch

12
Amount Per Serving:
Calories

451

Calories from Fat

Total Fat

20g

Saturated Fat

Trans Fat

Cholesterol

85g
Sodium

1425mg

Total Carbohydrate

31g

Dietary Fiber

2g

Sugars

4g

Protein

31g
* The nutrition information provided for this recipe is determined by the ESHA Genesis R&D software program. Substituting any ingredients may change the posted nutrition information.
Tips from our bakers
A note on the rolls for this sandwich: the recipe is very close to any other plain white roll formula, save for one interesting variation — the use of lard as an ingredient. Lard, hmmm... what real difference can that make? Well, we discovered that, made with lard, these rolls have a distinctive "salami-like" smell and taste, which happens to pair perfectly with the fillings in a Cuban sandwich. However, fresh lard being hard to come by, butter is a fine substitute. The rolls have a fairly fine-grained texture, and semi-crusty, semi-chewy crust; we think they'd be suitable for any type of meat-filled sandwich.
Reviews
I just made these for my neighbors from Cuba. They are SO IMPRESSED! They loved it! What I'd like to know is if anyone has made just an entire loaf instead of cutting up into 6 pieces. How would I adjust the cooking time / temperature? Thanks!

We're so glad they were a hit, Terri! Baking it as a loaf is a great idea for easy slicing. This recipe makes about 2 lbs of dough, more than a standard loaf pan will hold, so you might find the easiest solution is to grab a couple of mini disposable aluminum loaf pans from the grocery store. Look for something that's between 6" and 7" long and 3" to 4" wide. This recipe should make two loaves that size, and you want to bake them until the internal temperature reaches 190°F, around 20 minutes. Happy baking! Annabelle@KAF
The bread recipe is not authentic. It just doesn't taste like the bread I had growing up in Tampa. Also, the pork marinade doesn't have anything spicy in it at all, the herb used is oregano, and they do not use lime juice. Cubans use sour orange juice (naranja agria) from Seville oranges to achieve a distinctively orange flavor, but tart, and no hint of lime at all.

Thanks for sharing your insights with us about the flavors and ingredients that went into the Cuban sandwiches of your childhood. We're always looking for ways to improve our recipes, and we're eager to hear about the variations that others grew up with. We've shared your feedback with our Recipe Team, and we hope you're able to find the recipes you're looking for. Kindly, Kye@KAF
This is a good tasting roll, but not the authentic Cuban bread. There are two Cuban Sandwiches made in Miami. The authentic Cuban Sandwich is made on Crusty long loaf bread made with lard, filled with pork, ham, swiss cheese, mustard, pickles, made bigger than Media Noche sandwhich and toasted on a grill. The Media Noche sandwich is made on the sweet roll recipe you have provided, but no pork. The recipe here in King Arthur is the Media Noche Bread, with the Cuban Bread sandwhich fillings.
I have used this recipe many times and it has always turned out well. However when trying to reference back to this page to make the bread again, no flour is listed in the ingredients? Please let me know the amount of flour so I can write the complete recipe down!

We apologize for any confusion, but there are 4 cups of all-purpose flour is the first ingredient listed underneath "Rolls." We are glad to hear this a recipe that you turn to time and time again. Happy baking! Kye@KAF
First of all Cuban sandwiches are not spicy they don't use nothing that resembles spicy in the pork.
Thanks for sharing your Miami expertise, Julia. Happy baking to all! Irene@KAF
I found three very doable recipes for Cuban bread that seemed to ring a bell from my thirty-five years living in Miami. I knew lard was one definite component and that the dough was very soft compared to Italian or French breads. Your recipe turned out the best of the three finalists in my little contest. This is the fourth time I'm using this recipe and it's the fourth time it came out perfect. We do make a slightly different combination on the Cuban sandwich that includes yellow mustard, provolone and garlic pickle slices along with the roast pork and ham. I've also used Capicola instead of the smoked ham with wonderful results. For those of us using convection ovens, I find the 375 degree setting for twenty-one to twenty-two minutes gives me perfect Cuban rolls. Thanks so much for this recipe, it's a keeper. PS Just a question: I grew up with two grandmothers making Hamantashen for Purim with two very different recipes. One made more of a cookie and the other a pastry that reminded me of a cheese Danish dough. I had no problem finding the cookie recipe, it's online in a number of incarnations. The Danish, cream cheese style, pastry dough has been a bit of a problem. Any ideas on what dough I could use that would keep the tri-corner hat shape during baking?
We are proud to have won your contest on the perfect Cuban Sandwich Roll! Thanks for the great filling options. I am wondering if she may be using a cream cheese dough similar to what rugelach is made with? That holds up very well. We would love to research this with you if you need further assistance. Feel free to contact our Baker's Hotline at 1-855-371-BAKE (Monday-Friday 7:00am-9:00pm EST, Saturday & Sunday 8:00am-5:00pm. Happy baking! Elisabeth@KAF
I live in Oklahoma but have gone to Tampa for the last 35 years to visit relatives and to Ebor City to the Silver Ring bar for Cuban sandwiches until they closed in the late 1990's. I made this bread for Cubans a few days ago but I proofed my yeast as I always do by putting the yeast, warm water, and sugar in a warmed porcelain bowl for 15 minutes to be sure my yeast was alive to start with and that I didn't kill it with too hot water. It bubbled up and then I added this to the flour, salt, and lard in my mixing bowl and combined. I changed to the dough hook from the paddle and let it knead for 8 minutes. I followed all the other directions except when the buns were rising, I slashed the tops, brushed them with water and put them in my bottom oven that was not on along with a full kettle of boiling water and closed the door. They doubled! We made Cubans and pressed them in a panini press. The only thing was that the bread was so fresh it crushed a little too much but the taste is definitely Cuban according to my husband who has been eating these for 60 years! Actually making more right now!
Sylvia, we are thrilled to hear that this recipe was given the thumbs-up by people who truly know and appreciate Cuban food! Thanks for sharing your tips and adjustments so that others can give it a go and see if they are as pleased as you were with the results. Happy baking! --Kye@KAF
LOL going to give this a spin this weekend, sounds wonderful! multigrain sourdough boule today, though. In looking through these comments for tips: Tell Phil22, who was a new transplant to Albuqueque NM from Tampa, that he's gone from sea level to somewhere around a mile high! Elevations around Albuqueque range from 4900' to over 10,000 near the top of their hills! A website lists downtown as being 5,280' - a mile high. They may straddle the Rio Grande, but it's strictly high altitude baking! WAY UP there. I helped a friend in Idaho Falls (elevation 4700') move there in 1979. She was talking on the drive down that she would not have to change her bread recipes. I'll bet Phil22 doesn't know about changing recipes for altitude!
Please consider updating this page since it is wrong. The correct Cubano bread is called PAN DE AGUA (water bread) and is similar to a baguette, but is placed in a cold, not preheated oven, while still utilizing the steaming technique. This is not the correct bread for a Cubano, this is called PAN SOBAO (lard bread). When you make a Cubano with pan sobao, it is called a medianoche (midnight).