A customized print-friendly version of this recipe is available by clicking the "Print Recipe" button on this page.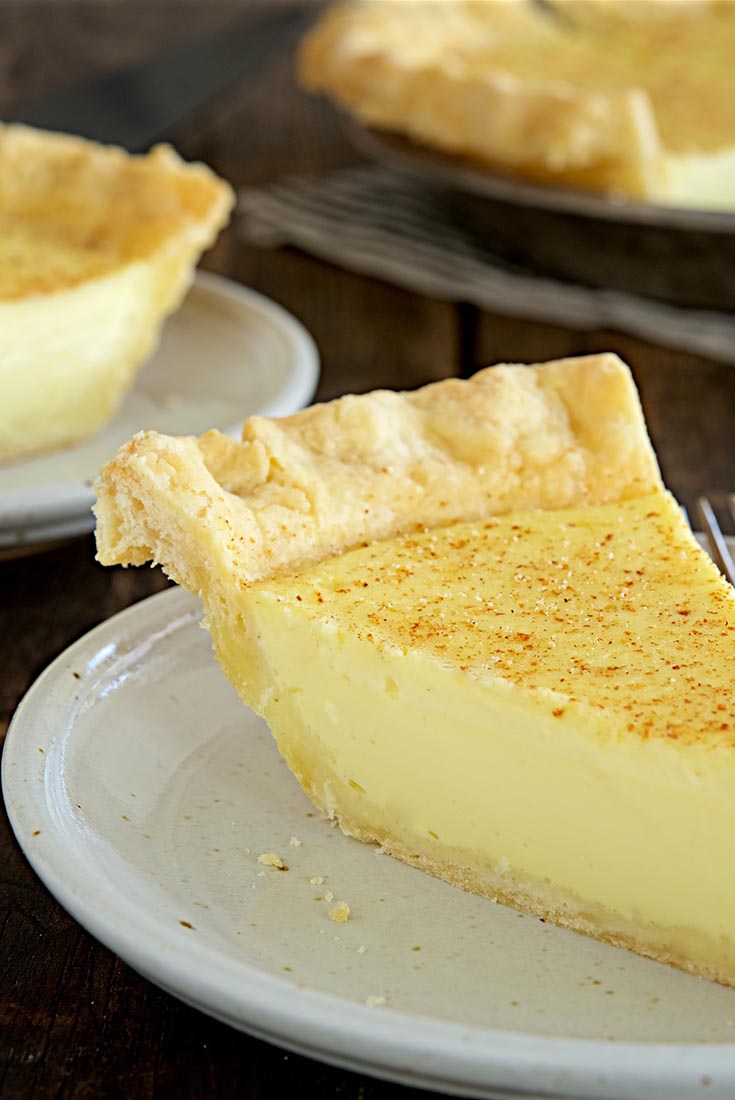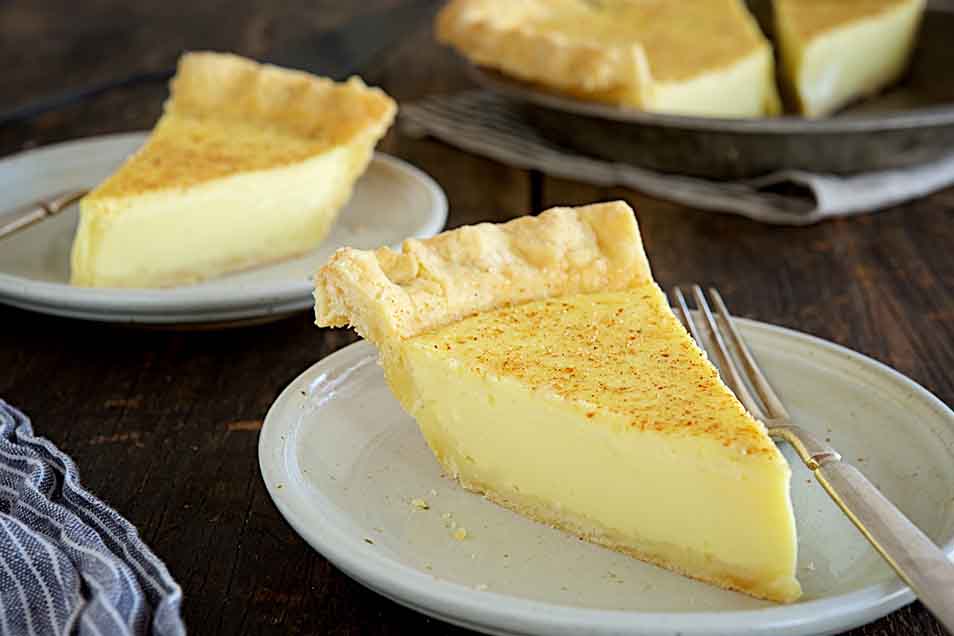 Plain old custard pie? Well, this recipe may be old (as in classic, treasured, revered), but it's hardly "plain" — unless your definition of plain is a rich/tender filling of cream, eggs, and vanilla, with a hint of nutmeg, nestled in a buttery crust. It's just plain good!

Recipe updated 12/02/17; see "tips," below.
Ingredients
Crust
1 1/2 cups King Arthur Unbleached All-Purpose Flour
1/4 teaspoon salt
1/4 teaspoon baking powder, optional; for added flakiness
4 tablespoons butter
1/4 cup vegetable shortening*
1 teaspoon white or cider vinegar
3 to 5 tablespoons ice water
*Can you substitute butter for shortening? Yes; your crust will be slightly less flaky.
Filling
1 1/2 cups milk (anything from skim to whole, your choice)
1 cup cream (heavy, whipping, light, or half & half, your choice)
1/4 teaspoon salt
4 large eggs
2/3 cup sugar
1 tablespoon vanilla extract
1/4 teaspoon ground or freshly grated nutmeg
Instructions
To make the crust: Whisk together all of the dry ingredients.

Add the shortening, mixing until the mixture is evenly crumbly. Add the butter, working it in until it's unevenly crumbly, with some larger chunks of butter remaining.

Sprinkle the vinegar and 3 tablespoons of the ice water over the dough while tossing with a fork. Add more water if the dough isn't coming together. Just as soon as the dough becomes cohesive (i.e., you can squeeze it into a ball easily), stop mixing; there should still be visible pieces of fat in the dough.

Flatten the dough into a disk and wrap it in plastic wrap or waxed paper. Refrigerate for 30 minutes or longer; this resting period allows the flour to absorb the water, making the dough easier to roll out.

Roll the chilled crust into a 13" circle, and lay it in a lightly greased 9" pie pan. Make an upright (rather than flat) crimp around the edge, as pictured above; this will help keep the filling from sloshing out as you move the pie from counter to oven. Place the pie crust in the refrigerator to chill while you preheat the oven to 375°F with a rack set in the middle.

To blind-bake (pre-bake) the pie crust, line the chilled crust with foil or parchment paper, and fill it with pie weights or dried beans. Bake the crust for 20 minutes. Remove it from the oven, and gently remove the foil or parchment with the weights or beans. Return the crust to the oven for 10 to 15 more minutes, until it's golden brown all over. If the edges of the crust start to become too brown, cover them with a pie shield or strips of aluminum foil. Remove the crust from the oven and cool completely while you make the filling.

Reduce the oven temperature to 300°F.

To make the filling: Start by combining the milk, cream, and salt in a medium-sized saucepan or microwave-safe bowl. Heat the mixture until small bubbles form around the edges, and steam starts to wisp from the surface; this is how you "scald" milk, if you've ever seen that technique mentioned.

In a separate bowl, whisk together the eggs and sugar. Pour 1/4 of the hot milk/cream over the egg mixture, stirring well. Pour the egg mixture into the remaining hot milk/cream, stirring well. Pour the custard through a sieve, to strain out any possible bits of cooked egg. Stir in the vanilla extract.

Pour the hot filling into the baked, cooled crust. Sprinkle the nutmeg evenly over the top. Cover the edges of the pie with a pie shield or strips of aluminum foil to prevent over-browning.

Place the pie onto your oven's middle rack and bake it for 35 to 40 minutes, or until the custard is set at the edges but still a bit wobbly in the center. The temperature of the pie at the center should be between 170°F and 180°F.

Remove the pie from the oven, and place it on a rack to cool. When it's completely cool, refrigerate until you're ready to serve.

Store any leftovers in the refrigerator for several days.
Nutrition Information
Serving Size

155g

Servings Per Batch

8
Amount Per Serving:
Calories

400

Calories from Fat

220

Total Fat

25g

Saturated Fat

13g

Trans Fat

1.5g

Cholesterol

145mg
Sodium

210mg

Total Carbohydrate

37g

Dietary Fiber

1g

Sugars

20g

Protein

8g
* The nutrition information provided for this recipe is determined by the ESHA Genesis R&D software program. Substituting any ingredients may change the posted nutrition information.
Tips from our bakers
Thanks to reader feedback, we've revised the recipe to include blind-baking (pre-baking) the crust, which will yield a golden brown, thoroughly baked bottom crust. We've also amended the baking temperature/time for the filled pie, which will help ensure the filling is completely set, but not over-baked.
Can you use skim milk and fat-free half & half? Sure; your pie simply won't taste as rich.
Reviews
Let me begin by saying that I have not made the crust. I've gone with ready made crusts each time simply to save time. With that said, I've made this 5-6 times since discovery the recipe and I love it. Im a big custard fan so to discover it was so easy to do was fantastic. I have had time issues in the oven, however. I don't really know why but I always seem to be undercooked in the time given. No problems though. I just let it go a bit longer and it starts itself out. I like mine with a bit more vanilla and bit more nutmeg, but that's just a personal preference that I adjust. Bottom line, I love it and will continue to use this recipe any time the mood hits me to make one. Or 2 if I feel generous enough to share :)
When did you add the extract? I put in the extract in the egg sugar mixture and I ran out of vanilla so I used caramel So yummy thanks for this!

The vanilla extract gets added at the end of step 8, after the custard mixture has been strained. This allows all of the vanilla flavor to come through without it being cooked off. Happy baking! Kye@KAF
Came out delicious. Used all half and half. Bottom of crust needed to cook more. Next time will cook crust first a little.
I will have to agree with previous comments. The filling was great! Now the crust was a different story. Undercooked and gummy. The bottom was practically raw and filling was a prefect texture. Just the right flavor. No sweating. Gonna prebake the crust next time.

We're glad you enjoyed the flavor of the filling, Rah, but we'd love to help make the crust equally delicious. We've asked our Recipe Team to look into incorporating a blind bake into this recipe to ensure the bottom crust stays perfectly crisp. We'll be sure to note any updates in the recipe if we find this produces a superior result. Kye@KAF
Turned out really tasty but used 2 teaspoons of vanilla. Did the recipe while in Denver and forgot to allow for the higher elevation. Pie did not turn out as good as it did in Okla. and I'm sure it was the elevation.

In case you're looking for tips, Dottie, we have a handy Guide to High Altitude Baking that you can find under the "Learn" section of our site. Best of luck for a second try at elevation! Mollie@KAF
The time and temperature directions are way off. I followed the recipe to the letter and use a calibrated oven thermometer. After 20 minutes on the bottom rack and 30 minutes on the middle rack, the pie was way overcooked with the middle 197 degrees and the sides over 200. Despite that, somehow the bottom crust wasn't cooked through and was gummy. The filling was curdled and weepy. Sad to waste ingredients. I'm wondering if the bake times were calculated using cold milk and cream instead of scalded.

We're sorry to hear that you had such a disappointing experience with this recipe, Virginia. The weeping you describe will happen when a custard is over-baked, as yours was here, so we're not entirely surprised that these challenges came hand in hand. It's worth noting that glass and ceramic pie pans, while beautiful, attract and retain heat less evenly than aluminum pans, which can often result in a baked good that is over-baked on the sides before fully baking through and/or soggy on the bottom. To help even out the bake when baking in glass, we recommend reducing your oven temp by 25° to allow for a slightly slower bake. If pan type wasn't the culprit in your case, we hope you'll consider giving our free and friendly Baker's Hotline a call at 855-371-BAKE to troubleshoot directly with one of our bakers. We'd love to help get you back to happy baking! Mollie@KAF
I've been on a mission to find the perfect Egg Custard Pie recipe and this is it! I made a few changes; I used 1 1/2 cup half & half, 1 cup milk, and baked it on the bottom oven rack at 350 for 45 minutes. It is delicious. Not too sweet, just right.
For a special holiday treat, sub eggnog for milk and add 1/4c of your favorite adult eggnog-friendly beverage. Rum was divine ...
I made this fabulous recipe with king Arthur flour whole milk and heavy cream. I did not blind bake the crust my mother was called the "pie lady" and never prebaked for this pie. I could not find her recipe so was thrilled how incredible this turned out!! Like silk it was rich and creamy, since my sister wants this for thanksgiving I am going to make again the way it states. I do not like to skimp when baking for my family since it's not like we eat rich foods every day. Loved it!!
I made this recipe 2 times so far. I altered it turning it into a coconut custard pie. I omitted the nutmeg. I used 1C heavy coconut cream instead of 1 C heavy cream. I also used 1/4 C heavy cream mixed into my 1 1/4 C lactose free milk. I added ground up toasted coconut to the crust and used cold coconut oil instead of shortening. Came out fantastic! The first pie I made I did according to instructions by moving pie from bottom to middle shelf half way through. The pie never setup in fridge properly even though I baked according to tempature. Middle stayed liquidy. I rebaked longer to a higher temp. On top shelf to get desired consistency. The second pie I completed the baking on the bottom shelf never moving it, and it came out perfectly! I used a Pampered Chef stone pie plate to bake.