A customized print-friendly version of this recipe is available by clicking the "Print Recipe" button on this page.
Dark and Dangerous Mocha Chunk Ice Cream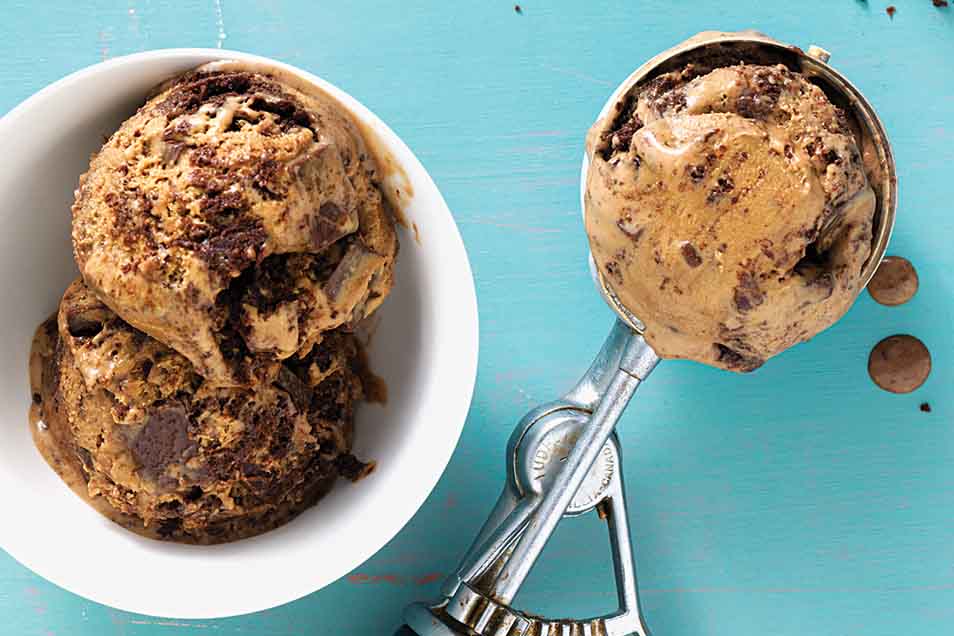 Love the idea of a cup of creamy coffee in your ice cream bowl? We certainly do, and have come up with this custard-based, ultra-rich and smooth ice cream. The creamy custard packs a strong espresso punch, while the chocolate and brownie chunks add a touch of mocha and a fun twist on texture for a truly decadent frozen experience.
Ingredients
1 1/2 cups whole milk
1 1/2 cups heavy cream
2 to 3 tablespoons espresso powder
4 large egg yolks
3/4 cup sugar
pinch of salt
1/4 teaspoon xanthan gum, optional; for creamier texture
1/2 to 1 cup semisweet chocolate chunks
4" square brownie, cut into bite-sized pieces
Instructions
In a large saucepan, combine the milk, cream, and espresso powder. Bring the mixture to a simmer over medium heat, stirring occasionally; set aside.

Beat together the egg yolks, sugar, salt, and xanthan gum until pale yellow and creamy. Gradually whisk in half the hot milk/cream mixture.

Transfer the yolk/milk mixture (custard) to the remaining hot milk/cream in the saucepan. Return the pan to low heat and cook, stirring the custard constantly, until it thickens somewhat; it'll be approaching the thickness of heavy cream, and will register about 170°F on a digital thermometer.

Remove the pan from the heat and transfer the custard to a bowl to cool to room temperature. Refrigerate for at least 3 hours, or overnight.

Once the custard has cooled, freeze it in an ice cream maker according to the manufacturer's instructions.

Stir the chocolate chunks and brownie pieces into the soft ice cream and serve immediately.

For firmer ice cream, place soft ice cream in a covered container. Freeze in the freezer for 2 to 3 hours, until ice cream is as hard as you like it. Note: Freezing longer than this will make the ice cream rock hard; plan on softening it at room temperature for 15 to 20 minutes or so before serving, if it's been in the freezer longer than a few hours.

yield: about 1 quart.
Tips from our bakers
Want to keep your ice cream soft in the freezer? If you're not alcohol-averse and enjoy its flavor, stir in 3 to 4 tablespoons Kahlua, brandy, or another liqueur or spirit at the same time you stir in the chocolate chunks and brownie pieces.