A customized print-friendly version of this recipe is available by clicking the "Print Recipe" button on this page.
Dark and Dangerous Mocha Chunk Ice Cream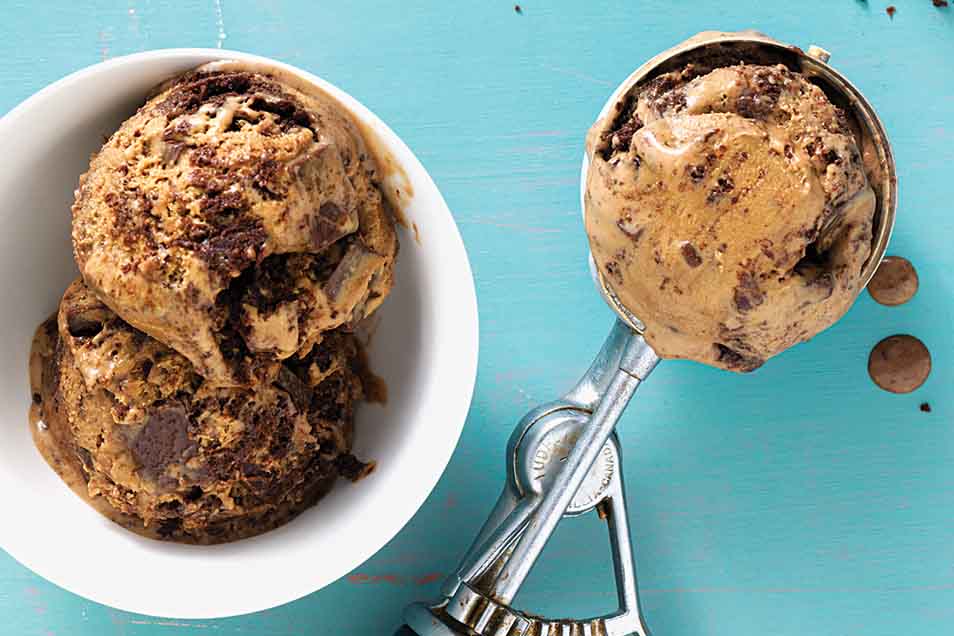 Love the idea of a cup of creamy coffee in your ice cream bowl? We certainly do, and have come up with this custard-based, ultra-rich and smooth ice cream. The creamy custard packs a strong espresso punch, while the chocolate and brownie chunks add a touch of mocha and a fun twist on texture for a truly decadent frozen experience.
Ingredients
1 1/2 cups whole milk
1 1/2 cups heavy cream
2 to 3 tablespoons espresso powder
4 large egg yolks
3/4 cup sugar
pinch of salt
1/4 teaspoon xanthan gum, optional; for creamier texture
1/2 to 1 cup semisweet chocolate chunks
4" square brownie, cut into bite-sized pieces
Instructions
In a large saucepan, combine the milk, cream, and espresso powder. Bring the mixture to a simmer over medium heat, stirring occasionally; set aside.

Beat together the egg yolks, sugar, salt, and xanthan gum until pale yellow and creamy. Gradually whisk in half the hot milk/cream mixture.

Transfer the yolk/milk mixture (custard) to the remaining hot milk/cream in the saucepan. Return the pan to low heat and cook, stirring the custard constantly, until it thickens somewhat; it'll be approaching the thickness of heavy cream, and will register about 170°F on a digital thermometer.

Remove the pan from the heat and transfer the custard to a bowl to cool to room temperature. Refrigerate for at least 3 hours, or overnight.

Once the custard has cooled, freeze it in an ice cream maker according to the manufacturer's instructions.

Stir the chocolate chunks and brownie pieces into the soft ice cream and serve immediately.

For firmer ice cream, place soft ice cream in a covered container. Freeze in the freezer for 2 to 3 hours, until ice cream is as hard as you like it. Note: Freezing longer than this will make the ice cream rock hard; plan on softening it at room temperature for 15 to 20 minutes or so before serving, if it's been in the freezer longer than a few hours.

yield: about 1 quart.
Tips from our bakers
Want to keep your ice cream soft in the freezer? If you're not alcohol-averse and enjoy its flavor, stir in 3 to 4 tablespoons Kahlua, brandy, or another liqueur or spirit at the same time you stir in the chocolate chunks and brownie pieces.
Reviews
I haven't made ice cream for probably 15-20 years. But my husband loves anything mocha (especially Jamoca Almond Fudge ice cream) so I decided to make this for his birthday. What a hit! I didn't use the xanthan gum but the ice cream turned out quite creamy and incredibly delicious! I added toasted almonds but decided to omit the brownie chunks. This recipe has restored my faith in my 30-year old Donvier hand-crank ice cream maker, and I will be sure to make this recipe (and others) again in the coming months!
This is really, really good. I used xanthan gum and Kahlua and it's a got a creamy, smooth consistency that can sometimes be hard to achieve with homemade ice cream. Few notes: - The base recipe without chocolate and brownie makes a very nice coffee ice cream by itself. - With the full 3tbsp of espresso powder it's got a potent coffee flavour. Go easy on that if you're not so keen. - Can make this sous vide and skip all the steps with cooking and tempering: mix all the ingredients except chocolate, brownie and Kahlua (just until combined - careful not to whip the cream). Pour the mix into a heavy sous vide bag (not ziplock, there's a risk it'll split) and cook for 1hr at 185f/85c. Decant into a bowl, beat briefly until smooth, then cool (I kept it in the fridge for 8 hrs, which supposedly prevents large ice crystals forming and makes it softer, but others say you can just plunge it in an ice bath for the same effect). Then churn as usual.
Made this and the Mocha Madness ice cream in a head to head tasting competition at work. Both are good, but Dark & Dangerous won hands down for its superior creamy texture. The custard base comes through and is worth the effort. Made as written with 3 Tbs espresso powder (I love your espresso powder, KAF!) and 3 Tbs Kahlua. Used mini-choc chips instead of big choc chunks. Froze my cut up brownie before mixing in. Spectacular ice cream! Next time I might swap the chocolate chips for a ribbon of chocolate fudge. Hmm... How long do I wait to make it again?
Nice flavors! However, we left out the xanthan gum, since our family does not care for 'gummy' textures ice cream. Yes, it is very different from truly creamy ice cream! We used full-fat milk from 100% pasture fed (aka 'grassfed') cows, plus golden cream from those Jersey cows that was so thick it would hardly pour out of the jar. No need for any additives! The truly creamy texture is clean on the palate, (not gummy or sticky) and allows the flavors to shine! To each their own... but xanthan gum does not meet our standard of having been used as a traditional food by our ancestors prior to 1900. (It was developed as a food additivein the 1960s from the action of bacteria that causes black rot on many vegetables fermenting things like corn or soy. No, thank you.)
At a make-your-own-sundae party, this was unquestionably the biggest hit. Made as directed, using Quick and Easy Brownies as the brownie add-in.
So funny this is the top recipe for this Sunday - Mother's Day. I called my son yesterday and asked him what kind of ice cream he would like me to make and THIS WAS THE ONE!! It's delicious!
My new "go to" ice cream! Since I don't care for hard bits interferring with my creamy ice cream, I left out the add-ins and served with hot fudge sauce. It is also wonderful with sea salt caramel sauce! Or both!!
WOW the family so loved this ice cream. Made it twice this week because of family request. It's not too sweet, easy to make. I just used 1cup of chocolate chips which I broke up some, froze them before adding to mixture. Will have to order more espresso powder. No I did not bake this as the review software requires
This is now my favorite ice cream recipe. Be patient with the cooking as it takes a long time for the mixture to "custard." I increased the recipe by fifty percent and that was perfect for my Kitchenaid ice cream maker. I added a quarter cup of Kahlua after the ice cream froze and that kept the ice cream perfectly in the freezer for more than a week. I did freeze the brownies after I cut them into little chunks. I also froze the chocolate chips. Next time I would add some toasted almonds too. Thank you for this and all your recipes!
I made this for 4th of July-it was fantastic!! I did make a couple of changes. I added 1 teaspoon of vanilla and 1/2 teaspoon of chocolate extract to the custard. I froze the brownie before I cut it into squares. This kept the brownie pieces from breaking apart when I stirred them into the ice cream. This ice cream was excellent..........thanks for all the recipes KAF!!