A customized print-friendly version of this recipe is available by clicking the "Print Recipe" button on this page.
Dark Chocolate Bread Pudding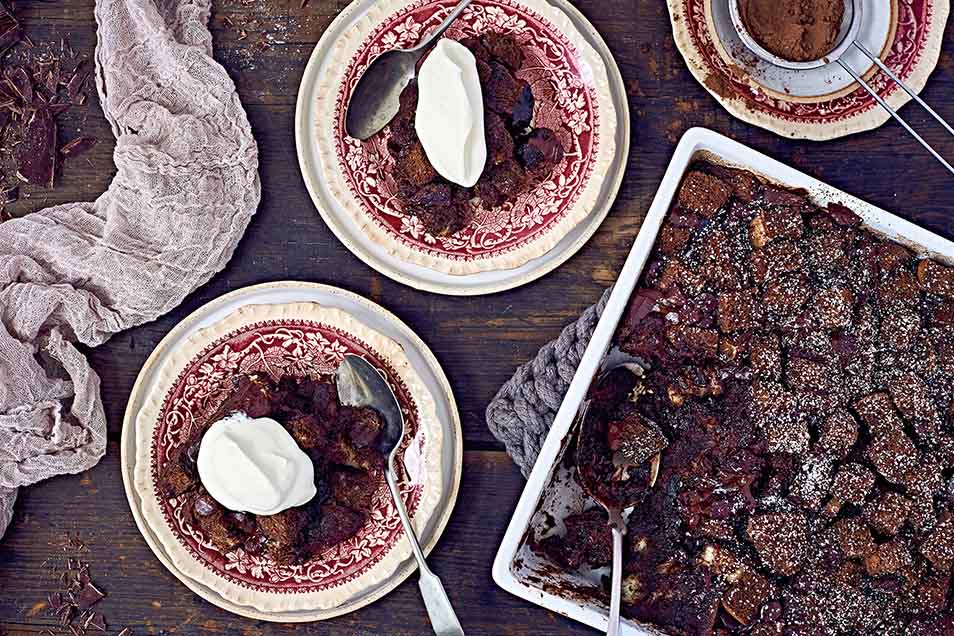 Is there any comfort food as purely comforting as warm, soft, chocolate-y bread pudding? There's nothing like it on a cold winter's night (or on February 14!)
Instructions
Lightly butter the bottom and sides of a 2-quart baking dish, 9" x 13" pan, or equivalent.

Toss the bread cubes with 1 cup of the chopped semisweet chocolate, and place in the prepared pan.

Combine the remaining chopped chocolate with the sugar, cocoa, and 1 1/2 cups of the milk or half & half in a saucepan set over low heat.

Cook, stirring, until the chocolate is melted and the mixture is thickened and smooth.

Transfer to a large bowl, and whisk in the remaining milk or half & half. Whisk in the eggs, salt, and vanilla.

Pour the mixture over the bread cubes and let rest for 30 minutes or so at room temperature, until the chocolate custard has been absorbed by the bread.

Preheat the oven to 325°F.

Bake the pudding for 45 to 50 minutes, until it's set. Remove from the oven and let cool for 10 minutes to allow the custard to fully set before serving.

Serve warm with whipped cream, ice cream, or dusted with confectioners' sugar.

Store, refrigerated, for up to 5 days.
Tips from our bakers
A 1-pound loaf of bread or brioche should yield about 6 1/2 cups bread cubes. Otherwise use 10 to 12 slices of bread, cut into 1/2" cubes.
Reviews
One of the best chocolate desserts I have ever had. Made half recipe in 5x12 Pyrex dish. Used skim milk. Have been excitedly saving bread pieces for next time!
I had some stale chocolate bread I had cut into cubes and frozen that I figured I'd better use. I figured since this is KAF, it would at least be okay. Fantastic and decadent! I made them in individual silicone ramekins (KAF, of course). I used 1% milk with a big splash of half&half, 10% less sugar, and split the chocolate between milk and dark. With the chocolate bread, it's the ultimate indulgent treat. Very rich, so a small portion goes a long way. As usual, KAF bakers did not let me down.
Love this!! I have fond memories of this from my childhood!! My mom always made "hard sauce" from Fanny Farmers 1918 Boston school of cooking. Hard Sauce 1/3 cup butter 1/3 teaspoon lemon extract 1 cup powdered sugar 2/3 teaspoon vanilla ( or brandy ) Cream the butter, add sugar gradually, and flavoring.
This recipe is amazing! I cut the ingredients in half as I didn't have enough bread and used an 8x8 pan. My house smelled AMAZING while it was baking and after it cooled, I dug in! Moist, chocolate and decadent! Next time I might add some walnuts and make sure I have some heavy cream or ice cream to put on it!
This was outstanding. Impressive and very easy. It was delicious topped with vanilla ice cream or whipped cream. Leftovers were great too. Highly recommend.
Made my own challah for this; doubled the bread and royale; and sprinkled chopped pecans on top. It was chocolate heaven for Christmas breakfast!
I was looking for something chocolate on a dreary winter day. This is perfect! I followed the recipe as written with one addition. I added 1/2-3/4 cup of dried Montmorency cherries. The cherries softened during the baking and added a tart note to the sweet chocolate. As stated in previous reviews, this recipe fills a 9" x 13" pan so it's nice for a gathering or to share with family or a friend. Thanks KAF for another terrific recipe (as usual).
I baked the frozen one that had more custard (see my previous review dated 7/10/2015) -- it turned out great! Because it is a chocolate bread pudding, the extra liquid tastes like chocolate sauce! I definitely recommend ice cream (Talenti salted caramel peanut pairs perfectly!) as an accompaniment, along with toasted pecans or some other nut for crunch. So if you have the ingredients -- but not a crowd -- use the two 9-inch pie plate method. Make one for now, freeze one for later. When you bake the frozen one, put it at the same temp for a few minutes longer. Start checking on it at the time the non-frozen one is done. I partially thawed the frozen one on the countertop while I prepared dinner, then put the pudding in the oven right before dinner was served. When we finished eating, the pudding was ready -- right at 50 minutes. It was delicious hot with the semi melted ice cream.
Thanks for sharing your recipe success and taste temptations with all of us. Happy Baking! Irene@KAF
This is the first bread pudding I ever made, and I really enjoyed it. I made it in two round glass pie pans. I baked the first pudding the same night, the other I immediately put in the freezer. One ended up with more bread in it than the other. The one I baked was the one with more bread than liquid. It was awesome -- kind of like a moist brownie or how I would imagine a tres leches cake would taste with chocolate milk. I served with ice cream, which is a good choice because it adds sweetness (the recipe is not sweet at all and I did add about 1/4 cup extra sugar). I will come back and let you know how the freezer pudding came out. If so, that is a good way to prepare this recipe for a small group. I plan to take the other pudding to a church pot luck. I will probably serve with cool whip, caramel sauce, and toasted pecans.