A customized print-friendly version of this recipe is available by clicking the "Print Recipe" button on this page.
Dark Chocolate Buttercrunch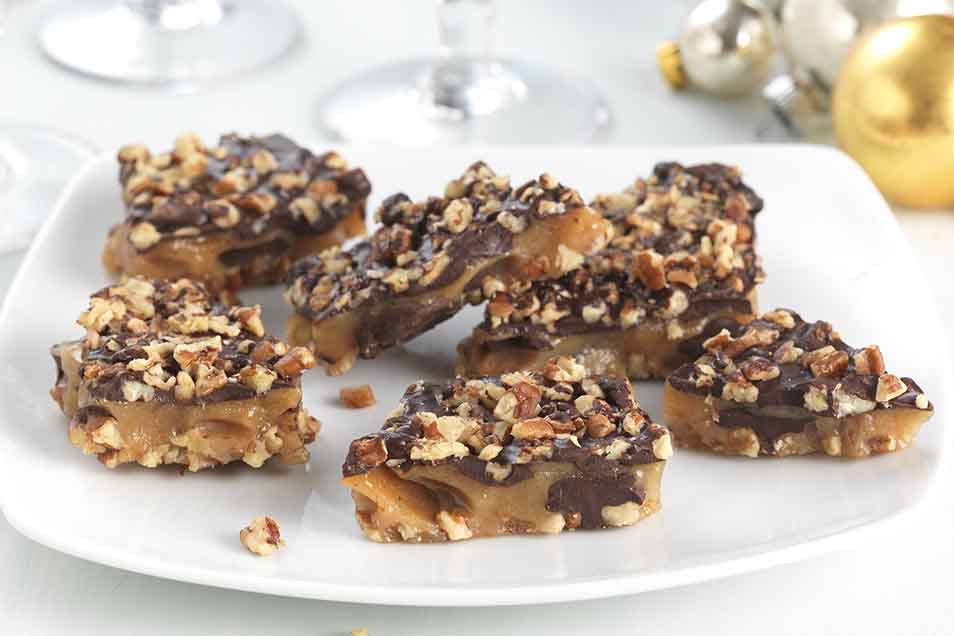 This recipe requires few ingredients and little effort, but the result is superb, making it appear you slaved over a hot stove all afternoon. What's more, this candy is so rich that a few pieces go a long way, making it ideal for holiday gift bags. For those of you unfamiliar with buttercrunch, it's a lot like a Heath Bar. And, like a Heath Bar, not only is it tasty candy; it's delicious crunched up and stirred into ice cream, or mixed into whipped cream and spread between layers of a chocolate cake.
Ingredients
1 cup (16 tablespoons) unsalted butter
1/2 teaspoon salt
1 1/2 cups sugar
1 teaspoon espresso powder, optional; for enhanced flavor
3 tablespoons water
1 tablespoon light corn syrup
1 teaspoon baking soda, optional (see "tips," below)
2 cups diced pecans or slivered almonds, toasted
2 2/3 cups semisweet or bittersweet chocolate, finely chopped; or chocolate chips
Instructions
In a large, deep saucepan, melt the butter. Stir in the salt, sugar, espresso powder, water, and corn syrup, and bring the mixture to a boil. Boil gently over medium heat, without stirring, until the mixture reaches hard-crack stage (300°F on an instant-read or candy thermometer). The syrup will bubble without seeming to change much for awhile, but be patient; all of a sudden it will darken, and at that point you need to take its temperature and see if it's ready. (If you don't have a thermometer, test a dollop in ice water; it should immediately harden to a brittleness sufficient that you'll be able to snap it in two, without any bending or softness). This whole process should take about 10 to 12 minutes. Pay attention; too long on the heat, and the syrup will burn.

While the sugar mixture is gently bubbling, spread half of the nuts, in a fairly closely packed, even single layer, on a lightly greased baking sheet (a half sheet pan works well here). If you're unfamiliar with making buttercrunch, it may be easier to use a 9" x 13" pan lined with greased foil or parchment. Top the nuts in the pan with half the chocolate.

When the syrup is ready, stir in 1 teaspoon baking soda; it'll foam up, so be careful. Pour the syrup quickly and evenly over the nuts and chocolate. Immediately top with the remaining chocolate, then the remaining nuts.

Wait several minutes, then gently, using the back of a spatula, press down on the chocolate-nut layer to spread the chocolate around evenly.

While the candy is still slightly warm, use a spatula to loosen it from the baking sheet. When cool, break it into uneven chunks.

Store cooled candy tightly wrapped; it'll stay fresh for a couple of weeks at room temperature. Freeze for longer storage.
Nutrition Information
Serving Size

53g

Servings Per Batch

24
Amount Per Serving:
Calories

269

Calories from Fat

Total Fat

19g

Saturated Fat

Trans Fat

Cholesterol
Sodium

2mg

Total Carbohydrate

5g

Dietary Fiber

2g

Sugars

22g

Protein

2g
* The nutrition information provided for this recipe is determined by the ESHA Genesis R&D software program. Substituting any ingredients may change the posted nutrition information.
Tips from our bakers
Adding baking soda to the hot sugar syrup forms microscopic bubbles, which serve to enhance the candy's light, crunchy texture.
For buttercrunch that's more toffee, less chocolate and nuts, use just half of the latter ingredients. Place 1 1/3 cups (8 ounces, 227g) chopped dark chocolate or chocolate chips in the bottom of the pan (or on a baking sheet); top with the hot syrup; then spread with 1 cup (4 ounces, 113g) diced toasted nuts, carefully pushing them into the hot syrup so they adhere.
Reviews
I used 8 oz chocolate (equally split between semi-sweet and 83% dark), all the nuts (half pecans, half almonds). The buttercrunch came out exactly as shown in the photo. My only complaint is that it is too sweet for my taste. The next time I will reduce the amount of sugar, which I hope will not negatively affect the texture of the toffee.

Hi David! We're concerned about the effect reducing the sugar would have. It will probably result in a confection that has a softer texture and won't set up properly. You may want to try the route of offsetting the sweetness instead. Maybe try increasing the amount of salt or salting the nuts after you toast them. We hope this helps in your candy making adventures! Morgan@KAF
I followed the recipe as written, using toasted almond silvers and chocolate chips. It turned out great and the recipe was easy to follow. It took me almost exactly 12 minutes to get to 300C on my thermometer. I poured it onto a greased sheet of parchment on a half sheet pan, and it's just the right thickness and texture. I will definitely be making again.
First time making toffee of any sort, and I usually dont have good luck with candies, but this recipe turned out great, even with some mistakes on my part. My candy thermometer went bust, and i realized this right as the sugar got close to burning, it still turned out nearly perfect. Great crumbly crunchy toffee texture and taste My only problem was that, for me personally, it had way too much chocolate. I think next time, I'll omit the chocolate on the bottom, and only use half on the top with the nuts.
So yummy...as with all recipes from King Arthur. This was easy to follow, not labor intensive ..and so delish..I kept mine on low heat so it would not burn, took about fifteen minutes to get to 300 degrees. I poured in 9x13 parchment lined pan. I poured the toffee in pan and sprinkled the dark chocolate chips over it. I then Put on 350 oven for five minutes and then spread the chips...then I added the chopped nuts. Let it cool to warm and then put on fridge for about an hour then cracked into bite size pieces....delish!
I made the toffee as instructcted . When it got to about 275° I put the heat on low and stwirled the pan around. Gets this wonderful Color when it is done!I then poured it over a parchment covered half sheet pan that was covered with sheets of matzo that I had warmed up. I then put it in an oven and covered it with a little bit of chocolate and nuts! Wonderful thank you KAF
Delicious! And it makes a ton - I gave away lots in my holiday tins and still had plenty leftover to chop and swirl into homemade vanilla ice cream as it churned. I HIGHLY recommend that! I used parchment like others and had no issues.
Disaster. Should have read the reviews first. What the heck is a half sheet pan, anyway? Way too thick, and the chocolate did not adhere to the caramel. You could not eat it without trauma to your jaw! I pulverized some of it, but it's way too sweet. Not sure what to do with it now. But I will try it again as I've seen it done correctly and it was yummy.

It sounds like this was quite the ordeal! A half sheet pan is commonly found in bakeries, restaurants, and home kitchens, and is 13" x 18" x 3/4". We encourage you to reach out to our friendly Baker's Hotline staff to help troubleshoot at 855-371-2253. We hope the next batch is a winner! Annabelle@KAF
I've made this before and I think had better results. This time there was WAY too much chocolate and it looked kind of messy with all the nuts. I think next time I'll use about half the chocolate. I used four 31/2-oz bars of Ghiardelli dark chocolate which was actually less than recipe called for.
I love this recipe. I made it last year and found it so easy I decided to make it again. I followed the recipe exactly--it's easy and delicious. When I make it next year I will follow the other reviewers suggestions and use a 9x12 pan to contain the buttercrunch.
After reading the reviews, since I was afraid it wouldn't set up, I lined a 9 X 13" pan with parchment and poured the toffee directly in without layering the chocolate and nuts in the bottom. I put half the total chocolate on top, waited for it to melt and spread it over the toffee. Then I pressed in the pecans. I was able to lift the candy out of the pan after about 10 minutes, and I cooled it a bit on the counter before putting it on a cutting board (still on the parchment) in the fridge to harden a little more. I didn't bother melting chocolate for the bottom, as it looked like it might be too much chocolate (if there is such a thing). The candy is incredible and quite addictive. The small bits left over from cutting it will be used to top ice cream. I'm a chocoholic, and I think the flavors are well balanced with just half the total amount of chocolate. Thanks for a simple and amazing recipe!