A customized print-friendly version of this recipe is available by clicking the "Print Recipe" button on this page.
Dark Chocolate Buttercrunch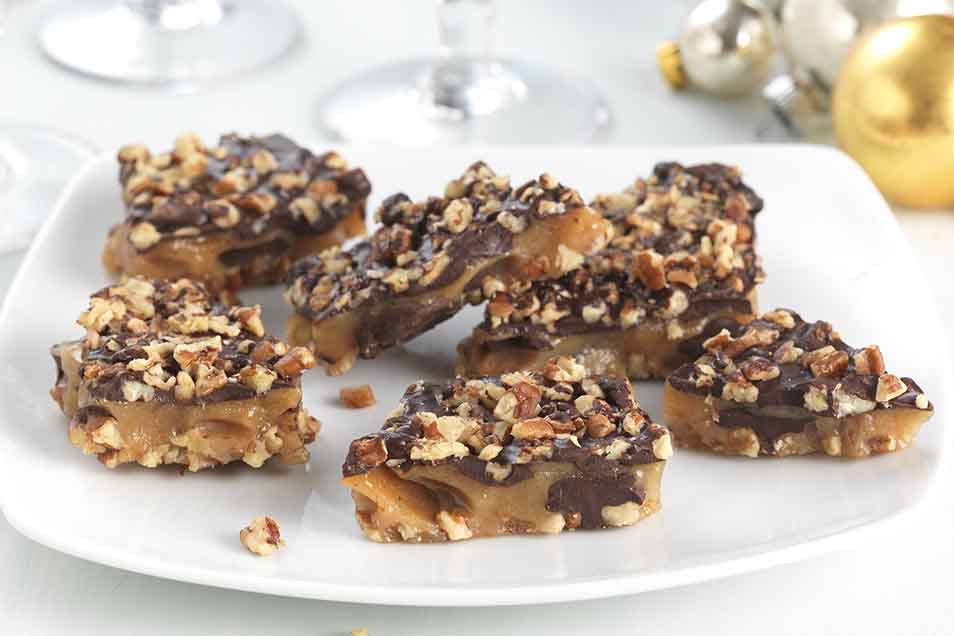 This recipe requires few ingredients and little effort, but the result is superb, making it appear you slaved over a hot stove all afternoon. What's more, this candy is so rich that a few pieces go a long way, making it ideal for holiday gift bags. For those of you unfamiliar with buttercrunch, it's a lot like a Heath Bar. And, like a Heath Bar, not only is it tasty candy; it's delicious crunched up and stirred into ice cream, or mixed into whipped cream and spread between layers of a chocolate cake.
Ingredients
1 cup (16 tablespoons) unsalted butter
1/2 teaspoon salt
1 1/2 cups sugar
1 teaspoon espresso powder, optional; for enhanced flavor
3 tablespoons water
1 tablespoon light corn syrup
1 teaspoon baking soda, optional (see "tips," below)
2 cups diced pecans or slivered almonds, toasted
2 2/3 cups semisweet or bittersweet chocolate, finely chopped; or chocolate chips
Instructions
In a large, deep saucepan, melt the butter. Stir in the salt, sugar, espresso powder, water, and corn syrup, and bring the mixture to a boil. Boil gently over medium heat, without stirring, until the mixture reaches hard-crack stage (300°F on an instant-read or candy thermometer). The syrup will bubble without seeming to change much for awhile, but be patient; all of a sudden it will darken, and at that point you need to take its temperature and see if it's ready. (If you don't have a thermometer, test a dollop in ice water; it should immediately harden to a brittleness sufficient that you'll be able to snap it in two, without any bending or softness). This whole process should take about 10 to 12 minutes. Pay attention; too long on the heat, and the syrup will burn.

While the sugar mixture is gently bubbling, spread half of the nuts, in a fairly closely packed, even single layer, on a lightly greased baking sheet (a half sheet pan works well here). If you're unfamiliar with making buttercrunch, it may be easier to use a 9" x 13" pan lined with greased foil or parchment. Top the nuts in the pan with half the chocolate.

When the syrup is ready, stir in 1 teaspoon baking soda; it'll foam up, so be careful. Pour the syrup quickly and evenly over the nuts and chocolate. Immediately top with the remaining chocolate, then the remaining nuts.

Wait several minutes, then gently, using the back of a spatula, press down on the chocolate-nut layer to spread the chocolate around evenly.

While the candy is still slightly warm, use a spatula to loosen it from the baking sheet. When cool, break it into uneven chunks.

Store cooled candy tightly wrapped; it'll stay fresh for a couple of weeks at room temperature. Freeze for longer storage.
Nutrition Information
Serving Size

53g

Servings Per Batch

24
Amount Per Serving:
Calories

269

Calories from Fat

Total Fat

19g

Saturated Fat

Trans Fat

Cholesterol
Sodium

2mg

Total Carbohydrate

5g

Dietary Fiber

2g

Sugars

22g

Protein

2g
* The nutrition information provided for this recipe is determined by the ESHA Genesis R&D software program. Substituting any ingredients may change the posted nutrition information.
Tips from our bakers
Adding baking soda to the hot sugar syrup forms microscopic bubbles, which serve to enhance the candy's light, crunchy texture.
For buttercrunch that's more toffee, less chocolate and nuts, use just half of the latter ingredients. Place 1 1/3 cups (8 ounces, 227g) chopped dark chocolate or chocolate chips in the bottom of the pan (or on a baking sheet); top with the hot syrup; then spread with 1 cup (4 ounces, 113g) diced toasted nuts, carefully pushing them into the hot syrup so they adhere.
See our blog for more handy tips.
Reviews
At first when the toffee cooled it seemed very hard and I was concerned I would not be able to share this for fear someone may break a tooth. I used a candy thermometer and took toffee off the heat at 300 degrees and thought maybe I should have taken the toffee off the heat at a lower temperature. Remarkably after one night in a Tupperware container they came out perfectly as toffee should be. Loved the espresso flavor and dark chocolate combo. I made half with almonds and half with pecans. Tasty.
This turned out perfectly. Everyone who tried it over the holidays loved it. The only thing I would change is the amount of espresso powder I added. I doubled the recipe, and also doubled the espresso powder when making my toffee. In the future, I would keep to a single teaspoon of espresso powder, even when doubling the toffee recipe, because I got a distinctive whiff and taste of coffee in the finished candy. I am not sure others noticed it, but I could. Otherwise, it was a perfect candy to go with coffee during the holidays and I will make it again for gifts and treats.
Just finished breaking my Butter crunch into pieces. Recipe very simple and straight forward, easy to follow. Not a lot of ingredients. Turned out just as the recipe said it would, and I like the free form technique. Makes a large amount of candy. Excellent taste. The dark chocolate helped reduce the over sweet taste usually found with toffee. I will definitely make this again.
This is my mom's favorite candy so after years of purchasing it from the store, I wanted to try this recipe. I'm so very glad I did - it was delicious and my mother LOVED IT. I used Guittard bittersweet chocolate baking wafers (74% cacao) and pecans. The recipe was easy to follow - I used a candy thermometer as suggested which ensured a perfect outcome. I left it overnight in the refrigerator and the next day broke it into pieces. The good news about this recipe is that there is a terrific yield - plenty to munch on, tuck into cookie plates for friends and bring along for Christmas Eve. This will be a permanent part of my Christmas line up - thanks!
Love this! But my chocolate stayed soft and sloppy. I used chips. Should I be using some other form?

Irene, we're not sure why your chocolate stayed melted even after cooling. Chocolate chips should work fine, provided you're using semi-sweet or bittersweet chips. Milk chocolate chips might not set correctly. If that's not what caused your issue though, we'd encourage you to call our Baker's Hotline at 855-371-BAKE (2253) so that we can troubleshoot your buttercrunch in more detail. Happy baking! Kat@KAF
I've made this recipe several times this month and have had wonderful results. Love that it's easy and dependable.
Five stars definitely! I have made this recipe, exactly, for many years - never fails! One slight change this year: once the hot sugar mixture was in my 9X13 pan, i added the chocolate chips on top to melt. While still The chocolate was still hot, I then used an offset spatula to spread the chocolate over the top. I then added the nuts. Once a bit cool, i pressed the nuts in. More professional look, same great taste, and cleaner fingers when eating!
I would go 4.5 if it were an option only because I wasn't 100% sure how to handle the chocolate. The toffee part is delicious!
Made this tonight. When the recipe says low and slow it means it. I Immediately burned the first batch. Successful batch = in 5 qt dutch oven, on back/lower BTU burner on LOWEST setting. FYI: I subbed out pumpkin seeds bc of nut allergic kiddo works nicely! KA: are you really not supposed to stir? I had trouble getting it to cook evenly spots were hotter than others. I ended up stirring to equalize temp. My final product was more cloudy than syrup & also my baking soda didn't make it bubble. Is it bc I stirred??

Kelly, we're sorry you struggled with this! Your issues were indeed a result of the stirring. We know it's very counterintuitive! If you're getting uneven spots (whether due to an uneven burner or a warped pan), you can try gently swirling the pan a little bit to even things out. It's really best to avoid it altogether if possible, though. We think you'll see a real difference if you're able to avoid stirring next time. Happy baking! Kat@KAF
These were absolutely delicious. I used chocolate chips and sliced almonds that I toasted in the oven. I decided to use less of both kind of last minute when reading the note on the bottom and I have no complaints. I will make these again, and again.