A customized print-friendly version of this recipe is available by clicking the "Print Recipe" button on this page.
Dark Chocolate-Filled Braid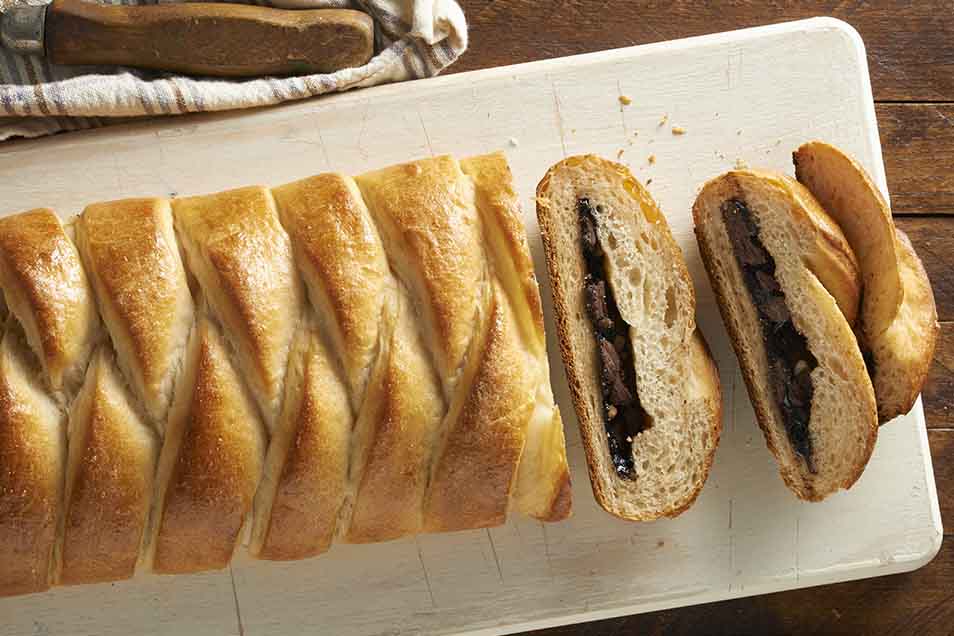 You've heard of chocolate babka, right? Here's its close cousin. This pretty "mock braid" is filled with a combination of our chocolate filling mix and dark chocolate chips for a pain au chocolat-like experience.
Ingredients
Dough
1/4 cup potato flour or 1/2 cup instant mashed potato flakes
1/4 cup Baker's Special Dry Milk or nonfat dry milk
3/4 cup + 2 to 4 tablespoons lukewarm water, enough to make a soft, smooth dough
4 tablespoons (1/4 cup) unsalted butter, at room temperature
1 teaspoon vanilla extract
2 teaspoons instant yeast
2 tablespoons sugar
1 teaspoon salt
Topping
1 large egg beaten with 1 tablespoon water
Instructions
To make the dough: Combine all the ingredients and mix and knead — by hand, mixer, or bread machine set on the dough cycle — to make a soft, smooth dough.

Place the dough in a lightly greased bowl, cover, and let it rise for 60 minutes, until it's nearly doubled in bulk.

To make the filling: In a small bowl, combine the filling mix with the melted butter and water, stirring until smooth.

Turn the dough out onto a lightly greased work surface, and flatten, pat, or roll it into a 10" x 15" rectangle. Rolling on parchment paper makes moving the bread to the baking sheet much easier.

Lightly press two lines down the dough lengthwise, to divide it into three equal sections.

Spread the chocolate filling mix evenly down the center section, and sprinkle with the chocolate chips (and pecans, if using).

To form the mock braid, cut 1" crosswise strips down the length of the outside sections, making sure you have the same number of strips down each side. Beginning on the left, lift the top dough strip and gently bring it across the filling diagonally. Repeat on the other side with the top dough strip, so that the two strips crisscross each other. Continue down the entire braid, alternating strips to form the loaf.

Cover the loaf, and set it aside to rise until noticeably puffy, about 45 to 50 minutes.

While the braid is rising, preheat the oven to 375°F.

Brush the braid with the egg wash. Bake it for 20 to 25 minutes, until it's golden brown.

Remove the braid from the oven and place it on a rack to cool before serving.

Serve warm or at room temperature. Store any leftovers, well wrapped, at room temperature for several days; freeze for longer storage.
Tips from our bakers
If you don't have our Baker's Chocolate Filling, combine 1/4 cup sugar with 2 tablespoons Dutch-process cocoa powder, 1 tablespoon all-purpose flour, and a pinch of salt. Combine with the melted butter and water as directed above, and continue with the recipe.