A customized print-friendly version of this recipe is available by clicking the "Print Recipe" button on this page.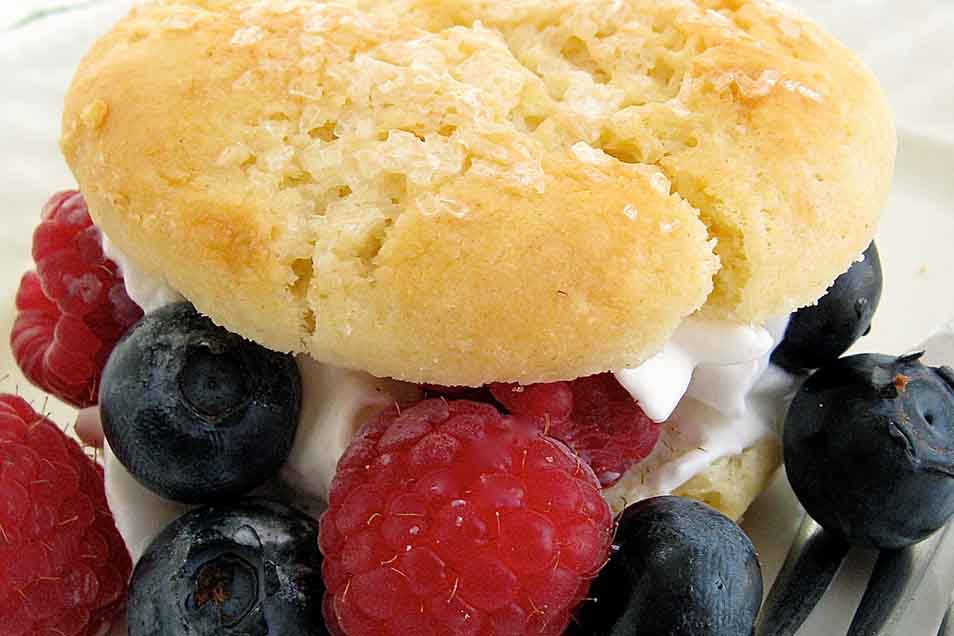 Like many recipes, this one has traveled many miles. David Lee, a long-time member of our bakingcircle.com community, picked it up from a James Beard book; Beard said he had gotten the recipe from his Chinese cook. David added his interpretation; now we've added ours. We all travel a slightly different path, but we're walking through the same forest: a love of baking, of creating. We write different words, but speak the same language: the language of flour and butter, sugar and salt. And eventually, we all reach the same destination: something wonderful to share with one another.
Ingredients
Shortcake
1 quart fresh strawberries
2 tablespoons sugar
1 cup heavy cream
granulated sugar to taste
Instructions
Preheat the oven to 425°F.

To make the biscuits: Sift together the flour, salt, baking powder, and sugar.

Stir in enough heavy cream to moisten the dough thoroughly. You want to be able to gather the dough together, squeeze it, and have it hang together without dry bits falling off.

Turn the dough out onto a lightly floured work surface, and very gently pat it into an 8" circle about 3/4" thick. Use a sharp biscuit cutter (we use a 2 1/4" cutter) to cut rounds.

Dip the rounds into melted butter, and place them on a lightly greased baking sheet. Sprinkle with sparkling (coarse) sugar, if desired; this is a nice touch if you're going to use the biscuits for shortcake.

Bake the biscuits for 15 to 18 minutes, until they're golden brown. If you have any melted butter left over, brush it on the baked biscuits. "Serve hot!," says David.

To make shortcake from the biscuits: Trim and slice the fresh strawberries. Sprinkle them with the sugar, stir, and set aside at room temperature for several hours; or refrigerate overnight.

Whip the heavy cream until it barely holds its shape. Sweeten to taste with granulated sugar.

Split oven-warm biscuits in half. Top the bottom half of each with whipped cream, strawberries, more whipped cream, then the top half of the biscuit. Add a dollop of whipped cream and a slice of strawberry on top, as a garnish.
Tips from our bakers
David called for "soft Southern flour;" that's why we like to use our Pastry Flour Blend, a lovely "soft" flour whose protein level falls right in between all-purpose and pastry flours, giving you the best of both worlds: tender texture and ease of handling. If you use unbleached all-purpose flour, substitute 1/4 cup (1 3/8 ounces) cornstarch for 1/4 cup of the flour.
Use just enough cream to make a cohesive dough. You'll probably use about 1 cup in the summer, 1 1/4 cups in the winter, and 1 cup + 2 tablespoons at other times of year.