A customized print-friendly version of this recipe is available by clicking the "Print Recipe" button on this page.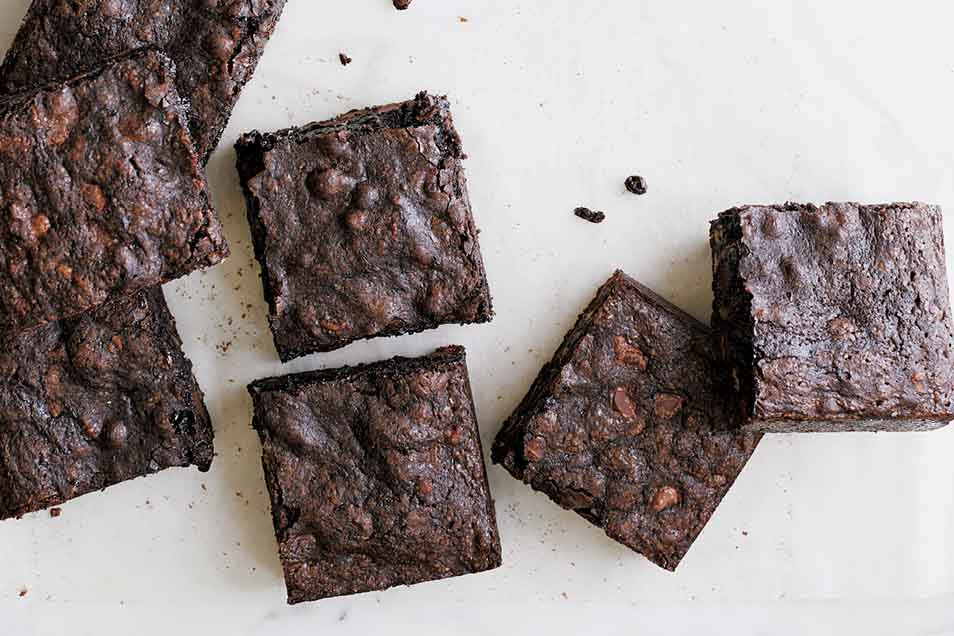 These are the darkest, thickest, moistest, richest brownies you'll ever bake. They can be baked in an 8" or 9" square pan; the 8" pan will make taller brownies, and take a bit longer to bake.
Instructions
Preheat the oven to 350°F. Lightly grease an 8" x 8" or 9" x 9" square pan.

In a large mixing bowl, whisk together the cocoa, sugars, salt, flour, espresso powder, nuts, and chips.

Add the oil, water or coffee, and eggs, mixing until combined.

Spoon the mixture into the pan, smoothing the top.

Bake the brownies for 33 to 35 minutes for the 9" pan, or 40 to 45 minutes for the 8" pan (a pan with a dark interior will bake the brownies more quickly). Test for doneness by inserting a sharp knife in the center. Wriggle it around just enough to see what's going on. Is the batter under the crust still shiny, wet, and smooth? Continue to bake the brownies, checking frequently. Is it ultra-moist, but not shiny, and crumby looking? Take them out, they're done.

Remove the brownies from the oven, and cool on a rack for 1 hour before cutting. Store on the counter, covered, for 5 days; or wrap well and freeze for up to 3 months.
Tips from our bakers
If you're not a big fan of coffee with your chocolate, cut the espresso powder in the recipe to 2 teaspoons, and use water instead of brewed coffee.
Reviews
I got a cake looking fudgy texture. Flavor was good. I don't see nutritional information on the recipe

Lomasi, this is one of our older recipes that was put on the site before we started including nutritional information for each recipe. You'll find it on the right-hand side of all our newer recipes, though. Happy baking! Kat@KAF
I have been making these brownies for at least 7-8 years - using this recipe exclusively! I highly, highly recommend the heavy square brownie pan sold on KAFs website. Once I switched to this, the consistency of my finished product was perfected. In terms of the recipe - I've made both ways but greatly prefer leaving out the espresso powder and also use water instead of coffee. To me, a perfectly fudgy, chewy dark chocolate brownie IS perfection.
Love, love KAF and all your wonderful recipes beyond words. However, couldn't help but notice that these brownies could really use a couple teaspoons of vanilla, am I right??

A little vanilla would certainly be a yummy addition! Or orange, or peppermint ... it's amazing all the flavors that go beautifully with a dark, rich chocolate like this. Happy baking! Kat@KAF
Why didn't my brownies rise? They are flat.

Hi Debbie. These brownies don't have any leaveners in them so they're not big risers. Rather, they're meant to be dense and fudgy. If you're looking for a lighter brownie, we'd recommend checking out our recipes for Cakey Brownies or Fudge Brownies. Kindly, Annabelle@KAF
These are delicious! This recipe is what I call a true brownie. . .rich in chocolate flavor and wonderfully chewy. They came out of the oven looking perfect! I used KA double Dutch chocolate powder whose shelf date had expired by 8 months. It certainly did not affect the quality of the finished product. I lined my KA 9x 9 pan in parchment paper so I could lift the brownies out of the pan and cut them on the cutting board. I will definitely be making these brownies again. I used my Escali scale when I made these. It is fast and reliable!
Just baked this recipe, following the directions on the bag of Double Dutch coca. The brownies are now cooling and they smell delicious. BUT the recipe on the bag says, "cut into squares." The yield is given as "10 to 12 brownies." I'm no math major, but it seems to me to be impossible to cut a 9" square into 10 or 12 squares. Does every other baker just cut 10 or 12 small squares, put them aside and then gobble up the remaining baked brownie batter in the pan before anyone else comes into the kitchen?

The servings will vary depending on how large you want the pieces to be. A quick 3x4 cut will give you 12, but we supposed that could become 10 once the baker enjoys their (rightfully earned) treat of a couple fudgy squares of goodness. Annabelle@KAF
Forgot to add to my recipe below that baking this in a breville non convection setting seems to smooth out the sugar grittiness and result in a creamy texture. The conventional setting also yields a bit more crust perhaps due to the extension of time in the oven. I would start testing at 350F at 18-22 minutes in a dark Chicago metallic nonstick pan lined with parchment, and I took them out at about 24 minutes.
Recommend with caveats. I've made this several times due to sheer ease and convenience. This time I made a recipe of this title on the back of the KA Measure for Measure bag. There are a few differences, the most prominent one being the lack of confectioners sugar in the MfM recipe. The volume amount of sugar is the same. The cooking times vary greatly depending on convection versus non convection. In a breville convection oven, the brownies reached ideal tester texture after 18 minutes, 325 F, on parchment paper in a dark non stick Chicago metallic 9 inch square pan. In the brownies, domed slightly in the non convection setting, 350 F, and were lighter in color on top (at 18 minutes, it was not done). The domed center did sink as it cooled. I believe that my issues stem from the darker pan, not the recipe. (Normally I bake with parchment on light colored conventional metal but I have not yet purchased a 9 square in lighter metal). There is a crust but it's not as pronounced as the sample photograph even when cut and viewed at a cross section. The taste is quite fudgy, but with a definite sugar aftertaste. I've also done this recipe by mixing the fat and sugar together separately, and this results in a slightly less sugar gritty sensation. The next time I do it, I will be sure to add the confectioners sugar which some KA moderators suggest gives a creamier mouthfeel. If you care less about the crackling crust and you add the chips to increase fudginess, you could absolutely reduce the amount of sugar . If your main goal is a more clearly demarcated crackling crust, I suggest one of the KA recipes that fusses more with the dissolving of the sugar into the fat or the Maider Heatter brownie recipe(the one that lists as a variation the York peppermint patties), albeit much more fussy, achieves that crust goal better than this one. Another benefit is that this recipe slices relatively cleanly and easily (I typically slice it after chilling) Note: I either weigh the ingredients or measure as per the KA way and I did use Vahlrona cocoa powder which is not dutched.
They never came out fudgy they came out like cake and the bake time is too long they were done at 22 mins I followed the ingredients exactly except for the sugar I only added 1 cup I can never seem to bake my own fudgy brownies I've tried so many different recipies

Allen, we're sorry to hear this recipe didn't turn out as you were hoping it would. It's likely that the not-so-fudgy texture was a result of the reduced amount of sugar. In recipes, sugar does more than just provide sweetness. It acts like a liquid ingredient once it heats up and melts, adding moistness and in brownies, fudginess. If you're looking to make an ultra-fudgy brownie, try using the full amount of sugar and be sure you're using the right amount of flour too. Measuring your flour by weight is the best way to ensure you get right the right amount, or you can gently fluff, sprinkle, and sweep the flour into the cup as well. We hope these tips bring you closer to success in your fudgy brownie search! Kye@KAF
SO DELiCIOUS! My husband is a bean to bar chocolate maker so finding a chocolate recipe that he simply enjoys rather than evaluates is a challenge. After reading the baker's suggestions for doneness (8' dark metal pan) and some of the excellent comments, I started checking the brownies at 30 minutes and ended up pulling them out around 35. I sliced into them too soon and they seemed very underbaked and made a note to bake for longer next time. BUT as they cooled they firmed up and became this chewy, gooey texture. Thanks for all the great advice. I sub'd coconut oil for vegetable oil and can taste the addition the next day. A neutral flavored oil might allow the cocoa flavor to really shine. Added some vanilla too. This is a flexible recipe that produces a thick, chewy reliably fudgy and delicious brownie.