A customized print-friendly version of this recipe is available by clicking the "Print Recipe" button on this page.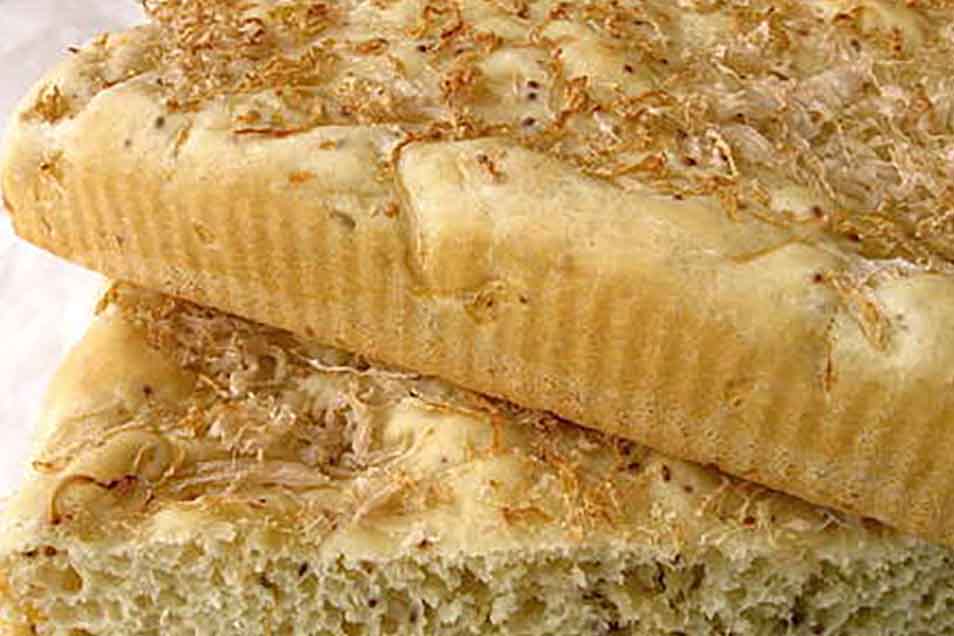 This light-as-air, high-rising no-knead bread goes together in just a couple of minutes. Surprisingly, there's no rye flour in this bread; mustard and caraway seeds give it crunch and assertive flavor, while our Deli Rye Flavor adds the perfect touch of authentic deli taste. A layer of crunchy sauerkraut on top is the perfect final touch - your ham and cheese on rye never had it so good!
Ingredients
1 1/2 cups warm water
3 tablespoons vegetable oil
3 1/2 cups King Arthur Unbleached All-Purpose Flour
1 1/4 teaspoons salt
1 teaspoon caraway seeds
1 tablespoon mustard seeds: brown, yellow, or a combination
1 teaspoon Deli Rye Flavor
1 tablespoon instant yeast
3/4 cup drained sauerkraut*, rinsed and squeezed dry
*If you're using canned sauerkraut, a 14 1/2-ounce can, drained and squeezed dry, is the right amount.
Instructions
Combine all of the ingredients except the sauerkraut in a large bowl, and beat at high speed for 1 minute.

Scoop the batter into a lightly greased 9" x 13" pan. Spread the sauerkraut evenly on top.

Cover the pan, and let the dough rise for 90 minutes, or until it's noticeably puffy. Towards the end of the rising time, preheat the oven to 350°F.

Bake the bread for 35 to 40 minutes, until it's starting to brown around the edges, and an instant-read thermometer inserted into the center registers at least 190°F.

Remove the bread from the oven, and turn it out of the pan onto a rack to cool.

Yield: Enough bread for 6 to 8 sandwiches, or 12 bread-basket servings.
Reviews
This a great recipe to make for sandwiches. I bake a 1/2 recipe in an 8X8 pan and then cut it 4-6 ways. Slice though the pieces and you have a sandwich bread already toasted. I like grated onions and salt on top.
most of the sauerkraut fell off after cutting the bread. The bread itself was OK but didn't have much rye flavor. I wouldn't bother with it again.
I was able to make this bread as a last minute addition to New Years Day dinner. It was a hit even with my family member who doesn't eat cooked cabbage or kraut in any form. Believe it, I was out of caraway seeds, so I used a combination of toasted cumin, fennel, celery, and dill seeds.
Do I need to keep my instant yeast in the frig.?
We like the drier environment of the freezer for yeast storage! Irene @ KAF