A customized print-friendly version of this recipe is available by clicking the "Print Recipe" button on this page.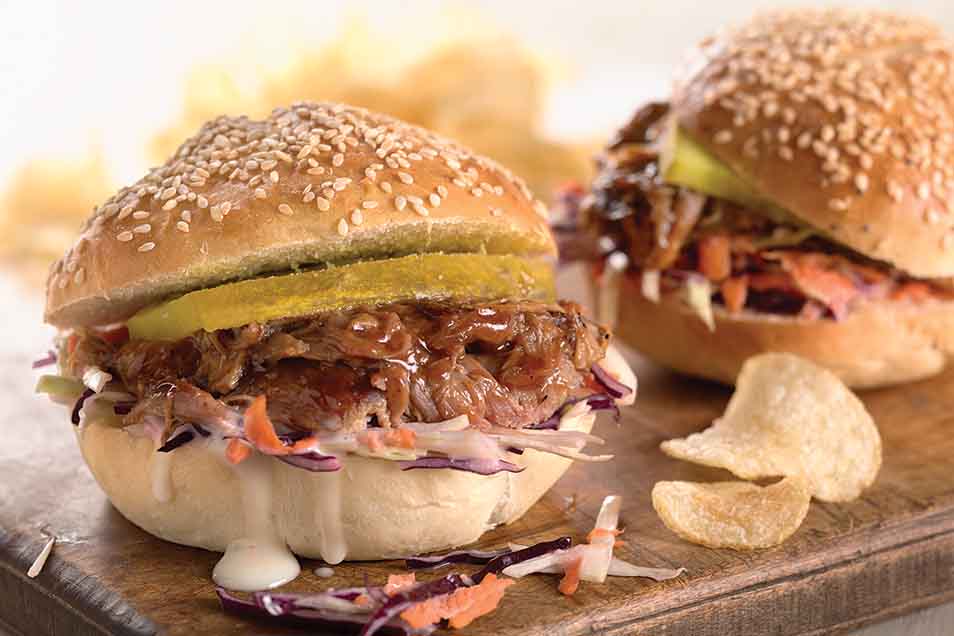 These hard rolls are crisp on the outside, and light and airy inside, with satisfying chew. Top them with sesame or poppy seeds for that authentic "deli look." And, for the tempting sandwich pictured at right, check out our recipe for Sam's Pulled Pork Sandwich with Coleslaw.
Instructions
To make the dough: Mix and knead the dough ingredients — by hand, mixer, or bread machine set on the dough cycle — to make a smooth dough.

Cover the dough and let it rise until it's noticeably puffy, about 1 hour.

Transfer the dough to a lightly greased work surface, and divide it into 6 pieces (about 3 1/4 ounces each). Shape into balls.

Dip the top half of each roll into water, then into the seeds.

Place the rolls into the cups of a lightly greased hamburger roll pan, or onto a lightly greased or parchment-lined baking sheet. Press gently to flatten.

Cover the rolls and let them rise until puffy, 30 to 40 minutes. Towards the end of the rising time, preheat the oven to 400°F.

Bake the rolls until they're a deep golden brown, 22 to 26 minutes. Remove them from the oven, and cool on a rack.

If desired, just before serving, reheat the rolls in a 375°F oven for 5 minutes or so, to crisp.

Yield: 6 hard rolls.
Reviews
I love this recipe. Crispy on the outside, fluffy on the inside. I've made it twice now, and this time, I made nine instead of six (trying to make slider buns... roughly 2-1/4 ounces of dough in step 3 gives you something about the size of a dinner roll), and it was the perfect size. My only issue is that the sesame seeds fall off more than I'd like. Do you think I might have better (stickier) results with a milk wash/cream wash/egg wash/butter baste? I don't mind them being a bit darker or shinier. I just don't want them falling off too much because I'm making them for a party I'm hosting where there will be a LOT of people (20-ish) in my comparatively small home (12 is the most I've ever hosted, and that's a bit crowded), and I'm concerned that there will be seeds/everything seasoning (another topping we're considering) everywhere. I thought of leaving them off, but since they aren't particularly dark or shiny, I felt like they'd look naked and dry without something. Would scoring them cause any issues if I needed them to just look a bit nicer without a topping? I could try all of this, but I'm limited on time to plan and test, so any insight would be helpful, including ideas I haven't thought of.
As usual another great recipe! Instead of seame seeds I had on hand everything bagel topping! Did not have malt powder, used brown sugar as others. Baked a on cookie sheet since I do not a have bun pan but now have added the item to my wish list! Thanks again as always I could not be a successful baker without KAF!
These buns are great--crisp, and sturdy! I love that they don't fall apart with juicy fillings! The dough is very easy to work with. I used sugar instead of the malt powder. Also very pleased that I can get fiber into white flour recipes without changing the texture.
Wonderful flavor, easy to prepare, great texture. This recipe is definitely a keeper!
These rolls are toothsome and delicious!! Best of all, they are easy! I substituted uncooked 10-grain cereal for the Hi-maize Fiber, and it worked very well.
This is absolutely a make-again! I tried this recipe for the first time today, and these rolls made fantastic sandwiches. I didn't have any hi-maize fiber, so I used KAF white whole wheat flour instead, which seemed to work well. I don't think the leftovers will be around for more than a few hours!
Nice size and very tender. Used for pulled chicken and I must say the roll was the star.
I am stuffing my face with one of these rolls as I type, it's really good! I doubled the recipe and used whole wheat white flour and AP flour, brown sugar, and 2 whole eggs...I might seperate them next time to see if it makes any difference, but with the way these taste I don't think I want to change anything! (I topped mine with garlic powder, onion powder, black pepper and garlic salt before baking)
These rolls are wonderful. They are a nice contrast to the "Beautiful Burger Buns" that I usually make and I'm sure they will become a regular addition to my baking adventures :-) I substituted bread flour (and a little AP because I ran out) for the hi-maize fiber. My dough was stickier than I think that it probably should have been been but they were still really good.
A friend asked me to make oval shaped, deli style rolls for New Year's lunch, but "not hamburger buns" I doubled the recipe and made 10 oval rolls, They were delicious. The recipe went in my file this morning. Thank you!