A customized print-friendly version of this recipe is available by clicking the "Print Recipe" button on this page.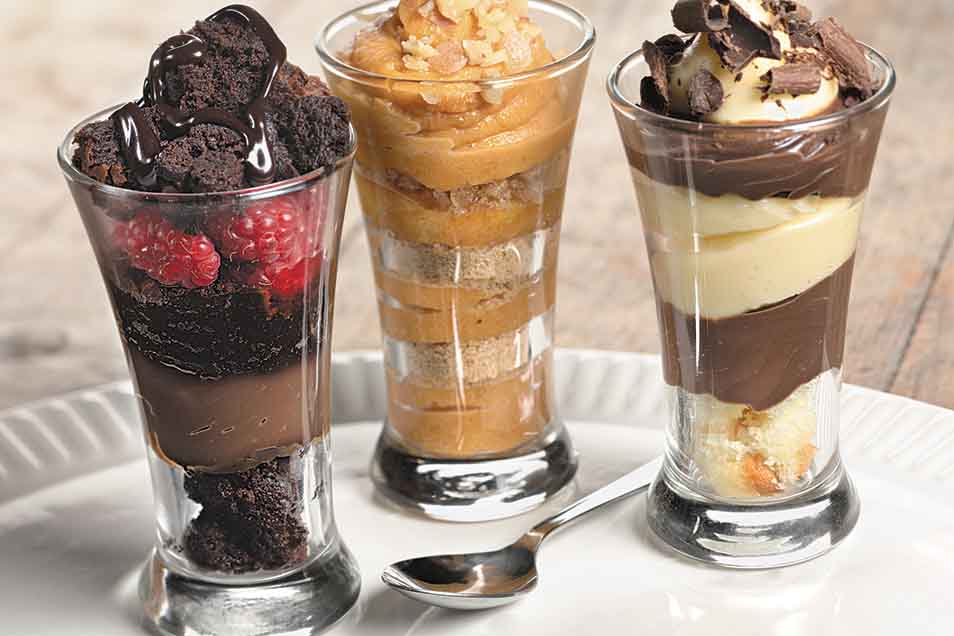 Petite parfaits ("dessert shots") are a lovely, light way to end a festive dinner. Only a few bites big, they're just enough to satisfy everyone's sweet tooth.

Parfaits by definition include multiple layers, for pleasing contrasts in flavor and texture. Try the following elements:
*Base layer: cookie or biscotti crumbs; tiny cake cubes; brownie crumbles.
*Cream layer: flavored mousse; pastry cream; custard; pudding; whipped cream.
*Garnishes: berries; chopped nuts; shaved chocolate; coconut.

Rather than provide a recipe, here are some building-block ideas. Mix and match as you please to create what sounds best to you.
*Key lime: graham cracker crumbs and lime-flavored pudding or mousse.
*Harvest: gingerbread cookie crumbs and pumpkin mousse.
*Strawberries and cream: Vanilla shortbread crumbs with a lemon curd/whipped cream mixture.
*Black Forest: brownie crumbles with cherry pie filling, vanilla pudding, whipped cream, and chocolate shavings.
*Tropical: White cake cubes with pastry cream, sliced banana, and toasted coconut.

Following is a recipe for our favorite, easy, all-purpose pastry cream.
Ingredients
1 small box (about 3/4 ounces) vanilla instant pudding mix
1 cup cold milk
1 cup heavy cream
2 teaspoons vanilla extract
Instructions
Prepare the instant pudding according to the package directions, using milk and cream instead of just milk.

Stir in the vanilla.

Refrigerate until ready to use.