A customized print-friendly version of this recipe is available by clicking the "Print Recipe" button on this page.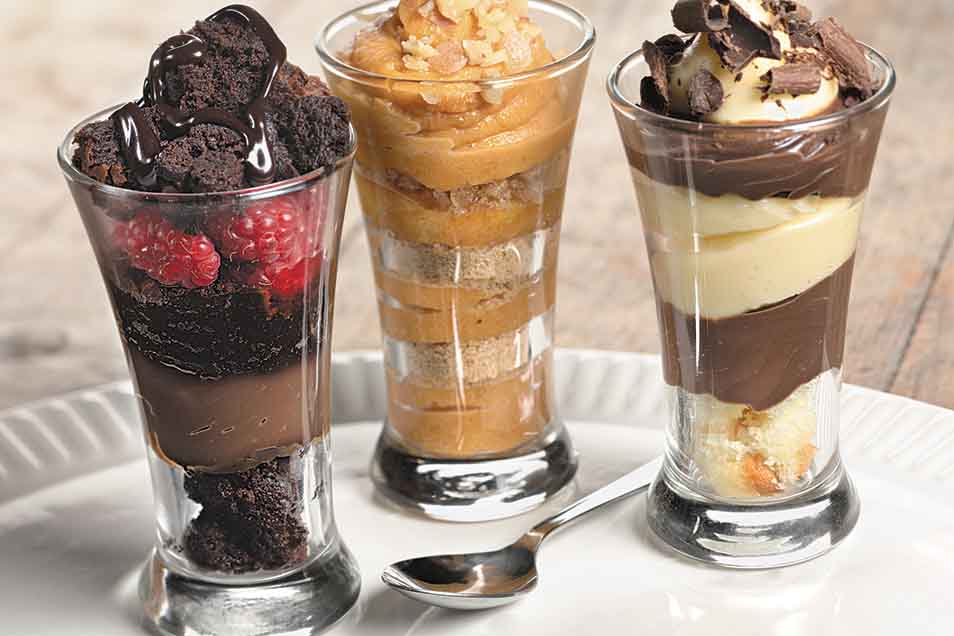 Petite parfaits ("dessert shots") are a lovely, light way to end a festive dinner. Only a few bites big, they're just enough to satisfy everyone's sweet tooth.

Parfaits by definition include multiple layers, for pleasing contrasts in flavor and texture. Try the following elements:
*Base layer: cookie or biscotti crumbs; tiny cake cubes; brownie crumbles.
*Cream layer: flavored mousse; pastry cream; custard; pudding; whipped cream.
*Garnishes: berries; chopped nuts; shaved chocolate; coconut.

Rather than provide a recipe, here are some building-block ideas. Mix and match as you please to create what sounds best to you.
*Key lime: graham cracker crumbs and lime-flavored pudding or mousse.
*Harvest: gingerbread cookie crumbs and pumpkin mousse.
*Strawberries and cream: Vanilla shortbread crumbs with a lemon curd/whipped cream mixture.
*Black Forest: brownie crumbles with cherry pie filling, vanilla pudding, whipped cream, and chocolate shavings.
*Tropical: White cake cubes with pastry cream, sliced banana, and toasted coconut.

Following is a recipe for our favorite, easy, all-purpose pastry cream.
Ingredients
1 small box (about 3/4 ounces) vanilla instant pudding mix
1 cup cold milk
1 cup heavy cream
2 teaspoons vanilla extract
Instructions
Prepare the instant pudding according to the package directions, using milk and cream instead of just milk.

Stir in the vanilla.

Refrigerate until ready to use.
Reviews
I made these for a fancy event. Made the Black Forest, Key Lime, and Strawberries and Cream variations. Good recipe, though I made my own pastry cream; I don't like pastry cream made from pudding mixtures, it just seems like a quick way to make a normally good recipe, since they usually don't taste as good as the real thing.
I've just had a brunch for 15 and used these shots layering them with granola, yogurt, raspberries, and blueberries - not one was left on the serving dish - Definitely would rate this 5 stars.
I bought the glasses and the spoons and tried out this trendy new dessert. It went over very big - for the ladies not wanting a big dessert, and even the men appreciating the taste. For what this is - a simple and easy dessert, I rated it five stars.