A customized print-friendly version of this recipe is available by clicking the "Print Recipe" button on this page.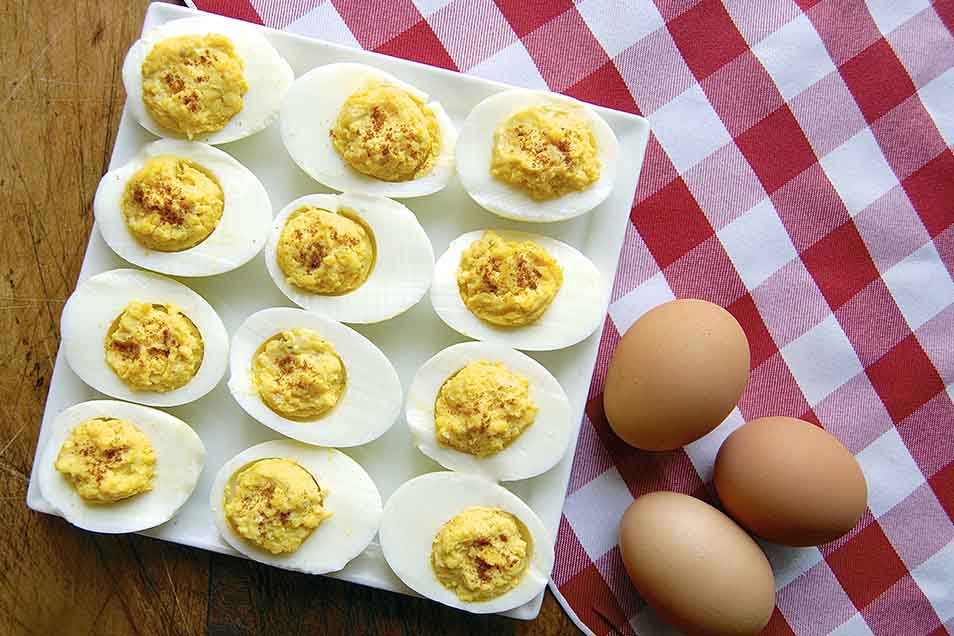 Deviled eggs are hugely popular at summertime picnics. But who says they have to be relegated to warm weather occasions? Anytime you find yourself with an overload of eggs (think Easter), deviling is a good way to turn them into something everyone will love.
Ingredients
6 large hard-boiled eggs
1/4 cup mayonnaise
1 to 2 teaspoons prepared mustard; or 1/4 to 1/2 teaspoon dry mustard
1/4 teaspoon salt
2 to 4 tablespoons sweet pickle relish, pressed dry; optional
1/2 teaspoon Worcestershire sauce, optional, for enhanced flavor
Instructions
Peel the hard-boiled eggs, and halve them lengthwise.

Carefully remove the yolks. If you have a large-capacity garlic press (or small potato ricer), "rice" the yolks through the garlic press. Otherwise, break them apart gently with a fork.

Add the remaining ingredients, stirring to combine.

Spoon the yolks back into the whites. If you're feeling fancy, pipe using a pastry bag and tip.

The traditional garnish is a light sprinkle of paprika atop the yolks; this gives the deviled eggs some color, but is completely optional, of course.

Yield: 12 deviled egg halves, 4 to 6 servings.
Tips from our bakers
Try these curried deviled eggs sometime: substitute 1/2 to 1 teaspoon curry powder for the mustard; and 2 to 4 tablespoons finely chopped chutney for the pickle relish. Omit the Worcestershire sauce.
Another popular variation: substitute 2 to 4 tablespoons finely chopped scallion, both white and green parts, for the pickle relish. Add 1/4 teaspoon onion powder, if desired.
And one more variation: substitute tartar sauce for the mayonnaise and omit the pickle relish, for a slightly less sweet/more tangy treat.
Why do my hard-boiled egg yolks have a green surface? How can I center the yolks in the whites for prettier presentation? How can I keep eggs from cracking open as they boil? Find the answers to these and other pressing egg questions on this recipe's blog post.