A customized print-friendly version of this recipe is available by clicking the "Print Recipe" button on this page.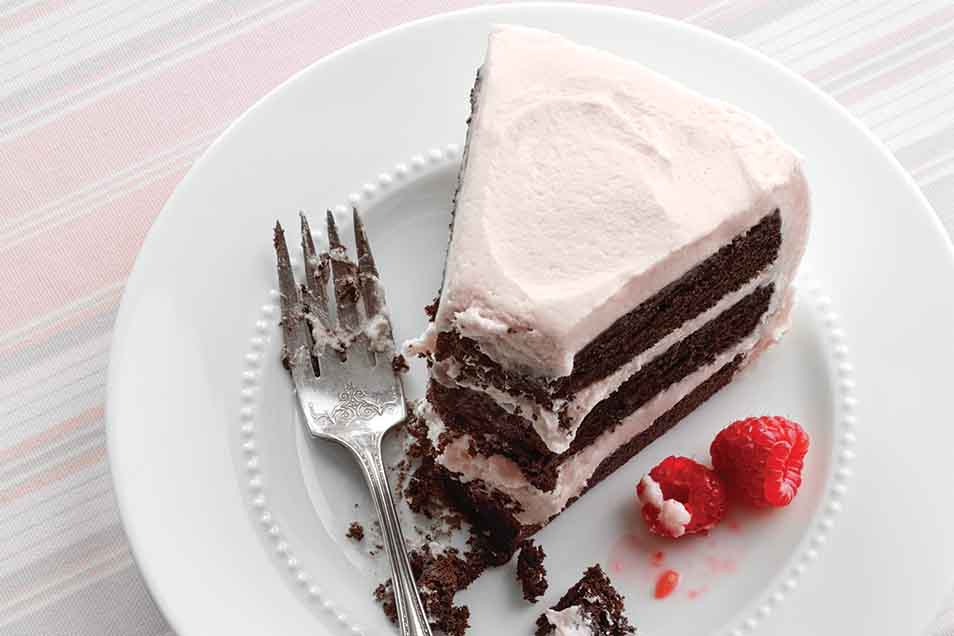 The most traditional of chocolate cakes, devil's food is marked by its dark color and dense texture. Try finishing the cake with Easy Vanilla Buttercream Frosting. We tinted the frosting this pink color with a few tablespoons of raspberry purée.
Instructions
Preheat the oven to 350°F. Lightly grease and flour two 9" round cake pans, three 8" round pans, or a 9" x 13" pan.

In a large mixing bowl, beat together the butter, sugar, and salt until fluffy and light, beating for at least 5 minutes.

In a separate bowl, whisk together the flour, cocoa, and baking powder. If lumps remain, sift the mixture.

Add the eggs to the butter mixture one at a time, beating well after each addition.

Mix together the milk or water and the vanilla.

Add one-third of the flour mixture to the batter, then add half the milk, another third of the flour, the remaining milk, and the remaining flour, stirring to combine after each addition. Scrape the sides and bottom of the bowl occasionally throughout this process. Divide the batter evenly between the prepared pans.

Bake the cake(s) for 30 to 35 minutes (a bit longer for the 9" x 13" cake), until a cake tester or toothpick inserted into the center comes out clean, and the cake begins to pull away from the sides of the pan.

Remove the cake(s) from the oven, cool them for 5 to 10 minutes, then remove them from their pans (leave the 9" x 13" cake in the pan, for easiest serving). Cool completely before frosting.
Reviews
I tried this recipe for the first time and while it was more dense than I would have liked, it was very good. I made a chocolate cream cheese icing and added a fresh strawberry filling in the middle. Everyone who tried it, liked it. Looking at other reviews, I have good ideas to make it lighter. Weighing the ingredients is at the top of my list.
This recipe and the linked 'easy vanilla buttercream' solved the problem of how to come up with a home-made birthday cake when there is NO TIME to make one! I weighed the cake ingredients, which is faster and more accurate than measuring cups, and ended up with a moist, not-too-sweet cake, which I baked and served in a 9x13 baking dish (fussing with layers is sometimes a bridge too far). Thanks!
Made according to recipe. Turned out well. Moist (I kept a close eye on it and removed it from oven just as it was doneb based on reviews about dryness), light chocolate flavor, good texture. Next time I will add a bit of black cocoa for a stronger chocolate flavor.
I have made this cake in several ocasions and while the flavour was always great, the texture was not ideal for my taste . So, now I have tried a new version that turned out really well. I substituted half the butter for applesauce (adding it after beating in the last egg) and I mixed the cocoa powder with boiling water (3/4 cup), let it cool and then mixed in 3/4 cup of milk . I used ganache instead of frosting. What can I say? We love chocolate!
Sadly, I can still say I've never met a Devil's food cake I've liked, in the 4 decades I've been baking. But I had hopes for this one, being that it's a KAF recipe. I guess I can now conclude that the real definition of a Devil's food cake is a brown cake that mostly lacks chocolate flavor. Which is fine if you like just a subtle hint of chocolate, or are making it for kids, perhaps - but for discriminating, chocolate-obsessed folks, this is Not the cake for them. Lesson learned! (I'm going to be sticking with more decadent chocolate cakes from now on.). Additionally, although I first checked the cake at 25 mins and discovered it to be done then, 5-10 mins early, I still found it to be dry. The texture is good - nice, fine crumb, but the overall feel of it under the fork and while eating it was not good to me (feels like it could use a little veg oil), and it was a poor match (unworthy!) of the rich, chocolate buttercream I paired it with. It didn't rise much in my 9" pans, and for the height of the layers a third would have been better looking for a nice presentation. But again, not really worth the ingredients, in my opinion. Anyway, I still love KAF!! You rock! See you in soon in VT!!

We're glad to hear you're still a loyal KAF baker even though it seems like Devil's Food Cake isn't the recipe for you. If you haven't already discovered it, the Chocolate Fudge Blackout Cake might be just what you're looking for or even the Chocolate Stout Cake. Both have a wonderful depth of flavor and we hope you give them a try! Kye@KAF
Perfect taste and texture at 5280 feet! I live in Denver Colorado and made this into mini cupcakes using a melon baller to fill the cupcakes bake at 375 for 15 minutes exactly. The only thing I changed was using buttermilk in place of milk or water. They Rose perfectly and did not fall frosted with a simple pipe star of cream cheese icing! Will become a go-to recipe
One of my favorite chocolate cake recipes I have ever made. I changed one thing I used 3/4 cups whole mike and 3/4 cup hot coffee. It was amazing! My none cake eating husband even liked it.
So many positive reviews, I found the cake to be quite dry. I've been baking for a long time and often visit King Arthur as my go to spot for cakes and breads. Ehhhh. I've frosted it but I kinda think life is too short for bad cake so the whole thing might get tossed.

Tricia, I'm so sorry to hear this recipe did not work well for you. It's possible you inadvertently added too much flour if you scooped the flour into your cup. For best results we recommend weighing your ingredients. If you don't have a scale, be sure to fluff the flour, then sprinkle it into the cup, and then level the cup. Barb@KAF
I have baked this cake countless times, and it is easy to make, consistent and reliable every time. This is my "go to" for birthday cakes for my two boys and also for an annual cub scout cake contest. I usually convert it to 1 1/2 times the recipe, and bake it in a half sheet pan. Then I can cut and shape it into whatever the theme is! I have shaped this cake into a rocket ship, pirate chest, log truck, boat, castle, legos, all with great success! It is study enough to build with, but tender and delicious and accepts any icing just fine. I've also baked it in a 9x13 pan for cakes that require a rectangle base to decorate, and also used it to fill one of those giant cupcake pans made by Wilton(using 1 1/2 recipe). I usually use a buttercream, but have also used peanut butter, chocolate, marshmallow, and caramel flavored. The chocolate flavor is not overpowering, perfect for kids, and is delicious IF you use good cocoa! My kids are spoiled and know the difference between good and mediocre chocolate. I used to use the Ghirardelli brand natural cocoa, but ever since I tried KAF double dutch dark, I have not gone back. Makes a noticeably better chocolate anything. I also have started adding the espresso power into this which makes a difference. Great cake, try it!