A customized print-friendly version of this recipe is available by clicking the "Print Recipe" button on this page.
Dipping Sauce for Scallion Pancakes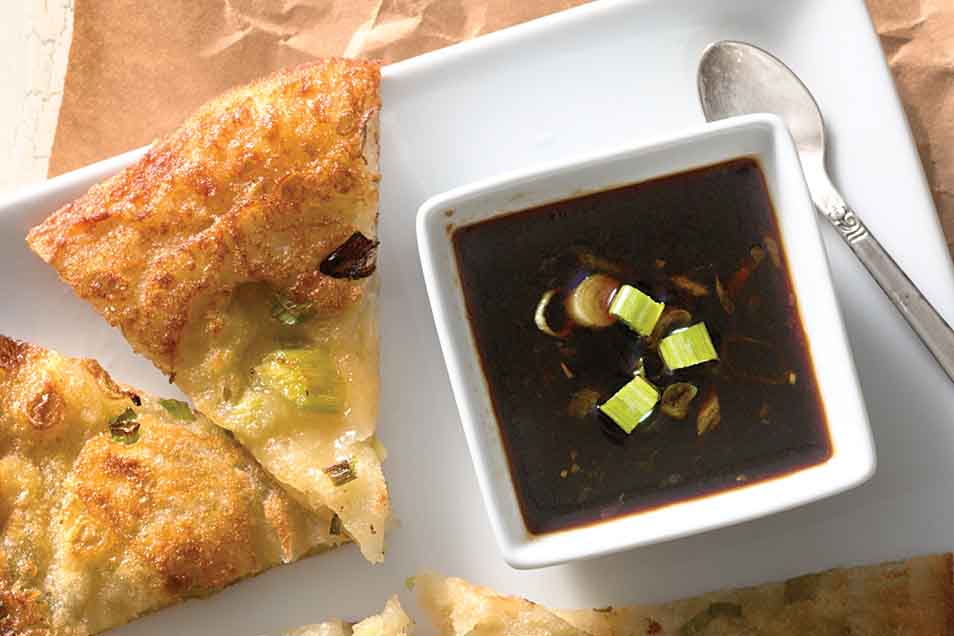 This sauce is simple to put together, lasts indefinitely in the refrigerator, and has an incredible number of uses. First and foremost, you'll want some on hand when you make Scallion Pancakes. It's an excellent marinade for chicken wings or skewers, and with the addition of some hoisin sauce, becomes a wonderful barbecue sauce. Brush it on grilled fish, or use it to complete your tempura vegetables or shrimp.
Ingredients
2 cups light soy sauce
1 cup rice wine vinegar
1/2 cup mirin or simple syrup
1 tablespoon sesame oil
1/2 cup grated fresh ginger
1/4 cup minced garlic
1 1/2 cups (1 bunch) scallions, white and green sliced very thin on the bias
2 teaspoons chili garlic paste (optional)
2 tablespoons sesame seeds for garnish
Instructions
Combine all of the ingredients except for the sesame seeds; hold in the refrigerator. Garnish with sesame seeds when serving.
Reviews
This looks great - I want to make sure that you mean regular sesame oil and not toasted. I liked it with toasted, but wonder if regular was what was called for.
You may substitute Sriracha for chili garlic paste if you do not have any this time. If you do this, for thickening purposes, add a dab of tomato paste, a bulb of garlic (peeled&crushed) to a small bowl with the Sriracha and thoroughly mash together before adding to dip. Taste for desired heat. Enjoy!
This sauce is lovely! I will probably always have some of this in my fridge from now on since it keeps well. It was easy to make, so fragrant, and really delicious. I haven't tackled the scallion pancakes yet but we used this as our dipping sauce last night for a meal of Asian appetizers: breaded shrimp, veggie spring rolls, and steamed dim sum dumplings. Yummy on everything! I used it as dressing for a quick lunch salad today, and it was delicious. Just threw together some chunks of iceberg lettuce, about half a cooked chicken breast, and a palmful of toasted slivered almonds, and drizzled the sauce over it for a fast and really tasty Chinese Chicken Salad. I'm going to try the new pita bread recipe this weekend and I think if I increase the ratio of chicken to lettuce my salad will make a very nice pocket sandwich filling. The next time I make a batch of the sauce I'm going to use my key lime syrup in place of the simple syrup. I think it will give it a slightly brighter flavor, and the other ingredients are aggressive enough not to be overpowered by the lime.