A customized print-friendly version of this recipe is available by clicking the "Print Recipe" button on this page.
Double Cherry Chocolate Cake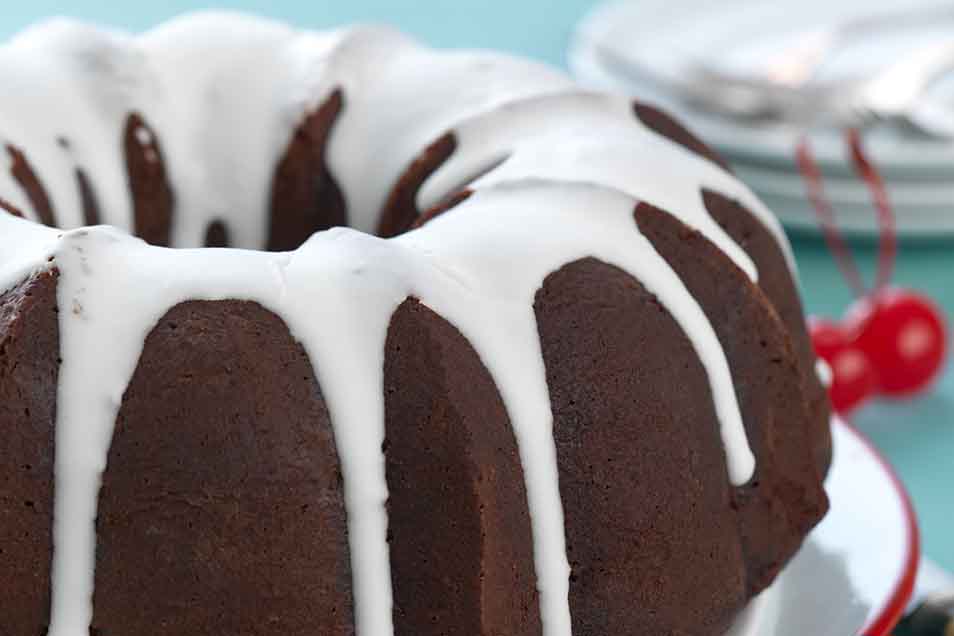 If you're a fan of chocolate-covered cherries and chocolate-cherry ice cream, then this cake is for you. Deep-dark fudge cake studded with both dried and maraschino cherries isn't a dessert for the faint of heart. A light drizzle of icing or a dollop of freshly whipped cream sets the deep flavors off to perfection.
Instructions
Preheat the oven to 350°F. Grease and flour a 12-cup Bundt pan. Bundt cakes are notorious for sticking, so be sure to grease and flour well; skip the pan spray this time, using solid shortening and flour instead.

In a small bowl, combine the dried cherries and milk and set aside to steep for 10 minutes. Drain the cherries, reserving the milk.

Combine the butter, eggs, sugar, baking powder, baking soda, salt, vanilla, cocoa, flour, and 1 cup of the reserved milk. Beat on medium speed for 2 minutes.

Stop and scrape the bottom and sides of the bowl, then add the remaining reserved milk and the cherry juice. Beat for another 2 minutes.

Add the two types of cherries, and the chocolate chips. Mix on low speed for 1 minute, or until well combined. Pour the batter into the prepared pan.

Bake the cake for 40 to 50 minutes, or until a long cake tester comes out clean; a dry piece of spaghetti makes a great tester for large Bundt cakes. The top of the cake will develop cracks, which is normal. The cracks should look moist, but not overly wet.

Remove the cake from the oven and cool in the pan for 10 minutes. Turn the cake out onto a cooling rack to cool completely before serving.
Tips from our bakers
This cake is wonderful as is, or dusted with confectioners' sugar. A simple vanilla confectioners' sugar glaze is tasty. Or serve with freshly whipped cream, which can help temper the richness of this deep, dark cake.
Reviews
I tried to review this last night, but then got a message that it didn't go through. I don't know whether or not it did, but in any event, I will try again. If it's a repeat, just delete. I made this cake last week, a full recipe, which turned out to be just the right amount to fill my 4 baby bundt pan, and I had little bundts to distribute among the family. I painted the bundt forms with butter and coated them with flour as you have suggested, and the bundts dropped out without much prodding. I straightened them out from underneath, another suggestion from you, and when cool, drizzled a simple vanilla icing over them. They looked great, and even now the one I kept in the refrigerator for myself is still dark, dense and moist. So why only four stars? Neither the chocolate nor the cherry taste was as strong as I had expected. I think I chopped the cherries too small; next time I'll quarter the maraschino cherries, and cut the dried cherries in half. I will also add a quarter of a teaspoon of expresso powder to enhance the chocolate taste and maybe some rum or orange liquor. The recipe is also a bit more to-do than I had expected. That said, when I served the last cake to my son this evening, he found it delicious. The cakes do seem to improve with time to mellow. Question: Is there a trick for cleaning bundt pans after baking? It was something of a challenge to remove all of the crumbs from the pans. Bottom line: Thanks for the recipe, and in advance for your advice about cleaning the pan.

We're happy to help with the cleaning, Dorothy! We find soaking the pan with hot water and soap right away makes everything easier. Nordicware makes a Bundt Cleaning Brush that's available under "Gadgets" on our website. Dawn Powder Dissolver is a wonderful strong leave-on soap that makes rinsing your pans much more satisfying. Annabelle@KAF
I made this with Measure for Measure flour. It came out great!. Very rich tasting, deep chocolate flavor. The cherries and chocolate chips did not sink to the bottom.
This cake tastes good but the texture is very dense. Next time I may cut back on the dried cherries to see if it will have a lighter texture.
Wonderful cake recipe! Tastes great, is moist and doesn't last long in the house.
This cake was delicious! I wish the cherry flavor was a little stronger but that is just a personal preference. It took about 55 minutes for mine to bake. I will be making this again!
My husband, who does not have the sweet tooth I do, LOVES this cake. He has been having it for breakfast and quoting Bill Cosby... eggs, milk, fruit, etc. It is a lovely rich moist cake and has remained that way for 4 days just sitting on the counter. Only one small piece left. The only changes I made were adding 2-1/2 tbs of cake enhancer and substituting black cocoa for half the KAF AP cocoa.