A customized print-friendly version of this recipe is available by clicking the "Print Recipe" button on this page.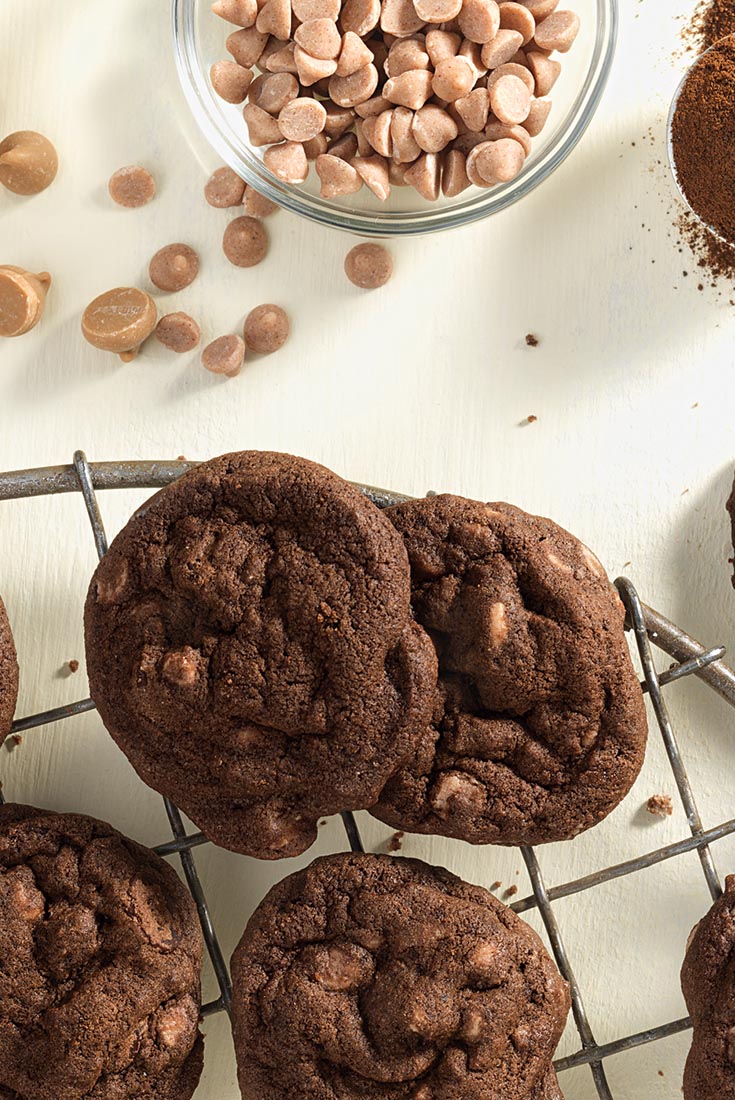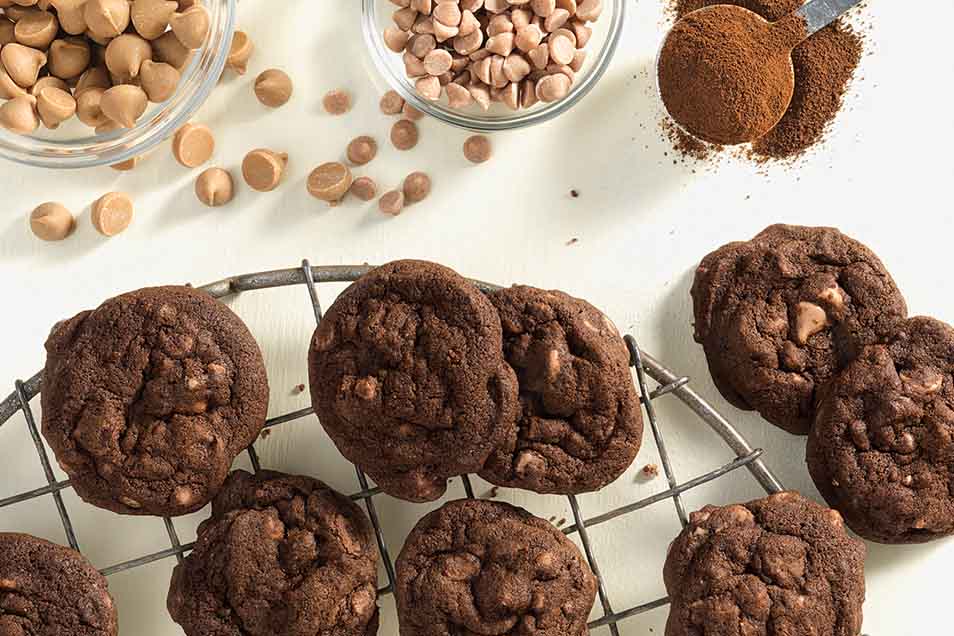 This chocolate-coffee-flavored cookie harbors both cinnamon and cappuccino chips, though we've also paired chocolate and cappuccino chips to wonderful effect. Our thanks to reader Gwen Powell of Staten Island, New York, who provided the original inspiration for these cookies.
Ingredients
1/2 cup (8 tablespoons) butter
1/3 cup granulated sugar
1/4 cup light brown sugar
1/2 teaspoon baking soda
1/2 teaspoon salt
1 teaspoon to 1 tablespoon espresso powder; optional, to taste
1 teaspoon ground cinnamon, optional*
1 large egg
1 teaspoon vanilla
1/4 cup Double-Dutch Dark Cocoa or King Arthur All-Purpose Cocoa
1 1/4 cups King Arthur Unbleached All-Purpose Flour
2 to 2 1/4 cups chips: cappuccino, cinnamon, chocolate, or a mixture
*Use ground cinnamon if you like the cinnamon/chocolate combination, but aren't using cinnamon chips.
Instructions
Preheat the oven to 375°F. Lightly grease two baking sheets, or line with parchment.

Combine the butter, sugars, baking soda, salt, espresso powder, and cinnamon in a mixing bowl.

Beat until the mixture is smooth.

Add the egg and vanilla, and again beat until thoroughly combined. The mixture will look a bit grainy; that's OK.

Beat in the cocoa.

Add the flour, beating slowly to combine.

Add the chips, mixing until they're well-distributed.

Drop the dough by teaspoonfuls onto the prepared baking sheets. A teaspoon scoop works very well here. If the dough begins to stick, simply dip the scoop in cold water. Space the cookies at least 1" apart.

Bake the cookies for 7 to 8 minutes; the cookies should seem barely done. If you attempt to pick an oven-hot cookie off the baking sheet, it'll fall apart.

Allow the cookies to cool right on the baking sheet.
Reviews
I used 1 1/2 tsp espresso powder, the cinnamon, and 2 cups chocolate chips. Cookies tasted great but did not spread or flatten at all. Due to lack of time, I had refrigerated the dough overnight but brought it fully to room temperature and softness before scooping it out for baking. The tip about dipping the scoop in water to prevent sticking was a big help!
FiVE STARS Just baked these cookies, absolutely wonderful! I omitted the cinnamon, used chocolate extract instead of vanilla, used a Tbls of espresso powder, bittersweet chips only and I didn't even measure the flour exactly and they were perfect. Highly recommend. Website wasn't allowing me to rate with the Stars provided.
Made these cookies twice. I did make a few changes to the ingredients, I always seem to adjust a recipe after making it once. You should see my cookbooks! First, I increased the butter by adding one more Tablespoon of butter (they seemed a little dry in taste & tough to stir). Secondly, I eliminated the cinnamon, and added 1 1/2 teaspoons of espresso powder. Thirdly, I used white chocolate chips, I thought the cookies were more semi-sweet chocolate flavor and needed a touch of sweetness. These cookies are melt in your mouth Devine!
I love the basic framework of these cookies, but didn't love the cinnamon/cinnamon chips. I followed the recipe the first time, but found the flavors to be too muddied. Since then I've done them two ways: with both semi sweet and white chips and with white and mocha chips, in which case I've increased the cocoa powder. I've also adjusted the vanilla/salt to my taste. But the cookie itself is wonderful! Less is more.
Like almost every King Arthur recipe, the flavor of the finished product is impeccable. However, like many other reviewers, the cookies did not spread as described. I am an experienced baker, and I measure quite accurately. I even checked my oven temperature. I also understand how seasonal humidity levels act as variables. I would classify this as a more "fragile" recipe, one that is susceptible to fine variables. Because there are several reviewers noting the lack of spread, I would recommend King Arthur to re-assess and tweak this recipe.

Thanks for taking the time to share your feedback with us. It's true; the spread of the cookies depends on a variety of factors, especially how you scoop the cookies. If you use a rounded scoop, you might want to press the cookies gently before the go into the oven. I hope that helps! Kye@KAF
Decadent! . Based on other feedback, I used ground cinnamon instead of cinnamon chips. Used 1 1/2 tsp of espresso powder and a little over 2 cups total of espresso and dark chocolate chips. I also used a dark chocolate cocoa. Glad I made small cookies, they are very rich and delicious! A keeper!
We liked the rich chocolate-y flavor and soft texture of this cookie. We didn't like the cinnamon flavor so would forego this next time.
I made this with just chocolate chips, and they were great. Can't decide if we like the dough best, or the baked cookies! So good.
Not tasty. First K.A. recipe that fell flat.

Jennie, it's too bad this recipe for Double-Dark Mocha Drops wasn't what you were hoping it would be. We're interested in hearing your thoughts more specifically about why this recipe fell short for you. If you'd like to share your feedback with us, please feel free to send an email to customercare[at]kingarthurflour[dot]com. We're always hoping to make our recipes as delicious as possible. Kye@KAF
I allowed my eyes to select this cookie recipe rather than my brain. They looked just like the picture but had a heavy texture, too many chips and too many different flavors to be appreciated. Not a recipe I will make again.

We're sorry to hear this didn't make the cookies you were hoping for, Peggy. We love packing lots of chips into every cookie, but feel free to cut back or only use one type of chip instead of a combination if you're looking for something more simple. As for the heaviness, be sure you are either using a scale to measure your flour by weight, or fluffing and sprinkling it into the measuring cup one spoonful at a time. Light cups of flour make light, tender cookies. Good luck in your cookie search! Kye@KAF