A customized print-friendly version of this recipe is available by clicking the "Print Recipe" button on this page.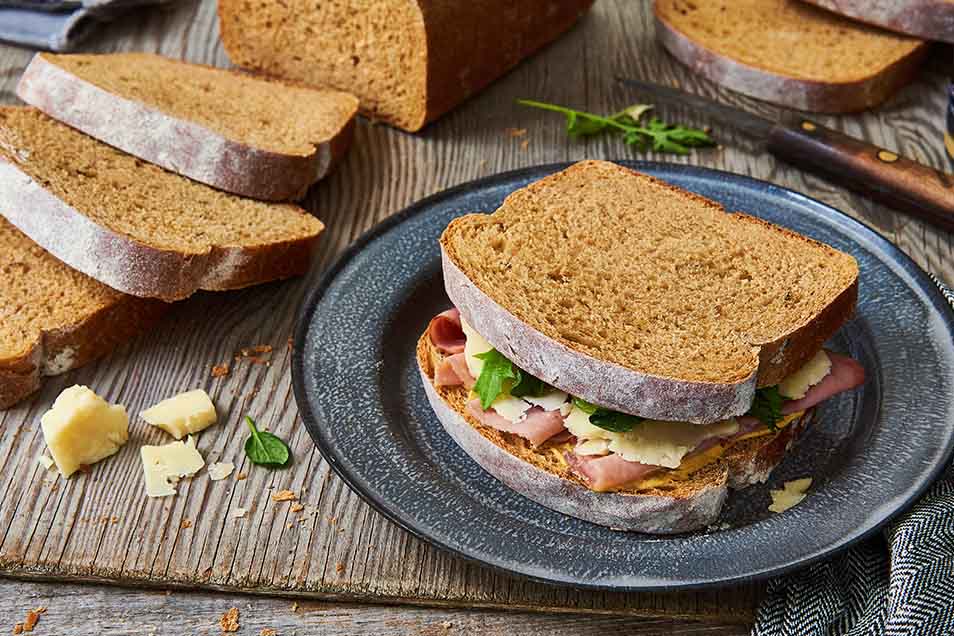 This sandwich rye bread is super-light and moist; and the recipe makes two loaves, thus the "double." Our thanks to the cooks on the classic Maine schooner Sylvina W. Beal, launched in 1911 in East Boothbay. They shared a version of this recipe with one of their passengers nearly 20 years ago, on a cruise he took out of Belfast; and he kindly passed it along to us. We've modernized it a bit, and are happy to share this bit of Maine nautical/culinary history with you.
Ingredients
2 cups rye flour: white, medium, or pumpernickel
2 ½ teaspoons instant yeast
2 tablespoons brown sugar
2 ½ teaspoons salt
3 tablespoons butter
1/4 cup molasses
1/4 cup Baker's Special Dry Milk or nonfat dry milk
1 tablespoon caraway seeds
1 ¾ to 2 cups lukewarm water*
*Use the greater amount of liquid in winter or in drier climates; the lesser amount in summer, or in a humid environment.
Instructions
Mix all of the ingredients together just until everything is moistened. Cover the bowl, and let the dough rest for 15 minutes; this gives the flour a chance to start absorbing the liquid, which will make the dough a bit less sticky to knead.

Knead the dough for about 7 minutes in a stand mixer, or 10 minutes by hand. It'll be quite sticky; rye flour does have that propensity. But it should also be smooth, and feel elastic.

Place the dough in a lightly greased bowl, cover it, and let the dough rise for 60 to 90 minutes, until it's nicely puffy, though not necessarily doubled in bulk.

Gently deflate the dough, and divide it in half. Shape each half into a log.

Lightly grease two 9" x 5" loaf pans; two 8 1/2" x 4 1/2" loaf pans, or one of each. The smaller pan will make a loaf that "mushrooms" a bit; we prefer 9" x 5" pans here.

Settle the shaped dough into the pans. Cover the pans, and let the dough rise for 60 to 90 minutes, until it's crowned about 1" over the rim of the smaller pan, and is about even or slightly over the rim of the larger pan.

Towards the end of the rising time, preheat the oven to 350°F.

Bake the loaves for 35 to 45 minutes, until an instant-read thermometer inserted into the center of one registers at least 190°F. If the loaves seem to be browning too quickly, tent them loosely with aluminum foil.

Remove the bread from the oven, and after 10 minutes turn it out of the pans onto a rack to cool.

Cool completely before slicing. Store airtight at room temperature for 5 days or so; for longer storage, wrap and freeze.

Yield: 2 loaves.
Reviews
nice and soft sandwich loaf. This is a winner! I cut the recipe in half and only made a single loaf. Other than that, the recipe was followed exactly. Weighed everything out in grams as usual. I will make 2 loaves in the future. Baked beautifully in a 9x5 loaf pan. Great chew and flavor. Love rye bread and this will be the only kind I even want to make in the future. Thanks, KAF bakers!
I made this yesterday... came out beautifully! Very soft and yummy! I did use a rye sour as follows: 20g sourdough starter+20g water+20g rye flour, after it was going well I bulked it up in two more additions... adding 60g water + 60g rye flour (I added a sachet of chopped onions and caraway seeds at this step) for 12 hours then added 180g water and 180g rye flour and removed the sachet. I let the final starter ferment for about 6 hours. I measured out 426g of this sour and put the rest in the frig for next time. I removed 213g of water from the recipe. I used all dark brown sugar for both the sugar and molasses... (92g total) and added 22g of water. I used 2 tsp instant yeast.
I made this recipe with sourdough starter in place of some of the wheat flour and water--but I did use the full amount of yeast as well. And I used bread flour instead of all purpose flour. The bread came out fine but it is really too sweet, even though I cut down somewhat on the molasses. Next time I make it I will leave out the brown sugar and cut the amount of molasses in half. I also will add a bit more yeast to help it proof a bit more quickly.
I have made this before, and its a great recipe. SO, I wanted to try the technique in sharing bread - making 2 dough balls to yield 2 small loves to give away, yet still have a loaf for ourselves. PLUS I wanted to try the cake enhancer. FIRST: I got 2 wonderful sized loaves to share with friends. SECOND: the loaf I kept for us is still nice and fresh, and its friday - the rye was made on Monday. So the enhancer does really help with freshness and the texture was really good too. SO I am pleased with this recipe and the cake enhancer.
Added a tsp of the deli rye flavor. This recipe is out of this world GORGEOUS. Highly recommended.
I baked this as written but halved. Units weighed in grams. Kneaded by dough hook on the stand mixer. The creation was easier than any rye bread I've made. It came together marvelously. The half recipe gave me a 645g ball that I should have baked in the smaller 8 1/2 x 4 1/2 instead of the 9x5. I got a truly nice dome but it didn't rise quite high enough in the 9x5. Bake time to 190f was 32 minutes. Buttered the top when it came out of the oven to keep the crust soft. The flavor is outstanding and the texture/moisture exceptional. I'll slice this for sandwich bread but it's plenty delicious just sliced and buttered. This one stays in the baking rotation though I may add a touch of pickle brine next time to punch up the flavor.
Excellent!! Made this bread today got St. Pattys corned beef and cabbage dinner...very easy and so tasty! I followed recipe exactly adding milled flax seed and deli rye flavor. My go to rye bread recipe from now on
I somehow managed to successfully bake this for the 1st time on Christmas Eve, despite the chaos of having children and hosting dinner for family and friends, and my best efforts to mess it up! I was counting on it for Christmas morning despite my best judgement. Paying no attention to time, I put it out of the way for the 1st rise and completely forgot about it. Oops. An estimated 2 hrs later I haphazardly divided and shaped this very slack dough and threw it into the pans. The only grocery store in my small town was officially closed for 2 days and this was about the time I was seriously questioning my brazen decision to NOT buy some back up bread. More lost time later I popped the loaves into the oven, hoped for the best, and miraculously they sprang right up and baked up big and beautifully! I did have a slight blow out on one side of each loaf but it didn't matter. The taste and texture was delightful and exactly what I was hoping it would be. I used the Rye Flour Blend which I had purchased for the 1st time several months ago and never got around to using. I served it toasted for a Christmas brunch spread the next morning with creamed eggs, smoked salmon and cream cheese, and a variety of pickled items and fresh fruit. It was really perfect and everyone loved it, young and old. I love that this makes 2 loaves, and it will be going into regular rotation for my bread loving family. Thank you King Arthur for another awesome product and recipe, I can always count on you!
Update to earlier review. This bread is a winner. Hae been attending many potlucks so I have bee making it consistently plus it is holiday time. This is a big hit! I have been adding ONLY 1 teaspoon deli rye flavor to it and it really ramps up the flavor. Yesterday made as rolls for gifts. Feedback was wonderful. Made a small rye stencil which made them gorgeous then after baking lightly added more melted butter over top and lightly salted. This is a real good recipe, easy for a beginner.
Agree 100% Fantastic bread. Made with the minimum of water. Did add a tad of deli rye flavor and whole grain bread improver. Had a wonderful rise, nic crumb and unbelievable flavor. Great with Irish butter. Took a stencil well. Did have a few minor cracks in the top. Put the lightest possible egg wash over top to give nice light crisped crust. Wondering if this would be an ok loaf to slash???

These rye loaves might look quite nice with scoring, perhaps with a long slash down the center. It should help the dough expand while it rises; just be sure not to over-proof the dough or else the loaf may deflate and not pick back up once in the oven. Kye@KAF