A customized print-friendly version of this recipe is available by clicking the "Print Recipe" button on this page.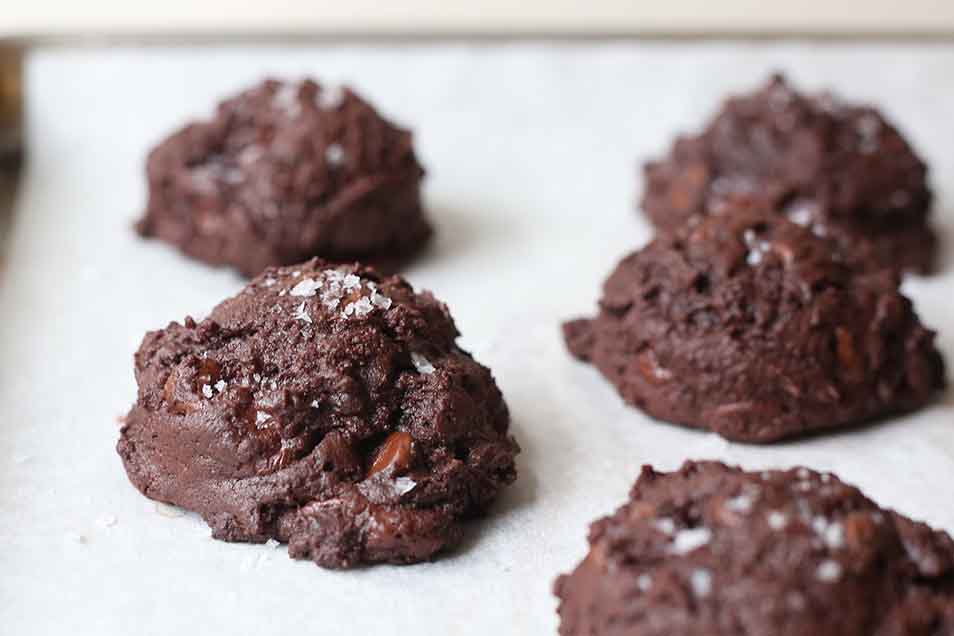 Break open these dense, brownie-like drop cookies hot from the oven to find pools of melting chocolate inside. Once they're completely cooled, the chocolate pools solidify into nuggets; either way, they're oh-so-chocolatey-good!
Ingredients
1/2 cup butter, melted
1 cup brown sugar
3/4 teaspoon baking powder
1 teaspoon espresso powder
1/2 teaspoon salt
2 large eggs
2 teaspoons vanilla extract
2/3 cup Dutch-process cocoa
1 3/4 cups King Arthur Unbleached All-Purpose Flour or King Arthur White Whole Wheat Flour
1 cup semisweet or bittersweet chocolate chips
1 cup chocolate chunks: semisweet or white
Instructions
Preheat the oven to 350°F. Lightly grease or line with parchment two baking sheets.

In a medium bowl, mix together the melted butter, sugar, baking powder, espresso powder, and salt.

Add the eggs and vanilla, beating until smooth.

Stir in the cocoa powder and flour; the dough will be sticky.

Mix in the chocolate chips and chunks.

Drop the cookies by tablespoonfuls (about 1 1/2" balls) onto the prepared baking sheets, leaving about 1 1/2" between them. A tablespoon cookie scoop works well here. Cookies will bake into chunky mounds, and you don't need to leave a lot of space between them; they won't spread much.

Bake the cookies for 8 to 10 minutes, until they're just set; they'll still be a bit shiny in the center. Remove them from the oven, and allow them to cool on the pan.

Yield: about 3 dozen cookies.
Tips from our bakers
Reader Mrs. M. says she makes a "Chunky bar" variation of these with 4 ounces (2/3 cup) chocolate chips, 4 ounces (3/4 cup) raisins, and 4 ounces (3/4 cup) peanuts, instead of all chocolate chips and chunks. We found that these cookies will be VERY soft coming out of the oven, but don't panic; they'll firm up nicely as they cool. Thanks, Mrs. M!
For flatter rather than mounded cookies, press the dough down gently with your fingers before baking.
To make a greater number of cookies (perfect for potlucks and team sports dinners), drop the dough onto the baking sheets in 1" balls; a teaspoon cookie scoop works very well here. Bake the cookies for 7 to 8 minutes. Yield: about 5 1/2 dozen to 6 dozen cookies.
Reviews
These are so good! I don't normally care for these kind of over-the-top chocolate cookies, but these are really special. I was looking for a cookie that would ship well, but I will add these to my normal rotation now. Well done KAF!
Just finished baking for the third time. Luckily I share them at family dinner or I know I would eat myself sick. My grand niece has especially asked if I would make these for her sixth birthday party. The girl has excellent taste.
These cookies are amazingly good! I love how they stay mounded when cooked (I used melted butter per the recipe and did not flatten them.) The flavor is excellent - like little brownie bites. In 1/2 the dough I used semisweet and white chocolate, and in the other 1/2 I used semisweet and some Ghirardelli caramel chips I found one day at the store. Both were really tasty. Using my tablespoon scoop I got just about 30 cookies. I put some in the freezer, and found that they are delicious that way too - right from the freezer, and that way I don't have to see them every time I pass the counter, so I don't eat too many at once! One question - do you think these would come out well made as a bar cookie? If so, pan size? Cooking time? Thanks!

We're thrilled that these have been such a hit in your kitchen, Jenni! We haven't tried baking them in a bar form, but that doesn't mean it can't be done. Because the dough is so thick, it might be a little difficult to spread it into a pan, so using either a bowl scraper or the bottom of a greased measuring cup to press it down will make things easier. Try using an 8" or 9" square pan. Baking time is a bit of a guess since we haven't done this, but it will likely be fairly similar to our Deep-Dark Fudgy Brownies recipe which bakes for 30 to 40 minutes. It might take some trial an error, but it will be one tasty experiment! Annabelle@KAF
Love them. Great flavor! But i actually have a question. Mine looked more dense than the picture. Where did I go wrong?

The fudgy flavor is definitely a winner here, Melia! This recipe makes a dense cookie from the start. To create a lighter appearance, we found that mounding the dough up as more of a ball rather than flattening it out made for a taller cookie. The fudgy, brownie-like nature does keep these cookies fairly dense though (In the best possible way!). Annabelle@KAF
Great cookies!! I added a tsp of coconut flavor and 1 cup of chopped almonds and then I got cookies that tasted like the famous chocolate coated coconut candy bars - yum yum!!
Delicious! I followed the recipe as written but I made smaller cookies using a 1 tsp cookie scoop and baking them for 7 minutes. Yield was six dozen cookies exactly :)
just a question... does espresso powder have an expiration date? should this be a concern in recipes like this? i have a hard time using a whole jar . thank for your help... susan

Hi Susan! Our Espresso Powder has a best by date for one year from the date of manufacture. You'll find it on the far right side of the label. We recommend using your Espresso Powder within its best by window. Laurie@KAF
These are superb. Most chocolate cookies just aren't worth eating because they're either blandly brown instead of chocolate-flavored or are too heavy to enjoy. These are ideal, very flavorful, but still enjoyable. I've had no problems with the cookie falling apart, but I also brown the butter first (maybe eliminating that bit of water is helping?) and use whole-wheat flour, both of which blend right into the chocolate background and give the cookie a bit more depth.
I'm going to blame KAF when I gain 10 lbs just from eating these cookies! Straightforward to make and sublime to eat. Addictive, actually. I used 6 oz of bittersweet chips and 6 oz of burgundy chunks. My cookies were on the large side, and I baked for nearly 12 mins. The cookies were very soft -- almost fragile -- just out of the oven but firmed up to something between a typical cookie and a brownie upon cooling. Fantastic!
Very decedent and delicious!! I read others reviews, and decided to try them with almond meal to replace the flour. They were a hit!! I used by regular cookie scoop and scooped them generously. I got about 4 dozen from that, and still baked them for 8-9 minutes. No problems crumbling or falling apart, and they were definitely tasty!! I will make them again!