A customized print-friendly version of this recipe is available by clicking the "Print Recipe" button on this page.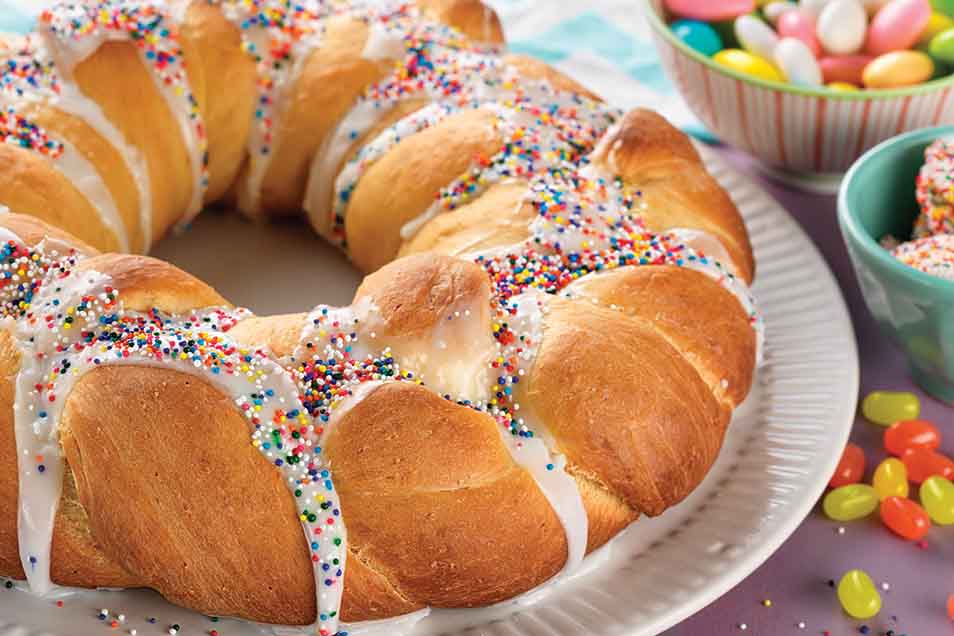 This bread is a not-too-sweet, orange-scented rendition of Italian Easter bread. We've chosen to braid it, form it into a ring, and top it with colorful sprinkles; but feel free to embellish and decorate it however you'd like.
Ingredients
Dough
2 1/4 cups King Arthur Unbleached All-Purpose Flour
1 1/4 teaspoons salt
2 teaspoons SAF Gold instant yeast, for best rise; or regular instant yeast
1/3 cup granulated sugar
4 tablespoons unsalted butter, at room temperature
2 large eggs
1 large egg yolk
1/4 teaspoon Fiori di Sicilia or 2 teaspoons vanilla extract + 1/4 teaspoon orange oil
1/4 teaspoon ground anise seed, optional
grated peel of 1 large orange
Glaze
1 cup confectioners' sugar, sifted
2 to 3 tablespoons orange juice or milk
sprinkles or nonpareils, for decorating
Instructions
To make the bread: Mix together the starter ingredients, cover the bowl, and let rest at room temperature overnight, or for up to 15 hours.

Next day, combine the bubbly starter with all the remaining dough ingredients. Mix and knead, using a mixer or bread machine, until the dough is elastic and satiny. We don't recommend preparing this dough by hand, as it's quite sticky and challenging to bring together.

Grease a large bowl and let the dough rise for 1 to 2 hours, until it's noticeably puffy. If you've used SAF Gold instant yeast, the rising time will be shorter.

Turn the dough out onto a lightly greased surface, divide it into three pieces, and shape each piece into an 18"-long rope. Braid the ropes together, and connect the two ends to form a wreath.

Cover the wreath and allow it to rise until puffy, about 1 to 2 hours (again, SAF Gold will work faster). Towards the end of the rising time, preheat the oven to 375°F.

Bake the wreath for 15 minutes, then reduce the oven heat to 350°F and bake for an additional 20 minutes, tenting it for the final 10 minutes of baking. The finished loaf will be golden brown, and an instant-read thermometer inserted into the center will register at least 190°F.

Remove the wreath from the oven, and transfer it to a rack to cool.

To make the glaze: Stir together the sugar and 2 tablespoons of the milk or orange juice. Add more liquid 1/4 teaspoon at a time, until the glaze is thin and pourable.

Drizzle the glaze onto the cooled braid, then decorate with sprinkles, if desired.

Yield: one 10" round loaf.
Reviews
I have great memories of having this bread and seeing it in bakery windows around Easter time when I lived in Brooklyn many years ago. It's so delicious. I've made other Easter bread recipes with varying results, never as good as what I remember. This recipe nails it! Great texture, great taste...amazing bread, I was worried because I made some alterations due to time and missing ingredients. I didn't have anise, so I left it out. For some crazy reason I had dried orange only so I used that instead of fresh orange zest. The changes I made that worried me most was I cut the starter time in half and lengthened the rise time in the fridge overnight. This is how I normally make brioche, so I thought it would work and it did. Can't be more pleased with how this turned out, can't wait to try it again "by the book." Don't let the braid scare you, the dough is sticky but after a nice rest, it's lovely to work with.
This bread was delicious and very easy to make. After reading some of the reviews about the bread being done early, I checked the loaf at the end of the first 10 minute cycle before I tented it with foil, and discovered that the bread was almost overdone. Next time I will try pulling it out after 8 minutes. (I don't have any problems with my oven over baking) Also, I didn't have orange oil, so I added 1/2 teaspoon on orange extract, which was good, but a little weak. Next time I'll try 1 teaspoon.
I don't know what I did wrong. The starter was super dry with just 1/2c of water. I used fresh yeast. It didn't bubble. When I combined all the ingredients next day, that didn't grow either. Everyone talks about how easy this recipe is. I keep looking at the recipe to see if I left something out to make it such a complete failure. Sadness on Easter Eve

We want to help, Patty! Since we still have time today, we encourage you to reach out to our friendly Baker's Hotline staff to help troubleshoot at 855-371-BAKE (2253). We'll get your Easter table filled and ready in no time. Annabelle@KAF
I followed the directions exactly as written with the exception of the baking times. I weighed the ingredients, something I now love to do as it is much more precise and easier than measuring by volume. This bread is outstanding - light crumb delicately flavored with orange rind and I also used Fiori di Sicilia, which is heavenly. I found that it baked more quickly than anticipated. I turned the oven to 350 after 10 minutes; tented with foil about 10 minutes later and it was done just a few minutes later. I am such a fan of King Arthur Flour recioes and I so appreciate their help line. I have tons of cookbooks and baking magazines but I almost always use KAF recipes either on line or in Sift.
I have made this recipe several times and it never fails. It is amazing and so easy to make. You just have to allow enough time in between rises. It is worth the wait! I may have to make all year round and not only for easter.
I think that this a delicious Italian Easter bread recipe, making a slightly sweet and delicious bread with the flavor of the orange, Fiori di Sicilia extract and anise. I made it just as the recipe said, hoping it would approach what my Italian mother use to make. We loved it!
This was surprisingly good..I mean, really, really good..moist and tasty. I didn't expect such good results because the dough was difficult to work with when forming the logs. In fact, I chilled the first batch hoping that it would firm up a bit, which it did, but I still had to add a bit of flour on the work surface. I didn't chill the second batch but simply tried to roll the logs on a well-floured surface and hoped for the best. Neither batch was braided perfectly, but "rustic" is good too, right? Both batches puffed up beautifully and the ugly ducklings became beautiful swans! The only variation that I made was adding about a half teaspoon of buttery sweet dough flavor since I was a little short on the orange zest.
I have been searching for a recipe that our Italian family friends in NY made every Easter - bread that usually had a colored egg in the center. This bread was almost a perfect match. I have no problem with the long rise times - and I trust in all of King Arthurs products (especially the yeast) - the end result was wonderful. Golden brown, a perfect dough, a nice orange flavored icing and fun sprinkles to entice the kids. Will definitely make it again! If you know of any of the Italian cookie recipes that have the same/similar icing to them with sprinkles and are a bit sweeter but with the same extracts...please post - would love to make them as I never was able to obtain the recipes before I moved. Thanks so much!
The bread has an excellent taste. It does take a LONG time to rise. I was using the SAF gold, and the kitchen was not overly cool, but the first rise took two hours, and I decided the second was done at 90 minutes. I would appreciate knowing if the dough is supposed to double or almost double. "Puffy" is somewhat hard to determine. I wonder if mixing the yeast into the starter before adding the rest of the ingredients would get it working faster. Still, the taste and texture of the bread was delicious. I did add 1/4 tsp vanilla to the glaze.
I made this bread for Easter yesterday. I have made many bread recipes from King Arthur, including the Overnight Pannetone and the tip about adding flour a little at a time when using a stand mixer is one I use on all my breads. This bread is sweeter and more like a danish than a bread. It had a nice texture and was quite good, but not a dinner bread. I modified the recipe because I didn't have oranges, only lemon. I've done this for the Pannetone too and it comes out just fine with lemon instead of orange. I left off the glaze also because I wanted to have it for dinner. The dough didn't come out sticky, I'm not sure why but I didn't need as much flour, I didn't add the last 1/4 cup. I recommend changing when you add all the flour if you are using a Kitchen Aid mixer. I have found in the past that you can't add all the flour up front or your mixer just won't well, not to mention, it's always a good idea to add a little at a time. I add some of the flour up front and start with a flat beater. Once all the wet ingredients are combined, I switch to a dough hook and slowly add more flour until the dough has the correct look and feel. This allows me to not overdue the amount of flour. I had to reduce the oven time and tent with foil earlier because it was browning very quickly. I took it out when the internal temp was correct and the top was nice and brown. One other thing, my first raise wasn't very big, it was just a little puffy after 2 hours. The second raise was fine though, which I thought was odd. Since I left off the glaze, I washed the top with egg just before putting it in the oven to make it nice and shiny. This is a very nice dessert, it looks very pretty and tastes great!