A customized print-friendly version of this recipe is available by clicking the "Print Recipe" button on this page.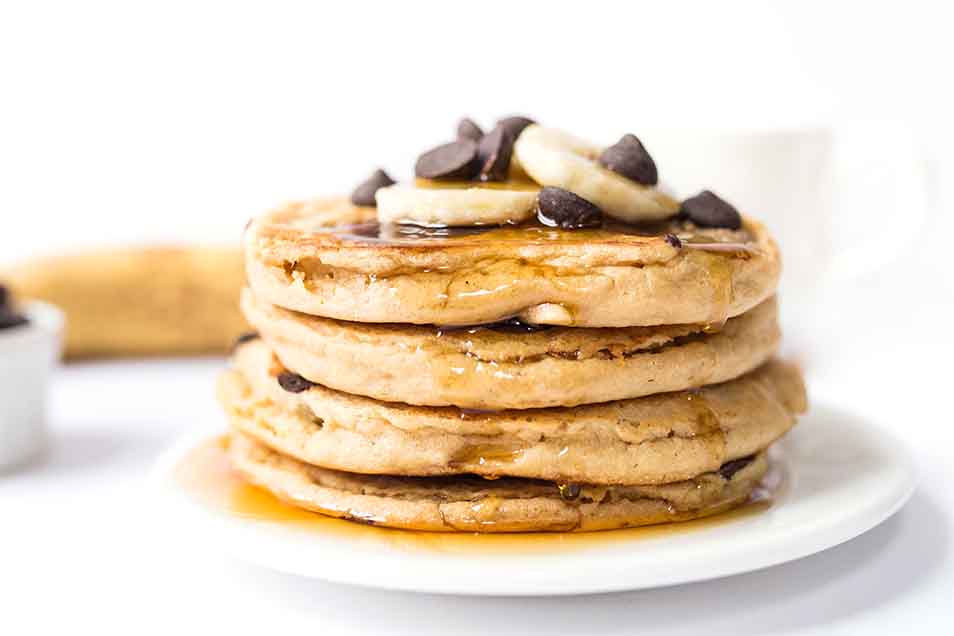 Our taste-testers decided that these pancakes, made from whole-grain amaranth flour, are even tastier than our original Simply Perfect Pancakes — the recipe on which this one is based. Attention, gluten-free bakers: add this tasty breakfast dish to your repertoire!
Ingredients
2 large eggs
1 1/4 cups milk (or non-dairy milk)*
3 tablespoons melted butter or vegetable oil
1 1/2 cups amaranth flour
3/4 teaspoon salt
2 teaspoons baking powder
2 tablespoons sugar
*Add more milk for thinner pancakes, less for thicker cakes.
Instructions
Beat the eggs and milk until light and foamy. Stir in the butter or vegetable oil.

Whisk the dry ingredients together to evenly distribute the salt, baking powder, and sugar.

Gently and quickly mix into the egg and milk mixture. Let the batter rest for at least 15 minutes, while the griddle is heating; it'll thicken slightly.

Heat a heavy frying pan over medium heat, or set an electric griddle to 375°F. Lightly grease frying pan or griddle. The pan or griddle is ready if a drop of water will skitter across the surface, evaporating immediately.

Drop 1/4 cupfuls of batter onto the lightly greased griddle. Bake on one side until bubbles begin to form and break, about 2 minutes; then turn the pancakes and cook the other side until brown, about 1 1/2 to 2 minutes. Turn over only once. Serve immediately.
Tips from our bakers
For diner-style pancakes, substitute 1/4 cup malted milk powder for the 2 tablespoons sugar.
Reviews
I absolutely love it. First time I tried Amaranth and love the taste. My four year old daughter love them too. And she is very picky with panques
We usually make whole wheat packakes on Saturday morning. I decided to try something new this week. Every one loved them. I have 4 teenagers and 4 younger children. We made 6 batches and ended up with a few leftovers.
Great taste and texture, relatively easy to make and modify... Used two "Neat Egg" egg replacers (basically chia and garbanzo) and avocado oil. Added about 1/4 C water after letting batter sit, as it was quite thick. Once I got the batter to my desired thickness, they turned out great and had a really yummy flavor. I found that these loosened up underneath, becoming a little easier to turn, the more they cooked.
Great recipe! Fluffy, soft and tasty. I made a vegan version with No Egg replacement and soy milk. Also I grinded my own amaranth flour and mixed it with wheat flour, half and half. I added some blueberries, cardamon and a little cinnamon, just to cover the amaranth taste. Will definitely make again!
I loved the simplicity of the mix. I added blueberries to a few, pecans to a few and cinnamon to a few. They were delicious. Thinking of adding lemon zest with the blueberries next time. Plus the recipe gave me a chance to use soy milk that probably would not have been consumed otherwise. They cooked perfectly on my low sided iron skillet.
It didn't work for me :( I really wanted it to! I have tried several amaranth pancake recipes, and thought this would be perfect, but still haven't had success. The batter was VERY THICK, and the pancakes turned out really soft/wet on the inside. I tried adding a little more nutmilk to the second batch, but even worse. Any suggestions?

We're sorry to hear this recipe caused some frustration for you, K! It sounds like the pan or griddle may have been too hot, causing the outsides to finish cooking before the centers had a chance. Whether you go with the thicker or thinner batter, a low slow heat on the griddle will give you a nice golden exterior and a tender fully baked center. Hope this helps! Annabelle@KAF
Even though i used rice milk instead of normal, they worked amazing and turned out super tasty. Didnt stick to the Pan and had a nice fluffy texture. Would recomend to everyone. One of the best pancakes i have ever eaten!
These are delicious! I followed the recipe exactly and cooked them in butter. I love the taste of Amaranth (which was new to me) and I even think these could replace my current go-to recipe.
Note: I substituted flax eggs in place of the regular eggs and the pancakes did not cook at all in the middle, just crusted on the outside. I've substituted flax eggs in place of eggs in many other recipes with success but not this one. Too bad, they looked and smelled like they were going to be good!

Bruce, these relatively thick pancakes can take a bit of time to cook all the way through, awhich may have been exacerbated by using a flax egg replacement. Next time, you might try reducing the heat of your stove and/or thinning the batter with a bit of milk to help ensure they're more fully cooked in the middle before the edges over-cook. Hope this helps! Mollie@KAF