A customized print-friendly version of this recipe is available by clicking the "Print Recipe" button on this page.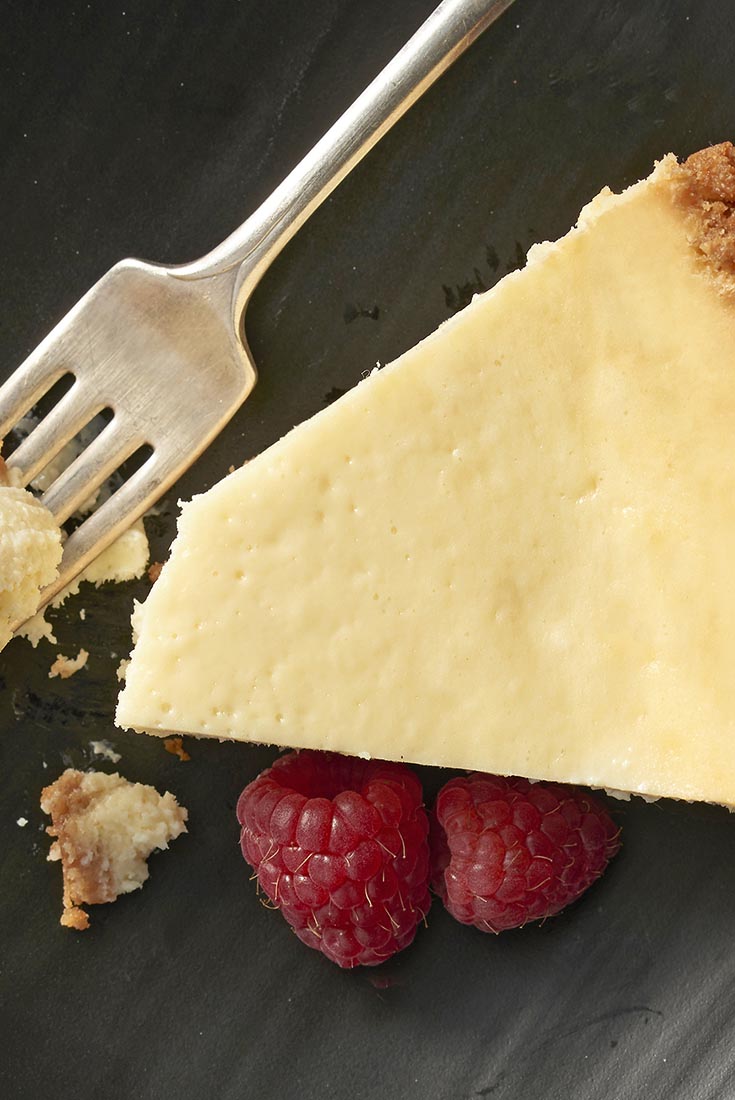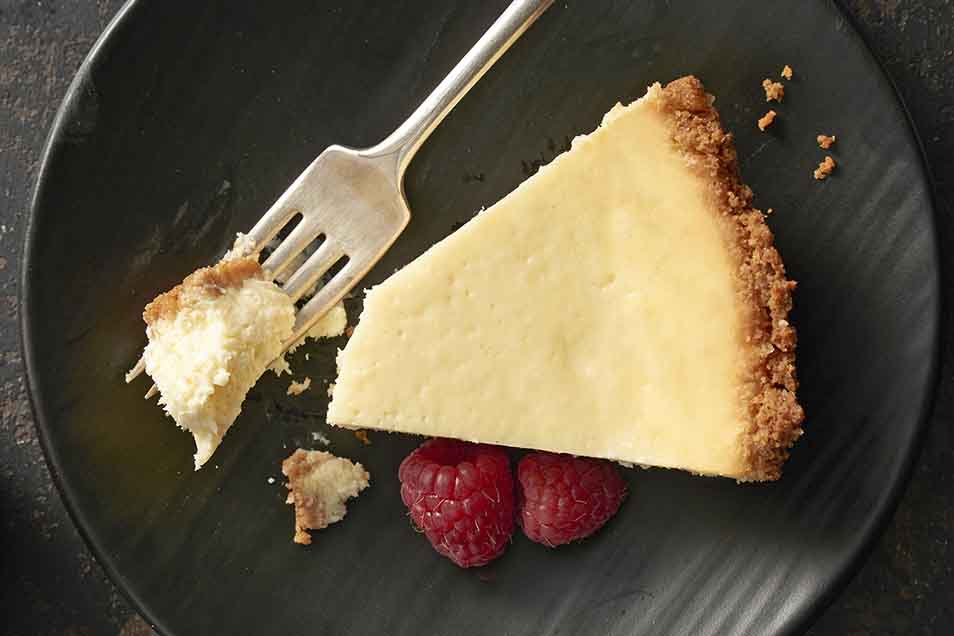 Never mind the sour cream, farmer's cheese, cream cheese, water bath, and worrying about a sunken center. The filling for this delicious cheesecake has just four simple ingredients, and the cake bakes in a mere 30 minutes. Now THAT'S easy!
Ingredients
Crust
1 1/2 cups graham cracker crumbs OR zwieback crumbs
1/4 cup confectioners' sugar
5 tablespoons + 1 teaspoon (1/3 cup) melted butter
1/8 teaspoon salt
Filling
2 cups (2 large packages) cream cheese, at room temperature
2 large eggs
2/3 cup sugar
1 teaspoon vanilla extract
Topping (optional)
12 ounce bag frozen raspberries, a scant 3 cups
1 to 3 tablespoons sugar, to taste
1 to 2 tablespoons Pie Filling Enhancer; use 1 tablespoon for a looser sauce, 2 tablespoons for thicker
pinch of ground cinnamon, optional
Instructions
Select a pie pan whose inside top dimension is at least 9", and whose height is at least 1 1/4". Preheat the oven to 350°F.

Make the crust by stirring together all of the crust ingredients, mixing until thoroughly combined.

Press the crumbs into the bottom and up the sides of the pie pan, making a thicker layer on the bottom than on the sides.

Make the filling by mixing together the room-temperature cream cheese and sugar until smooth. Mix in the eggs and vanilla, again mixing until smooth. To avoid beating too much air into the batter, use a mixer set at low-medium speed. To avoid lumps, make sure the cream cheese is softened, and/or at room temperature.

Set the pie pan onto a baking sheet, if desired; this makes it easier to transport in and out of the oven, and also protects the bottom of the crust from any potential scorching. Pour the filling into the crust.

Place the cheesecake in the oven. Bake it for 20 minutes, then add a crust shield; or shield the crust with strips of aluminum foil. Bake for an additional 10 minutes (for a total of about 30 minutes). An instant-read thermometer inserted into the crust 1" from the edge should read between 165°F and 170°F; the filling won't look entirely set in the center.

Remove the cheesecake from the oven, and set it on a rack to cool while you make the topping. Once the cake is cool, refrigerate it, covered, until you're ready to serve it.

To make the topping, place the frozen raspberries in a bowl to thaw. You can hasten the process with a quick trip through the microwave, but don't let the berries cook.

Add 1 tablespoon Pie Filling Enhancer, and stir until well combined. Is the topping as thick as you like? If not, stir in another tablespoon Pie Filling Enhancer.

Add 1 to 2 tablespoons granulated sugar, to taste. Stir in a pinch of ground cinnamon, if desired.

Spoon the topping over the cheesecake, and cut slices to serve. Alternatively, cut slices, and top each with a dollop of topping.
Nutrition Information
Serving Size

1 large slice, 165g

Servings Per Batch

8 to 10 servings
Amount Per Serving:
Calories

472

Calories from Fat

268

Total Fat

30g

Saturated Fat

16g

Trans Fat

1g

Cholesterol

129mg
Sodium

323mg

Total Carbohydrate

46g

Dietary Fiber

1g

Sugars

35g

Protein

7g
* The nutrition information provided for this recipe is determined by the ESHA Genesis R&D software program. Substituting any ingredients may change the posted nutrition information.
Tips from our bakers
You'll need 9 to 10 whole graham crackers to make 1 1/2 cups of crumbs; there are 11 crackers in one paper sleeve.
Don't have Pie Filling Enhancer? Stir raspberries with 2 to 3 tablespoons sugar, to taste. Alternatively, top the cheesecake with fresh raspberries and a shower of confectioners' sugar.
To make individual cheesecakes, divide the crust mixture and filling evenly among four 4" mini springform pans. Bake the cheesecakes for about 30 minutes, until the edges are set and a digital thermometer inserted into the center of one read 165°F to 170°F. Proceed with the recipe directions as written.
Reviews
This has to be the BEST cheesecake I have made in my entire lifetime. The taste and the texture are truly amazing. It impressed my husband. It impressed me, too! The recipe is so easy to follow. I had a little leftover mascarpone cheese from a different dish that I had made so I added it to the basic cheesecake recipe. I topped the chilled cheesecake with a little whipped cream and fresh blueberries. Oh, what a wonderfully delightful dessert! I am going to make this cheesecake again for my husband's birthday party. Thank you for sharing this splendid recipe with the world!
Made the recipe nearly to a T! I made it in a 9" springform Pan. I did not place on an additional baking sheet. Big mistake, as butter seeped out of my springform and onto the oven floor. Do not skip this step if using a springform Pan. I never tested the temperature. I went by eye. And just trusted the recipe. This recipe was easy, and stress free.
I used a store bought crust and I don't have a mixer.or a thermometer. I mixed it by hand and it was still a little lumpy..very little..i baked at 350 for 30 mins.exactly.no kind of protection on crust. I turned the oven off and left the door open and pulled out the oven rack just half way and let it cool for awhile then I popped in the fridge and ate it today. It was the best cheesecake I've ever had. And my first time making it. Saving this recipe for sure. Thank you.
I made saw this recipe on a Sunday while my husband was making dinner and I thought I'd give it a try as a thanks to hubby for cooking. This cheesecake came out delish my husband really loved it and so did I. I followed the directions to the letter and everything went superbly. Definitely saving this recipe for future reference.
The batter taste great, but I did exactly what the recipe says and it's been in the fridge for over 3 hrs and the middle is not set. Still same consistency from when I poured in the dish. I noticed closer to the crust it was set and delicious. Did I not bake long enough? Does it need to be in the fridge longer? Helppp! Ty

Hi Leeza. So long as the internal temperature had reached at least the 165°F to 170°F that the recipe calls for in the oven, it should set up just fine after a little extra time in the fridge. If it never sets up, you could try baking it for another 10 minutes or so, or simply eat around the center of the cheesecake. It won't be pretty, but it will sure be delicious! AnnabelLE@KAF
Haven't made it but have a question: Can cornstarch be used in place of pie enhancer?

If you'd like to use cornstarch in place of the Pie Filling Enhancer, use about 1 to 1 1/2 tablespoons and mix it with the sugar to prevent clumping. Sweeten to taste. Happy baking! Kye@KAF
Delicious! It took less than an hour from the time I decided to make a cheesecake to taking it out of the oven (I softened the cream cheese in the microwave). No sinking, no water bath, no having to leave it in the oven for an hour, nice crispy crust... I just baked 30 minutes without using any shield, was a bit worried because it didn't have the usual wiggle when I took it out so I thought it was overcooked, but it was perfect. It's definitely going to be my go-to recipe from now on.
I am a big fan of King Arthur recipes, but this one did just not work for me. I would love to know of I did something wrong. I use a 9-inch springform and followed the instructions exactly, but my cheesecake is less than an inch tall including the crust. This was definitely not what I was going for. Please advise!

No worries, Kayla! It's all in the pan size. This recipe recommends using a 9" pie pan that's at least 1 1/4" deep. This size pan holds about 4 cups of batter. On the flip side, a 9" springform pan which doesn't have the angled sides of a pie pan, is made to hold up to 11 cups of batter. It's the angle of the pan that will make the most noticeable difference in your cheesecake outcome with this recipe. If you don't have a pie pan, you can use your springform, but we'd recommend doing a 1 1/2 x batch, or even a double batch of the actual cheesecake filling. This will give you a more satisying height in a springform. We hope this helps! Annabelle@KAF
Awesome recipe made them today . Came out beautiful. The easiest best recipe ever.
I chose this recipe because it was so simple, and I was in a hurry to throw together a cheesecake. I didn't think about it until after that it didn't have any sour cream in it, but I still really enjoyed it! Maybe more so than ones with sour cream. I'll have to compare them side by side at some point, but this recipe is very simple and easy to make, and delicious!