A customized print-friendly version of this recipe is available by clicking the "Print Recipe" button on this page.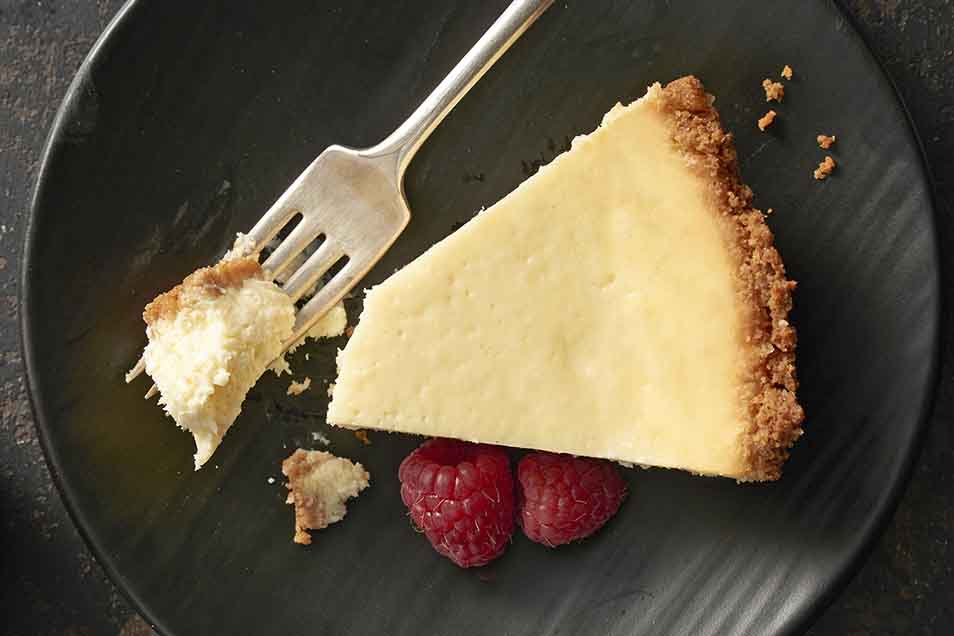 Never mind the sour cream, farmer's cheese, cream cheese, water bath, and worrying about a sunken center. The filling for this delicious cheesecake has just four simple ingredients, and the cake bakes in a mere 30 minutes. Now THAT'S easy!
Ingredients
Crust
1 1/2 cups graham cracker crumbs (9 to 10 whole graham crackers, crushed)
1/4 cup confectioners' sugar
5 tablespoons + 1 teaspoon (1/3 cup) melted butter
1/8 teaspoon salt
Filling
2 cups (2 large packages) cream cheese, at room temperature
2 large eggs
2/3 cup granulated sugar
1 teaspoon vanilla extract
Instructions
Select a pie pan whose inside top dimension is at least 9", and whose height is at least 1 1/4". Preheat the oven to 350°F.

Make the crust by stirring together all of the crust ingredients, mixing until thoroughly combined.

Press the crumbs into the bottom and up the sides of the pie pan, making a thicker layer on the bottom than on the sides.

Make the filling by mixing together the room-temperature cream cheese and sugar until smooth. Mix in the eggs and vanilla, again mixing until smooth. To avoid beating too much air into the batter, use a mixer set at low-medium speed. To avoid lumps, make sure the cream cheese is softened, and/or at room temperature.

Set the pie pan onto a baking sheet, if desired; this makes it easier to transport in and out of the oven, and also protects the bottom of the crust from any potential scorching. Pour the filling into the crust.

Place the cheesecake in the oven. Bake it for 20 minutes, then add a crust shield; or shield the crust with strips of aluminum foil. Bake for an additional 10 minutes (for a total of about 30 minutes). A digital thermometer inserted into the crust 1" from the edge should read between 165°F and 170°F; the filling won't look entirely set in the center.

Remove the cheesecake from the oven, and set it on a rack to cool. Once the cake is cool, refrigerate it, covered, until you're ready to serve it.

Serve cheesecake in wedges, with fresh fruit if desired. Store any leftovers in the refrigerator for several days; freeze for longer storage.
Nutrition Information
Serving Size

1 large slice, 165g

Servings Per Batch

8 to 10 servings
Amount Per Serving:
Calories

472

Calories from Fat

268

Total Fat

30g

Saturated Fat

16g

Trans Fat

1g

Cholesterol

129mg
Sodium

323mg

Total Carbohydrate

46g

Dietary Fiber

1g

Sugars

35g

Protein

7g
* The nutrition information provided for this recipe is determined by the ESHA Genesis R&D software program. Substituting any ingredients may change the posted nutrition information.
Tips from our bakers
To make a raspberry swirl cheesecake: Spoon or pipe 1/4 cup (85g) seedless raspberry jam onto the top of the filling once it's in the crust, before baking. Gently (and briefly) swirl the jam into the filling with a butter knife or toothpick; you don't want to combine jam and filling completely, just create a pretty pattern. Be careful not to go too deep, as you don't want to risk scraping the bottom crust. Bake as directed.
Want to serve the cheesecake with a tasty raspberry topping? Place the contents of a 12-ounce bag frozen raspberries (a scant 3 cups) in a bowl to thaw. You can hasten the process with a quick trip through the microwave, but don't let the berries cook. Add 1 tablespoon Instant ClearJel to thicken, and stir until well combined. Stir in 1 to 2 tablespoons granulated sugar, to taste. Add a pinch of ground cinnamon, if desired. Spoon the topping over the cheesecake.
To make individual cheesecakes, divide the crust mixture and filling evenly among four 4" mini springform pans. Bake the cheesecakes for about 30 minutes, until the edges are set and a digital thermometer inserted into the center of one read 165°F to 170°F. Proceed with the recipe directions as written.
Reviews
I bake the cheesecake it is good, I should have cut down on the sugar. Thanks Wanda
What should the consistency be once it's out the oven?

Hi there, Vanessa! This cheesecake has a wonderfully rich and creamy texture to it! We wouldn't suggest cutting and serving cheesecake straight away after baking though as the filling needs time to cool and set or it will be too soft. We hope this helps and happy baking! Morgan@KAF
This cheesecake recipe outdoes any store bought cheesecake. My whole family agrees! Delicious!!!!
Amazing recipe. Very tasty. Center was a little gooey while warm, but set up beautifully in the fridge.
Excellent recipe and perfect size. Any recommendations to make this recipe a chocolate cheesecake?

Hi Deb! You can try adding a cup of melted chocolate chips/wafers (whatever kind of chocolate you like) in with the batter, but for best results, we'd recommend trying out our recipe for Chocolate Cheesecake. Annabelle@KAF
I've always wanted to make my own cheesecake and this recipe is perfect thanks you very much
I have made this recipe 4 times now . I received spring foam pans for Christmas and I wanted to find a simple homeade cheesecake recipe. 1st time I used 9 in pan, it was a beautiful thin cheesecake. 2nd time I used 7in pan, adjusted oven time . It was thick & delicious. 3rd time I used 8 in pan & adjusted oven time. This was everyone's favorite. 4th time: it's currently in the oven . 9 in because I love the thin cheesecake. Every time after cheesecake was done, I'd check it & put it back in the oven, turn oven off & leave the door open half way. 30 minutes later I'd put cheesecake on the counter. Let it cool completely. Saran wrap it and put it in the fridge for at least 4 hours. I mainly keep it in til the next day. Breakfast cheesecake tester :) Thank you for sharing your recipe. It's a wonderful base recipe!! You can top with caramel, canned pie filling or fresh strawberries. I prefer as is & have toppings available for anyone who wants to dress their slice up!!
Rave reviews from everyone! This makes a very creamy cheesecake. A question: Would it be possible to use this recipe to make a standard 9" springform pan sized cheesecake? By doubling or otherwise increasing it? I knew I would get the short version of it making it in my 9" springform as written, but it turned out so well that I'd like to scale it up if I can. Thanks!!

Certainly, Jennifer. It will be shorter because the base is wider, so check for doneness a few minutes early. Annabelle@KAF
Hi so I was wondering you said , (Refrigerate it )so for how long in time ?

Hi there, Mattea! Once the cheesecake is cool, we recommend covering it and storing it in the fridge until you're ready to serve it. If you're looking to serve the cheesecake relatively soon after it finishes baking, we'd suggest making sure you leave enough time to for the cake to chill all the way through. We hope this helps clarify. Happy baking! Morgan@KAF