A customized print-friendly version of this recipe is available by clicking the "Print Recipe" button on this page.
Easy Chocolate Pudding Cake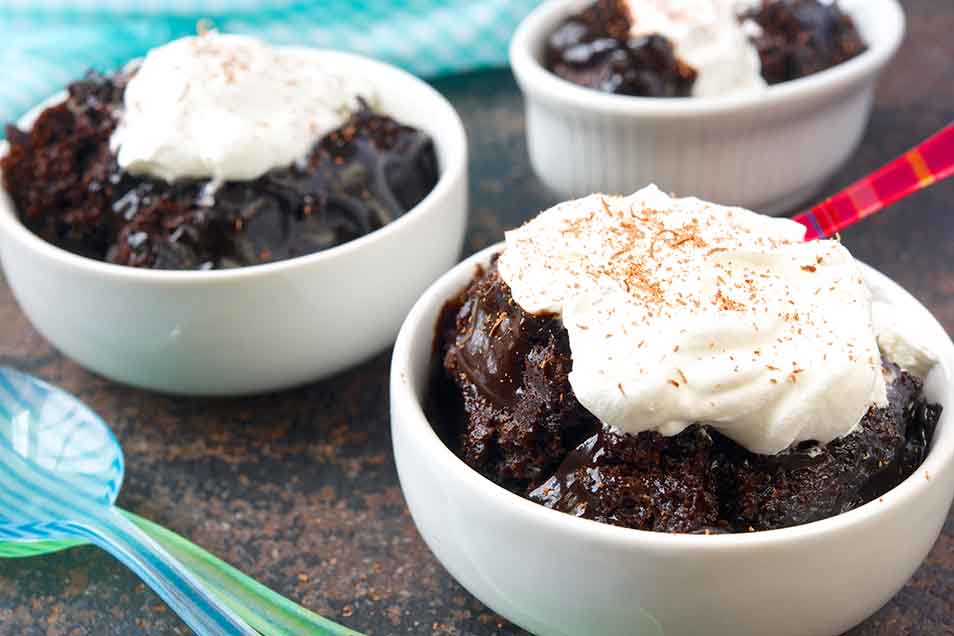 Dark and decadent chocolate cake on top, rich fudge sauce underneath — and all in one easy step! Serve this cake warm, with vanilla ice cream gently melting on top.

Want to keep your kitchen cool? Believe it or not, this cake is easily made in your programmable Zojirushi bread machine. Read your machine's directions for information on how to program, if you haven't done so already.
Instructions
To prepare your bread machine: Remove the paddles from the bread machine bucket. Spray the inside of the bucket lightly with non-stick vegetable oil spray. Program the machine for bake only, 40 minutes, no keep warm option.

To prepare for baking in your oven: Preheat the oven to 350°F. Lightly grease a 9" round cake pan.

To make the first layer: In a medium-sized bowl, whisk together the flour, granulated sugar, baking powder, salt, 6 tablespoons cocoa, and 1/2 teaspoon espresso powder. Stir in the milk, vanilla, and oil, mixing until smooth. Pour the batter into the bread machine bucket, or into the 9"round pan.

To make the second layer: Mix the 3/4 cup brown sugar with the 1/4 cup cocoa and 1 teaspoon espresso powder, and sprinkle this mixture over the batter. Gently drizzle the hot coffee or water over the uncooked batter; there's no need to mix it in. Really.

To bake the cake: If you're baking in the bread machine, press Start; allow the machine to complete its cycle.

If baking in the oven, place the pan in the preheated oven, and bake for 45 minutes, removing the cake when it appears set and is bubbly around the bottom.

Let the cake cool for at least 15 minutes before serving. The sauce will thicken as it stands, and when totally cooled will be the consistency of medium-thick fudge sauce.

To serve, scoop servings of the warm cake onto individual plates; top with whipped cream or ice cream, if desired. If you can't serve it while it's warm, keep it at room temperature (for 2 or 3 days), and reheat it VERY briefly in the microwave just before serving.

Yield: 8 to 10 servings.
Tips from our bakers
Brewed coffee in the second layer gives the final product an elusive, aromatic, deep-chocolate flavor, without really tasting coffee-like. Our tasters simply commented, "What makes this taste SO good?!" We recommend coffee highly, but use water if you're so inclined.
Reviews
Had some fresh blackberries on sale at the grocery store. Didn't have time to make a cheesecake so was looking for other ideas. This was simple and easy to make. I used 2 tbsp black cocoa and 4 tbsp Dutch cocoa in the cake. Also substituted a scant tbsp of blackbery-flavored brandy for the vanilla, and used coffee to top off the pan instead of hot water before baking. Absolutely wonderful served with fresh blackberries and a bit of whipped cream.
A couple of commenters mentioned something lacking in the recipe - it's salt. I have found that to my taste, most baked goods just aren't quite salty enough for me. I just add another little extra pinch and it's perfect. I also either recommend either the espresso powder or the coffee, not both, unless you're serving real coffee lovers (my 12 year old son said it was too much coffee flavor when I used both, but I loved it myself). I have made this many times!
This is so delicious! I had never made a self-saucing chocolate pudding before. We decided to make it in a spring-form pan as the other pans weren't tall enough and I didn't want it to overflow. Unfortunately, the sauce dripped out of the bottom of the pan and burnt at the bottom of the oven. The whole house was filled with hazy smoke! We ended up having to sit outside on the deck and wait for it to finish. Luckily, it was worth the effort (and the smoke!). It tasted really, really good, with some whipped cream on top. Next day we had it with more cream, but cold this time, it was also good. Thank you, KAF!!! Very tasty.
I only changed this from a round cake to a 9X13 cake, as was easier to get to the office and fed more co-workers without having to make multiple cakes.
I wish I had read the feedback (and response from KAF) from another user about the baked-on mess in the oven before I made the cake. My cake too overflowed, and now I have a lot of work to do to clean it up...just before the holidays! Disappointed, especially since, in looking at the recipe itself, I don't see anything that says to make sure it's a 2" depth 9" round cake pan. As it turns out, mine is 1 1/2 " deep. We also didn't care for the coffee flavor, and if I make it again (doubtful at this time), I would use the hot water.

We're genuinely sorry to hear about the mess this recipe created for you, fellow baker. We understand that a clean oven is a happy oven, especially during the all-important pre-holiday baking season. Thank you for taking the time to share this experience with us, and we've asked our Recipe Team to clearly specify that a 2" deep cake pan should be used in this recipe. We also recommend placing it on a baking sheet to prevent overflow. Kye@KAF
I've been working my way through different KA recipes, from yeast breads to cupcakes. We were very excited to try this recipe, but it only turned out "okay". Followed the recipe, baked in a conventional oven, which turned out fine. It was served with vanilla ice cream. We found that the flavor was not as rich as hoped for and it seemed to be missing something- but I'm not sure what.
Folks absolutely loved it. I used a conventional oven, followed the recipe exactly (except for using Special Dark Cocoa), and served it with vanilla bean ice cream. I served 8, and I think I should have doubled it, judging from the reactions.
I made the cake in a conventional oven, and technically, and the recipe worked really well. I did add 1/2 chocolate chips to later one, which was a nice addition. However, I used coffee instead of the hot water, as was strongly suggested in the cookbook version of the recipe, and my guests and I were disappointed at the strong, overpowering coffee taste that permeated the cake. I wish I had just used water--the espresso powder would have been enough of a flavor boost without overdoing it.
Followed this recipe to a T ... used coffee (not water) and used espresso powder. I was so impressed with the yummy pudding sauce it made and case was perfectly moist. HOWEVER, I was expecting it to be a little more decadent and rich. I can't believe I'm about to say this ... but I think it could have been a little sweeter. I used Hershey's cocoa powder and dark brown sugar (both were what I had in stock). Also - if I were to make again, I would consider some chocolate chips in the cake batter that goes on the bottom. Had I served with whipped cream or ice-cream, maybe I would've gotten the "more sweet" that I was looking for. Overall - an easy and fun recipe to make!
Excellent--I made this in my Zo bread machine. It was gone in a minute. I made it as written (used both coffee and KAF espresso powder). So easy, too!