A customized print-friendly version of this recipe is available by clicking the "Print Recipe" button on this page.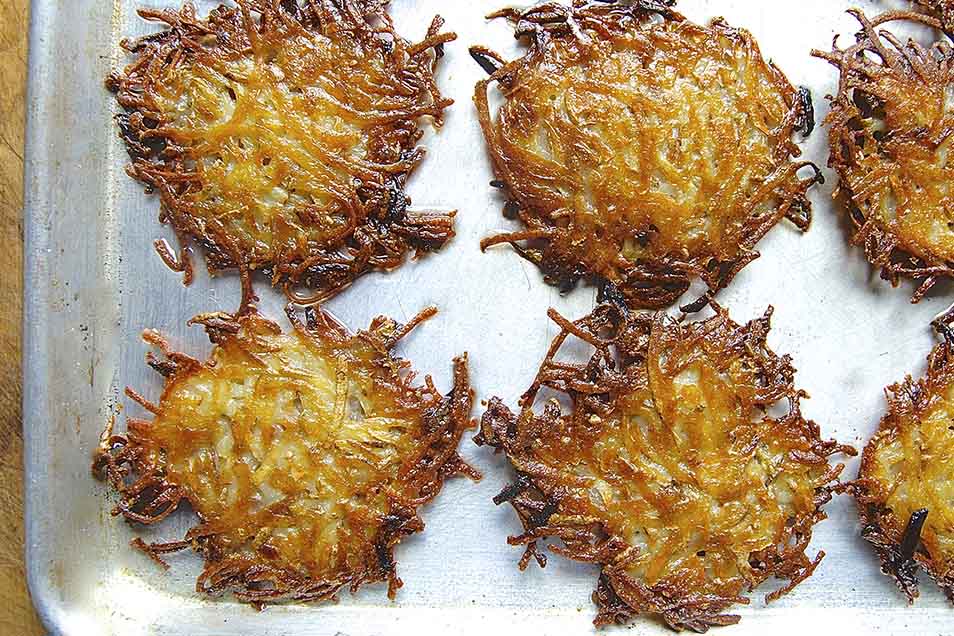 Latkes, those salty/crunchy/smooth potato pancakes fried in oil, are a Chanukah staple. But to stand and fry them just 2 or 3 at once means time spent away from the holiday table. Thus these oven-fried latkes. Just flood a couple of rimmed cookie sheets with a thin layer of oil, deposit potato pancake batter, and bake for about 30 minutes, turning once. The result? Signature crunchy-smooth latkes, and more time spent with your family.


Ingredients
1 1/2 pounds baking potatoes, about 3 medium potatoes
1 medium onion
1 large egg
1 1/2 teaspoons salt
2 tablespoons King Arthur Unbleached All-Purpose Flour*
vegetable oil, for frying
*Or substitute matzo meal, for Passover
Instructions
Preheat the oven to 400°F. Lightly grease two large cookie sheets with rims; we use 18" x 13" half-sheet pans.

Grate or shred the potatoes fine, or medium-fine; no need to peel them first, though they should be washed. Some folks like smoother latkes (more finely grated), some crunchier (more coarsely grated). We like to use the fine shredding attachment on our test kitchen Cuisinart.

Wrap the grated potatoes in a cotton dish towel (a flour sack towel works well), and twist the towel closed at the top. Bring the potatoes to the sink and squeeze them for all you're worth, wringing as much liquid as possible from them.

Shred or grate the onion finely. Don't use the finest shredding disk of your food processor, as it will turn the onion to mush; the medium shredding disk is preferable.

Combine the drained potatoes, onion, egg, salt, and flour in a bowl, stirring till everything is thoroughly mixed.

Pour a thin layer of vegetable oil into each baking pan. It should be deep enough that when you tilt the pan, you can see it move; 1/8" to 3/16" is about right. We love peanut oil for frying, or plain vegetable oil. Beware of canola oil; some folks feel it gives food an off flavor when used for frying.

For easier-to-clean pans, and slightly less greasy latkes, heat the pans in the oven briefly, to warm the oil. You can skip this step if dealing with a pan of hot oil makes you nervous. Drop the pancake batter onto the sheets by the 1/4- to 1/3-cupful. Space them far enough apart that you can easily get a spatula between them to flip them over, when the time comes.

Bake the pancakes for 20 to 25 minutes, or until the bottoms are golden brown. Remove the pans from the oven, turn them over, and bake for an additional 10 minutes, until golden brown on the bottom.

Remove from the oven, and drain on paper towels. Serve immediately, with applesauce and sour cream, if desired.
Nutrition Information
Serving Size

100g

Servings Per Batch

9
Amount Per Serving:
Calories

110

Calories from Fat

45

Total Fat

5g

Saturated Fat

.5g

Trans Fat

0g

Cholesterol

20mg
Sodium

400mg

Total Carbohydrate

16g

Dietary Fiber

1g

Sugars

1g

Protein

3g
* The nutrition information provided for this recipe is determined by the ESHA Genesis R&D software program. Substituting any ingredients may change the posted nutrition information.
Reviews
I have been making these for years, but I substitute reconstituted hash browns from the instant mashed potatoes aisle. They get rehydrated in hot water for 20 minutes and then drained. I proceed with the recipe from there.
Great (grate) recipe! Though not sure was that review from Chi-ca-ga meant when they complained that the egg was some sort of dairy product... obviously they aren't a farmer.
Uhhh . . "dairy-free"?? Where did you find the 'non-dairy' EGG?
Hmmm, I am not sure what you mean here. We would love it if you gave our hotline a jingle, 855-371-2253(BAKE). Thanks! Elisabeth@KAF
Why not use a salad spinner to remove liquid from the potatoes.
Unfortunately, spinning will only free the potatoes of any moisture on the exterior. There is quite a bit of moisture in the interior which can only be expelled by using a dish towel as recipe suggests. Happy latke making! Elisabeth@KAF
Has anybody thought about putting a sprinkling of granulated sugar on them,I love it
I don't know that we have. But, enjoy! Elisabeth@KAF
I add some ground pepper and granulated garlic. Not traditional, but good. Also - be CAREFUL - in Step 8 turn the latkes over Not the pans.
I always use matzah meal and never flour. I think it is a more "traditional" recipe. Also, to prevent the potatoes from turning dark, I put the whole, unpeeled potatoes in a large pot with plenty of cold water. Bring them to a full boil and turn off the heat. Let the potatoes sit in the water for 5 to 10 minutes and drain. Run cold water over them or put a bunch of ice over the potatoes to cool them so you can handle them. This method does not cook the potatoes but it makes them very easy to peel and stops them from darkening. You can use this potato prep for any latke method. Yummy!!
a BIT of work, but well work it, my version is with NO EGG. The potato naturally has enough starch in it to bind the potato. SO! Shredd then strain through cheese cloth or flour sack as MUCH moisture as possible ( I wring out with my hands first before using cloth. Then the liquid strained out will be in a bowl. Carefully dump out "loose liquid" careful not to dump the natural starch that has settled. Then place shred into small amount of starch your potato produced, shape and fry :)
FANTASTIC method - thank you, KAF, for liberating me from standing in front of the stove for batch after batch of latkes. This method works perfectly as long as one follows the directions - use enough oil, preheat it at 400 degrees, and there will be no sticking or leathery texture. I, too, rinse the potatoes (and then squeeze out the excess liquid) in order to avoid discoloration, and I use baking powder for a bit of lift. Tips: keep an eye on them and turn them before they look done on the first side, as they will continue to brown while the second side cooks, and use tongs to flip the latkes, rather than a pancake turner; it's much easier to control them. Just remember to flip them away from you so that you don't spatter yourself with hot oil. Y'all lost one star for suggesting that leaving the skins on the potatoes was acceptable. Yuck!
This is the best recipe. Everyone loves them! But, I had a problem with the pancakes sticking. Tried it again, and I used Reynolds Wrap Easy Release non-stick foil on the cookie sheets. No problem at all!