A customized print-friendly version of this recipe is available by clicking the "Print Recipe" button on this page.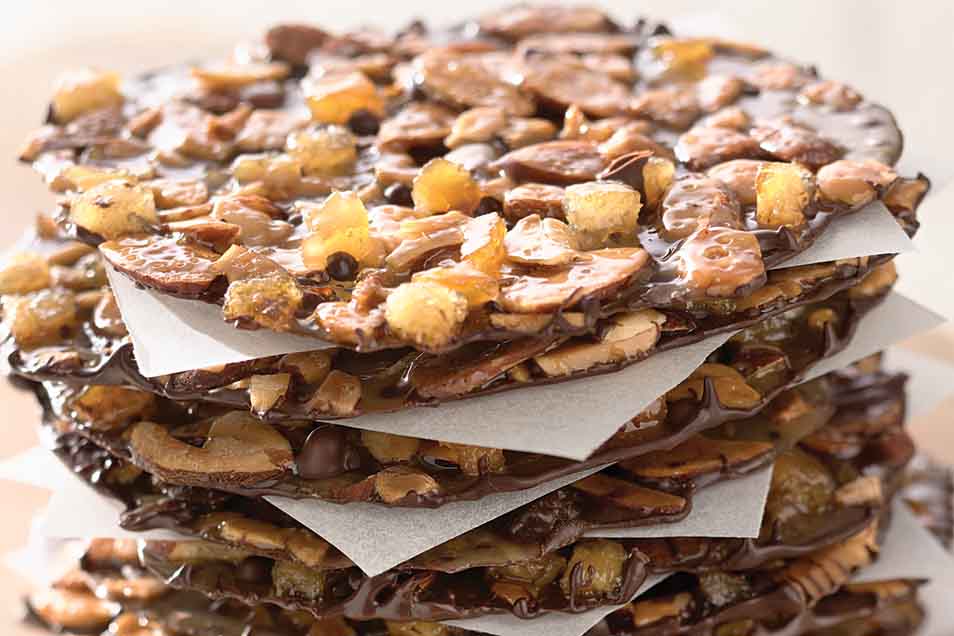 These snapping-crisp cookie/candy clones are a European classic. If you enjoy the dark chocolate/orange flavor combo, you'll love these elegant treats.
Ingredients
Cookies
1 1/4 cups Sticky Bun Sugar
1 cup unblanched sliced almonds
1/2 cup candied orange peel
Coating
1 cup chopped semisweet or bittersweet chocolate or a scant 1 cup chocolate chips
Instructions
Preheat your oven to 375°F. Line two baking sheets with parchment, or non-stick foil.

Stir together the sticky bun sugar, almonds, and orange peel.

Using a tablespoon measure, make 1-tablespoon mounds of the mixture on the prepared baking sheets, spacing them about 2" apart; they'll spread a lot.

Bake the Florentines for about 10 minutes, until the almonds are golden brown. Reverse the pans in the oven midway through the baking time, so they brown evenly.

Remove the Florentines from the oven, and allow them to cool completely on the pan.

When the Florentines are completely cool, melt the chocolate, either in a microwave, or over very low heat. Stir until it's completely smooth.

Brush the melted chocolate onto the flat (bottom) of each cookie, placing them, chocolate side up, on a rack to set.

Store cool and dry for up to several weeks.

Yield: about 30 Florentines.
Tips from our bakers
Can you make these without Sticky Bun Sugar? Yes; but not using this recipe. Classic Florentines are made with a boiled mixture of butter, honey, cream, and sugar, and are much more difficult to successfully pull off. We think this simple version, using Sticky Bun Sugar, is easy, fail-safe, and well worth the investment in the special sugar.
Reviews
I tried these cookies during a trip to the King Arthur Store and fell in love with them. I made the cookies when I came home and found it very easy to make. The only problem I had was after baking the cookies, the candied orange pieces turned out to be very hard. Not sure why this happened.

Donna, try soaking your candied orange peel in a flavorful liquid (bonus points if you use liquor!) for 24 hours before draining and using them in this recipe. They should maintain a semi-soft texture and also be extra delicious. Happy baking! Kye@KAF
I have been making these for several years. They are terrific! I like them as well without the chocolate coating. They are also good without the orange. They are like a lovely thin crispy nut candy. I always make a double recipe because I know they are not going to be around very long. .....Happy eating!!!!
As easy as described. Yummy. I am making these on Christmas eve and my family is eating them right after I drizzle chocolate on them. I used the sugar and candied orange peel from King Arthur. Next year I am giving these two ingredients as Christmas presents along with the recipe.
These turned out great! I wasn't sure how I would like them, other things with candied orange peel usually tastes too bitter to me, but I loved these. I used the sugar and orange peel from KAF. I used a silicone bbq basting brush to paint on the semi-sweet chocolate, and I was surprised how easy it was! Only a little messy... I will definitely make these again. And they are so elegant/fancy looking!
This is a terrific recipe! Always a hit and perfectly delightful at any time but a great, quick cookie for the holidays. I will often substitute ingredients, but this is one of those times when it is worth it to just use the KAF - the sticky bun sugar and orange peel - ingredients! I too have the silicon pan, but don't think it would be difficult to use Silpat for this.
I have made these every Christmas for at least the last 5 years! They are easy and delicious. I am lucky enough to have the original silicon pan (no longer available) that was sold with this, but several friends with whom I've shared this recipes find it just as easy to use silpat or parchment.
I first made these years ago when KA printed the recipe in a catalog. I bought the sticky bun sugar, orange peel and silicone pans to make these, and they were wonderful. I even gave some to my personal trainer (and who gives sweets to a personal trainer???), and he loved them! I just ordered my sticky bun sugar and orange peel to make a batch this year--it's time to introduce them to a new group of friends!
I have been making these for years. Like a previous reviewer, I use the silicon pans KAF used to sell and just use a small spatula to put on the chocolate. They are one of my favorite holiday treats.
We bought the sticky bun sugar and the candied orange peel just for this recipe and it was well worth it. My daughter and I ate half the batch as fast as they were ready. They are wonderful! Good job KAF bakers!!
Indeed these are extremely easy! I'm glad I was sitting down when I sampled the first one - so beautiful and absolutely HEAVENLY!!!! This even tops the 12-Layer Mocha Cake with meringue, souffle, cake and butter cream layers I made for the Holidays.