A customized print-friendly version of this recipe is available by clicking the "Print Recipe" button on this page.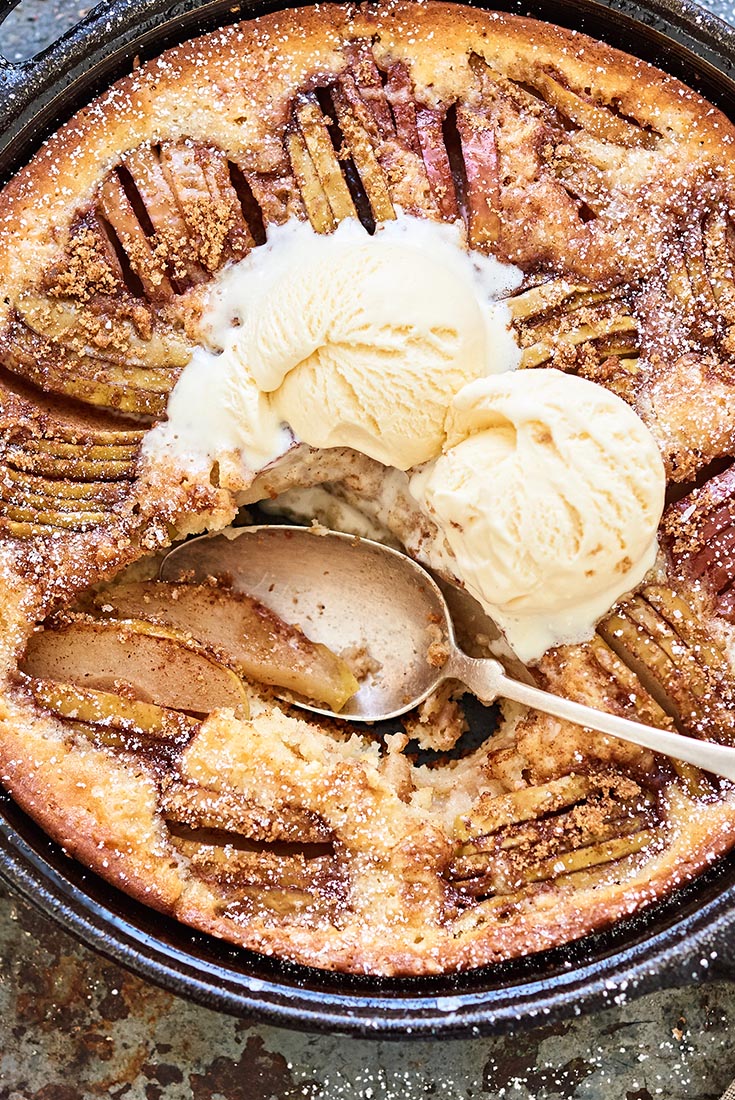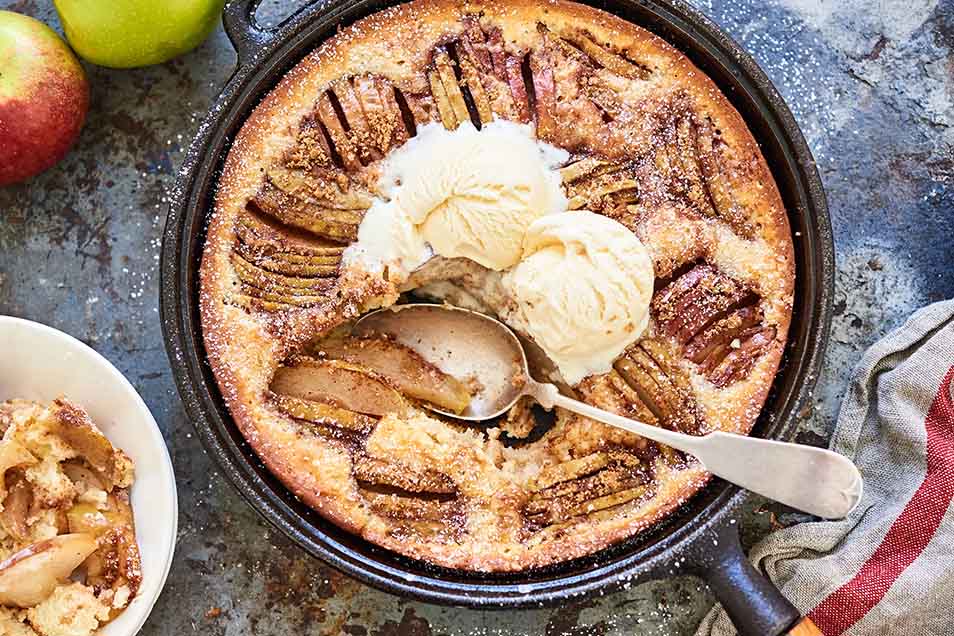 This easy, buttery cake is marbled with sweet-and-spicy apple slices.

Read our blog about this cake, with additional photos, at Bakers' Banter.
Ingredients
Apples
4 or 5 large tart green apples (such as Granny Smith), cored and sliced (about 1 1/2 pounds); about 18 ounces prepared, about 5 1/2 to 6 cups
1/3 cup brown sugar
3 tablespoons boiled cider
1 teaspoon Apple Pie Spice, or your favorite combination of sweet spices
¼ teaspoon salt
Instructions
Preheat the oven to 350°F. Butter a 9 ½" to 10" (2" deep) cast-iron skillet; or a 9" square cake pan.

Combine the apples with the brown sugar, boiled cider, spices, and salt. Set aside.

Combine the flour, sugar, baking powder, and salt. Set aside.

Mix the warm milk, egg, melted butter, and vanilla. Add to the flour mixture, stirring to combine. Pour into the prepared skillet.

Spoon the apple mixture onto the batter. For the best appearance, make sure the apples are distributed a little more heavily towards the edges of the pan. Sprinkle with coarse sparkling sugar, if desired.

Bake the cake for about 50 to 60 minutes, till it's light brown and a cake tester inserted into the center comes out clean.

Remove from the oven, and cool for about 5 minutes. Loosen the edges of the cake from the pan, and cool for another 20 minutes or so.

If you haven't sprinkled with coarse sparkling sugar, dust with confectioners' or glazing sugar, and serve with whipped or iced cream, right from the pan.

Yield: 10" cake, 8 to 10 servings.
Reviews
To be accurate, I set out to make a skillet upside down apple cake using King Arthur Pancake mix. It was well worth the try, in an experimental way! (It was after I baked it that I looked for a bona fide recipe.) I sauted the apples in the skillet with some butter, cinnamon, and brown sugar, until soft. Then I prepared the pancake mix and poured it over the apples. So far, so good. But from that point I wish I had your recipe for the cooklng part! I managed to complete this part, but, even though it was delicious, the appearance? Not so good! So, thumbs up for your recipe, and hopefully a future recipe using King Arthur Pancake Mix will appear!

We're glad the flavor of your improvised skillet cake turned out as you were hoping it would. We've shared your request to see a version of this recipe using our Pancake Mix with the right team to consider. Happy baking! Kye@KAF
I had a mixture of pears and apples to use up, so in they went. I cooked the fruit in the sugar and spices (with a little butter) on the stove for maybe 10 or 15 minutes while I made the batter. I browned the butter (until it smelled nutty) for the batter, put the milk in with the butter (cooling it down enough that I didn't cook the egg), and took the time to push all the fruit down into the batter. This recipe's a keeper.
I read many of the reviews for suggestions and then found I had the same problem other reviewers had. The cake did not come through the apples, maybe I used too many apples. The cake was moist and completely cooked but the apples were slightly crisp instead of soft which I like. I did push the apples down into the cake prior to baking but that did not seem to help. Flavor was okay but I will not be making this recipe again.

Leli, this recipe is easily customized based on what ratio of cake to apples you're looking for. If you're looking for more of a cake with less apple filling, use about 5 cups of apples. Some bakers prefer the apples to be the standout ingredient in the cake, so they opt for the larger quantity. Similarly, if you want the apples to be soft by the end of the bake, slice them very thinly (about 1/8" thick). We hope you feel empowered to adjust elements of recipes like this to taste in the future. Kye@KAF
I was looking for something simple for apples I needed to use. Keeping this recipe for sure! I did caramelize the apples with the spices, cider, lots of butter, extra vanilla, and not quite as much brown sugar (maybe 1/4c). It is amazing!
I work for a Farm Share and Shizuka (Crispin) Apples were the fruit of the day. If you don't know how they look, those apples are HUGE! They are like Granny Smith Apples on steroids! The Shizuka Apples worked just as well as the Granny Smiths. This was not my first time making the Skillet Apple Cake, this is one of the best recipes! I love it! It's easy and I can always make it early in the day and serve for dessert in the evening. I usually serve it plain or with fresh whipped cream. Unfortunately, there is never any left for the next day.
Baked this for a party yesterday and received RAVES. I used a slightly larger cast-iron skillet and a very generous 6 cups of early-season/kinda tart Honeycrisp sliced super thin. I doubled the spices on the sliced apples and made my own cider syrup by simply boiling down fresh cider (took a while, but made the house smell amazing). The result was a very apple-dense yet very tasty cake/pie. Didn't have whipped cream so drizzled with a simple glaze made with melted butter, powdered sugar, milk and a heavy-handed sprinkling of cinnamon. Will definitely make this again. Great choices in substitutions! You could be a test kitchen baker!! Continued success in creating yummy recipes! JoAnn@KAF,/strong>
Forgot to add my stars!! Loved this cake.
I loved this cake, both in flavor and texture, and so did my guests on both occasions that I made it. Surprised to see reviews criticizing the directions. I had no trouble whatsoever. Really recommend this if you're interested in a slightly different twist on apple cake.
I'm actually a little surprised at how poorly written this recipe is. If I were a less experienced baker, the cake would have been a disaster. So, inexperienced bakers: Cool the melted butter before you mix it in with the other ingredients, and particularly before you add the egg, which the butter will cook if it's too hot. And slice your apples thin (1/4 inch max) if you want them to be soft throughout. Otherwise, pretty good, with some adaptations based on previous reviews. I doubled the spices on the apple mixture, and added another teaspoon of spice mix to the cake itself, which sounded to me like it might be a little bland otherwise. I also browned the butter in the cake (and COOLED it!) to add some depth of flavor. The cake took forever to get really brown on top--over an hour. The results were good, though. Next time I'll try previous poster's recommendation of mixing a little sugar in with the butter in the pan--sounds good! You are definitely an experienced baker to be able to adapt the directions to your style of baking! I am glad you enjoyed it in the end. Thank you for your feedback. Laurie@KAF
The cake was just ok. I was a bit bummed out with the final product. There are much better recipes on this site whereas I won't be making this again. Once I popped it in the oven I started reading the reviews and noticed many had issues with the cake not coming through the apples, so I quickly pushed them down, which I believe helped. It definately was more "apple pudding" like. Like I said, alright but not worth the time. I much rather prefer the KA apple cinnamon scones, apple crisp, apple pie, etc to this.