A customized print-friendly version of this recipe is available by clicking the "Print Recipe" button on this page.
Easy Holiday Eggnog Muffins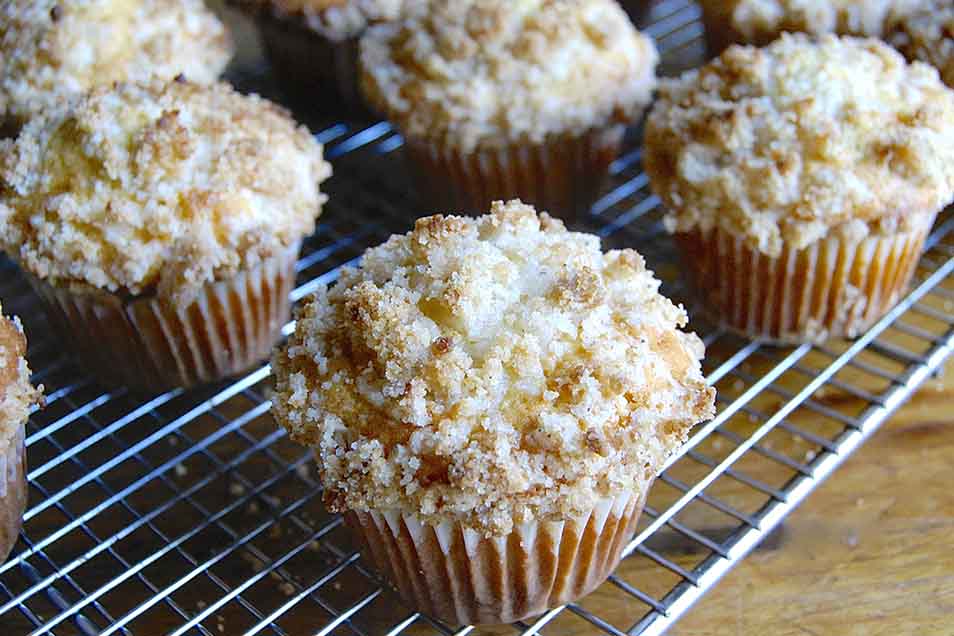 Eggnog flavor helps give these streusel-topped muffins their delightful taste.
Ingredients
Topping
1/2 cup sugar
1/2 teaspoon nutmeg
1/8 teaspoon eggnog flavor, optional
2 1/2 tablespoons butter, melted
Batter
1/4 cup (4 tablespoons) butter, softened
3/4 cup sugar
2 large eggs
2 1/2 cups King Arthur Unbleached All-Purpose Flour
2 teaspoons baking powder
1 teaspoon ground nutmeg
1/2 teaspoon salt
1/4 teaspoon eggnog flavor; 1/8 teaspoon butter-rum flavor, or 1 teaspoon vanilla extract
1 1/4 cups eggnog or half & half
Instructions
Preheat the oven to 425°F. Line a muffin tin with 12 paper or silicone muffin cups, and grease the cups with non-stick vegetable oil spray; this will ensure that they peel off the muffins nicely.

To make the topping: Stir together all of the topping ingredients JUST until crumbly. Stir gently, and don't overmix; you don't want to turn this crumbly topping into a solid mass. Set aside.

To make the muffins: In a medium-sized mixing bowl, beat together the butter and sugar until smooth.

Add the eggs, beating for several minutes and scraping the bowl, until the mixture is smooth and light colored.

Beat in the baking powder, nutmeg, salt, and eggnog flavor or vanilla.

Stir the flour into the butter mixture alternately with the eggnog or half & half, beginning and ending with the flour and making sure everything is thoroughly combined.

Spoon the batter evenly into the prepared muffin cups. Sprinkle with the topping, using a heaping tablespoon for each muffin.

Bake the muffins for 20 minutes, or until they're a pale golden brown. Remove them from the oven, and serve warm, or at room temperature.

Store at room temperature, lightly wrapped, for up to 2 day; freeze for up to a month.
Tips from our bakers
To use King Arthur Unbleached Self-Rising Flour in this recipe, substitute 2 2/3 cup self-rising flour for the all-purpose flour, and omit the baking powder and salt.
Reviews
I agree with Liz, cut the topping ingredients in half. I made half like Liz suggested and I still had left over. I love these!
Great flavor. Used nutmeg in the streusel and mace in the batter. Perfect!
Really perfect. Even after two days they were great with a quick zap in the microwave.
Not a huge fan of eggnog, but made these anyways as a nod to the season. Fantastic flavor... Perfect on Christmas morning.
I make it in a loaf pan as a quick bread! I have had so many requests for this recipe. Thank you!!! I do make it with the eggnog flavoring it adds a nice boost to the flavor. I also use real eggnog not the heavy cream. As I freeze a few to use up left over egg nog- I do not put the crumb topping as I am afraid the thawing might liquefy it. But for serving that day or next I do put the topping.
there was a heck of a lot of topping left over - I would recommend using 1/4 c flour and sugar to avoid wasting ingredients. they smell awesome - still cooling off as I type this
It may not be the best muffin ever, but it is right up there with the top contenders. Made large muffins - 6 instead of 12 - and they looked so very impressive with the topping. Will be making these again and again.
These muffins are simple to make and absolutely delicious. Festive for the holidays, but perfect all year round.
Love these! They're so hard to stop eating (we make mini muffins)...in fact, we freeze eggnog during the holidays to make them year round! :)