A customized print-friendly version of this recipe is available by clicking the "Print Recipe" button on this page.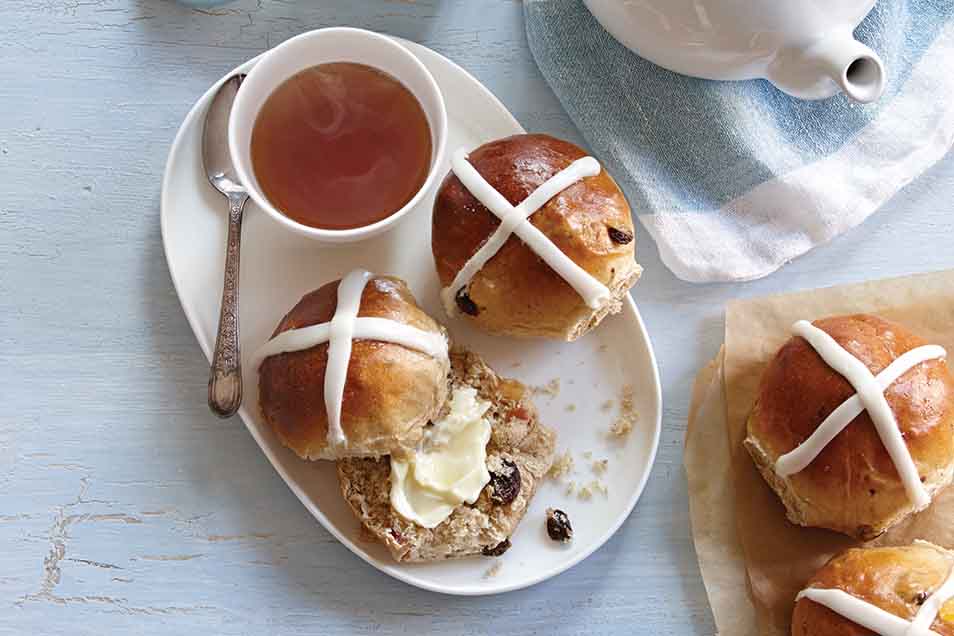 This soft dough is easily shaped, and makes tender, aromatic buns, ready for an icing cross on top.
Ingredients
Buns
1/4 cup apple juice or rum
1/2 cup mixed dried fruit
1/2 cup raisins or dried currants
1 1/4 cups milk, room temperature
2 large eggs, plus 1 egg yolk (save the white for the topping)
6 tablespoons butter, room temperature
2 teaspoons instant yeast
1/4 cup light brown sugar, firmly packed
1 teaspoon ground cinnamon
1/4 teaspoon ground cloves or allspice
1/4 teaspoon ground nutmeg
1 3/4 teaspoons salt
1 tablespoon baking powder
4 1/2 cups King Arthur Unbleached All-Purpose Flour
Topping
1 large egg white, reserved from above
1 tablespoon milk
Icing
1 cup + 2 tablespoons confectioners' sugar
1/2 teaspoon vanilla extract
pinch of salt
4 teaspoons milk, or enough to make a thick, pipeable icing
Instructions
Lightly grease a 10" square pan or 9" x 13" pan.

Mix the rum or apple juice with the dried fruit and raisins, cover with plastic wrap, and microwave briefly, just till the fruit and liquid are very warm, and the plastic starts to "shrink wrap" itself over the top of the bowl. Set aside to cool to room temperature. Note: If you worry about using plastic wrap in your microwave, simply cover the bowl with a glass lid.

When the fruit is cool, mix together all of the dough ingredients (including the eggs and the egg yolk from the separated egg); hold out the fruit for the time being. Knead the mixture, using an electric mixer or bread machine, until the dough is soft and elastic. It'll be very slack, sticking to the bottom of the bowl and your hands as you work with it (greasing your hands helps). Mix in the fruit and any liquid not absorbed.

Let the dough rise for 1 hour, covered. It should become puffy, though may not double in bulk.

Divide the dough into billiard ball-sized pieces, about 3 3/4 ounces each. A heaped muffin scoop (about 1/3 cup) makes about the right portion. You'll make 12 to 14 buns. Use your greased hands to round them into balls. Arrange them in the prepared pan.

Cover the pan, and let the buns rise for 1 hour, or until they've puffed up and are touching one another. While the dough is rising, preheat the oven to 375°F.

Whisk together the reserved egg white and milk, and brush it over the buns.

Bake the buns for 20 minutes, until they're golden brown. Remove from the oven, carefully turn the buns out of the pan (they should come out in one large piece), and transfer them to a rack to cool.

Mix together the icing ingredients, and when the buns are completely cool, pipe it in a cross shape atop each bun.
Nutrition Information
Serving Size

114g, 1 bun

Servings Per Batch

12
Amount Per Serving:
Calories

273

Calories from Fat

19g

Total Fat

2g

Saturated Fat

1g

Trans Fat

0g

Cholesterol

54mg
Sodium

375 mg

Total Carbohydrate

57g

Dietary Fiber

2

Sugars

24g

Protein

8g
* The nutrition information provided for this recipe is determined by the ESHA Genesis R&D software program. Substituting any ingredients may change the posted nutrition information.
Tips from our bakers
Want to make these buns a day or so ahead of time? Try the tangzhong technique, a Japanese method for increasing the softness and shelf life of yeast rolls. Begin by measuring out the flour and milk you'll be using in the recipe. Now take 3 tablespoons of the measured flour and 1/2 cup of the measured milk; put them in a saucepan set over medium-high heat. Cook the mixture, whisking constantly, until it thickens and forms a thick slurry; this will take about 1 1/2 to 2 1/2 minutes. Transfer the cooked mixture to a bowl, let it cool to lukewarm, then combine it with the remaining flour, milk, and other dough ingredients. Proceed with the recipe as directed. Well-wrapped and stored at room temperature, your finished hot cross buns should stay soft and fresh for several days.
Reviews
Came out beautifully for a first try! I am a bread baker but had never made these before. Our house is a little on the cool side in Winter (65 degrees), and I like a 'yeasty' taste to my hot cross buns, so next time I'd add a tablespoon of yeast because it took so long for these to rise (hours). Also, I like a thick frosting cross, so I added only 2 TBSP of milk, plus a tiny bit more to get a nice, thick consistency. In looking at other reviews, I wonder if people are adding fresh or wet fruit of some kind if their dough is too wet. I used half raisins (soaked in apple juice as recommended) and the other fruit I added was the candied kind used in making fruit cakes, just like my favorite baker uses in these. The dough was not too wet to handle and held it's shape for perfect break away rolls once baked. I also dusted them with a little flour around each roll, which might have helped with the break away part. Overall, I'm very happy with this recipe, wish I could post a pic! Thanks KAF, love you guys
Well....can't give this zero stars bc the online star evaluator won't let me. I think KAF needs to redo this recipe bc it doesn't work. I'd like to try it again before I give it one star, but I have an event I need to do for these. Threw out the buns....all of them. Sorry... Sam

We're so sorry to hear that this recipe gave you trouble, Sam! Without more details we're not able to help figure out exactly what went wrong, but we'd encourage you to contact our free and friendly Baker's Hotline at 855-371-BAKE (2253). They can work with you to figure out what went awry with your buns and help you get better results next time. Happy baking! Kat@KAF
Not sweet enough; not enough flavor from spices, really disappointed

Thanks for giving this recipe a go, Robbin. We're sorry to hear that the flavor didn't give as much of a punch as you'd been hoping for. Often, flavors, including sweetness, are diluted if any extra flour wound up in the dough, either while mixing or during kneading. To ensure you're using the right amount, we recommend checking out the "Measuring Standards," link next to the ingredients header above. You'll see that either measuring your flour by weight using a scale, or fluffing and sprinkling the flour into your measuring cup are the most accurate ways to measure flour. You're also more than welcome to increase the sugar by an extra tablespoon or two, or to up the spice level. We encourage you to experiment to create hot cross buns that fit your personal taste. There's nothing quite like a warm hot cross bun, and we want you to enjoy yours. Kindly, Annabelle@KAF
Hi, how much total liquid would we need for this recipe to use the tangzhong method? As per the recipe apple juice plus milk is 340hms which whej compared to flour is 63%. So as per 75% hydration it would need 404gms of total liquid? If yes, should this additional 64gms be added in milk or apple juice or a combination?

Hi Seema. You'll find the directions to make a Tangzhong for this recipe in the "Tips from our bakers" section at the bottom. It recommends using 1/2 (4 oz) cup milk and 3 tablespoons of flour. Happy baking! Annabelle@KAF
These buns turned out great, but it seemed like I could taste the baking powder more than the yeast. Can the recipe ingredients be modified to rely only on yeast for leavening?

James, next time you can try using the same amount of yeast (2 teaspoons) and reducing the baking powder to 2 teaspoons as well. You can still achieve a beautiful rise if you let the dough rest for slightly longer. Wait until the buns look puffy, and when you poke them the indent stays rather than fills right back in. We hope this helps makes the buns perfect for your taste buds! Kye@KAF
I made these for easter and they turned out well. The only issue I had was that they were too large. I made 12 buns in a 13 x 9 pan and they were huge! Will use two smaller pans next time. I also didn't notice the tangzhong tip on the website as I was using the Recipe of the Year Card. Will definitely try that the next time. Soaking the fruit added great flavor and they weren't too sweet. The frosting worked well for me - not too runny and it held it's shape.
I immediately decided to try this with the tangzhong method, since I have used it successfully in other sweet roll recipes. I did not weigh the flour, which may have contributed to the less than perfect results. The dough was very slack, though I could form relatively nice rolls. I used a 10x 10 Pan, and made 16 rolls. I was disappointed that they were not finished in the recommended time. They needed about 15 more minutes to reach 195 degrees. I'm very used to my oven, and the temperature is normally quite accurate. I attribute the time difference to the wetter dough. The glaze consistency was perfect. Next time, I might use more spices. These are worth another try, very popular with the family.
Made these on Good Friday and they were still fluffy and delicious on Easter morning, maybe even better. The tangzhong method is an ingenious trick, and I've used it before with dinner rolls. Another revelation from those rolls is that higher-fat ('European') butter makes a noticeable difference. For these I used currants and candied lemon peel soaked overnight in golden rum, just like fruitcake prep. My one complaint is that the icing as written was way too slack and did not pipe well. That harmed the presentation, but I would make the buns again.
These are delicious! I made a cinnamon honey butter to spread on the warm buns. I used the tangzhong technique when preparing the dough. I will highly recommend this to my friends and family.
My first time making hot cross buns this weekend. Dough was really really wet, I read all the other comments before I started and apparently haven't been the only one this happened too. I measured by weight. Buns turned out more like one large 9x13 bun. That being said the finished product was delicious, light and flavorful and now I want to try again and try to figure out what I did wrong. Thanks to KAF for great recipes and all the users for their helpful hints.