A customized print-friendly version of this recipe is available by clicking the "Print Recipe" button on this page.
Easy Jelly Doughnut Holes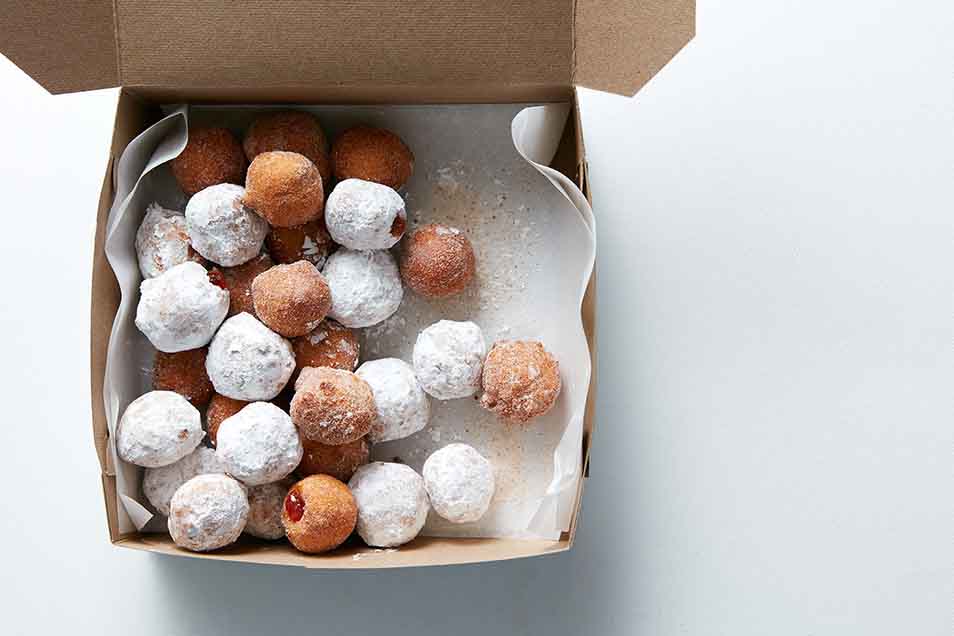 Which is your favorite doughnut: cake, or yeast-raised? If your answer is cake, you're in luck — these jelly doughnuts, made from a simple baking powder dough, are fast, easy... and absolutely delicious.
Ingredients
Doughnuts
2 tablespoons sugar
1 1/2 tablespoons (4 1/2 teaspoons) baking powder
1/2 teaspoon salt
1 cup lukewarm milk
1/4 cup melted butter
1 large egg
1 teaspoon vanilla extract, optional
Filling
your favorite jelly or jam
Instructions
Get out a skillet that's at least 2 1/2" deep; a 10" electric frying pan is a great choice, if you have one. Fill it with about 1" of vegetable oil, peanut oil preferred for best flavor.

Start heating the oil to 350°F while you make the doughnut batter.

To make the doughnuts: Whisk together the flour, sugar, baking powder, and salt.

Whisk together the lukewarm milk, melted butter, egg, and vanilla.

Stir the wet ingredients into the dry ingredients to make a thick batter (or soft dough).

When the oil has come up to temperature, use a tablespoon cookie scoop (or spoon) to drop balls of batter into the hot oil. This recipe will make 2" doughnut holes using a tablespoon cookie scoop and dropping in balls of dough about as big as an undersized ping pong ball.

Fry the doughnut holes for 2 minutes on the first side, or until they're a deep golden brown. Some of them may turn themselves over; that's OK, just use a pair of tongs to turn them back. After 2 minutes, turn the holes over, and fry for an additional 2 minutes, until golden brown. Transfer the doughnut holes to a baking sheet lined with paper towels to drain and cool.

When the doughnuts are cool, use a piping bag with a long, plain tip to fill them with as much jelly as you like. If you don't have a piping bag, try using an inexpensive plastic condiment squeeze bottle (think mustard or ketchup), with its tip cut off midway down to make it wider.

Shake the filled doughnuts gently in a bag of granulated sugar. Enjoy warm, or store at room temperature, loosely covered, for a day or so.

Yield: 24 jelly doughnut holes.
Reviews
Made them gluten free. Fantastic!!!! Substitute King Arthur Gluten Free All Purpose Flour, add a pinch of nutmeg and a 1/2 envelope of knox unflavored gelatin to the flour mixture. Absolutely delicious. People did not know they were gluten free
These are so easy to make, very quick. Taste is so delicious. My husband loves them, so do I.
Do you have a gluten free version for this recipe?
I'm sorry, we don't have a gluten-free version at this time, but I will add that to the wish list! ~Amy
To start, I haven't fried doughnuts in about 4 years, namely because I have been put off by the process of keeping track of the oil temperature, and fear of oil burns. Tonight, I decided to try making these. The process was amazingly more simple than I remembered it, and, texturally, these turned out well (very bread, not light and airy like store-bought doughnuts, but not greasy and sodden with oil). That is why I am giving them 3 stars: they are a good introduction to frying bread, and I think they have a lot of promise. Taste-wise, however, they are rather bland on their own. I didn't have any jelly in the house to fill them with, which is probably essential to their flavor. Otherwise, they really don't taste like much (even coated in cinnamon sugar). So, definitely use the jelly, or alter the ingredients to spice them up. But they're a great into (or re-intro) to frying doughnuts!!! Thanks to that, I now have the confidence to try a few more complex doughnut recipes.
I just whipped these up for my grandchildren (much to their mother's dismay), and they went in about five minutes. My husband liked them, as well. We are now experimenting w/other types of fillings - i.e. cream, lemon curd, and the like. So easy.
We wanted to like this simple, fast recipe, but the end result was too heavy. I filled some with jelly, rolled some in in cinnamon, and covered some with powdered sugar. Maybe we are just not much of a doughnut family. Next time, I'll stick to scones.
I found it difficult to make these into round donuts holes. It is a very basic recipe that everyone agreed tasted more like the zeppoli at the street fairs than a traditional donut hole.
could not be easier or yummier. we also made them with apple cider in place of the milk and they were yummy that way too. had to try a few variations - all good! extra time on the elliptical though!!