A customized print-friendly version of this recipe is available by clicking the "Print Recipe" button on this page.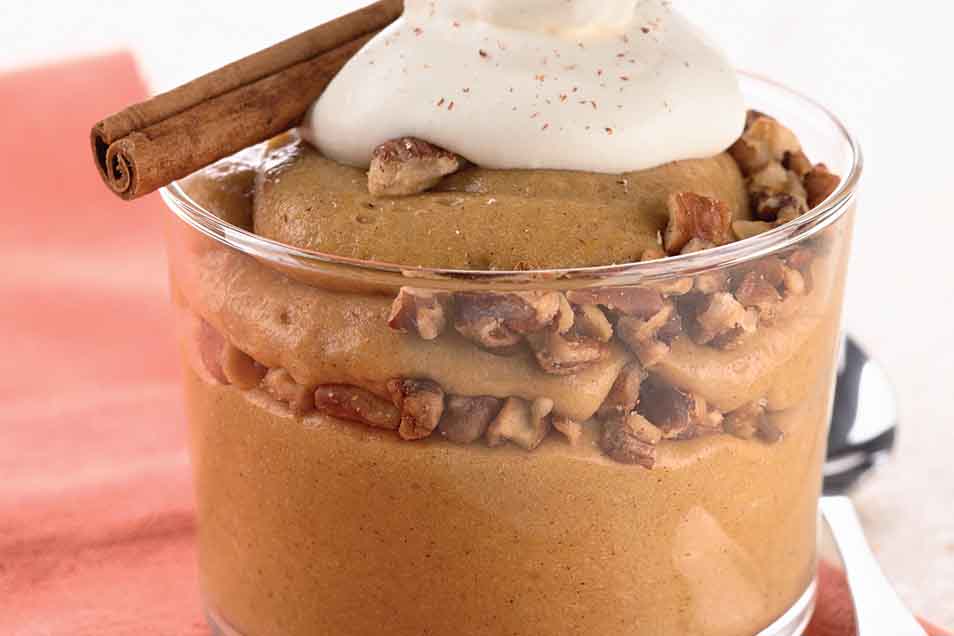 Make a creamy, fluffy, pumpkin-y dessert using our easy Pastry Cream Filling Mix. Don't skip the salted nuts; they make this a spectacular salty-sweet treat.
Ingredients
Mousse
1 1/2 cups Pastry Cream Filling mix*
1 teaspoon ground cinnamon**
1/2 teaspoon ground ginger**
1/2 teaspoon ground allspice**
1/4 teaspoon salt
1 3/4 cups (1 can, 15 ounces) plain pumpkin (pumpkin purée)
2 tablespoons boiled cider or molasses
1/8 teaspoon pumpkin flavor, optional
1 cup milk
1 cup heavy or whipping cream
*Substitute one large (5.1-ounce) box instant vanilla pudding mix, if desired (NOT sugar-free). Reduce the milk to 3/4 cup, for a stiffer mousse.
**Substitute 2 teaspoons pumpkin pie spice, if desired.
Garnish
1/4 cup mini diced ginger or crystallized ginger, chopped small
1/4 cup toasted salted pecans, chopped
Instructions
Whisk together the Pastry Cream Filling Mix, spices, and salt.

Add the pumpkin, boiled cider or molasses, pumpkin flavor, and milk, and beat for a minute or two to blend. Scrape the bottom and sides of the bowl.

Blend in the cream and beat until fluffy.

Spoon the mousse into serving dishes; garnish with ginger and chopped salted nuts.

Serve immediately; or refrigerate, and garnish with nuts just before serving.