A customized print-friendly version of this recipe is available by clicking the "Print Recipe" button on this page.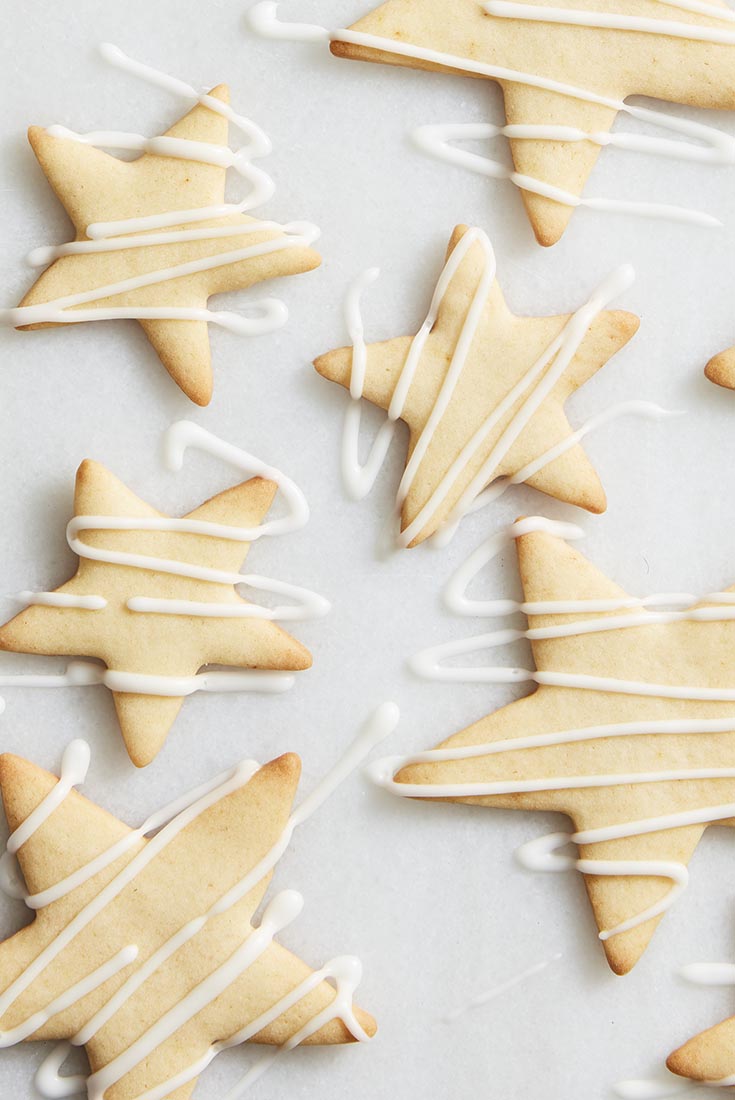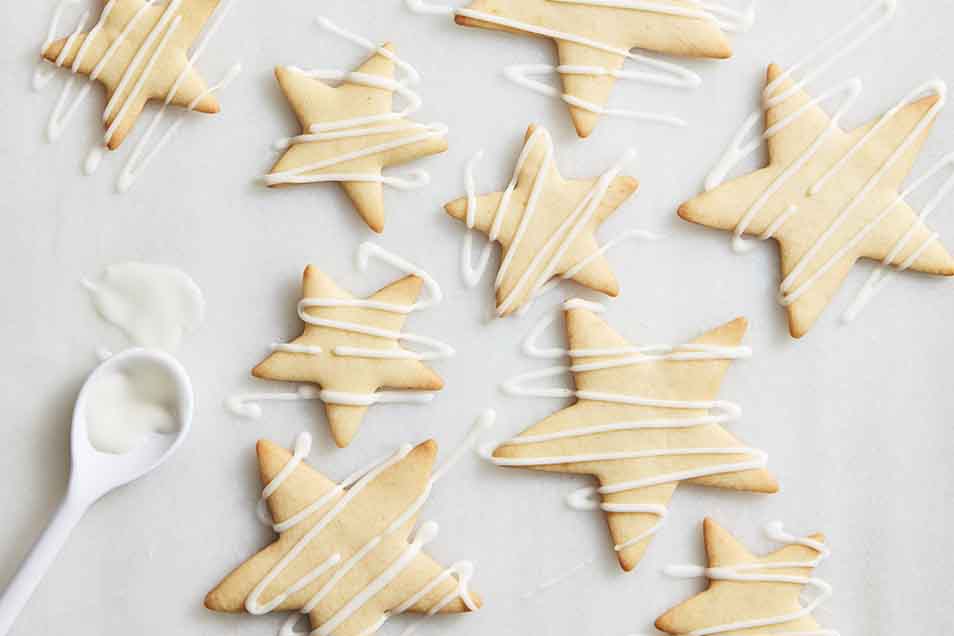 Holiday cutout cookies should be thin, light and crisp, sturdy enough to decorate, yet tender rather than hard. And flavor? Eggnog is simply wonderful.
Ingredients
1 cup unsalted butter
2 cups confectioners' sugar or glazing sugar
2 tablespoons light corn syrup
3/8 teaspoon eggnog flavor
1/4 to 1/2 teaspoon ground nutmeg, optional
3/4 teaspoon salt
1 large egg, lightly beaten with 2 tablespoons water
1 teaspoon baker's ammonia or 2 teaspoons baking powder
3 1/2 cups King Arthur Unbleached All-Purpose Flour
Instructions
Cream together the butter, confectioners' sugar, and corn syrup until light and fluffy.

Beat in the eggnog flavor, nutmeg, and salt.

Add the baker's ammonia or baking powder to the egg and water, and stir to dissolve.

Add this mixture, along with the flour, to the ingredients in the bowl, and beat until smooth.

Divide the dough in three pieces, wrap them in plastic wrap, and refrigerate for 1 hour, or overnight.

If the dough has been in the fridge for 1 hour, give it about 20 to 25 minutes to warm up a bit. If it's been refrigerated overnight, let it rest at room temperature, covered, for about an hour and 15 minutes. While the dough is resting, preheat your oven to 350°F.

Roll the dough 1/8" thick on a lightly floured work surface (a silicone rolling mat works well here).

Cut out shapes, and transfer to ungreased or parchment-lined cookie sheets.

If desired, whisk 1 egg white with 1 tablespoon water, paint the cookies with this egg wash, and sprinkle with colored sugar.

Bake the cookies just until they're slightly brown on the edges, or until they feel firm, about 8 to 10 minutes.

Let the cookies cool on the baking sheet for several minutes, or until they're set. Transfer them to a rack to cool completely. Cookies may be frosted after baking, if desired.
Tips from our bakers
Adding the optional nutmeg will give the cookies a lightly speckled surface. If this bothers you, leave it out.
Reviews
This is an OK recipe...but to make it work for me I made a couple changes...I used triple the amount of eggnog flavor...and I used 1 teaspoon of the of nutmeg...I saw some had issues with the cookie spreading so I reduced the baking powder to 3/4t... I also made an eggnog glaze...I don't have the measurements because I eyeball it...but I did use equal parts eggnog and light karo...powder sugar 1t eggnog flavor and freshly grated 1/3 of a whole nutmeg.
I'm going to try these again. The flavor was, of course, so appropriate for the holidays, but I had some trouble with them spreading too much. Did chill the dough before rolling and cutting, as specified in the recipe. Tried also chilling the cut-out cookies before baking, but there wasn't an appreciable difference in the spread. Did really love the crispiness imparted by the baker's ammonia, so I'm ready to give this another shot.
Easy to make, didn't stick to the cutter (which I dipped in flour before each cut). I didn't add the nutmeg, used 1/2 tsp eggnog extract, but was disappointed in the flavor - if I didn't know they were supposed to be eggnog cookies, I wouldn't have been able to tell. Took these to work and had plenty to bring home again, so I wasn't the only one who wasn't particularly impressed. They were OK, but not something I'll be in a hurry to bake again unless I see a recipe tweak that ups the eggnog flavor. Maybe that eggnog frosting other raters have mentioned would do the trick.
I made this recipe as biscotti - patted the dough into a log, baked at 375 for 15 minutes, lowered the oven temp to 350, sliced log on a diagonal when it was still warm, baked for another 15 minutes and Voila! Very pretty drizzled with red and white icing, but terrific alone. I had tried this to use up a bag of the eggnog sugar cookie mix which had gotten lost in the back of the cupboard and it works well with that, too.
I have made hundreds of cutout cookies in my life, even though they were very labor intensive. I was intrigued by this recipe though I'd sworn off rolling cookie dough ever again. The recipe was quick to make and easy to roll out and cut. The dough didn't stick to my cutters as other recipes have done. I used an egg wash and colored sugars rather than the frosting. My family loved them! A week later I made them again, using 1 tsp vanilla and 1 tsp almond extract. Another hit! I made 4-5 batches during the Christmas holidays. I sent the recipe to my sister, she took it with her to Spain and made it for her friends there. They asked for the recipe. I decided to make some Easter cookies for family and friends and used 1 tsp vanilla extract and 1 tsp of cocoanut extract. Yummy! The lamb cut outs with the sparkling sugar topping were a big hit! Thank you for such a versatile recipe that has me using my many cutters again.
I was wondering if someone wouldn't mind posting the eggnog frosting recipe. My eggnog flavoring did not come with that. Thank you!
I can't do rolled cut-out cookies because of limited motor skills, but instead made these as a drop cookie that I flattened with the bottom of a glass. The cookie itself turned out fine. It baked beautifully and had a nice texture. The only problem was the taste. I like an assertive eggnog flavor, so I upped the eggnog flavoring quite a bit. Even after that, there was little, to no, eggnog taste. I'm going to try these one more time and use 4x the amount of eggnog flavoring in an effort to make these a true 'Eggnog' Cookie!
This recipe is fantastic and easy to make. I especially liked and followed Cynthia's advice and made the eggnog frosting. I used a Linzer cookie cutter, lightly tinted the frosting with yellow dye until it looked like eggnog color. You have to double the batch of cookies this way, but the frosting added wonderful flavor and looked great through the hole in the top cookie. For the top cookies I did the egg wash with a sprinkling of white sugar and the final result was really pretty. The nice thing about the Linzer style is that you get the frosting but you can still stack the cookies without worry - which helps for packing them up as gifts.
My teenage daughter made these for her youth group for a weekend trip. Everyone loved them, several people wanted the recipe, and when there were only crumbs left, the kids ate those, too! She said they were not difficult to make and the recipe was easy to follow. Of course, she's become quite a baker on her own, so not much daunts her. Great cookie!
Fabulous! They are tender, sweet and delicious. I don't know what they taste with eggnog, since I used 1/4 tsp of Kashmir saffron brewed in two tbs hot water. They I let it cooled and added egg the same with recipe. They are so yummy. I'll make them again and again. Thank you.