A customized print-friendly version of this recipe is available by clicking the "Print Recipe" button on this page.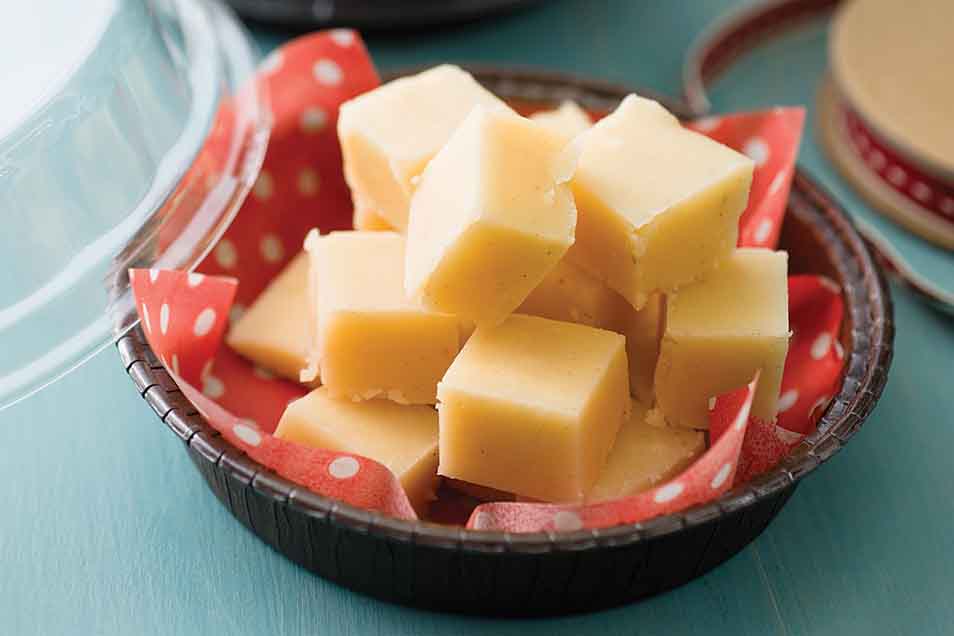 This fudge will make you think eggnog at the first bite, thanks to its creaminess and nutmeg kick. Moreover, because it's immensely rich and easily transportable, it makes a perfect homemade gift.
Ingredients
2 1/4 cups sugar
1/4 cup corn syrup
1 3/4 cups heavy cream
7 tablespoons unsalted butter
1/4 teaspoon salt
1/2 teaspoon eggnog flavor
1/2 teaspoon nutmeg
1 1/2 cups chopped white chocolate, or white chocolate chips
Instructions
Grease a 9" square cake pan with parchment; grease the parchment. Or lightly grease your favorite bake-and-give pans; we like the mini round pans.

Combine the sugar, corn syrup, cream, butter, salt, eggnog flavor, and nutmeg in a deep, narrow (6- to 8-quart) heavy-bottomed pot.

Bring the mixture to a boil over medium-high heat, stirring until smooth — the sugar should have dissolved, with no grittiness in the bottom of the pan.

Boil until the mixture reaches 235°F to 240°F on a candy or digital thermometer, about 15 to 20 minutes.

Remove the pot from the heat and add the chocolate a handful at a time, stirring until smooth. Note: As soon as the chocolate has melted, stop stirring! If you continue to stir, it'll separate and become grainy.

Pour the mixture into the parchment-lined pan — you'll want to do this fairly quickly, as once it starts to cool, the fudge will be much harder to pour.

Cool the fudge overnight, until firm. If it's in a large pan, cut it into serving-size pieces. Wrap airtight, and store at room temperature for several days.

Yield: about 64 pieces; or 6 mini round pans.
Tips from our bakers
Many fudge recipes call for you to cool the mixture to 110°F, then beat vigorously. We prefer this method, which works very well if you cook the sugar mixture to 235°F to 240°F, stir in the chocolate, and stop stirring just as soon as the chocolate has melted and the fudge is smooth; no beating required.