A customized print-friendly version of this recipe is available by clicking the "Print Recipe" button on this page.
Eggplant Parmesan Calzones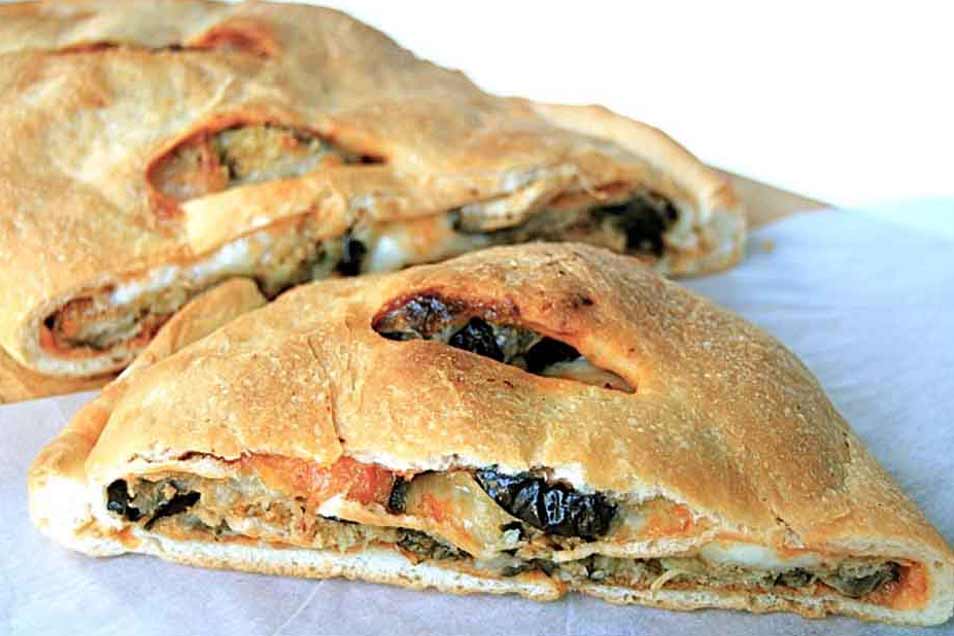 A thin yeast dough wrapped around pizza-like filling — that's a calzone. This version features breaded eggplant slices, baked until crisp; marinara sauce, and your favorite combination of cheeses. Unlike typical eggplant Parmesan, this light filling features the subtle flavor of eggplant, rather than drowning it in sauce and cheese. Serve calzones with extra sauce for dipping, if you like.
Ingredients
Crust
1 1/4 teaspoons instant yeast
3/4 teaspoon salt
1 tablespoon olive oil
1/2 cup to 3/4 cup lukewarm water*
*Use the greater amount in the winter, the lesser amount in the summer, and somewhere in between in the spring and fall. Your goal is a soft dough.
Filling
2 medium (about 2 pounds) eggplant, cut in 1/2" slices; peeled or not, your choice
2 tablespoons milk
1 large egg
1 2/3 to 2 cups panko or other coarse bread crumbs
pizza, marinara, or spaghetti sauce
2 cups shredded or grated mozzarella cheese, or a combination of your favorite pizza cheeses
Instructions
To make the crust: Combine all of the ingredients in a bowl, and mix and knead — using your hands, a mixer, or a bread machine set on the dough setting — to make a soft, smooth dough.

Place the dough in a lightly greased bowl or other rising container (an 8-cup measure works well), cover it, and let it rise until it's just about doubled in bulk, about 1 1/2 to 2 hours.

While the dough is rising, prepare the eggplant. Lightly grease two large baking sheets. Preheat the oven to 400°F.

Slice eggplants about 3/8" thick. Whisk together the egg and milk. Pour the bread crumbs into a shallow dish.

Dip each eggplant slice into the egg/milk mixture, and let it drain. Then dip both sides into the bread crumbs. Lay the slices in a single layer in the prepared pans. Drizzle or spray with olive oil, and season with salt.

Bake the eggplant for 40 minutes, or until it's soft and the crumbs are beginning to brown. Remove it from the oven, and let it cool right on the pan.

Gently deflate the risen dough, and turn it out onto a clean work surface. Divide it in half.

Working with one half at a time, place the dough onto a parchment-lined or lightly greased baking sheet. Pat it into an 11" to 12" circle.

Brush the dough with sauce, leaving 1/2" clean all around the edges. Use as much sauce as you like; some prefer just a touch of the red, others like a significant amount.

Arrange half the eggplant, slightly overlapped, on half of the dough circle. It'll seem like a lot of eggplant in a small amount of real estate, but don't worry; it'll settle as the calzone bake. Drizzle the eggplant with additional sauce, if desired. Top with 1 cup of the cheese.

Fold the uncovered half of dough over the eggplant and cheese, pressing the edges together to seal. Repeat with the remaining piece of dough and filling ingredients.

Cut 3 or 4 slits in the top of each calzone, to allow steam to escape. Brush with olive oil.

Let the calzones rest, uncovered, for 15 minutes, while you preheat your oven to 450°F.

Bake the calzones for 18 to 22 minutes, until they're golden brown.

Remove the calzones from the oven, and slice into pieces to serve.

Yield: two 12" calzones, 4 o 6 servings total.
Tips from our bakers
Can you make this with whole wheat flour? Try substituting 1/2 cup of whole wheat for 1/2 cup of the all-purpose flour, to start; if you like the result, increase the amount of whole wheat flour next time.
Many folks salt and drain their sliced eggplant before cooking, claiming it removes any potential bitterness, and helps prevent sogginess. We tried both salting/draining, and skipping this step, and thought the unsalted, undrained eggplant was nicely moist, compared to the salted. However, if salting/draining is something you've always done, there's no harm in continuing.
Here's another way to approach eggplant Parmesan calzone: Simply use leftover eggplant Parmesan as the filling. Cut an appropriately-sized slice out of your casserole pan, lay it onto the dough, and go from there.