A customized print-friendly version of this recipe is available by clicking the "Print Recipe" button on this page.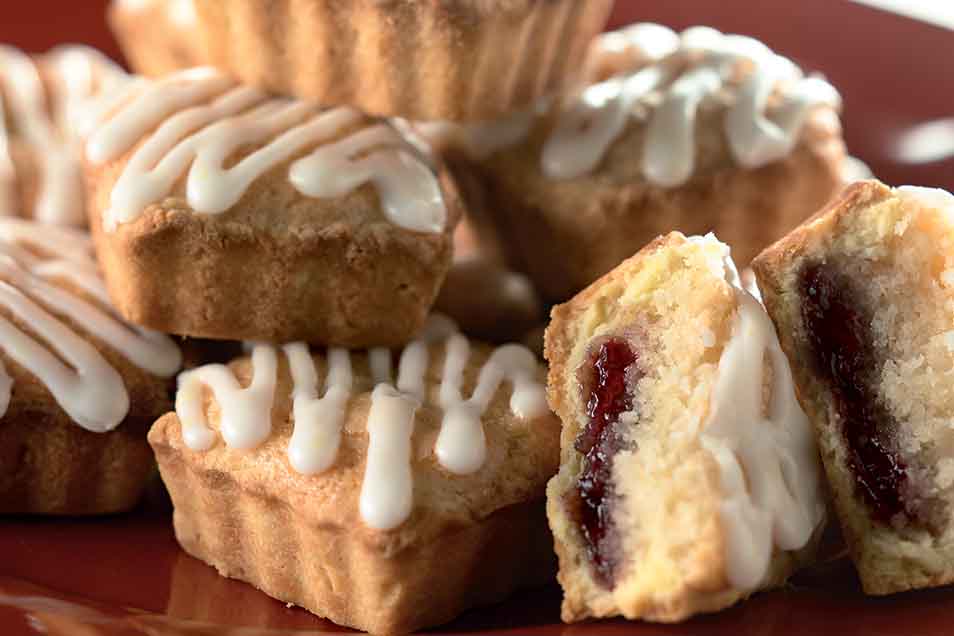 These mini tarts, placed on a pretty plate and dusted with confectioners' sugar, make a lovely (and tasty) dessert. Don't have a mini tart pan? A mini muffin pan makes a fine substitute.
Ingredients
Crust
1/4 cup sugar
1/2 teaspoon salt
1/2 cup (8 tablespoons) butter, cold
2 large egg yolks, save the whites for the filling
1/4 cup milk
Glaze
1 cup glazing sugar or confectioners' sugar
1/4 teaspoon vanilla extract or almond extract
1 to 2 tablespoons water
Instructions
Preheat the oven to 375°F. Lightly grease a mini tart pan or a mini muffin pan.

To make the crust: Whisk together the flour, sugar, and salt.

Work in the 1/2 cup cold butter until the mixture is crumbly.

Whisk the egg yolks with the 1/4 cup milk, and add to the dough, stirring until cohesive.

Divide the dough into 24 pieces (a scant 3/4 ounce, 20g each).

Working with half the pieces at a time, press into the bottom and up the sides of the mini-tart cups.

Refrigerate the dough in the pan until ready to fill.

To make the filling: Beat together the 4 tablespoons butter, salt, 3/4 cup sugar, flour, and nutmeg.

Beat in the egg whites and extract, then stir in the almond flour or ground almonds.

To assemble and bake the tarts: Place 1/4 to 1/2 teaspoon jam into the bottom of each pastry-lined cup, enough to cover the bottom. Cover with 1 tablespoon of the filling.

Bake the tarts for 15 to 20 minutes, until the tops are lightly browned.

Cool the tarts slightly before removing them from the pan to cool on a rack.

Repeat with the remainder of the dough and filling.

To make the glaze: Stir together the glaze ingredients, adding the water a bit at a time to make a medium-thin glaze.

Drizzle the glaze over the cooled tarts.

Tarts may be stored airtight for several days, or frozen for longer storage.