A customized print-friendly version of this recipe is available by clicking the "Print Recipe" button on this page.
English Muffin Toasting Bread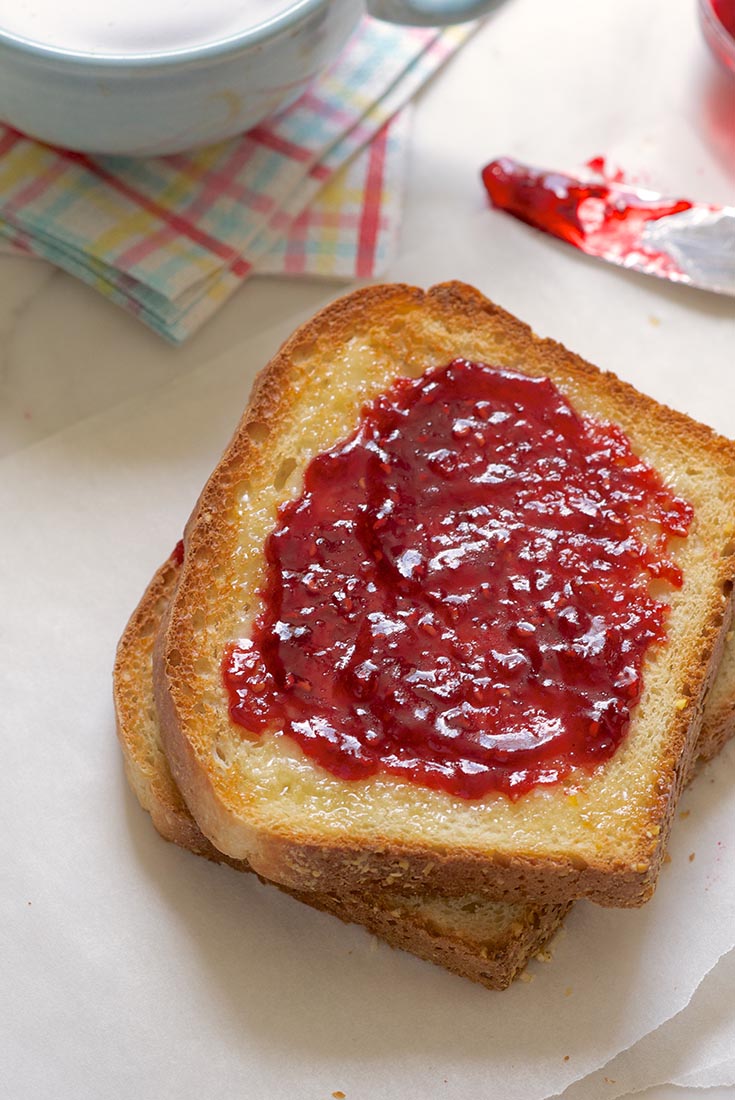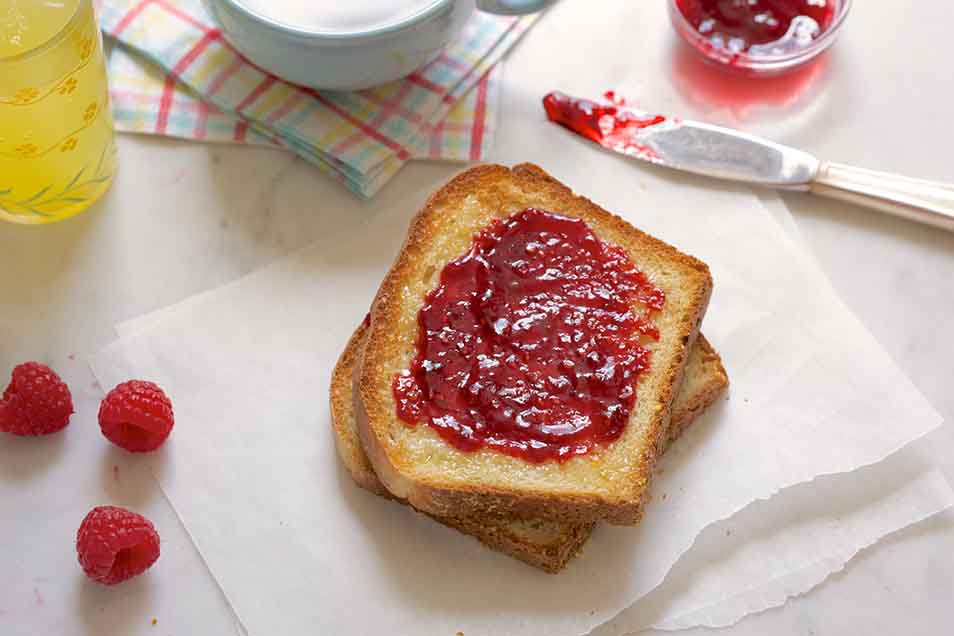 This yeasty, coarse-textured bread makes the best toast ever, a perfect partner to fresh summer jam or preserves. A purely mix-it-slap-in-the-pan-bake-and-eat-it loaf, it's earned a place of honor in our King Arthur test kitchen Hall of Fame.
Ingredients
1 tablespoon sugar
1 1/2 teaspoons salt
1/4 teaspoon baking soda
1 tablespoon instant yeast
1 cup milk
1/4 cup water
2 tablespoons vegetable oil or olive oil
cornmeal, to sprinkle in pan
Instructions
Whisk together the flour, sugar, salt, baking soda, and instant yeast in a large mixing bowl, or the bowl of a stand mixer.

Combine the milk, water, and oil in a separate, microwave-safe bowl, and heat to between 120°F and 130°F. Be sure to stir the liquid well before measuring its temperature; you want an accurate reading. If you don't have a thermometer, the liquid will feel quite hot (hotter than lukewarm), but not so hot that it would be uncomfortable as bath water.

Pour the hot liquid over the dry ingredients in the mixing bowl.

Using an electric beater, or stand mixer with beater attachment, beat at high speed for 1 minute; the dough will be smooth and very soft. If you don't have an electric mixer, beat by hand for 2 to 3 minutes, or until the dough is smooth and starting to become elastic.

Lightly grease an 8 1/2" x 4 1/2" loaf pan, and sprinkle the bottom and sides with cornmeal.

Scoop the soft dough into the pan, leveling it in the pan as much as possible.

Cover the pan, and let the dough rise till it's just barely crowned over the rim of the pan. When you look at the rim of the pan from eye level, you should see the dough, but it shouldn't be more than, say, 1/4" over the rim. This will take about 45 minutes to 1 hour, if you heated the liquid to the correct temperature and your kitchen isn't very cold. While the dough is rising, preheat the oven to 400°F.

Remove the cover, and bake the bread for 22 to 27 minutes, till it's golden brown and its interior temperature is 190°F.

Remove the bread from the oven, and after 5 minutes turn it out of the pan onto a rack to cool. Let the bread cool completely before slicing.
Nutrition Information
Serving Size

1 slice, 44g

Servings Per Batch

16
Amount Per Serving:
Calories

109

Calories from Fat

18

Total Fat

2g

Saturated Fat

0g

Trans Fat

0g

Cholesterol

1mg
Sodium

245 mg

Total Carbohydrate

19g

Dietary Fiber

1g

Sugars

2g

Protein

4g
* The nutrition information provided for this recipe is determined by the ESHA Genesis R&D software program. Substituting any ingredients may change the posted nutrition information.
Reviews
Easy as pie, and amazing, crisp-crunchy surface when toasted. I think this is our first step toward not buying bread & bringing that plastic into our houseso delicious!
This is better than Texas Toast that you buy at the store!! Soooooo good!!! Have made it twice now and both times it turned out awesome!!
If I use powdered buttermilk and water from my Insta-hot, will it work out about the same?

Rosie, you're welcome to mix 1/4 cup of buttermilk powder into the flour and use a total of 1 1/4 cups of water in this recipe if you like. Make sure the water is around 120°F for best results. No other changes need to be made. Happy baking! Kye@KAF
A nice bread for toast but too crumbly for anything else.

We're glad you've given this recipe a try and found that it makes nice toast. If you'd like to try making it slightly less crumbly, then you might want to try holding back about 1/4 to 1/3 cup of the flour and add it only as needed. (Using too much flour is one of the most common reasons why bread turns out dry and crumbly.) You could also consider using King Arthur Bread Flour if you'd like to give the loaf more structure. (The higher protein percentage might give you just the result you're looking for.) We hope this helps, and happy baking! Kye@KAF
Love this recipe. I have a question for KAF. This recipe calls for baking soda, the English muffin recipe for bread maker uses baking powder. Could you explain why the difference? What does each add to the recipe?

Hi Earl. Those were simply the leaveners that worked best with each of these recipe, but you're welcome to experiment with swapping or altering them. These gave the best rises and final textures for our test kichen bakers. Annabelle@KAF
Super easy and super delicious. I have made this bread at least 6 times and never had a failure. I make it exactly to the recipe with the exception of using almond milk instead of regular milk. It rises spectacularly in about 40 minutes and bakes to a gorgeous golden brown. Cannot believe how easy this is. A real keeper.
I had been making my own english muffins for a few months, but got tired of the 5+hrs that it was taking from start to finish, not to mention the uneven results. So, I remembered that KA had this recipe and I looked it up. Sounded easy enough so I decided to give it a try. It was great! I added some ginger to the recipe (the english muffin recipe I had been using called for it), and I proofed and baked it in my 13' pullman pan. The center of mine sunk a bit, but that is entirely my fault. I had put the cover on to proof it, and after 40min wanted to check the height of it and when I pulled back the cover I 'tore' the rising dough - oops! Now I know 40min is a good proof time and I won't do that again, hah! I toast two slices every morning to have with my eggs and I am loving it! I just wish I was better with cutting consistent slices, hah.
Made this recipe yesterday and truly like other reviewers have pointed out it is really a tasty bread. I was not too sure of how it was going to turn out so I halved the recipe and even ended up using 1/4 cup of water instead of 1/8 when the mixture got too stiff and it still turned out very well. I was sure it was going to last for about three days but the last loaf got swallowed up in the evening when we had it with tea. A simple but very impressive delicious bread. Will be making them again and definitely as gifts to impress my friends. Thank you KAF for a wonderful recipe like this.
You can wet your fingers to smooth the top for a beautiful loaf.
This is a wonderful loaf that I will make over and over again. I used the 'ounces' version of the recipe--meaning I weighed everything rather than measuring in cups--and I'm convinced that this is the secret to baking success (that, and using King Arthur flour). The bread has a perfect crumb, exactly like an English muffin, and toasts up beautifully with a delicately crunchy exterior. Don't skimp on the cornmeal when you dust the loaf pan because it adds great texture to the crust. I can't wait to make grilled cheese sandwiches with this delightful bread. The only problem I had was that the dough climbed up the beaters of my hand-held mixer, making a mess of my machine and making it a struggle to get the ingredients pulled together. I don't have a stand mixer, so I'm going to experiment with mixing this in the food processor next time. I've had good luck making pizza dough that way so who knows... it could work! I'll report back with the results. In the meantime, don't hesitate to make this lovely bread. It is divine.

Give the food processor a whirl, Pamela, using the dough blade if your machine has one. Alternately, you can try spraying the beater blades of your mixer with a bit of non-stick spray to help prevent the dough from climbing up the sides. We hope this helps, and happy baking! Kye@KAF