A customized print-friendly version of this recipe is available by clicking the "Print Recipe" button on this page.
English Muffin Toasting Bread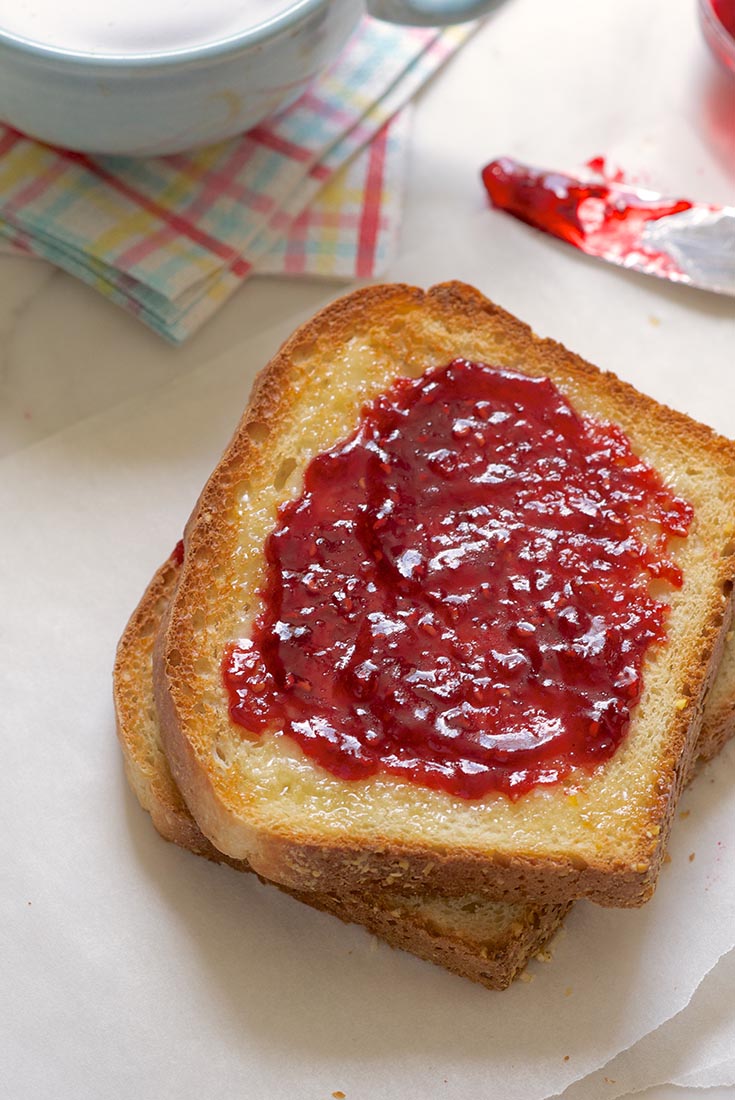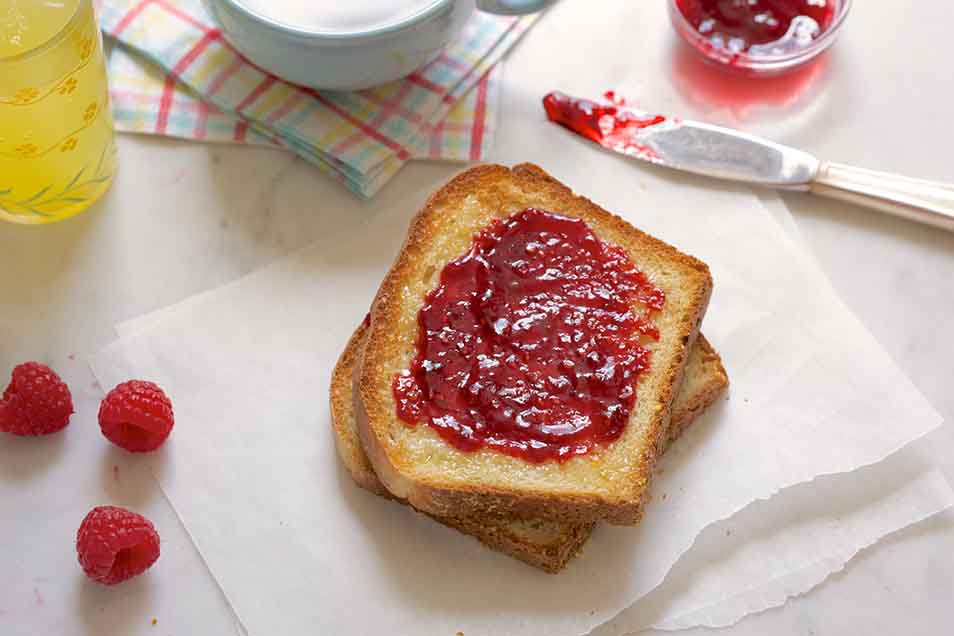 This yeasty, coarse-textured bread makes the best toast ever, a perfect partner to fresh summer jam or preserves. A purely mix-it-slap-in-the-pan-bake-and-eat-it loaf, it's earned a place of honor in our King Arthur test kitchen Hall of Fame.
Ingredients
1 tablespoon sugar
1 1/2 teaspoons salt
1/4 teaspoon baking soda
1 tablespoon instant yeast
1 cup milk
1/4 cup water
2 tablespoons vegetable oil or olive oil
cornmeal, to sprinkle in pan
Instructions
Whisk together the flour, sugar, salt, baking soda, and instant yeast in a large mixing bowl, or the bowl of a stand mixer.

Combine the milk, water, and oil in a separate, microwave-safe bowl, and heat to between 120°F and 130°F. Be sure to stir the liquid well before measuring its temperature; you want an accurate reading. If you don't have a thermometer, the liquid will feel quite hot (hotter than lukewarm), but not so hot that it would be uncomfortable as bath water.

Pour the hot liquid over the dry ingredients in the mixing bowl.

Using an electric beater, or stand mixer with beater attachment, beat at high speed for 1 minute; the dough will be smooth and very soft. If you don't have an electric mixer, beat by hand for 2 to 3 minutes, or until the dough is smooth and starting to become elastic.

Lightly grease an 8 1/2" x 4 1/2" loaf pan, and sprinkle the bottom and sides with cornmeal.

Scoop the soft dough into the pan, leveling it in the pan as much as possible.

Cover the pan, and let the dough rise till it's just barely crowned over the rim of the pan. When you look at the rim of the pan from eye level, you should see the dough, but it shouldn't be more than, say, 1/4" over the rim. This will take about 45 minutes to 1 hour, if you heated the liquid to the correct temperature and your kitchen isn't very cold. While the dough is rising, preheat the oven to 400°F.

Remove the cover, and bake the bread for 22 to 27 minutes, till it's golden brown and its interior temperature is 190°F.

Remove the bread from the oven, and after 5 minutes turn it out of the pan onto a rack to cool. Let the bread cool completely before slicing.
Nutrition Information
Serving Size

1 slice, 44g

Servings Per Batch

16
Amount Per Serving:
Calories

109

Calories from Fat

18

Total Fat

2g

Saturated Fat

0g

Trans Fat

0g

Cholesterol

1mg
Sodium

245 mg

Total Carbohydrate

19g

Dietary Fiber

1g

Sugars

2g

Protein

4g
* The nutrition information provided for this recipe is determined by the ESHA Genesis R&D software program. Substituting any ingredients may change the posted nutrition information.
Reviews
This was SOOOOOO good and easy to make. I'm addicted! Can you use this recipe to make round english muffins?

We're glad this recipe was a hit! Because the dough for this is significantly slacker than that of regular English Muffins, they would be really frustrating to shape. We'd recommend following our recipe for English Muffins for best results. Happy baking! Annabelle@KAF
Definitely one of the best toasting breads I've ever made, and it was probably less than 90 minutes from gathering ingredients to cooling on a rack. It rose beautifully - so much so that I thought I had over-risen it. But once we sliced it to toast, the inside was just perfect. It makes a fabulously crisp toast that was good with any topping we put on it, and it also smelled wonderful after toasting, like I had just pulled it out of the oven. I'll definitely make this one a regular.
Absolutely delicious! I am a novice baker, followed the directions exactly, and was rewarded with a beautiful loaf of bread. It sliced perfectly, toasted nicely too! I'm making a double batch tomorrow, intending to gift a loaf!
I think this recipe is really good. I did Change it by addingVitamin C, lecithin,Small amounts of rye flour, buckwheat flour , Sesame seeds, and a small amount of caramel coloring.
Made this on a Friday evening, and stuck it in the fridge to rise overnight instead of doing the rise at room temperature. It was so easy! It had nice flavor and a decent texture, though I wanted just a little more chew to it. I do have a question, though. I have a KitchenAid stand mixer, and the highest mixing speed you're supposed to use for yeast dough is a 2 (which is pretty low) or you risk damaging the mixer. How long would you recommend mixing this dough on a 2?

Hi Kimberly, we don't want to recommend doing anything that may put your mixer at risk. It's best to err on the side of caution when it comes to the chance of damaging your mixer. That being said, we typically mix this dough using the paddle attachment and a high speed (about a 4) for one minute. If this tests the limits of your mixer, consider mixing for 2-3 minutes on speed number 2. Good luck, and happy baking! Kye@KAF
I have to agree with the reviewer who said 'best.toast.ever'. I have made this 4 or 5 times already. It is good for everything - fresh with butter on it, French toast, regular toast, grilled cheese sandwiches. It doesn't last long but if it ever gets a little stale I may try bread pudding. My husband loves it. At this point I don't think I will ever buy bread or English muffins again. Very easy recipe to make. I recently bought a scale and for those of you who don't have one I highly recommend it. It makes baked goods come out very consistently and is actually easier to measure rather than the scoop and scrape method.
Hmmm. It's winter, a snowstorm, but I was baking all day so my apartment was very warm. I actually had the windows open to cool my apartment down. It was my first time to try this bread. Heated the liquids to just under 130 degrees on stovetop. Maybe that was too high? Made the dough, covered it, and shut the windows so it wouldn't be too cool for a nice rise. After only 20 mins it was totally above the rim! That was when I was going to turn my oven on, so I couldn't put it in a cold oven. Immediately pre-heated the oven but it took so long I decided I needed to turn to my Breville toaster oven which heats up in approx 4 mins. By then it had been 40-ish mins of rise and the loaf was HUGE! It got so near the top of the toaster oven that the top of the crust started to blacken in 10 mins. Put a piece of foil over the top even though I was worried how it would affect the baking. After 22 mins checked and it was close to 200 degrees internally. Wish I had checked sooner! Hope this helps others who might need to use the toaster oven to bake it. I would say put a piece of foil over the top after 6 mins and take out to check at 19 mins! I did not use convection feature. Still, I have to say, it came out very nice. But I bet the flavor would be more developed if it rose longer. Was too salty for my taste and I LOVE salt. Will use 1 tsp next time. Can't wait to try it with liquid at 120 degrees and maybe a cooler spot to rise. Was insanely easy!
This recipe is great. We had it for breakfast this morning. As easy as this was I would not have expected it to be so good. I will never buy English muffins again. This goes together so quickly, no mess, no fuss. And most of all husband loved it. I will be trying lots of variations. Thank You KA ----I mistakenly reviewed the recipe for the machine version. But it's probably just as good :)
Pure awesomeness...this is one of my go-to pan bread recipes. Today I needed something that was fast because there was no bread in the house and there is a nor'easter blowing...trying to dodge the no power bullet! With the help of the proof cycle on my oven, I can crank this out start to finish in about 2 hours. I bake it in an old Croning Ware loaf pan that is 7 x 5 1/2 x 3. This gives it a nice sandwich size slice...perfect for grilled cheese! Think I might try this substituting some of my unfed sourdough starter next time.
Love this bread. I was wondering if I you think this bread would turn out if made in a couple of small loaf pans. I would like to make the bread as small loaves to go along with jars of homemade jams to be given as gifts.

This is a perfect recipe for baking and sharing, Mary. To bake it in mini loaf pans, start by filling the pan with batter about 2/3 of the way. Once it has risen just above the rim of the pan, bake at 375°F for about 15-20 minutes. For best results, test the internal tepmerature with a thermometer. It should reach 190°F when it has finished baking. Good luck, and enjoy! Kye@KAF