A customized print-friendly version of this recipe is available by clicking the "Print Recipe" button on this page.
English Muffin Toasting Bread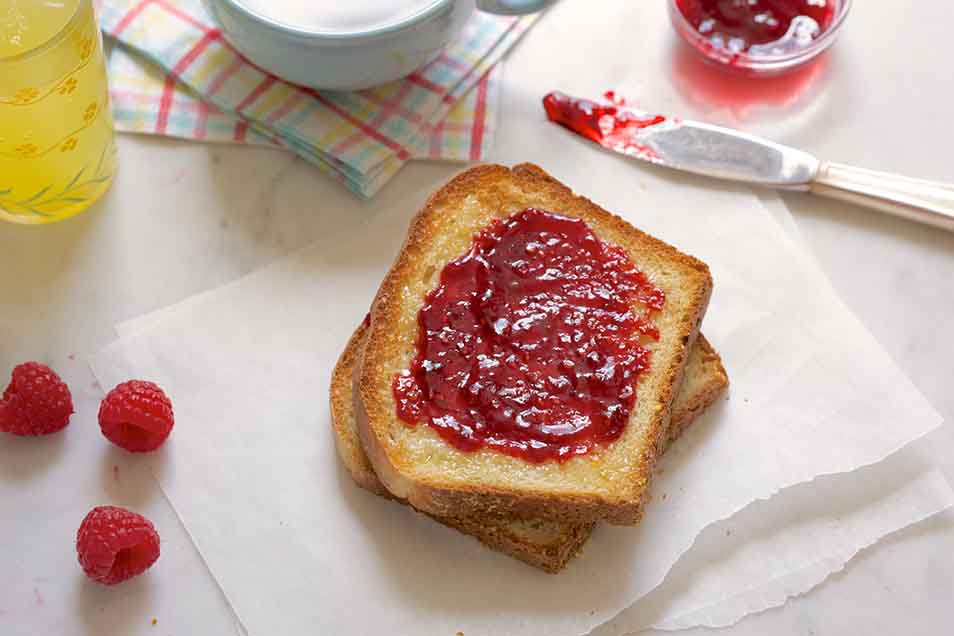 This yeasty, coarse-textured bread makes the best toast ever, a perfect partner to fresh summer jam or preserves. A purely mix-it-slap-in-the-pan-bake-and-eat-it loaf, it's earned a place of honor in our King Arthur test kitchen Hall of Fame.
Ingredients
1 tablespoon sugar
1 1/2 teaspoons salt
1/4 teaspoon baking soda
1 tablespoon instant yeast
1 cup milk
1/4 cup water
2 tablespoons vegetable oil or olive oil
cornmeal, to sprinkle in pan
Instructions
Whisk together the flour, sugar, salt, baking soda, and instant yeast in a large mixing bowl, or the bowl of a stand mixer.

Combine the milk, water, and oil in a separate, microwave-safe bowl, and heat to between 120°F and 130°F. Be sure to stir the liquid well before measuring its temperature; you want an accurate reading. If you don't have a thermometer, the liquid will feel quite hot (hotter than lukewarm), but not so hot that it would be uncomfortable as bath water.

Pour the hot liquid over the dry ingredients in the mixing bowl.

Using an electric beater, or stand mixer with beater attachment, beat at high speed for 1 minute; the dough will be smooth and very soft. If you don't have an electric mixer, beat by hand for 2 to 3 minutes, or until the dough is smooth and starting to become elastic.

Lightly grease an 8 1/2" x 4 1/2" loaf pan, and sprinkle the bottom and sides with cornmeal.

Scoop the soft dough into the pan, leveling it in the pan as much as possible.

Cover the pan, and let the dough rise till it's just barely crowned over the rim of the pan. When you look at the rim of the pan from eye level, you should see the dough, but it shouldn't be more than, say, 1/4" over the rim. This will take about 45 minutes to 1 hour, if you heated the liquid to the correct temperature and your kitchen isn't very cold. While the dough is rising, preheat the oven to 400°F.

Remove the cover, and bake the bread for 22 to 27 minutes, till it's golden brown and its interior temperature is 190°F.

Remove the bread from the oven, and after 5 minutes turn it out of the pan onto a rack to cool. Let the bread cool completely before slicing.
Nutrition Information
Serving Size

1 slice, 44g

Servings Per Batch

16
Amount Per Serving:
Calories

109

Calories from Fat

18

Total Fat

2g

Saturated Fat

0g

Trans Fat

0g

Cholesterol

1mg
Sodium

245 mg

Total Carbohydrate

19g

Dietary Fiber

1g

Sugars

2g

Protein

4g
* The nutrition information provided for this recipe is determined by the ESHA Genesis R&D software program. Substituting any ingredients may change the posted nutrition information.
Reviews
I'm eating this right now and it's so good. I used olive oil. This will become a regular bread for me. Thanks again KAF.
I have been baking for 50 years, and bread has always given me fits. We just never seem to get along, and I usually use a bread machine for best results. This recipe appealed to me, though, because of its simplicity and because I love English Muffins but don't often have time to make the individual ones from scratch. I tried this recipe today and it was just so beautiful. The recipe is easy to follow, takes minimal time, and the results are perfection. The bread is delicious, with a fine, soft crumb, and toasts perfectly in the toaster or under the broiler. If you're like me and bread usually is your downfall, try this recipe. I did use an instant-read thermometer to ensure the liquid temperature was in the correct range. The bread was perfectly baked at 22 minutes.
My husband is a novice bread baker, he made a loaf of the English Muffin Toasting Bread today and it turned out very well. It has a pleasant and delicate taste and smells terrific while it's toasting. We had no cornmeal on hand so he used only Crisco to prepare the pan and when he turned it over after baking the loaf dropped right out with no coaxing. The sodium content of this recipe is a bit high for me, any tips on how to cut the sodium content would be appreciated.
I make this bread every other week. I add a 1/2 teaspoon of d. Malt and two tablespoons of vital wheat gluten. I alternate each bread with either a teaspoon of vanilla, anise, or almond extract. Always get perfect results!
This is an excellent recipe, so easy! I have a loaf rising right now, this is my 3rd loaf in as many days. I was raised on homemade bread and vastly prefer it, but my husband wasn't, and so he has never been crazy about homemade bread. The whole family loves this bread though, it's great for eating warm with butter, toasted, or for sandwiches. I've made it with letting the flour, water and yeast sit over night, and also without. I can't really tell much of a difference in flavor either way though.
Has anybody tried this recipe in a automatic bread machine?

Hi Buder. You're in luck! We have a recipe called English Muffin Bread for the Bread Machine and that'll be perfect for you. Annabelle@KAF
I have made this numerous times. Always a great tasting bread but never got a huge rise/oven spring. I always use SAF Red Instant yeast. Today, I once again measured, to the gram, all the ingredients. Heated the water/milk/oil to 125 F but added 1 tsp KAF's Diastatic Powder. Great rise [45 min} and oven spring and a fantastic crumb and taste.
Super forgiving, household favorite. Just bake this one already!
I've made this recipe twice. First time I over proofed it (37 minutes) but still had good flavor toasted. Today's loaf turned out better with a good crown and with good taste, as well. I let it rise in my microwave for 25 minutes, and it was ready to bake. I also used bread flour instead of AP. I like it's crumb. Next time I may try a little white whole wheat. I rate this recipe 4.5 stars.
Possibly the best bread recipe of this kind that I've used. I replaced a small amount of the white flour (~1/3 c.) with rye and semolina. No particular reason, just happened to have them nearby. That could be why I did have to knead the dough a bit and shape iteasy. (I don't use a mixer, in any case.) Heated the liquid to pre-simmer and that worked fine. Used a medium-grind cornmeal. Like English muffins, this bread isn't going to be strongly flavored. Toasted, with some unsalted butter, it was a great accompaniment to oatmeal. I'll be making this again.