A customized print-friendly version of this recipe is available by clicking the "Print Recipe" button on this page.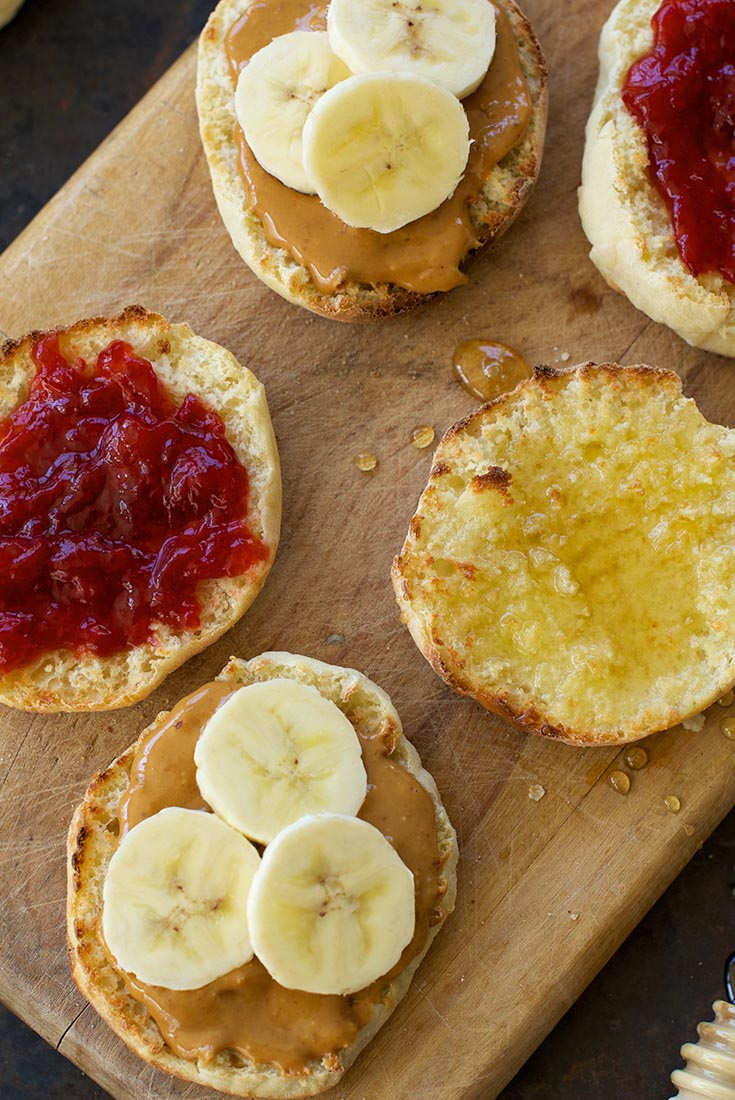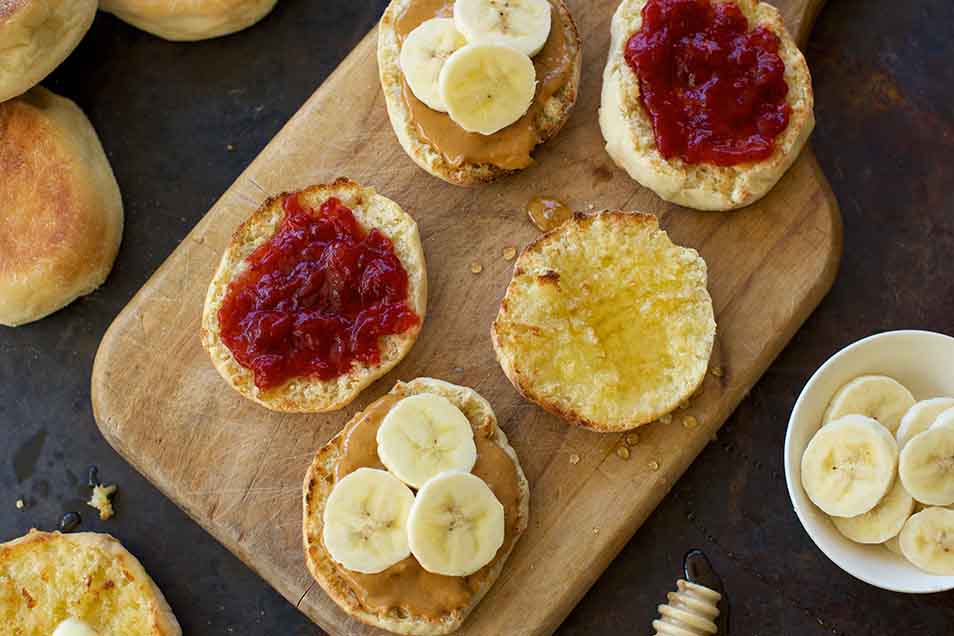 Make your own English muffins — why not? While it does take a bit of time to slowly dry-fry these muffins in order to give them their signature crisp crust and moist interior, the process isn't difficult. And the result is out of this world.
Ingredients
1 3/4 cups lukewarm milk
3 tablespoons softened butter
1 1/4 to 1 1/2 teaspoons salt, to taste
2 tablespoons sugar
1 large egg, lightly beaten
4 1/2 cups King Arthur Unbleached Bread Flour
2 teaspoons instant yeast
semolina or farina, for sprinkling the griddle or pan
Instructions
Note: Thanks to reader feedback, this recipe has been amended as of 1/08/13, as follows: the amount of flour has been increased to improve the dough's consistency; and the cooking time has been increased.

Combine all of the ingredients (except the semolina or farina) in a mixing bowl, or the bucket of your bread machine.

This is a very soft dough, so you'll need to treat it a bit differently than most yeast doughs. If you have a stand mixer, beat the dough using the flat beater paddle until it starts coming away from the sides of the bowl, and is satin-smooth and shiny; this will take about 5 minutes at medium-high speed. When you lift up the beater, the dough will be very stretchy. If you have a bread machine, simply use the dough cycle.

Scrape the dough into a rough ball, and cover the bowl. Let the dough rise until it's nice and puffy; this will take 1 to 2 hours or so.

Prepare your griddle(s). Using two griddles allows you to cook all the muffins at once; but since you probably don't have two griddles, you'll need to cook the muffins in shifts. Whatever you use — an electric griddle, stovetop griddle, frying pan, electric frying pan — sprinkle it heavily with semolina or farina. If you're using a griddle or frying pan that's not well-seasoned (or non-stick), spray it with non-stick vegetable oil spray first, before adding the semolina or farina.

Gently deflate the dough, and divide it into 16 pieces. Shape each piece into a smooth ball, then flatten the balls until they're about 3" to 3 1/2" in diameter.

The easiest way to handle and cook these muffins is to lay them right onto the cold surface you'll be frying them on. That way, you don't have to move them once they're risen; and they won't mind cooking very slowly as you fire the griddle up to its desired heat. If you don't have enough griddle space to do this, sprinkle a baking sheet heavily with semolina or farina, and place the muffins on the sheet; they can be fairly close together. Either way, sprinkle the tops of the muffins with additional semolina or farina.

Cover the muffins (a piece of parchment works well), and let them rest for 20 minutes. They won't rise like crazy, but will puff a bit.

Cook the muffins over low heat for 7 to 15 minutes per side, until their crust is golden brown, and their interior is cooked through. When done, the center of a muffin should register about 200°F on an instant-read thermometer. If you find the muffins have browned before they're cooked all the way through, no worries; simply pop them into a preheated 350°F oven for about 10 minutes or so, or until they're thoroughly cooked.

Remove the muffins from the griddle (or oven), and let them cool thoroughly before enjoying. Remember: use a fork to split, not a knife to cut. Fork-split muffins will have wonderful nooks and crannies; knife-cut ones won't.

Yield: 16 large (3" to 3 1/2") English muffins.
Nutrition Information
Serving Size

1

Servings Per Batch

16
Amount Per Serving:
Calories

160

Calories from Fat

30

Total Fat

3g

Saturated Fat

1.5g

Trans Fat

0g

Cholesterol

20mg
Sodium

200mg

Total Carbohydrate

28g

Dietary Fiber

1g

Sugars

3g

Protein

6g
* The nutrition information provided for this recipe is determined by the ESHA Genesis R&D software program. Substituting any ingredients may change the posted nutrition information.
Reviews
Love this recipe they worked perfectly and it was the first time I have made English muffins definitely going to make them again
Love this recipe they worked perfectly and it was the first time I have made English muffins definitely going to make them again
Perfect. Don't have a bread machine, so proofed the yeast in warm milk first then mixed with butter, egg and 1 cup of flour. I added 1 tsp of salt at this stage and dough was fine. Let sit 10 mins then mix rest of flour in (I only used 4 cups total). Kneaded until smooth and shiny, let rise in greased bowl for 1hour. Deflated dough, weighed out 13 balls at 80grams each, gently flattened, placed in covered nonstick skillet to rise 20 mins then cooked on low heat (while covered as it traps the heat and cooks the middle). 7 mins on each side was perfect. They were golden browned on wach side.
Made these and they came out great on my second try. The things that I had to find out on my own was how hot to make the griddle (I used 250) and how much dough for each muffin. I know it says to make 16 of them, but how much dough per muffin makes 16? Rolling them into a ball and flattening them made them come out different size and shape. The dough is so sticky that it's a bit hard to measure. Next time I'm going to roll out the dough and use a biscuit cutter. Otherwise I followed the recipe by heart.

Hi there English Muffin Baker, we often recommend weighing out your dough and dividing it by the number of muffins you'd like to make, as batches of dough can vary slightly because of eggs, moisture, etc. However, as a general rule of thumb, each muffin should weigh about 67 grams (2.36 ounces) if you're dividing the dough into 16 equally-sized portions. Happy baking! Kye@KAF
Made dough using my bread maker. Did not alter any of the ingredients but would add just a little more salt. They came out perfectly. Made on Thursday for Saturday brunch. I suggest you cut them using a fork before freezing.
These were so good! And so easy! I was a bit nervous about the sticky dough, but they turned out perfectly! We had to stick them in the oven for a while for the inside to cook through, but they were so worth it!
These English muffins are so much better than the manufactured store bought kind! The texture is soft and tender. Being an amateur when it comes to baking, I was able to follow these instructions and surprisingly they turned out great! I used 3 inch rings and yielded over 24 muffins, will probably make them slightly larger next time. They freeze and reheat well. This recipe is a keeper.
Nuevamente he realizado esta sabrosa formulacion, pero he cambiado algunos valores si alguien desea aceptar mi sugerencia vendria perfecto La formulacion original es 397g lukewarm milk 43g softened butter 1 1/4 to 1 1/2 teaspoons salt, to taste 25g sugar 1 large egg, lightly beaten 539g King Arthur Unbleached Bread Flour 2 teaspoons instant yeast Yo he cambiado algunas cosas quesando asi *390 gr lukewarm milk * 40 gr softened butter 1 1/4 to 1 1/2 teaspoons salt, to taste 25g sugar * 1 egg, lightly beaten. 50 gr. * 550 gr. King Arthur Unbleached Bread Flour 2 teaspoons instant yeast
I had my eye on this for a few years and finally got a hand-me-down electric griddle and a day off. I weighed my ingredients and I think I should have added more flour maybe? It was exceedingly sticky and a bit loose- like ciabatta. Working with it was hard. I oiled my hands like some commenters suggested, but found flour worked better. Even so, my portions came out a bit wonky so I have some bigger and some smaller muffins. No rings needed, though. They rose quite a lot on the griddle (set to 325 per other comments), flipped, and still had to put them in the oven for 13 minutes at 350 to reach 200 interior. I don't mind how puffy they are (about 1.75x thickness of store-bought) but I'm wondering if I let them over- or under- proof and that's why they're so thick? Oh, and I used cornmeal since I don't keep semolina or whatever on hand. It worked fine. Smoked a bit on the griddle but didn't set off alarms.
Even though I forgot to add in the egg initially and had to toss it in a couple minutes into the mixing step, these came out utterly delicious!