A customized print-friendly version of this recipe is available by clicking the "Print Recipe" button on this page.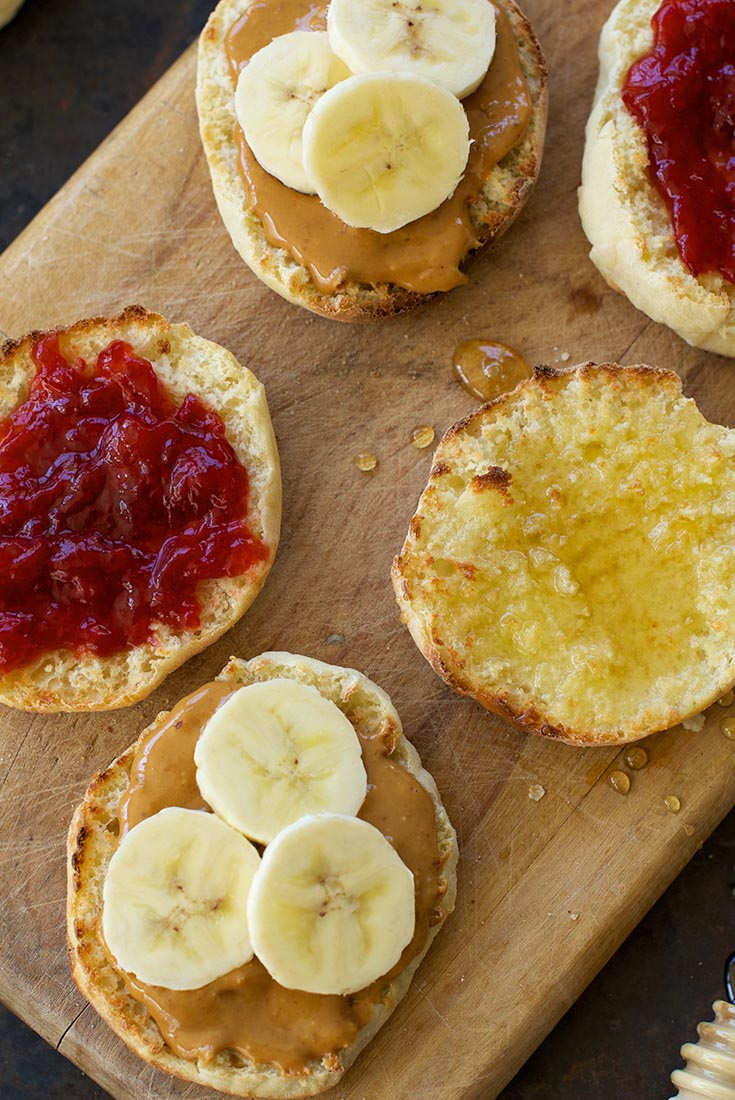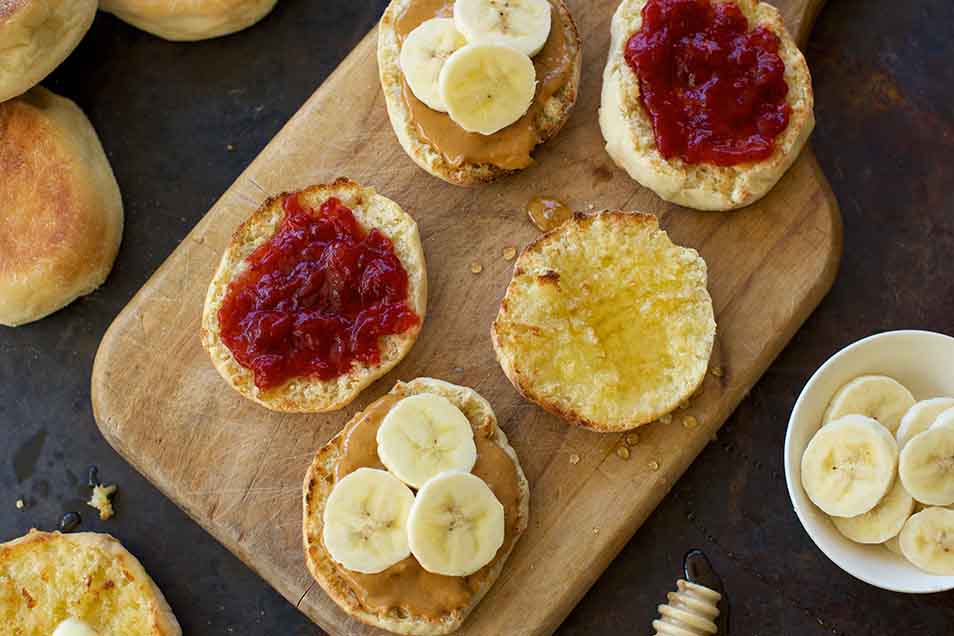 Make your own English muffins — why not? While it does take a bit of time to slowly dry-fry these muffins in order to give them their signature crisp crust and moist interior, the process isn't difficult. And the result is out of this world.
Ingredients
1 3/4 cups lukewarm milk
3 tablespoons softened butter
1 1/4 to 1 1/2 teaspoons salt, to taste
2 tablespoons sugar
1 large egg, lightly beaten
4 1/2 cups King Arthur Unbleached Bread Flour
2 teaspoons instant yeast
semolina or farina, for sprinkling the griddle or pan
Instructions
Note: Thanks to reader feedback, this recipe has been amended as of 1/08/13, as follows: the amount of flour has been increased to improve the dough's consistency; and the cooking time has been increased.

Combine all of the ingredients (except the semolina or farina) in a mixing bowl, or the bucket of your bread machine.

This is a very soft dough, so you'll need to treat it a bit differently than most yeast doughs. If you have a stand mixer, beat the dough using the flat beater paddle until it starts coming away from the sides of the bowl, and is satin-smooth and shiny; this will take about 5 minutes at medium-high speed. When you lift up the beater, the dough will be very stretchy. If you have a bread machine, simply use the dough cycle.

Scrape the dough into a rough ball, and cover the bowl. Let the dough rise until it's nice and puffy; this will take 1 to 2 hours or so.

Prepare your griddle(s). Using two griddles allows you to cook all the muffins at once; but since you probably don't have two griddles, you'll need to cook the muffins in shifts. Whatever you use — an electric griddle, stovetop griddle, frying pan, electric frying pan — sprinkle it heavily with semolina or farina. If you're using a griddle or frying pan that's not well-seasoned (or non-stick), spray it with non-stick vegetable oil spray first, before adding the semolina or farina.

Gently deflate the dough, and divide it into 16 pieces. Shape each piece into a smooth ball, then flatten the balls until they're about 3" to 3 1/2" in diameter.

The easiest way to handle and cook these muffins is to lay them right onto the cold surface you'll be frying them on. That way, you don't have to move them once they're risen; and they won't mind cooking very slowly as you fire the griddle up to its desired heat. If you don't have enough griddle space to do this, sprinkle a baking sheet heavily with semolina or farina, and place the muffins on the sheet; they can be fairly close together. Either way, sprinkle the tops of the muffins with additional semolina or farina.

Cover the muffins (a piece of parchment works well), and let them rest for 20 minutes. They won't rise like crazy, but will puff a bit.

Cook the muffins over low heat for 7 to 15 minutes per side, until their crust is golden brown, and their interior is cooked through. When done, the center of a muffin should register about 200°F on an instant-read thermometer. If you find the muffins have browned before they're cooked all the way through, no worries; simply pop them into a preheated 350°F oven for about 10 minutes or so, or until they're thoroughly cooked.

Remove the muffins from the griddle (or oven), and let them cool thoroughly before enjoying. Remember: use a fork to split, not a knife to cut. Fork-split muffins will have wonderful nooks and crannies; knife-cut ones won't.

Yield: 16 large (3" to 3 1/2") English muffins.
Nutrition Information
Serving Size

1

Servings Per Batch

16
Amount Per Serving:
Calories

160

Calories from Fat

30

Total Fat

3g

Saturated Fat

1.5g

Trans Fat

0g

Cholesterol

20mg
Sodium

200mg

Total Carbohydrate

28g

Dietary Fiber

1g

Sugars

3g

Protein

6g
* The nutrition information provided for this recipe is determined by the ESHA Genesis R&D software program. Substituting any ingredients may change the posted nutrition information.
Reviews
Even though I forgot to add in the egg initially and had to toss it in a couple minutes into the mixing step, these came out utterly delicious!
Es extremadamente humeda.... casi no se puede manejar de la alta hidratacion del paston, no he podido extender para cortar, dicidi hacerlo a mano bolitas de 70 gramos pero no consegui un acabado perfecto....


Pilar, el paston pegajoso es muy dificil. Cuando mezcle el paston la práxima vez, contenga aproximadamente 21-28 gramos de agua, y solo agráguela si es necesario. Cuando se forma el paston, puede ser más fácil sumergir las manos en agua a menudo, en lugar de agregar harina. Es menos pegajoso. Gracias por su pregunta! Laurie
I think I'll be deleting my other English muffin recipes, and will stick with this one. Many thanks to the reviewers who gave a temperature for the griddle, as it seems to have been omitted from this recipe.
i halved this recipe, except i used the whole egg. it made 7 muffins using my inexact measuring technique. the muffins looked and tasted great. i'll probably try the whole recipe next time and see how they freeze. great recipe and i'll definitely make it again.
I'm Anonymous with the flour troubles.......I bake enough to figure out that was most likely the problem and next time I will use my scale and weigh the flour. Almost everything else was spot on with the instructions though. I have a chilly kitchen but 2 hours to rise, and was sticky as advertised. I should have floured the board before I dumped the dough out to divide, and ended up flouring my hands to shape the muffins. They cooked nicely and hold my peach jam perfectly. I will make these again - just weigh the flour more accurately. Thank you.
I've waited all week to try this - warmed up and measured out the ingredients and used the paddle for my mixer, It was apparent within seconds that there was not enough liquid, and even after adding a splash of milk, the dough clumped around the paddle. I put the hook on because the mixer was struggling and that wasn't much better - and neither on a med high speed, and not for more than a few minutes. It's in a bowl, set to rise, but I have no idea what I'm going to get, or what I did wrong.....

We hope your English Muffins turned out well, despite the rough start. It sounds like there might have been a bit too much flour added to your dough, which was the cause of the stiff texture. To ensure you're using the right amount, we recommend clicking on Measuring Standards (next to the ingredients header, above). You'll see that using a scale to measure by weight or fluffing and sprinkling the flour into your measuring cup is key. Your dough should be smooth and just slightly tacky to the touch. Kye@KAF
I would like to know do the muffin freezer well because it make so much can someone can tell me that try them Thank you

Hi Alberta. Once baked and cooled, the English Muffins will freeze well for 6-8 weeks wrapped well. Happy baking! Annabelle@KAF
The recipe is great, and the muffins taste excellent, but I think the instructions for shaping and cooking on the Sourdough English Muffin recipe worked a little better. Love this recipe, but I'll use the sourdough version instructions for shaping/cooking in the future.
I made these today for the first time and they turned out great! The dough was easier to handle than I had anticipated. I made half the recipe, and 8 muffins fit perfectly on my griddle. My wife is actually impressed, so this recipe is definitely a keeper.
These were delicious but I did have one problem: I had to cook them in three batches due to the size of the skillet. There was a huge size difference between the first and third batches, undoubtedly due to the fact that the later batches had more time to rise. The first 6 were the size of dumplings and the last 4 were like hamburger buns. Any way to prevent this and make them more evenly-sized? Thanks!

It sounds like that first round might have been a little under-proofed, Kate, so we'd suggest allowing all of the muffins to rise until nice and puffy (even if that's longer than the recipe calls for). Once you've gotten your first batch onto the skillet, let the others rest in the fridge until you're ready for them. This well slow the yeast activity, helping to avoid the over-proofing that can otherwise occur. Mollie@KAF