A customized print-friendly version of this recipe is available by clicking the "Print Recipe" button on this page.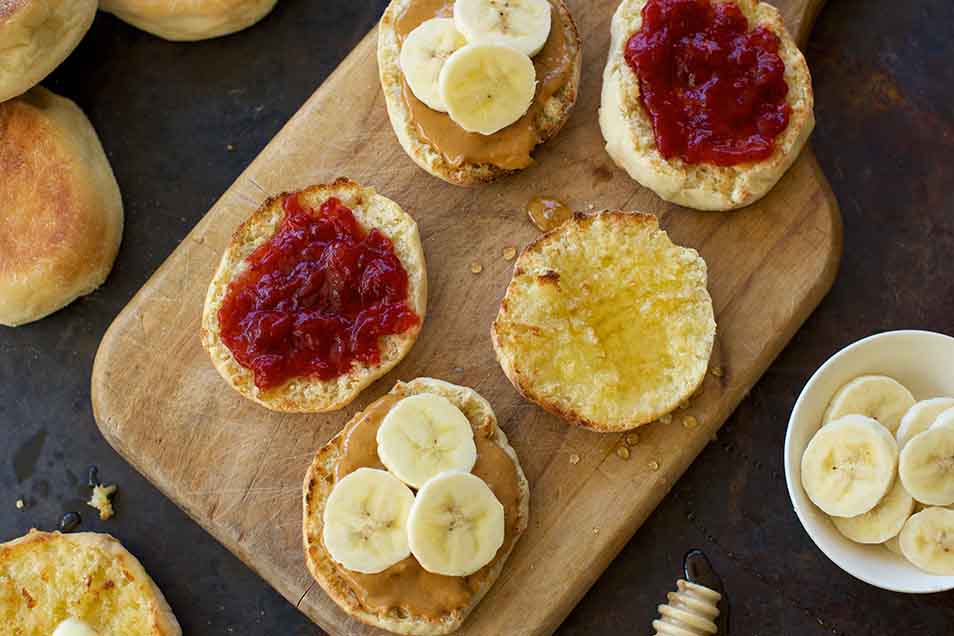 Make your own English muffins — why not? While it does take a bit of time to slowly dry-fry these muffins in order to give them their signature crisp crust and moist interior, the process isn't difficult. And the result is out of this world.
Ingredients
1 3/4 cups lukewarm milk
3 tablespoons softened butter
1 1/4 to 1 1/2 teaspoons salt, to taste
2 tablespoons sugar
1 large egg, lightly beaten
4 1/2 cups King Arthur Unbleached Bread Flour
2 teaspoons instant yeast
semolina or farina, for sprinkling the griddle or pan
Instructions
Note: Thanks to reader feedback, this recipe has been amended as of 1/08/13, as follows: the amount of flour has been increased to improve the dough's consistency; and the cooking time has been increased.

Combine all of the ingredients (except the semolina or farina) in a mixing bowl, or the bucket of your bread machine.

This is a very soft dough, so you'll need to treat it a bit differently than most yeast doughs. If you have a stand mixer, beat the dough using the flat beater paddle until it starts coming away from the sides of the bowl, and is satin-smooth and shiny; this will take about 5 minutes at medium-high speed. When you lift up the beater, the dough will be very stretchy. If you have a bread machine, simply use the dough cycle.

Scrape the dough into a rough ball, and cover the bowl. Let the dough rise until it's nice and puffy; this will take 1 to 2 hours or so.

Prepare your griddle(s). Using two griddles allows you to cook all the muffins at once; but since you probably don't have two griddles, you'll need to cook the muffins in shifts. Whatever you use — an electric griddle, stovetop griddle, frying pan, electric frying pan — sprinkle it heavily with semolina or farina. If you're using a griddle or frying pan that's not well-seasoned (or non-stick), spray it with non-stick vegetable oil spray first, before adding the semolina or farina.

Gently deflate the dough, and divide it into 16 pieces. Shape each piece into a smooth ball, then flatten the balls until they're about 3" to 3 1/2" in diameter.

The easiest way to handle and cook these muffins is to lay them right onto the cold surface you'll be frying them on. That way, you don't have to move them once they're risen; and they won't mind cooking very slowly as you fire the griddle up to its desired heat. If you don't have enough griddle space to do this, sprinkle a baking sheet heavily with semolina or farina, and place the muffins on the sheet; they can be fairly close together. Either way, sprinkle the tops of the muffins with additional semolina or farina.

Cover the muffins (a piece of parchment works well), and let them rest for 20 minutes. They won't rise like crazy, but will puff a bit.

Cook the muffins over low heat for 7 to 15 minutes per side, until their crust is golden brown, and their interior is cooked through. When done, the center of a muffin should register about 200°F on an instant-read thermometer. If you find the muffins have browned before they're cooked all the way through, no worries; simply pop them into a preheated 350°F oven for about 10 minutes or so, or until they're thoroughly cooked.

Remove the muffins from the griddle (or oven), and let them cool thoroughly before enjoying. Remember: use a fork to split, not a knife to cut. Fork-split muffins will have wonderful nooks and crannies; knife-cut ones won't.

Yield: 16 large (3" to 3 1/2") English muffins.
Nutrition Information
Serving Size

1

Servings Per Batch

16
Amount Per Serving:
Calories

160

Calories from Fat

30

Total Fat

3g

Saturated Fat

1.5g

Trans Fat

0g

Cholesterol

20mg
Sodium

200mg

Total Carbohydrate

28g

Dietary Fiber

1g

Sugars

3g

Protein

6g
* The nutrition information provided for this recipe is determined by the ESHA Genesis R&D software program. Substituting any ingredients may change the posted nutrition information.
Reviews
I tend to trust King Arthur recipes without question, but I appreciated their note on altering the recipe, that says to me that they really read reviews. That said, this recipe makes delicious, easy to make English Muffins! I did struggle with flattening mine, so as they were rising in their respective pans, I placed a cake tin on top to help maintain a flat shape. I found it was light enough that it didn't inhibit the rise, but heavy enough to keep them flat. Left it on during the first five minutes of cooking as well.
I've made this recipe twice now and both times it was delicious. My muffins browned before they were cooked fully, so I stuck them in the oven. They were amazing both times and I would highly recommend this recipe.
This is the best ENG recipe I've found!! I love what a large batch it makes with such little work. I'm dairy free and I sub So Delic. Unsweetened Coconut Milk and ghee. They turn out simply beautifully every time. Err on the side of less heat when you start my first few batches browned/burnt too quickly and I'm not patient enough to finish all of them in the oven. :)
Absolutely love this recipe. Have made numerous times. These are significantly better than any store bought muffins. Any ideas how I could make a cinnamon raisin version of these? How much cinnamon to add? How much raisins? When to add, and would I need more flour or sugar? Thanks!

Hi Maria! Try added 1/2 cup raisins and 2 teaspoons of cinnamon at the end of mixing, when the dough is almost completely kneaded. Rising times may vary. Happy baking! Annabelle@KAF
We just made these for the first time and they came out great. We cooked the muffins in a non-stick electric skillet with the temp set at 300F. We cooked the muffins 7 minutes on each side for a total of 14 minutes and the internal temp was 200 to 204F. We started with a non-stick skillet on the stovetop, but the electric skillet won hands down. Thanks for another great recipe KAF.
I've made these English muffins countless times...we have them 6 days a week, seventh day is pancakes, lol Started making them as written then switched to half white and half white whole wheat flours. Still exceptional! I would now like to make them all white whole wheat and want to know how much additional milk should I add and should I add your vital wheat gluten? Really would appreciate your input on this.

Can we have breakfast at your house, Ali? It sounds like heaven! You can try using all whole wheat, adding an extra two teaspoons of liquid for every cup of flour. Vital Wheat Gluten will be helpful as well. We'd recommend starting with 1 tablespoon but you can go up to 2 if needed. Happy baking! Annabelle@KAF
I loved the flavor of these but for some reason I did not get the nice nooks and crannies. I made them by hand (no machines), and wasn't sure how much to knead them, nor how to handle the sticky dough without adding more flour on the surface, and I wasn't sure whether they were done on the frying pan so I did put them in the oven for a bit. Would either of those have done it?

Hi Sue, we'd love to help you master homemade English Muffins, as they're such a delight when you finally nail them! First, you might want to check out the blog that's linked in the top right-hand portion of the page to see the full step-by-step tutorial. You'll see visual examples of what the dough should look like when it's properly kneaded. The dough should be slightly sticky and tacky to the touch. If you're having a hard time working with the dough, try using a dough scraper to fold the dough over onto itself repeatedly in a lightly greased bowl until it comes together.

As for telling when the muffins have finished baking, you can try testing the internal temperature if you have an instant-read thermometer. They should reach at least 190°F in the center when they're fully cooked. Resist over-baking, otherwise, they won't be quite as moist and tender as you would have hoped. We hope this helps you get the nooks and crannies you're looking for! Kye@KAF
Has anyone tried doing a gluten free recipe with the KA GF mix? What substitutes would you make....more eggs?....butter?

Hi fellow baker, we'd love to help answer any questions you may have about gluten-free baking, but we need a bit more information about what kind of recipes you're hoping to make. We can talk adjustments and substitutions if you give our friendly bakers on the hotline a call: 855-371-BAKE(2253). We're here to help! Kye@KAF
These always turn out great! It is a little easy to burn them. I recommend turning the heat down REALLY low, at least at the beginning. But they have wonderful bubbles and taste perfect!
I love making breads, but have never tried English Muffins. I made a half batch, since there are only 2 of us. I made it exactly per recipe, using my bread machine. After getting used to handling the sticky dough, it went great. We both love them and will definitely make again. Not sure why I haven't tried this sooner. Thankyou KAF for the great recipes.