A customized print-friendly version of this recipe is available by clicking the "Print Recipe" button on this page.
Everyone's Favorite Fruitcake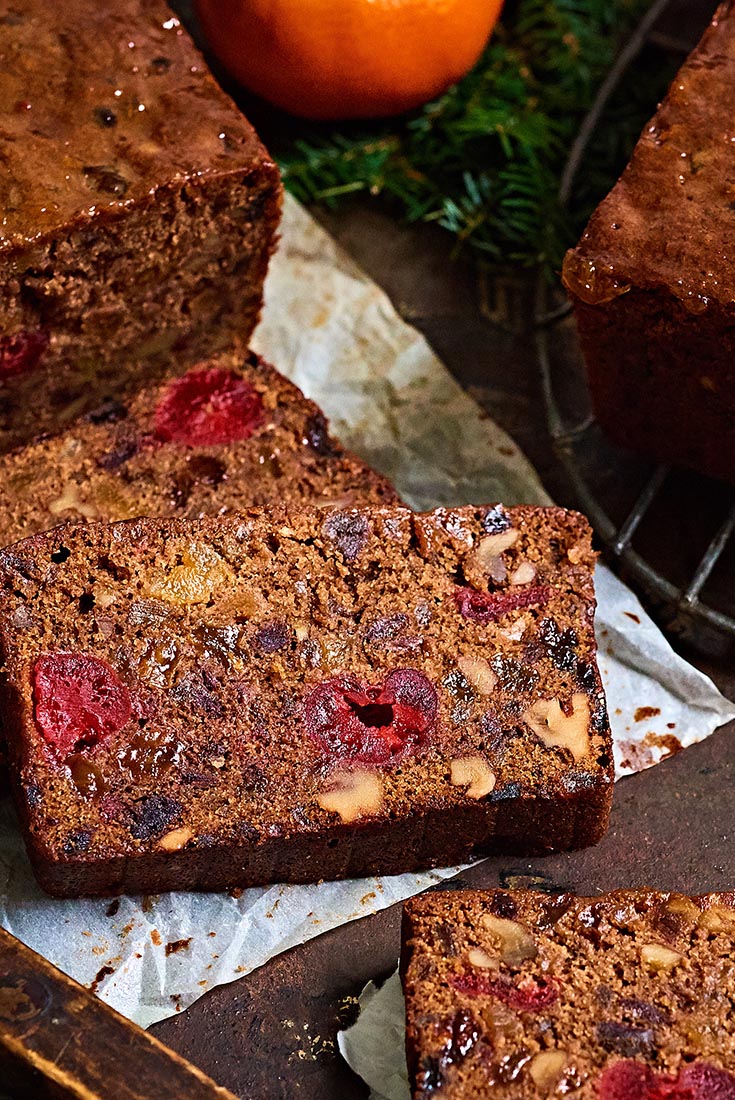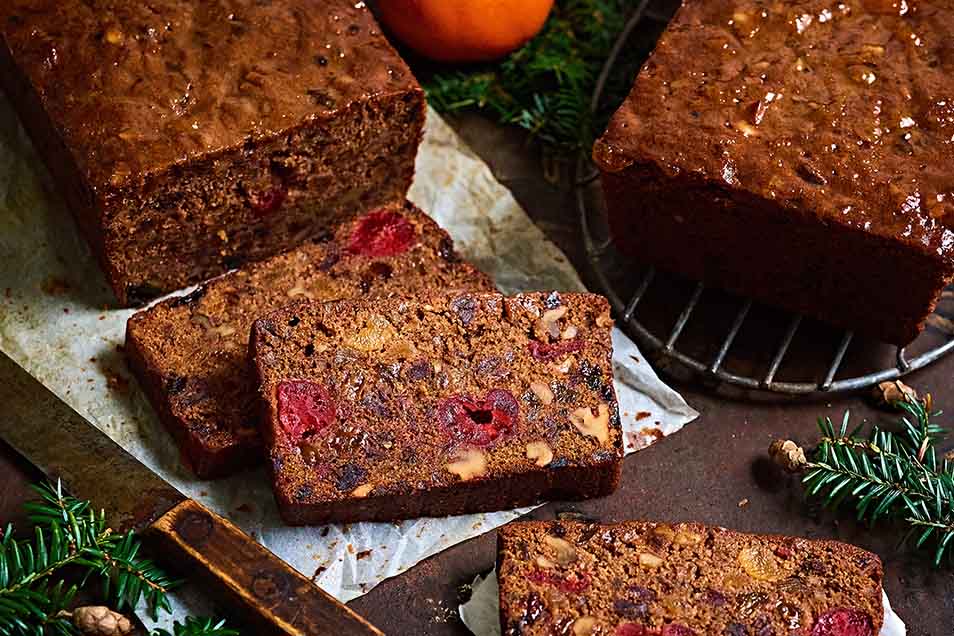 "No, no, not the dreaded FRUITCAKE..." Fear not: this moist, dark cake is loaded with yummy-tasting dried fruits, not the icky, bitter candied peel and citron you remember from visiting your grandma at Christmas. The dried fruits suggested below are simply that — suggestions. Feel free to substitute your own favorites; you'll need about 2 1/2 pounds dried fruit total.
Want to make this cake gluten free? See "tips," below.
Note: This recipe was formerly named Fruitcake Even Fruitcake Non-Lovers Will Love. So if you were looking for that recipe — you've found it!
Ingredients
Fruit
1 1/2 cups diced dried pineapple
1 1/2 cups raisins, golden or regular
1 cup diced dried apricots
1 1/2 cups chopped dates
heaping 1 cup candied red cherries, plus additional for decoration, if desired
1/3 cup diced crystallized ginger, optional
3/4 cup rum, brandy, apple juice, or cranberry juice
Batter
1 cup (16 tablespoons) unsalted butter
2 cups dark brown sugar
1 teaspoon salt
1 teaspoon ground cinnamon
1/4 teaspoon ground allspice
1/4 teaspoon ground nutmeg
1 teaspoon baking powder
4 large eggs
2 tablespoons cocoa, black cocoa preferred; optional, for color
1/4 cup golden syrup, boiled cider, or dark corn syrup
1/2 cup apple juice, cranberry juice or water
2 cups chopped, toasted nuts (almonds, pecans, or walnuts)
Topping/glaze (optional)
rum, brandy, simple syrup, vanilla syrup, or ginger syrup
Instructions
To prepare the fruit: Combine the fruit with the liquid of your choice in a non-reactive bowl; cover and let rest overnight. Too impatient to wait until tomorrow? Microwave everything for 1 minute (or until it's very hot), cover, and let rest 1 hour.

Preheat the oven to 300°F. This recipe makes enough batter for ONE (not all!) of the following: 3 dozen individual (muffin pan) cakes; 16 mini loaves (about 3 3/4" x 2 1/2"); 6 to 8 medium loaves (about 3" x 5"); or 2 standard 9" x 5" loaves. Choose your pans (or combinations), and lightly grease them. If you're making muffin-size cakes in a standard muffin pan, line the pan with muffin papers, and lightly grease the papers.

To make the batter: Place the the butter and sugar in a large bowl (at least 6-quart), and beat together until well combined.

Beat in the salt, spices, and baking powder.

Beat in the eggs one at a time, scraping the bowl after each addition.

In a separate bowl whisk together the flour and cocoa.

Add the flour mixture and the syrup (or boiled cider) to the mixture in the bowl, beating gently to combine.

Stir in the juice or water, then the fruit with any collected liquid, and the nuts. Scrape the bottom and sides of the bowl, and stir until everything is well combined.

Spoon the batter into the pans, filling them about 3/4 full.

Bake the cakes on the middle shelf of the oven, as follows: about 60 minutes for the individual cakes; 65 to 70 minutes for the small loaves; 75 minutes for the medium loaves, and 2 hours + 10 to 15 minutes for the 9" x 5" loaves. The cakes are done when a cake tester inserted into the center comes out clean.

Remove the cakes from the oven. Fruitcake can remain in its pan for storage, if desired. Or carefully remove cake from the pan after about 5 minutes, loosening its edges first.

Brush the warm cake with rum or brandy. Or simple syrup, or flavored simple syrup (vanilla, rum-flavored, etc.). If you like just a hint of rum or brandy flavor, add 1 tablespoon of liquor to 3/4 cup vanilla syrup or simple syrup, and brush this mixture on the cakes.

When the cakes are completely cool, wrap them tightly in plastic wrap, and store at room temperature for up to 6 to 8 weeks.
Nutrition Information
Serving Size

1 slice (91g)

Servings Per Batch

32 (16 per loaf)
Amount Per Serving:
Calories

320

Calories from Fat

100

Total Fat

11g

Saturated Fat

4.5g

Trans Fat

0

Cholesterol

40mg
Sodium

130mg

Total Carbohydrate

50g

Dietary Fiber

2g

Sugars

30g

Protein

4g
* The nutrition information provided for this recipe is determined by the ESHA Genesis R&D software program. Substituting any ingredients may change the posted nutrition information.
Tips from our bakers
Do you HAVE to brush the cakes with alcohol or syrup? Well, it keeps them moist for weeks; in fact, I just unwrapped one of these cakes I made 6 weeks ago (and brushed with simple syrup just once, then wrapped in plastic); it's just as moist and tasty as it was the day it was baked. But if you want to leave them "un-brushed," understanding they won't stay moist long-term, that's just fine.
If you've made the small, muffin-sized cakes, it helps to put them all in a large plastic container with a snap-on lid; or into a sealed plastic bag, both to help keep them moist, and to be able to move 3 dozen cakes around without a fuss.
This recipe can also fill two tea loaf pans. Divide the batter among two lightly greased tea loaf pans, or bake one after the other if you only have one tea loaf pan (if you have a kitchen scale, half the batter will weigh 3 1/2 pounds). Bake the cakes for 2 hours to 2 hours and 10 minutes, or until a cake tester or toothpick inserted into the center comes out clean. Yield: 2 tea loaves.
Want to make this cake gluten-free? Simply substitute King Arthur Gluten-Free Flour for the all-purpose flour, and add 3/4 teaspoon xanthan gum along with the flour.
Reviews
Beautiful! I used up leftover fruits and a bottle of dark rum I happened to have on hand. Cakes are fabulously moist and lovely. Couldn't wait for the maturation period because the house smelled divine! Also, this recipe converted my anti- fruitcake husband.
This was my first fruitcake attempt so I picked this recipe because it truly looks like fruitcake and the helpful tips made me feel like I could do it. It came out just right! I soaked the fruit in warm apple juice for about four hours before using. I halved the recipe and used one large loaf pan. This recipe is a keeper!
I've made this recipe both as written and using the gluten free flour from KAF and the xantham gum. My son and I are the primary fruitcake folks in the family but everyone eats this version and I won't be going back to candied fruits. I do add 1 tsp. of both cloves and ginger (along with the crystallized ginger, also double the amount of cinnamon (we love spicy). Used the boiled cider from KAF in the batter and mixed it with some brandy for brushing the fruitcakes. As another baker noted, when using a convection oven you need to decrease the cooking time (or possibly the temperature). As with any recipe, checking the fruitcakes when about half to three-quarters of the way through cooking (esp. first time) may help prevent disappointment. My son took a loaf to work and had slices for breakfast and lunch for a week. Since the KAF fruitcake mix no longer has dates in it I will be adding those back in. We love this moist and somewhat crumbly cake.
This is not a cheap recipe. The dried fruit is will set you back a good chunk. But I love fruitcake and this looked like a good first one to try. Followed all instructions. My impressions: *This is not a cheap recipe. The dried fruit and nuts will set you back a few bucks. *For me, the dried apricots did not work well in this recipe. Maybe it was the brand I bought, but it came across a bit tart/sour. *I used two 9 x 5 pans and the directions say to bake for 2 hrs and 10-15 minutes at 300 degrees. However at about an hour and 3/4, the cakes already looked set and knife came out dry. I still left them in for the full time and the result was not half as moist as I like my regular fruitcake. It seemed kind of dry. I may give it another shot but it just didnt come out as fruitcakey as I normally like.

Thanks for giving this recipe a try, Larry. If you do decide to give it another shot, we hope you'll feel empowered to adjust the add-ins to fit your preferences. Additionally, while we usually find these cakes plenty moist, especially once brushed with syrup, if it seemed like yours were over-baked and dried out at the suggested time, do also feel empowered to make adjustments there. Best of luck with the next bake! Mollie@KAF
Loved making this recipe. So many options provided, and I was so pleased with outcome. I did the brandy-flavored simple syrup for basting the fruitcakes, thinking I may do the ginger simple syrup next year. Everyone loved this fruitcake!! This is now my favorite recipe. Just one note - in a convection oven, you can probably reduce the baking time to 1.5 hours from the recommended 2 hours.
I made this and it is fantastic! I had no issues what so ever. I basted mine with brandy for a week. I highly recommend this for anyone who's never made fruit cake. This was my first attempt and I'm extremely happy with the results!
I was initially attracted to this fruitcake because of the name. I've tried making other fruitcakes using my own homemade candied lemon and citron, plus candied cherries, but I'm not a fan of either, so this recipe appealed.Ever the cautious baker, I halved the recipe in case it didn't work out. I used a combo of dried fruit from the fridge, including pineapple, raisins, apricots and cherries. I didn't use candied ginger because I thought the flavor might be too strong. Instead of the glaceed cherries, I used some very sweet Amarena cherries (but not as many as the candied cherries called for in the recipe) and added some of the syrup to the liquid. The half-recipe made 3 small loaves, which I studded with whole blanched almonds. I brushed several times over a month and a half with a vanilla simple syrup spiked with a little Cointreau and upped the alcohol with some sherry. I sent a couple of loaves to Japan to my son and his in-laws. Another I gave to a neighbor to share with her family on Christmas. She said it was the best fruitcake she'd ever tasted. Unfortunately, I forgot to save some for myself, so I'll have to make it again next year to find out if I agree with her assessment--but I think I will!
I finally decided to tackle fruitcake, since my family has missed a homemade one at Christmas since my grandmother's passing 18 years ago. I followed the instructions exactly, including brushing with a simple syrup/brandy mix, wrapping tightly and storing for a month. We cut one last night, and it was absolutely perfect...moist, dense and delicious! If you are looking for an old fashioned, no fail, fruitcake, this is the recipe for you! I lined the bottom of the pan with parchment (greased), and allowed the cake to cool in the pan a little longer (15-20 minutes). Thank you for this incredible recipe, which will be on my Christmas baking list every year!!!
This is a great fruitcake recipe. Pretty quick to put together and easy to modify based on ingredients on hand. While the fruit I used wasn't exactly as the recipe called for (I used what I had on hand that needed to be used up), I followed the batter itself pretty much to a "T". I used some apple pie moonshine (who knew there was such a thing?) that we received as a gift to soak the fruit AND to brush the cake with when it was pulled out of the oven. I admit, I brushed it more than once (don't tell!). I ended up with two loaves and both baked up beautifully and came out of the pans easily (one dark non stick and one pampered chef loaf pan). This is one of the best fruitcakes I've ever eaten. Thanks for the recipe, it has made its way into the annual Christmas baking rotation!
Great Fruitcake. I thought I didn't like fruitcake for most of my life - then I started making it...I like this a lot! my loaf pans were old old and I hadn't replaced them - I discovered this AFTER I made the batter! so I made the muffin pan size - I got 48 small fruit cakes and I love them. I remember last year I had problems with them sticking to my loaf pans -any suggestions to help with that?

We're so pleased this recipe could make a fruitcake believer of you, Joey! A parchment paper sling can be a baker's best friend when using loaf pans. If you don't know what we mean when we say that, search our blog for the term, and you'll find an article all about it. No muss, no fuss! Mollie@KAF