A customized print-friendly version of this recipe is available by clicking the "Print Recipe" button on this page.
Everyone's Favorite Fruitcake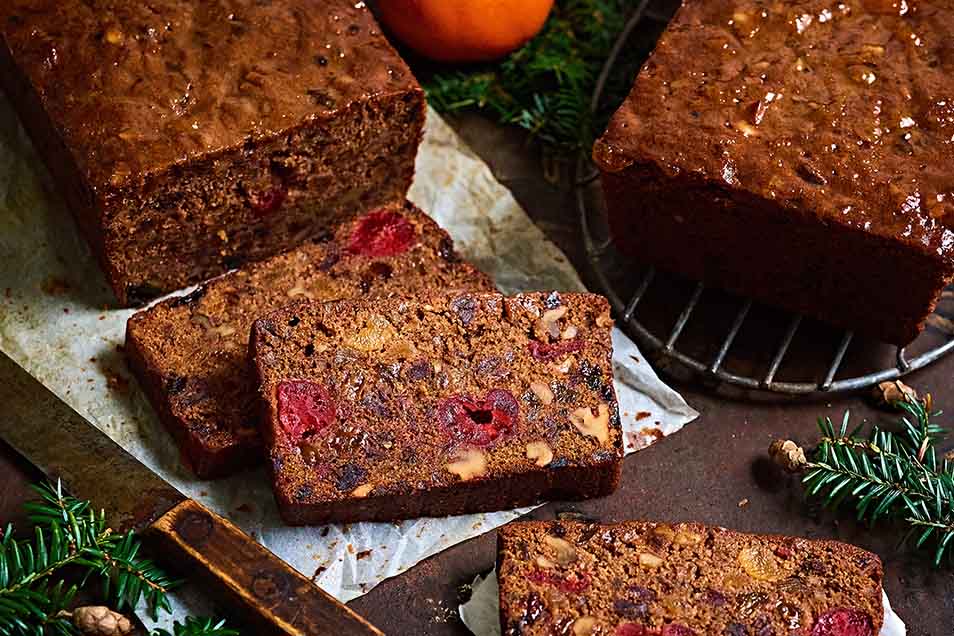 "No, no, not the dreaded FRUITCAKE..." Fear not: this moist, dark cake is loaded with yummy-tasting dried fruits, not the icky, bitter candied peel and citron you remember from visiting your grandma at Christmas. The dried fruits suggested below are simply that — suggestions. Feel free to substitute your own favorites; you'll need about 2 1/2 pounds dried fruit total.
Want to make this cake gluten free? See "tips," below.
Note: This recipe was formerly named Fruitcake Even Fruitcake Non-Lovers Will Love. So if you were looking for that recipe — you've found it!
Ingredients
Fruit
1 1/2 cups diced dried pineapple
1 1/2 cups raisins, golden or regular
1 cup diced dried apricots
1 1/2 cups chopped dates
heaping 1 cup candied red cherries, plus additional for decoration, if desired
1/3 cup diced crystallized ginger, optional
3/4 cup rum, brandy, apple juice, or cranberry juice
Batter
1 cup (16 tablespoons) unsalted butter
2 cups dark brown sugar
1 teaspoon salt
1 teaspoon ground cinnamon
1/4 teaspoon ground allspice
1/4 teaspoon ground nutmeg
1 teaspoon baking powder
4 large eggs
2 tablespoons cocoa, black cocoa preferred; optional, for color
1/4 cup golden syrup, boiled cider, or dark corn syrup
1/2 cup apple juice, cranberry juice or water
2 cups chopped, toasted nuts (almonds, pecans, or walnuts)
Topping/glaze (optional)
rum, brandy, simple syrup, vanilla syrup, or ginger syrup
Instructions
To prepare the fruit: Combine the fruit with the liquid of your choice in a non-reactive bowl; cover and let rest overnight. Too impatient to wait until tomorrow? Microwave everything for 1 minute (or until it's very hot), cover, and let rest 1 hour.

Preheat the oven to 300°F. This recipe makes enough batter for ONE (not all!) of the following: 3 dozen individual (muffin pan) cakes; 16 mini loaves (about 3 3/4" x 2 1/2"); 6 to 8 medium loaves (about 3" x 5"); or 2 standard 9" x 5" loaves. Choose your pans (or combinations), and lightly grease them. If you're making muffin-size cakes in a standard muffin pan, line the pan with muffin papers, and lightly grease the papers.

To make the batter: Place the the butter and sugar in a large bowl (at least 6-quart), and beat together until well combined.

Beat in the salt, spices, and baking powder.

Beat in the eggs one at a time, scraping the bowl after each addition.

In a separate bowl whisk together the flour and cocoa.

Add the flour mixture and the syrup (or boiled cider) to the mixture in the bowl, beating gently to combine.

Stir in the juice or water, then the fruit with any collected liquid, and the nuts. Scrape the bottom and sides of the bowl, and stir until everything is well combined.

Spoon the batter into the pans, filling them about 3/4 full.

Bake the cakes on the middle shelf of the oven, as follows: about 60 minutes for the individual cakes; 65 to 70 minutes for the small loaves; 75 minutes for the medium loaves, and 2 hours + 10 to 15 minutes for the 9" x 5" loaves. The cakes are done when a cake tester inserted into the center comes out clean.

Remove the cakes from the oven. Fruitcake can remain in its pan for storage, if desired. Or carefully remove cake from the pan after about 5 minutes, loosening its edges first.

Brush the warm cake with rum or brandy. Or simple syrup, or flavored simple syrup (vanilla, rum-flavored, etc.). If you like just a hint of rum or brandy flavor, add 1 tablespoon of liquor to 3/4 cup vanilla syrup or simple syrup, and brush this mixture on the cakes.

When the cakes are completely cool, wrap them tightly in plastic wrap, and store at room temperature for up to 6 to 8 weeks.
Nutrition Information
Serving Size

1 slice (91g)

Servings Per Batch

32 (16 per loaf)
Amount Per Serving:
Calories

320

Calories from Fat

100

Total Fat

11g

Saturated Fat

4.5g

Trans Fat

0

Cholesterol

40mg
Sodium

130mg

Total Carbohydrate

50g

Dietary Fiber

2g

Sugars

30g

Protein

4g
* The nutrition information provided for this recipe is determined by the ESHA Genesis R&D software program. Substituting any ingredients may change the posted nutrition information.
Tips from our bakers
Do you HAVE to brush the cakes with alcohol or syrup? Well, it keeps them moist for weeks; in fact, I just unwrapped one of these cakes I made 6 weeks ago (and brushed with simple syrup just once, then wrapped in plastic); it's just as moist and tasty as it was the day it was baked. But if you want to leave them "un-brushed," understanding they won't stay moist long-term, that's just fine.
If you've made the small, muffin-sized cakes, it helps to put them all in a large plastic container with a snap-on lid; or into a sealed plastic bag, both to help keep them moist, and to be able to move 3 dozen cakes around without a fuss.
This recipe can also fill two tea loaf pans. Divide the batter among two lightly greased tea loaf pans, or bake one after the other if you only have one tea loaf pan (if you have a kitchen scale, half the batter will weigh 3 1/2 pounds). Bake the cakes for 2 hours to 2 hours and 10 minutes, or until a cake tester or toothpick inserted into the center comes out clean. Yield: 2 tea loaves.
Want to make this cake gluten-free? Simply substitute King Arthur Gluten-Free Flour for the all-purpose flour, and add 3/4 teaspoon xanthan gum along with the flour.
Reviews
I baked this yesterday. The ultimate compliment from my husband was that "This is as good as Mildred's, only easier". That was his cousin who traditionally made the family fruitcake, handed down over well 150 years from his great grandmother's recipe. We are fruitcake lovers and this passes all the tests. It is dark,moist, full of fruit and full of flavor. I will definitely repeat this recipe. Only change I will make is to not chop the fruit quite as small as I did. This a winner and will be passed on to kids and grands.
I never liked fruit cakes, but I wanted to make one this year for the Christmas season to be festive. I've made Christmas boiled puddings before and I even had a home made traditional Irish wedding fruit cake when I got married. Despite not liking the taste of these creations, I like the tradition behind them and get joy out of seeing my Irish family and friends enjoy eating them. But this Everyone's Favorite Fruitcake recipe has changed that. This fruitcake is delicious! I can now say I like fruitcake. I made it in October and started eating it after six weeks in the beginning of December. My husband doesn't drink alcohol and I wanted him to enjoy the cake so... I soaked the fruit in brandy, but used water for the liquid in the recipe... I put most of the batter in a bundt cake tin and put the rest in small round cake tins. I brushed the finished large bundt cake with vanilla simple syrup and I brushed the finished small round cakes with brandy. I covered the "non-alcoholic" bundt cake with cheesecloth moist with simple syrup and covered the "alcoholic" small round cakes with cheesecloth moist with brandy. All were wrapped in Saran wrap, put in Tupperware, and left on my kitchen counter for six weeks. I brushed them with their liquids and remoistened their cheesecloth just once over the six weeks. I did not refrigerate them. I plan to make this recipe every year and age the cakes longer. My only regret is I shared the cakes with people. I wish I had them all to myself!
This is the third time I've baked this recipe. I love it. It has made me into a fruitcake fan! I love how I've made it and can just brush it to keep it moist and have it ready to snack on when family comes and visits closer to Christmas. It is great toasted with butter too! I found that if I didn't cut it immediately but gave it a few days to "set up" there is no crumbling. And use a serrated knife with gentle cutting. I find that the rum flavor is pronounced enough for my palate with just the soaking of the fruit. So I brush it with simple syrup. This is the first year I've added the cherries and interested in how that works. I've used figs the others years since those are sweet and I love that flavor, but I wanted to see how the tartness of the cherries works out. I'll report back! But here is my only strange thing... each year I end up baking this--two loaf pans--for almost THREE hours. It never burns, but it takes a long time to be finished in the middle. Not sure what I'm doing wrong. And before anyone suggests check my oven...I've used two different ovens with the same outcome. It is obviously something I'm doing (maybe packing it down too much? or too much fruit?) but either way, it is still moist and delicious. I fully RECOMMEND this cake! PS: I freeze the other cake. The cake is soooooo filling, that a small piece goes a LONG way! (well it used to, but now my kids like it so we'll see how long one loaf lasts this year)!

Hi there LisaBee! We'd say that the fruitcakes taking three hours to bake isn't too odd. It could have to do with liquid coming from the fruit, or as you suggested too much fruit. But either way, we'd say its just fine. Happy baking! Morgan@KAF
I've been wanting to try making fruitcake, and after looking at various recipes I finally chose this one. I was thrilled with the results! My husband, who has a highly developed palate (which can be a hindrance in cooking for him), absolutely loves this fruitcake! I made 8 mini loaves for Christmas, and now I'm already down to 5 loaves and had to hide it from him! So now today I'm making another batch. Last time I followed the recipe exactly other than adding a little extra cocoa and cinnamon. Last time I used pecans, but this time I'm trying walnuts. I am also planning on making part of the batter gluten free to accommodate a family member coming to spend Christmas with us. BEST FRUITCAKE EVER!!!!! Yummy!
Hi KAF! I made this fruitcake 3 days ago, and have a few questions. How long does this fruitcake sit until you can eat it? How many times do you brush it with the glaze? Does it sit for 6 weeks? Thanks so much! Grateful everyday for your inspiration!

Hi there! No need to wait any longer, if you'd like to start eating your fruitcake now you most certainly can! The longer your fruitcakes rest and get brushed with liquid the more flavorful and moist they'll be. If you would like to store them for a few more weeks, just brush them with glaze every few days to keep them moist. Happy baking! Morgan@KAF
This is a great "don't call it fruitcake" recipe - can't even count how many people who HATE fruitcake love this one. A word of caution -- while the online recipe for "Everyone's Favorite Fruitcake" is the same as the older "Fruitcake Even Fruitcake Non-lovers Will Love," the one that appeared in the catalog is totally different.
This year will be the 8th time I made this. I am a fruit cake fan, and this is THE BEST, hands down! It gets better as it ages. I recommend one month as a minimum. But I have stored it in the fridge for up to 4 years. IMO, it peaks around year 1 to 2. I soak in a mix of light and dark rum (Bacardi and Black Seal). And I like to use orange juice for the liquid in the dough. I skip the pineapple and use dried apples instead.
I'm sure my issue was baker's error because the cake tastes amazing .but the thing fell apart. I cooked it in two 9 inch glass loaf pans (weighed 3 lbs. each). I checked them at 2 hours...the first one tested done the second one was not finished - so 10 more minutes. I tested it with a cake tester - one clean one not. left the not in the oven for 5 more minutes. I tried to take the first one out of the pan the bottom stuck but not too bad. I finally took the second one out - when I went to take it out of the pan the middle just slide apart...turned the over back on - scooped the cake back in and cooked it for 10 more minutes. I brushed both with simple vanilla syrup and waited. The first one completely fell apart when I turned it over - but it tastes wonderful. Number 2 is waiting to be turned right side up.

We'd love to get some additional details and chat through the recipe with you so we can figure out what happened, so we ask that you please call our free and friendly Baker's Hotline at 855-371-BAKE (2253). Kindly, Annabelle@KAF
Thank you for the recipe. I adjusted the recipes and substituded some ingredients. It works amazingly.
I'm an old southern baker from way back, and I have to say this is the most delicious fruit cake I've ever tasted. It's been two weeks now and I've just given it the second basting. I used white grape juice, but personally would have preferred the alcohol. I used four 3 x 5 sm. loaf pans and one small pound cake pan...perfect! You will not be disappointed. I am storing it in the fridge, because I have concerns that the grape juice or simple syrups without alcohol could promote mold. I do remember, however, that my grandmothers used juices, but kept the fruit cake in a cold room, and if you know anything about old country houses, these rooms could be 40 degrees. This cake is divine!