A customized print-friendly version of this recipe is available by clicking the "Print Recipe" button on this page.
Everything-Cheddar Filled Braid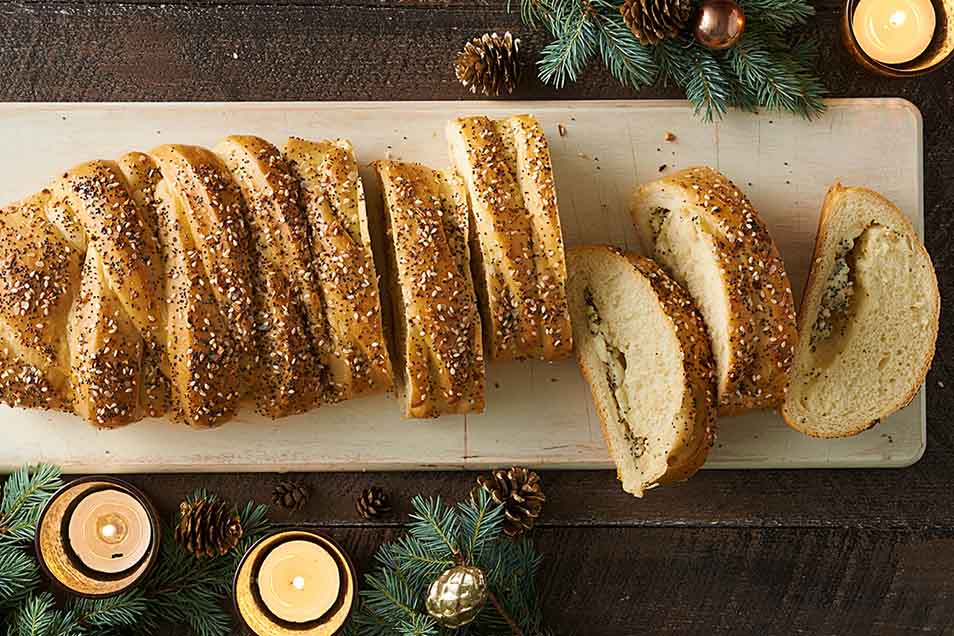 Inside the soft, pillowy strands of this "mock braid" lies an immensely flavorful filling loaded with cheese and aromatic "everything" topping. It's an easy, elegant, and tasty party appetizer that will impress and please any crowd.
Ingredients
Dough
2 teaspoons instant yeast
1 1/4 teaspoons salt
1 large egg
1/2 cup lukewarm milk
1/3 cup lukewarm water
3 tablespoons olive oil
Filling
1/3 cup Vermont cheese powder
2 tablespoons Everything Bread and Bagel Topping
2 tablespoons melted butter
2 tablespoons water
2/3 cup grated sharp cheddar cheese, Cabot preferred
Topping
1 large egg beaten with 1 tablespoon water, for egg wash
1 tablespoon Everything Bread and Bagel Topping
Instructions
To make the dough: Weigh your flour; you'll find its weight by toggling to "ounces" at the top of the ingredient section above. Or measure it by gently spooning it into a cup, then sweeping off any excess. Combine the flour with the remaining dough ingredients, and mix and knead — by hand, mixer, or bread machine set to the dough cycle — to make a smooth, very soft dough. The dough will stick a bit to the bottom of the bowl if you're using a stand mixer.

Place the dough in a lightly greased bowl, cover, and let it rise for 45 to 60 minutes, or until it's doubled in size.

To make the filling: While the dough is rising, stir together the cheese powder, everything topping, water and melted butter. Set aside.

Gently deflate the dough and roll it into a 10" x 15" rectangle on a piece of parchment paper. Lightly press two lines down the dough lengthwise, to divide it into 3 equal sections.

Spread the filling (reheat it in the microwave, if necessary to make it spreadable) down the center section of the dough, and top with the grated cheese.

To form the braid: Cut 1" crosswise strips down the length of the outside sections, making sure you have the same number of strips on each side.

Beginning on the left, lift the top dough strip and gently bring it across the filling diagonally. Repeat on the other side with the top dough strip, so that the two strips crisscross each other. Continue down the entire braid, alternating strips to form the loaf.

Transfer the braid on parchment to a baking sheet, cover, and let it rise until doubled, 45 to 60 minutes.

While the braid is rising, preheat the oven to 375°F.

Brush the braid with the egg wash and sprinkle with the everything topping.

Bake the braid for 25 to 30 minutes, tenting it with foil after 20 to 25 minutes if necessary to prevent over-browning.

Remove the braid from the oven, and transfer it to a rack to cool slightly; it's best enjoyed warm.

Store, well-wrapped, at room temperature for a couple of days; freeze for longer storage. Reheat any leftover bread in a 250°F oven for about 10 minutes.
Tips from our bakers
Substitute all-purpose flour 1:1 for the bread flour in the recipe, if desired. Reduce the water to 1/4 cup.
Reviews
Baked this for a birthday celebration last. It was easy using my bread machine dough cycle. It was terrific!
Versatile is right! Saw this recipe and realized I could make this since I had turkey burgers in the refrigerator as well as cheese, so I diced up one turkey burger and grated the Pepperjack cheese on the large holes of a box grater, sprinkled with Pizza Seasoning and assembled and stated. Needless to say it is delicious.
I made two loaves on Super Bowl Sunday - Fly Eagles Fly! Mine turned out even nicer than the photo in the recipe - don't know why! Short rise times made it very easy to make. I followed the recipe exactly with one exception - cut the Everything But The Bagel topping in half when I sprinkled it on the top of the loaves. This gave it a nice taste without overpowering the other flavors. I used Cracker Barrel Extra Sharp White cheese. It was delicious; however, I will try it with other cheeses in the future. Gave half loaves to friends - they said 'excellent'! This is a keeper.
Could this recipe be used without a filling?

The dough will be slightly bland without any filling as it doesn't have any flavorings or spices added to it, but you're welcome to give it a try if you're looking for a basic dough recipe. Kye@KAF
We really loved this bread. I completely agree with the previous reviewer who said it is versatile and can be the start of many creative loaves. Yum!
This bread is amazing! Not only does it taste delicious but it looks beautiful. It was very easy to make, rose beautifully and was a huge hit. I made it per the recipe but after making it once I can see how it can be a very versatile recipe. In the future I may try using sausage and mozerella or perhaps adding some proscuitto or pepperoni. I believe this recipe can be filled with whatever your creativity allows!
Delicious! Wish I could post a picture. Served with chicken and mini cheese ravioli soup. I found Everything but the Bagel Sesame Seasoning Blendp at Trader Joe's. Thank you for this recipe! Will definitely make again and share!
This is an excellent bread and easy to make! Delicious cheesy flavor.
my kids gobbled this up, it was fabulous. i didn't bother with the cheddar cheese powder and added a 1/3 cup of shredded mozzarella instead. i definitely will make this again. it was perfect for a breadmaker, btw.