A customized print-friendly version of this recipe is available by clicking the "Print Recipe" button on this page.
Everything-Cheddar Pastry Twist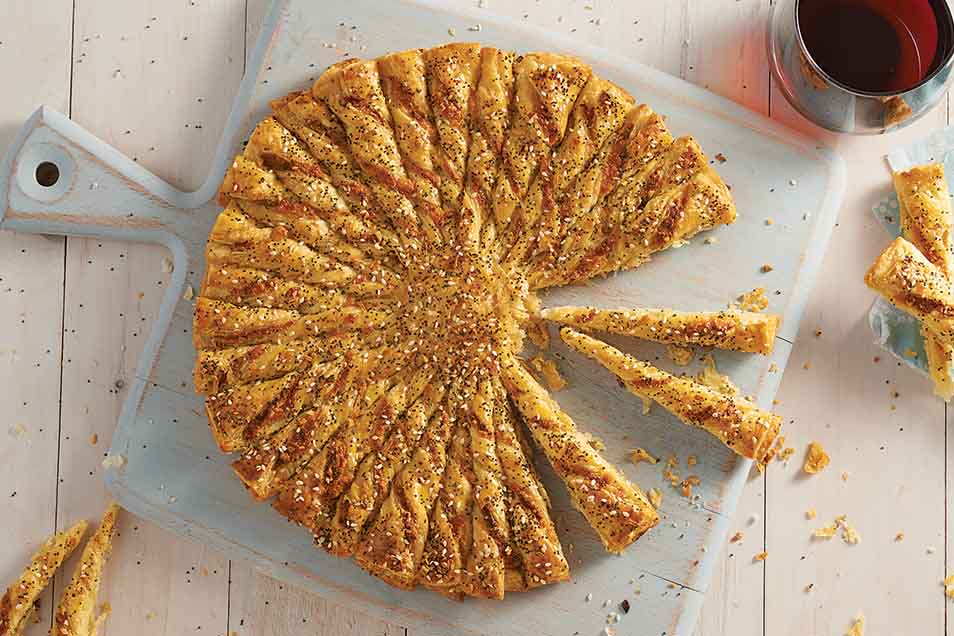 Known in France as a tarte soleil (sun tart), this flaky pastry is worthy of any special occasion or gathering. Each individual twist is amply flavored with sharp cheddar and our seed/onion/garlic bagel topping. They don't need an accompanying dip and can simply be enjoyed alongside a glass of your favorite wine, beer, cocktail, or pre-dinner beverage.
Ingredients
Filling
1/4 cup Vermont cheese powder
2 tablespoons Everything Bread and Bagel Topping, divided
1 tablespoon melted butter
1 tablespoon water
1/2 cup grated sharp cheddar cheese, Cabot preferred
1 large egg beaten with 1 tablespoon water, to brush on dough
Instructions
To make the pastry: Combine the flour, cheese powder, salt, and baking powder. Work in the butter until larger, pea-sized clumps form. Drizzle in the ice water and toss, adding more water if necessary to make the dough cohesive.

Divide the dough in half, and shape each half into a disk. Wrap and refrigerate for at least 30 minutes.

To make the filling: Stir together the cheese powder, 1 tablespoon of the bagel topping, the melted butter, and water. Set aside.

Preheat the oven to 375°F.

Roll one disk of dough into an 11" circle. Place a 10" plate or cake pan on top of the dough, using it as a template to cut out a 10" circle.

Place the circle on a piece of parchment, and spread the filling mixture evenly over the surface, leaving 1/2" of bare dough around the perimeter.

Top the filling with an even layer of the grated cheese, again leaving the perimeter bare. Brush the perimeter with the egg wash.

Roll out and cut the second disk of dough like the first, and place it directly on top of the filling.

Place a 2 1/2" to 3" round cutter in the center of the circle, and cut the circle into 32 equal strips, from the cutter to the edge, through all the layers.

Remove the cutter from the center of the pastry, and twist each strip three times in the same direction.

Brush the pastry with the egg wash and sprinkle with the remaining tablespoon of bagel topping.

Bake the pastry for 35 to 40 minutes, until evenly golden brown on top.

Remove the pastry from the oven and allow it to cool for 10 to 15 minutes before serving.
Reviews
Okay, this is a keeper. I made the recipe exactly as written. During the twisting phase, found it helpful to put back in the fridge for 5 minutes when dough started getting too soft. Do not fear the twist, it really turns out okay. I took it to a potluck dinner party and got raves and requests to share the recipe.
This is a GREAT recipe and it's now in regular rotation in my house. I substituted nutritional yeast for the cheese in the dough and it is still light, flky and just the right amount of salty.
I made this for New Years. It looked better than it tasted. Very bland . I would not make this again.

We're sorry to hear the flavor of this recipe didn't make the grade for you, Mary! The sharpness or mildness of this pastry relies heavily on the type of cheese used. With a very sharp cheddar cheese, you'll get a bold flavor, while milder versions may not have much tang at all. Even some cheddars that are labeled "sharp" aren't terribly so when compared with other brands. We have a hunch that if you shopped around for a cheese with a stronger flavor, you'd find that this dish would follow suit. Happy baking! Kat@KAF
I don't know. It seemed to be too much like a lot of rich pie crust to me. Flavors were good, but.... It did get me to think of converting it to a yeasted version....light...leaning toward a breadstick idea.

We're sorry to hear that this well-loved recipe didn't do the trick for you, Wendy. You might like to check out our Cheddar Cheese Pull-Apart Bread or Herbed Asiago Bubble Bread! If we can help troubleshoot or pick out a recipe that better fits your tastes, please give our Baker's Hotline a call at 855-371-BAKE (2253). Kindly, Morgan@KAF
Baked this for a neighborhood gathering. Even though it was not hot from the oven, everyone loved it. Delicious filling and flaky crust. Must confess to using Bob's Red Mill Pastry flour because King Arthur specialty flours are hard to find here in the Pacific Northwest.
I had rated this recipe back on 8/11/18 so i am not rating it again, I gave it 5 stars then and I would do the same now for sure! I made this recipe again but this time using the pastry flour and a little less water as you had advised and what an amazing difference!!! The bread sticks were so light and fluffy and flakey! No chewy this time! I served this with your Easy gazpacho cold soup recipe. The combination was delightful and refreshing on this very hot and humid summer day! ty!
Really delicious, but lets face it, the presentation is the best feature here!! the great taste is an added bonus! Two questions for you: First is it ok if i make this the night before right through the twisting step, then refrigerate to bake the next day? And second question, mine was a bit chewy, did i overwork the dough? would it be crispier if i leave larger size pieces of butter??

You're welcome to prepare this pretty pastry in advance, cover with plastic wrap and then bake the next day. This is a great way to have it still warm when serving. As for the chewy texture, you might want to try using a lower protein content flour (Pastry Flour Blend might be a good place to start) and also try working the dough less, as you suggested. Try holding back a few tablespoons of water as additional water makes the gluten develop more readily and contributes a chewy texture. The butter should about the size of peas to ensure it has a flaky texture. We hope this helps and happy baking! Kye@KAF
I made this last night, and it was delicious. My family isn't big on everything bagel topping, so I used a mix of Italian herbs, fresh chives, fresh garlic, and chopped up black olives and salami and served it for dinner. I also used finely grated sharp cheddar rather than a cheese powder. I baked mine longer than the recipe called for (because of the larger amount of filling), but the pastry was flaky and the flavor combo was delicious. I'd try it with a fairly dry feta and sun-dried tomatoes too. I'm adding this one to my repertoire for sure!
Wow! This tastes as good as it looks, which is really saying something. I used my Cusinart for the pastry, and after an hourlong chill it rolled out beautifully. After testing this on family I look forward to serving to company!
This was so fun to make, totally delicious, and an impressive appetizer. I made this for an early, spring picnic at a local winery. Serve this with a salad and you have a meal! It's a keeper!