A customized print-friendly version of this recipe is available by clicking the "Print Recipe" button on this page.
Everything-Cheddar Pastry Twist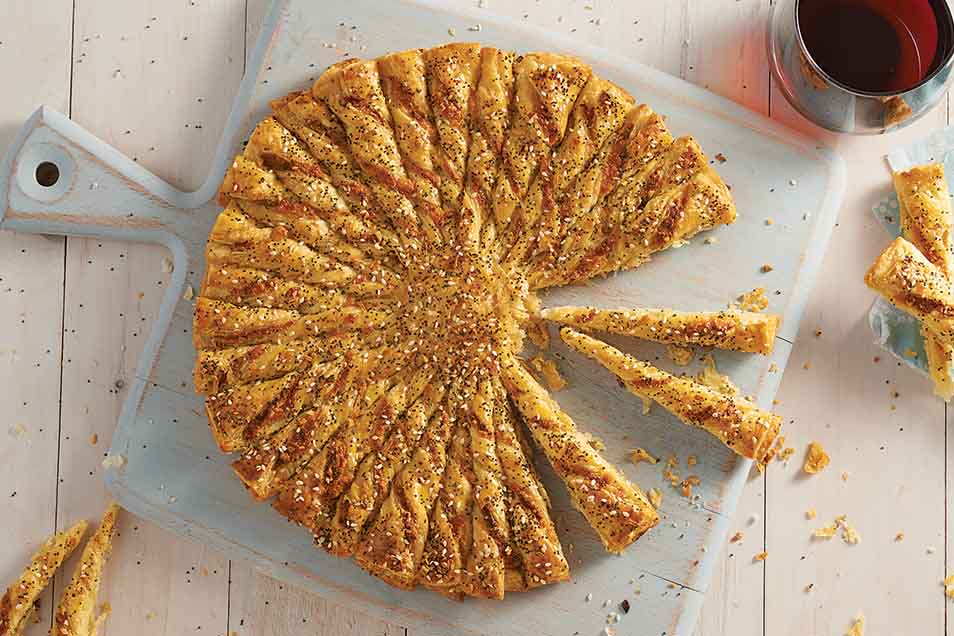 Known in France as a tarte soleil (sun tart), this flaky pastry is worthy of any special occasion or gathering. Each individual twist is amply flavored with sharp cheddar and our seed/onion/garlic bagel topping. They don't need an accompanying dip and can simply be enjoyed alongside a glass of your favorite wine, beer, cocktail, or pre-dinner beverage.
Ingredients
Filling
1/4 cup Vermont cheese powder
2 tablespoons Everything Bread and Bagel Topping, divided
1 tablespoon melted butter
1 tablespoon water
1/2 cup grated sharp cheddar cheese, Cabot preferred
1 large egg beaten with 1 tablespoon water, to brush on dough
Instructions
To make the pastry: Combine the flour, cheese powder, salt, and baking powder. Work in the butter until larger, pea-sized clumps form. Drizzle in the ice water and toss, adding more water if necessary to make the dough cohesive.

Divide the dough in half, and shape each half into a disk. Wrap and refrigerate for at least 30 minutes.

To make the filling: Stir together the cheese powder, 1 tablespoon of the bagel topping, the melted butter, and water. Set aside.

Preheat the oven to 375°F.

Roll one disk of dough into an 11" circle. Place a 10" plate or cake pan on top of the dough, using it as a template to cut out a 10" circle.

Place the circle on a piece of parchment, and spread the filling mixture evenly over the surface, leaving 1/2" of bare dough around the perimeter.

Top the filling with an even layer of the grated cheese, again leaving the perimeter bare. Brush the perimeter with the egg wash.

Roll out and cut the second disk of dough like the first, and place it directly on top of the filling.

Place a 2 1/2" to 3" round cutter in the center of the circle, and cut the circle into 32 equal strips, from the cutter to the edge, through all the layers.

Remove the cutter from the center of the pastry, and twist each strip three times in the same direction.

Brush the pastry with the egg wash and sprinkle with the remaining tablespoon of bagel topping.

Bake the pastry for 35 to 40 minutes, until evenly golden brown on top.

Remove the pastry from the oven and allow it to cool for 10 to 15 minutes before serving.