A customized print-friendly version of this recipe is available by clicking the "Print Recipe" button on this page.
Extra Creamy Key Lime Pie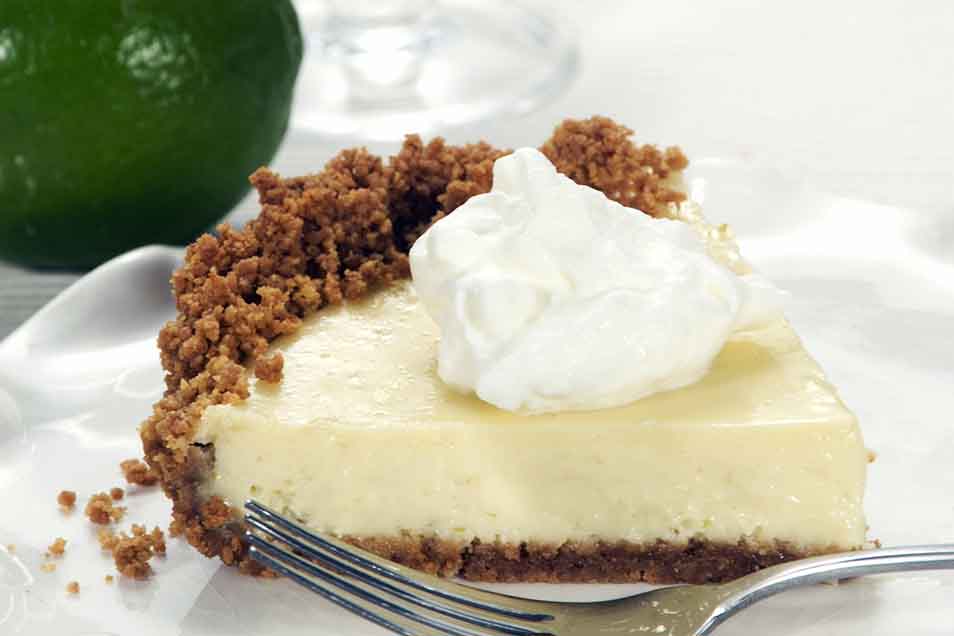 Key lime pie is one of the most popular desserts offered in restaurants today, and for good reason: the combination of tangy-sweet, smooth filling in a crisp crust is a soothing symphony of flavors and textures.
Ingredients
Crust
1 1/2 cups vanilla cookie crumbs (sugar, vanilla wafers, or cream-filled)
1 1/2 cups fresh bread crumbs
6 tablespoons melted butter
Filling
1 cup cream cheese, softened
1 1/4 cup sweetened condensed milk
1/3 cup Key lime juice
1/8 teaspoon lime oil (optional, but good)
1 cup sour cream
Garnishes
2 tablespoons sugar
1 cup heavy cream
1/2 fresh lime, sliced
Instructions
Preheat the oven to 350°F.

To make the crust: Combine the ingredients in the bowl of your mixer or a food processor — a few pulses will do it — then press the mixture into a 9" pie pan.

Bake for 20 to 22 minutes, until the crust is golden brown. Set aside to cool while making the filling.

To make the filling: In a medium-sized bowl, beat the cream cheese until soft. Add the condensed milk and beat until well-blended.

Stir in the Key lime juice and the lime oil (if you're using it). Add the sour cream, mixing until smooth.

Pour the filling into the cooled crust and refrigerate the pie for at least 2 hours before serving.

To make the topping: In a medium sized bowl, whip the cream with the sugar until soft peaks form. Serve a spoonful on each piece and top with a thin slice of lime.

Store the pie in the refrigerator for 5 days.
Reviews
I made this recipe with pre-fab mini graham cracker crusts for a bake sale last year, and they were a big hit, decorated with just a bit of lime zest. I also made them for a staff birthday. I added a drop or two of lime oil both times. The key lime pie lovers loved it! This year, I'm making it again for my husband's birthday. Since it's just for him, I'm wondering if anyone's had any success freezing this pie to make it last longer?

Hi Kirsten, we appreciate your desire to make this sweet treat last longer. However, custard-based pies like this just don't hold up well in the freezer because of their delicate consistency. They tend to weep and separate as they thaw, and lose that smooth, creamy texture that makes them so appealing. If you ever find yourself with any leftover pie, we've never met a neighbor who turned down a slice of homemade Key Lime Pie. You could make someone's day by sharing leftovers. No freezer needed! Kye@KAF
I did not like the crust For this recipe. I wish I used a gram cracker crust. The filling wasn't firm and I added 1/3 more cream cheese and 1/6 more key lime juice. However the filling tasted great. I'm just trying how to figure out how to make it a little bit firmer.

Hi Deb, it sounds like you might prefer the crust recipe that's included in our Classic Key Lime Pie recipe, which is a graham cracker crust-base. Some brands of cream cheese and sour cream contain more moisture than others, which can make the filling a bit loose. If you'd like to make it a bit stiffer, reduce the key lime juice to 1/4 cup and add more if it seems stiff. Chilling or even freezing the pie briefly before serving can help the filling set. We hope this helps make the perfect pie next time. Kye@KAF
Tasty but not what I would call key lime pie. Add 1 tsp of lime zest to give it a bit more tang.
Could you use the filling as a pudding layer for layer cakes? Also, could I use the graham cracker crust from the Chocolate Icebox Pie recipe? I really liked that one, and I don't want to go buy cookies, and it would be a lot of trouble to make my own.

Yes and yes — have fun experimenting! Annabelle@KAF
Wish I could give it 4.5 stars. This recipe would probably be great for those who find traditional Key Lime Pie tasty but too tart. I didn't want to use the lime oil because I didn't want to adulterate the true key lime flavor, so I used 4 oz Key Lime juice instead. Often I make Key Lime cheesecake with a recipe by Emeril Lagasse, which produces an exceptional dessert but takes most of a day to make. This one was quick and easy and came out very tasty. I prefer my Key Lime pie to be just a bit more tart that this one is. Using juice if real Key Limes is a must. Floribbean (sold at KA) and Mrs. Biddles are the only brands I know of that produce real Key Lime juice. Best Juice is squeezed from fresh key limes, but that takes dedication!
This was incredibly delicious & easy. I'm terrible at baking traditional style pie crusts, where you have to roll the dough. This crust was a no-brainer. Just make sure you use fresh breadcrumbs--not the store bought ones. I added a pinch of vanilla to crust (I mixed it in with the melted butter), and it turned out delicious. And the filling was to die for! Also the instructions says cool in fridge for at least 2 hours. .. but that's no where near enough. I've found that both the flavor & texture of this pie is best after the next day, so perhaps make it the night before. This is now one of my favorite pies, and it will be a holiday must!
I made this pie as a backup in case the Classic Key Lime pie didn't turn out properly. This is not a backup- it is a front line dessert. Delicious! [ BTW the Classic Key Lime was a winner too/.]
I made the classic key lime pie, but also I wanted to try this no bake version. It is delicious. I made it with Greek yogurt instead of sour cream. I noticed that by the second day the flavor and consistency got better. The slices holded their shape. This recipe is a keeper.
This is so easy! Key Lime Pie is one of my favorite desserts, and this definitely fills my craving. The most important part of making this pie is chilling it, because the flavors need to sit and blend to ensure the taste of a Key Lime pie. I found the ingredient amounts balanced- not too sweet or sour. Just keep a bottle of key lime juice and you can make this pie all year round.
Although I'm giving this pie 3-stars, let me start off saying it's not at all a bad pie. Texturally, it is amazing (smooth and creamy as one could want). That said, it tastes almost like a cheesecake - the cream cheese flavor overwhelms the smallish amount of lime juice (didn't have lime oil on hand, which I'm sure would have helped, but I did use the zest from 1 lime), and if you're in the mood for a tart, kick-in-the-pants lime punch, this isn't your recipe. Even though it wasn't what I was looking for in terms of flavor profile, the only part that actually disappointed me was the crust (used Nilla Wafers for the cookie) - it didn't come out with a distinctive flavor, and was kind of just "blah". In short, great texture, mild flavor, and a crust that doesn't add much.