A customized print-friendly version of this recipe is available by clicking the "Print Recipe" button on this page.
Extra-Tangy Sourdough Bread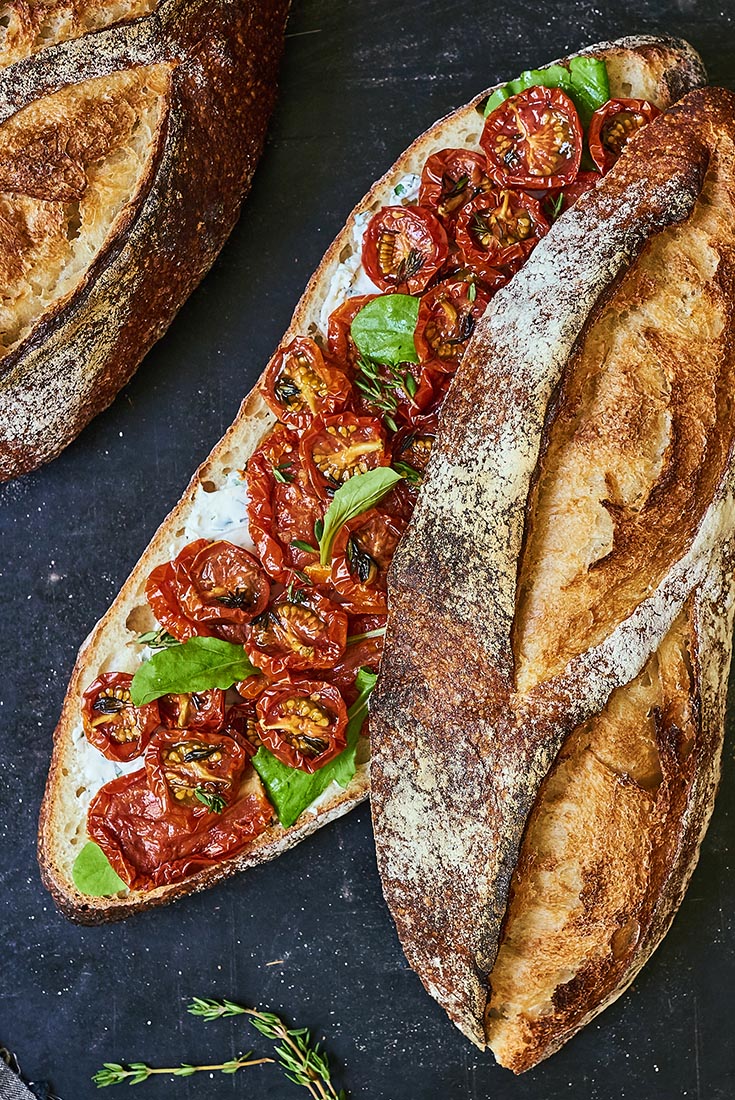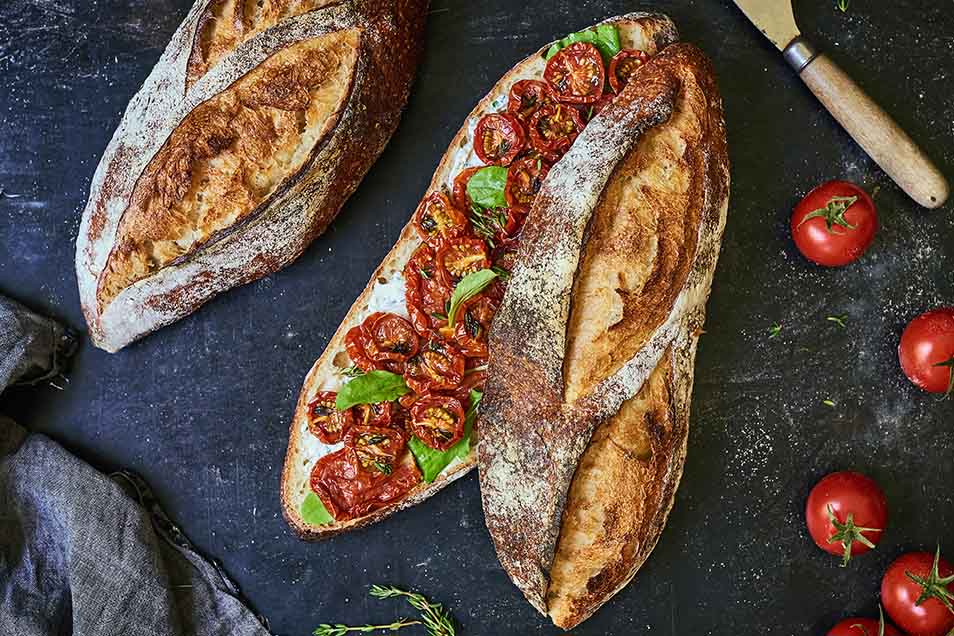 This bread, with its mellow tang, is perfect for those who like their sourdough bread noticeably sour, but not mouth-puckeringly so.
Instructions
Combine the starter, water, and 3 cups (12 3/4 ounces, 362g) of the flour. Beat vigorously for 1 minute.

Cover, and let rest at room temperature for 4 hours. Refrigerate overnight, for about 12 hours.

Add the remaining 2 cups (8 1/2 ounces, 241g) flour, and the salt. Knead to form a smooth dough.

Allow the dough to rise in a covered bowl until it's light and airy, with visible gas bubbles. Depending on the vigor of your starter, this may take up to 5 hours (or even longer), depending on how active your starter is. For best results, gently deflate the dough once an hour by turning it out onto a lightly floured work surface, stretching and folding the edges into the center, and turning it over before returning it to the bowl. Adding these folds will give you a better sense of how the dough is progressing, as well as strengthen it.

Gently divide the dough in half.

Gently shape the dough into two rounds or oval loaves, and place them on a lightly greased or parchment-lined baking sheet. Cover with lightly greased plastic wrap and let rise until very puffy, about 2 to 4 hours (or longer; give them sufficient time to become noticeably puffy). Don't worry if the loaves spread more than they rise; they'll pick up once they hit the oven's heat. Towards the end of the rising time, preheat the oven to 425°F.

Spray the loaves with lukewarm water.

Slash the loaves. If you've made round loaves, try one slash across the center, and a curved slash on each side of it; or slash in the pattern of your choice. For oval loaves, two diagonal slashes are fine. Make the slashes fairly deep; a serrated bread knife, wielded firmly, works well here.

Bake the bread for 25 to 30 minutes, until it's a very deep golden brown. Remove it from the oven, and cool on a rack.

Store bread, loosely wrapped in plastic, for several days at room temperature; freeze for longer storage.
Nutrition Information
Serving Size

1 slice

Servings Per Batch

12 per loaf
Amount Per Serving:
Calories

110

Calories from Fat

5

Total Fat

0g

Saturated Fat

0g

Trans Fat

0g

Cholesterol

0mg
Sodium

220mg

Total Carbohydrate

22g

Dietary Fiber

1g

Sugars

1g

Protein

3g
* The nutrition information provided for this recipe is determined by the ESHA Genesis R&D software program. Substituting any ingredients may change the posted nutrition information.
Tips from our bakers
Looking for a more sour/tangier loaf? Try adding 1/2 teaspoon to 5/8 teaspoon sour salt (citric acid) to the dough along with the regular salt.
For a tasty loaf using commercial yeast (for faster rising), check out our recipe for Rustic Sourdough Bread.
What makes the sour in sourdough bread? It's a combination of lactic and acetic acids, created as the dough rises and ferments. Refrigerating the dough encourages the production of more acetic than lactic acid; and acetic acid is much the tangier of the two. Thus, sourdough bread that's refrigerated before baking will have a more assertive sour flavor.
To serve as pictured above, split a loaf around the perimeter, and layer one half with oil-packed sun-dried tomatoes (or oven-roasted cherry tomatoes) and fresh basil leaves.
Reviews
New to sour dough. I think im kneading it too much because it stays low, or maybe im doing the rise time wrong. It is textured like banana bread that you have to work for. Wonderful, it like chewin a porkchop, meat textured anything is cool by me. When i was cleaning up and waiting for the first rise i made a new starter. I have a question, that new starter was frothed and doubled in volume in 10 hours and ready to use. Is that normal? I started washing my jar and utensils and all i could see was wasted yeast. So i stopped cleaning and used freshly dirtied utensils. San that be why it took hours instead of days? Needless to say, a starter ready that fast deserves to be saved so i put all but 1/2 cup in the fridge and made a new starter. I also did not clean my tools and jar. The new on is in the oven with door closed at about 81° i want to see if that happens again. I used king arthur whole grain whooe wheat. This is easy, some site make sourdough like rocket science with scales and ancient stone baking crocks and i think it puts a lot of people off. I also used the king arthur starter recipe. Its not hard to imagine just eyeballing the whole thing in the future like they did in 2018 B.C.
I thoroughly enjoyed making this bread and the results were very good. However, my loaves did not brown in the oven like I was expecting them to. They stayed a pale dough color. What's going on and how can I correct it?

Looking to make a loaf that's golden brown with a crispy crust? Consider baking your loaf in a preheated Dutch oven, Cuisiner. Baking in a hot pot creates lots of steam, which is key to the awesome crust you're seeking. You can find full instructions for this baking method in the article on our blog called, "Bread baking in a Dutch oven." (Click on "blog" at the top of this page and then search for it by name.) If you don't have a Dutch oven, you can try spritzing the loaf with water a few times during the initial part of the bake. If the loaf still isn't developing the color you want by the end of the bake time, try increasing the heat by 15 to 25°F and baking for a few minutes longer. Let the loaf cool in the turned-off oven with the door cracked once it's done baking. We hope this helps you bake the bread of your dreams! Annabelle@KAF
The taste of this recipe is great. I'm definitely making it again. When I added the two cups of flour after the fridge ferment it seemed like way too much though. And the loaves turned out lumpy so I think I should let them rise for less time before baking. I'm gonna keep trying and tweaking it though because this is one of the best recipes I've tried!
I baked this bread with the starter recipe from this web site. While the flavour was ok and it did have a very open structure with large bubbles inside however the bread seemed very dense and had a slightly rubbery texture. I think I kneaded it for too long In the mixer. When the recipe said to knead until you get a smooth dough, how long should that take and on what speed setting? Also should I use the paddle or the dough hook?

For this dough you'll want to use the dough hook during kneading (step 3). The exact amount of time will vary based on how you're kneading the dough, but a medium-low speed on a stand mixer fitted with the dough hook will take about 5 minutes to develop the gluten. The dough should feel springy to the touch and look smooth when it's ready. Poke the dough with your finger; if the indent fills back in readily, you're done kneading. Kye@KAF
I've created my own starter about 2 months ago and have now made 3 loaves (from another recipe). 1st loaf turned out flat, but tasted great. 2nd and 3rd loaves turned out great and very beautiful. Except they were a little less tangy than desired. So, I've been searching other recipes and found this. And it looks like a great recipe, which I'm trying this weekend. However, I have a couple questions: 1 - I'm sensitive to most bread and wheat, but not really sourdough and I think it's because of the active fermentation of the proteins during the processes. But, since you add 2 cups of flour after the initial rise, do you think I may be more sensitive to this kind of sourdough, since all the flour isn't allowed to ferment from the beginning? (I know, maybe this is a tough question) 2 - In your recipe, you simply use the word "Knead" and quickly move on, glossing over this part of the process. For me and my prior loaves, that word means 15 minutes of kneading on the counter taking out any frustrations I may have had (best way to describe it, lol), but because you use the word so simply and don't describe it, I'm curious what your opinion of 'kneading' really is? In addition, I saw a review where a woman has tried this recipe many times and loves the flavor, but can't get the skin tight during shaping. To me, it's probably because of a lack of proper kneading (she even mentions something about "not wanting to overhandle the dough" or something like that). Seems like the proper kneading process is being skipped and maybe if the instructions were more clear on what you mean by kneading, that would help her and others trying the recipe not miss this crucial step and ensure that it is done properly. I like the "Window Pane" test for letting the dough tell US when it's ready, instead of us trying to decide when it's ready to move on past kneading. In addition, one last comment - Love your website and the great resources you provide here. It is so good, and I'm so happy you have made and provide these great resources. Thank you so much!

Hi Jimmy, thanks for reaching out to us with your question. Our team is unable to make specific dietary recommendations, so we encourage you to check with your doctor or nutritionist to see if this recipe might be right for your needs.

Regarding your question about kneading, we recommend clicking on the link on the right-hand side of the page to view the full step-by-step tutorial on our blog. We realize that "kneading" can mean different things to different people, so we describe it in more detail and even includes photos in this tutorial. We hope you check it out and let us know if you have more questions. Happy baking! Kye@KAF
What a loaf of bread! Chewy, crusty, tangy. I used half Hard winter red, and of coarse half bread. Very excellent! Was wondering if I could have left dough proof in fridge longer? Would like it a hair more sour, but that is my preference. I'm so happy I made it. Thank you.

You're welcome to experiment with a longer chill, Sandy! Just be aware that the longer it's in the fridge, it could mean it doesn't rise as much and doesn't brown as much because the yeast will eat up the sugars. It could take some trial and error but we say go for it! Annabelle@KAF
I was looking for tangy and this recipe makes a good tangy springy loaf. I coat an enamel cast iron pot with olive oil and bake first with the lid on for 20 min then another 20 without the lid to brown it. Perfection! I've also baked in an enameled loaf pan... always comes out great. Sourdough takes trial and some error but it's worth a little error to get it just right!
By far the easiest recipe to follow that I've tried for sourdough. This is a good recipe for beginners (like me)! I do have one or two questions though. If I want to bake this recipe as one big round loaf instead of two smaller ones, will this affect the outcome? Also, how would I adjust the baking time?

Aine, it's more challenging to bake a large loaf perfectly and evenly, but you're welcome to give it a try. You'll want to use the same baking temperature of 425°F, but extend the baking time by 5-10 minutes to account for the larger volume of dough. Check for doneness by testing the internal temperature if possible; it should reach at least 190°F when it has finished baking. Good luck and happy baking! Kye@KAF
I have tried at least five other sourdough recipe and this is by far the tastiest and clearest when it comes to directions. I love this bread! I've never been able to get an open crumb, tangy flavor, chewy crust, and a puffed strong final loaf before this recipe. People told me I should try baking with commercial yeast first but I'm glad I stuck with the sourdough. Thank you for this recipe!!
Wow, newby bread baker here and this was a home run! Followed recipe exactly. One question: can you make the second flour addition whole wheat flour or does that create issues? Thanks!

You're welcome to use either whole wheat or white whole wheat flour for the second addition of flour if you like baking with whole grains, Susan (2 cups, 226 grams). You may need to add a few tablespoons of extra water as whole wheat flour is more absorbent than white flour. The final loaf may be slightly shorter and more closed-crumb (fewer open holes) than it otherwise would be, but that's a decent trade-off for a whole wheat sourdough loaf! Kye@KAF