A customized print-friendly version of this recipe is available by clicking the "Print Recipe" button on this page.
Extra-Tangy Sourdough Bread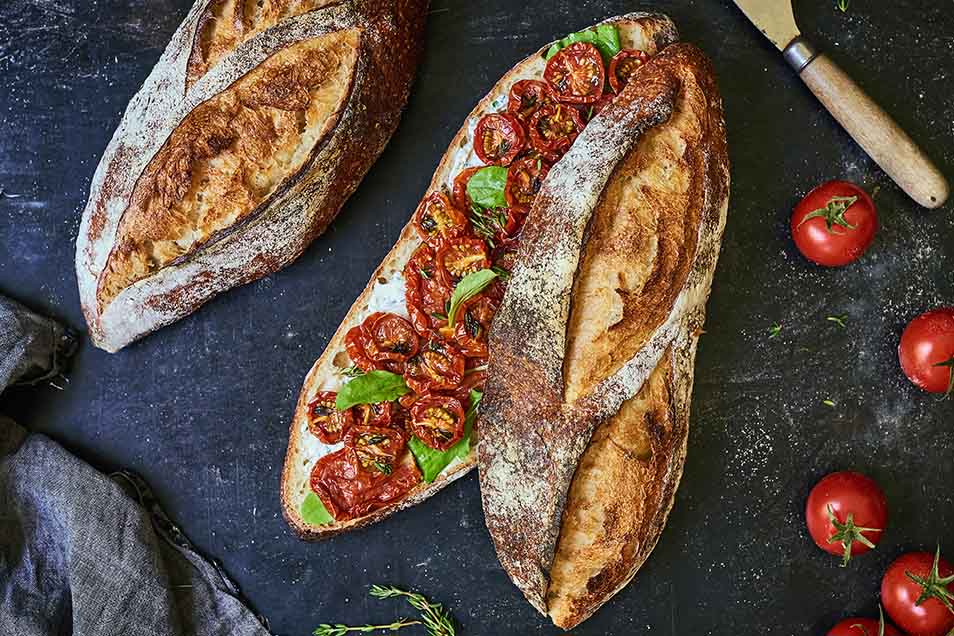 This bread, with its mellow tang, is perfect for those who like their sourdough bread noticeably sour, but not mouth-puckeringly so.
Instructions
Combine the starter, water, and 3 cups (12 3/4 ounces, 362g) of the flour. Beat vigorously for 1 minute.

Cover, and let rest at room temperature for 4 hours. Refrigerate overnight, for about 12 hours.

Add the remaining 2 cups (8 1/2 ounces, 241g) flour, and the salt. Knead to form a smooth dough.

Allow the dough to rise in a covered bowl until it's light and airy, with visible gas bubbles. Depending on the vigor of your starter, this may take up to 5 hours (or even longer), depending on how active your starter is. For best results, gently deflate the dough once an hour by turning it out onto a lightly floured work surface, stretching and folding the edges into the center, and turning it over before returning it to the bowl. Adding these folds will give you a better sense of how the dough is progressing, as well as strengthen it.

Gently divide the dough in half.

Gently shape the dough into two rounds or oval loaves, and place them on a lightly greased or parchment-lined baking sheet. Cover with lightly greased plastic wrap and let rise until very puffy, about 2 to 4 hours (or longer; give them sufficient time to become noticeably puffy). Don't worry if the loaves spread more than they rise; they'll pick up once they hit the oven's heat. Towards the end of the rising time, preheat the oven to 425°F.

Spray the loaves with lukewarm water.

Slash the loaves. If you've made round loaves, try one slash across the center, and a curved slash on each side of it; or slash in the pattern of your choice. For oval loaves, two diagonal slashes are fine. Make the slashes fairly deep; a serrated bread knife, wielded firmly, works well here.

Bake the bread for 25 to 30 minutes, until it's a very deep golden brown. Remove it from the oven, and cool on a rack.

Store bread, loosely wrapped in plastic, for several days at room temperature; freeze for longer storage.
Nutrition Information
Serving Size

1 slice

Servings Per Batch

12 per loaf
Amount Per Serving:
Calories

110

Calories from Fat

5

Total Fat

0g

Saturated Fat

0g

Trans Fat

0g

Cholesterol

0mg
Sodium

220mg

Total Carbohydrate

22g

Dietary Fiber

1g

Sugars

1g

Protein

3g
* The nutrition information provided for this recipe is determined by the ESHA Genesis R&D software program. Substituting any ingredients may change the posted nutrition information.
Tips from our bakers
Looking for a more sour/tangier loaf? Try adding 1/2 teaspoon to 5/8 teaspoon sour salt (citric acid) to the dough along with the regular salt.
For a tasty loaf using commercial yeast (for faster rising), check out our recipe for Rustic Sourdough Bread.
What makes the sour in sourdough bread? It's a combination of lactic and acetic acids, created as the dough rises and ferments. Refrigerating the dough encourages the production of more acetic than lactic acid; and acetic acid is much the tangier of the two. Thus, sourdough bread that's refrigerated before baking will have a more assertive sour flavor.
To serve as pictured above, split a loaf around the perimeter, and layer one half with oil-packed sun-dried tomatoes (or oven-roasted cherry tomatoes) and fresh basil leaves.
Reviews
Can you put aside half the dough in the fridge and use it a day or two later?

Julie, you can certainly let half the dough chill overnight to bake the next day! If you let it go for longer than that you might not get as much rise in your final loaf, but it should still taste good, just with a denser texture. Happy baking! Kat@KAF
I started making this recipe with your starter many years ago. It's tricky to master and gets easier with practice. The timing and scheduling alone take a little thinking through, and learning to handle a much stickier preferment is tough for an intermediate home baker. But the results are so worth it. And now you have awesome resources in you blogs (with photos!) to take some of the tough intimidating parts out, and your helpline just keeps getting lovelier. It's like having a supportive teacher right at your side. My good friend and fellow sourdough er just grew her KAF starter for me, and I have him sitting in my fridge. (Mine died a lonely death several years ago as the last of my chicks flew the coop). As I'm blessed enough to have a great kitchen and baking oven here, I'm rolling up my sleeves for my beautiful sourdough again. You guys have given me great products, great recipes, and great pointers for over thirty years. Thank you and keep baking!! Sincerely, Jen
Fail

We're sorry to hear that this well-loved recipe didn't do the trick for you, Jean. If we can help pick out a recipe that better fits your tastes or help troubleshoot this one, please give our Baker's Hotline a call at 855-371-BAKE (2253). Kindly, Annabelle@KAF
I'm generally a pretty competent baker, and King Arthur is my #1 source for new recipes, but I've made a mess of this one three times now. The first time, I simply misread and didn't let it proof long enough, and the second time I didn't reactivate my starter properly after taking it from the fridge. This time, though, I was so sure I was headed for victory. I followed every instruction to the letter, and the resultant loaves seemed to progress well enough until I refrigerated them (the fridge doesn't seem too cold, but maybe it is?). They definitely taste like sourdough and have a nice chewy texture, but they're flat and dense. Could this be an issue with flour quality? The King is my ride or die, obviously, but I'm in Beirut right now and have been using Gold Medal (bleached) because it's what's available. My other thought is kneading: how long should I be kneading it by hand? I thought I knew what was meant by "until smooth," but it seems that my instincts are woefully off on this one...

Thanks for reaching out to us, Alessandra. We're happy to help troubleshoot. First, we're so glad that you've been able to get that tangy, sour flavor that eludes so many bakers! Believe it or not, the type and strength of the flour has a huge impact on the outcome of breads, mainly because most other brands don't have consistent protein contents. Because it's inconsistent, there's no real way to know just how high the protein is which will affect the strength of the gluten, and the amount of water the dough will absorb. It might take some trial and error using different amounts of liquid and different rise times to find the sweet spot using the flour you're able to get. In general, hand kneading takes between 7 and 10 minutes, and there's a great video in our Sourdough Guide Bake page (in the Learn section of our website) that shows the ideal texture and consistency to look for, not only while you knead, but along the way as well. We encourage you to experiment by holding back a few tablespoons of the water to see if it's needed to acheive a tacky, soft dough, and to experiment with longer rise times. A recent reviewer mentioned that after changing their first rise to 4 to 5 hours, folding the dough over time, and then a final rise of 2 hours or more wound up giving them the best results. We hope that with the help of the videos in the Sourdough Guide and with some experimentation, you'll be able to produce loaves that you'll be happier with. Keep in mind that this isn't a high-riser — the loaf in the photo was only about 4" tall, but you should have less dense results after some trial and error. You can always reach out to our free and friendly Baker's Hotline at 855-371-BAKE (2253) or by email to customercare(at)kingarthurflour(dot)com if you have any questions. Kindly, Annabelle@KAF
This is my favorite sourdough recipe.. my starter is about 5 years old. The one thing this recipe taught me was.. PATIENCE. I have baked bread for years but .. THIS IS A DIFFERENT BREED. As a bread baker you KNOW how long it should rise.. rule 1.. you DON'T know.. be PATIENT.. the dough will let you know when its ready. Throw out all the rules you know ...You can't rush it.. You HAVE to wait.. and wait and it might be alot longer then even the recipe says depending on the temp and humidity and altitude of your home.. So Let the dough do its thing and wait!...
I love this recipe and have the best sourdough flavor. I have done this in a dutch oven, on a baking sheet, and in loaf pans. Two questions: 1. Do you have any advice for cooking on loaf pans? More rising time? More dough? I can't seem to get it to rise to the top using the recipe provided. 2. I can't seem to get the final slash right with the utensils that I have. I end up dragging the dough with my knife and I feel like I am mangling and deflating it. Any slashing tips if you don't have a razor blade?

Lee, this recipe should fit nicely into two standard 8 1/2" by 4 1/2" loaf pans when divided in half. Allow the dough to rise until the dough crests the edge of the pan by about 1" in the very center. Bake as directed at 425°F for about 25 minutes, until golden brown and the internal temperature reads at least 190°F. If you're having a hard time getting the dough to rise as high as you would like, you can experiment with using bread flour, which has a higher protein content and can encourage a higher rise. Also, be sure you're shaping the dough in a way that gives the loaf structure. (For instructions, click on the "Learn," section at the top of this page, and browse the baking skills videos, looking for the one titled, "How to shape a sandwich loaf.")

Secondly, it sounds like you might want to consider investing in a lame, a bread slashing tool, if you're doing a lot of bread baking at home. (Find different options in the "Shop" section of our website.) It's easier to slash the dough if the shaped bread has been refrigerated overnight if you're not already doing so. When slashing, make quick motions and be sure your knife is sharp. It's normal for the loaf to deflate slightly, but if it deflates all the way, it means your bread was likely over-proofed. Try reducing the rising time slightly before slashing with your next batch. Happy baking! Kye@KAF
This was my first starter recipe I tried and it was great! I followed instructions exactly and made two loaves that were delicious. My kitchen smelt like delicious sourdough and the taste was great! I looked at the blog post which showed photos of different stages in the making process. I found that at the step when the last two cups of flour were to be incorporated I really needed to knead the flour in without alot of effort and could only maybe get in 4.5 cups totally of flour. Whereas the blog post showed very moist almost batter at this stage? I'm not sure why the difference? I mixed/kneaded everything by hand not sure of that explains why. Either way it still turned out amazing. Will make it again!

Hi there, Jessica! It's good that you recognized that the dough wasn't going to absorb that last 1/2 cup of flour. Measuring in volume can result in too much flour being added to your recipes depending on how you measure your flour. We recommend checking out the Recipe Success Guide located just to the right of the Ingredients title on the recipe page. This video goes over our recommended method of measuring flour by volume. Even after adding the last 2 cups of flour you should still have a soft, supple and slightly tacky dough. We hope this helps. Happy baking! Morgan@KAF
This is my go-to sourdough bread recipe. I love it!! It requires a lot of time and I usually end up baking the loaves closer to two days after I started (letting them rise in the fridge after forming the loaves), but that's usually because my busy life has gotten in the way of me getting to it faster, and the end result is always great! Tips: 1: When adding the second amount of flour and salt, hold back on the last 1/2-1 cup of flour to see if you need it. The final dough should be a little sticky still. The humidity in your house can have a large impact on the recipe here. Also make sure you knead the dough a lot. It should be smooth and stretch enough so that you can see translucent windows in the dough when stretched. When using a kitchenaid mixer, I still do a few minutes kneading by hand afterwards to get the right amount of stretch. 2: When the dough is rising and you're doing stretching and folding, make sure you're not deflating the dough. You want to keep the air bubbles in. Same goes for when you're forming your loaves. The recipe says gently, but it's important that you're gentle with the dough, and careful not to over handle it. The stretch and fold should be a pull and fold to the centre, make a quarter turn and do that 3 more times. The dough shaping should be done with as little handling/deflation as possible. 3: When baking, I use a Dutch oven. Preheat the Dutch oven and lid, and bake bread in the covered Dutch oven, taking the lid off for just the final 10 minutes. The Dutch oven will trap steam inside and give the bread a nice lift and crisp crust. I often make several loaves and parbake them. So instead of taking the lid of the Dutch oven off to brown the crust, I take the bread out of the oven, cool it, freeze it, and then when I want a sourdough I thaw a loaf and throw it in the oven to crisp up in that final step. It's like it's been baked fresh that day!
Argh. I have baked bread successfully many times, but my forays into sourdough have been been awful. Thanks to kat@KAF for responding to my comment on the recipe for Rustic Sourdough. I tried this recipe too, hoping to get a very tangy flavor. I completed every step as written, except for one: After dividing the dough into two loaves, and letting them rise per the recipe through Step 6, I baked one loaf and returned the second loaf to the fridge overnight, hoping to create more of the sour flavor. The first loaf baked up flat and dense. Although there was some rise while it proofed at room temperature, there was no puff in the oven. It was bad. For the second loaf, I let it sit in the fridge for an extra overnight (making 2 fridge overnights total), then let it sit at room temperature (about 72 degrees) for 8 hours. It didn't rise more than the first loaf, and was dense and gummy. The internal temperature was well over 190F for the second loaf (I didn't measure the temp of the first loaf.) Both loaves were inedible - such a disappointment. If there is something glaringly obvious that I did wrong, please advise. I am stymied. My starter looked vigorous, but perhaps it was faulty. I'm stumped.

Hi again MSue, it sounds like you've got lots of questions about sourdough baking. We'd love to help get you all the answers you're looking for, and we can do that best via the Baker's Hotline. We encourage you to give us a call at your convenience: 855-371-BAKE(2253). We also hope you'll check out our in-depth sourdough baking guide (find it by clicking on "Learn" at the top of this page," and then "view all baking guides"). It's packed full of information that will allow you to understand your starter and the sourdough process better. We look forward to your call. Kindly, Kye@KAF
I have baked this recipe twice so far; both times I added 1 Tbsp olive oil to the mix, but otherwise followed the recipe both for the amounts and for the time. It is the best simple sourdough I have ever made! I put my loaves in bread pans because we like sourdough for sandwiches. Both times I left dough in the refrigerator longer than stated (I didn't want to get up a 4 am to bake bread) and the bread still came out beautifully. Thank you for this recipe!