A customized print-friendly version of this recipe is available by clicking the "Print Recipe" button on this page.
Extra-Tangy Sourdough Bread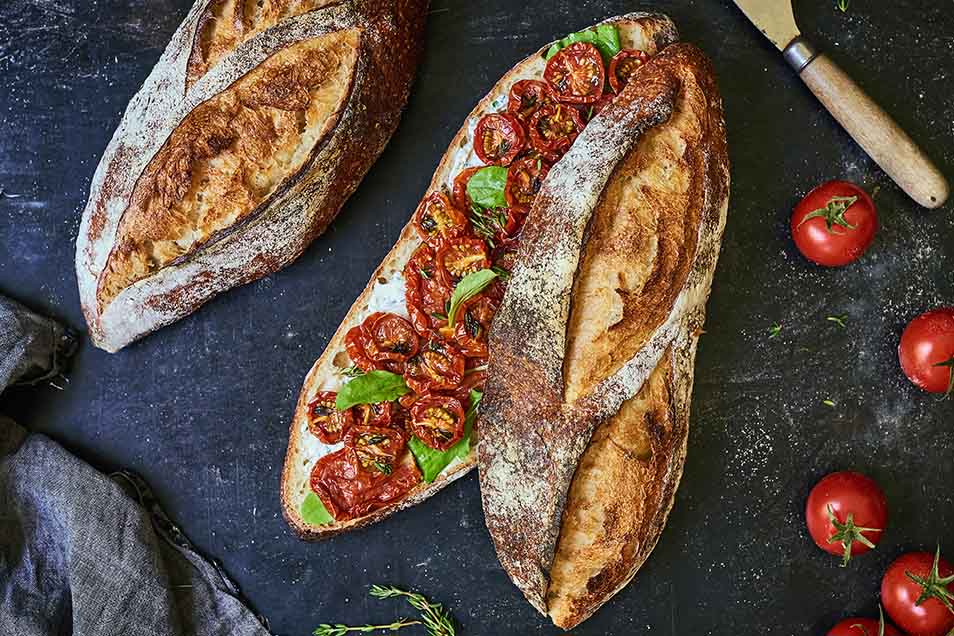 This bread, with its mellow tang, is perfect for those who like their sourdough bread noticeably sour, but not mouth-puckeringly so.
Instructions
Combine the starter, water, and 3 cups (12 3/4 ounces, 362g) of the flour. Beat vigorously for 1 minute.

Cover, and let rest at room temperature for 4 hours. Refrigerate overnight, for about 12 hours.

Add the remaining 2 cups (8 1/2 ounces, 241g) flour, and the salt. Knead to form a smooth dough.

Allow the dough to rise in a covered bowl until it's light and airy, with visible gas bubbles. Depending on the vigor of your starter, this may take up to 5 hours (or even longer), depending on how active your starter is. For best results, gently deflate the dough once an hour by turning it out onto a lightly floured work surface, stretching and folding the edges into the center, and turning it over before returning it to the bowl. Adding these folds will give you a better sense of how the dough is progressing, as well as strengthen it.

Gently divide the dough in half.

Gently shape the dough into two rounds or oval loaves, and place them on a lightly greased or parchment-lined baking sheet. Cover with lightly greased plastic wrap and let rise until very puffy, about 2 to 4 hours (or longer; give them sufficient time to become noticeably puffy). Don't worry if the loaves spread more than they rise; they'll pick up once they hit the oven's heat. Towards the end of the rising time, preheat the oven to 425°F.

Spray the loaves with lukewarm water.

Slash the loaves. If you've made round loaves, try one slash across the center, and a curved slash on each side of it; or slash in the pattern of your choice. For oval loaves, two diagonal slashes are fine. Make the slashes fairly deep; a serrated bread knife, wielded firmly, works well here.

Bake the bread for 25 to 30 minutes, until it's a very deep golden brown. Remove it from the oven, and cool on a rack.

Store bread, loosely wrapped in plastic, for several days at room temperature; freeze for longer storage.
Nutrition Information
Serving Size

1 slice

Servings Per Batch

12 per loaf
Amount Per Serving:
Calories

110

Calories from Fat

5

Total Fat

0g

Saturated Fat

0g

Trans Fat

0g

Cholesterol

0mg
Sodium

220mg

Total Carbohydrate

22g

Dietary Fiber

1g

Sugars

1g

Protein

3g
* The nutrition information provided for this recipe is determined by the ESHA Genesis R&D software program. Substituting any ingredients may change the posted nutrition information.
Tips from our bakers
Looking for a more sour/tangier loaf? Try adding 1/2 teaspoon to 5/8 teaspoon sour salt (citric acid) to the dough along with the regular salt.
For a tasty loaf using commercial yeast (for faster rising), check out our recipe for Rustic Sourdough Bread.
What makes the sour in sourdough bread? It's a combination of lactic and acetic acids, created as the dough rises and ferments. Refrigerating the dough encourages the production of more acetic than lactic acid; and acetic acid is much the tangier of the two. Thus, sourdough bread that's refrigerated before baking will have a more assertive sour flavor.
To serve as pictured above, split a loaf around the perimeter, and layer one half with oil-packed sun-dried tomatoes (or oven-roasted cherry tomatoes) and fresh basil leaves.
Reviews
Do I need to adjust the recipe if the bought the wrong flour? I purchased KAF Bread Flour with 12.7% protein. I did try this but the dough was dense and never got fluffy. I ended up rolling it out and making bread knots. The flavor was good but I want to make tangy sourdough bread.
I'm not sure what I did wrong! When I gently turned out my dough from my proofing basket it turned into a pancake. It looked very puffy and perfect before then. I'm sure that it was me not the recipe :(

Don't worry Amanda, we've all been there! The dough had just over-proofed so it didn't have any gluten strength left to hold its rise. We recommend checking out our blog article "Over-proofed dough" by entering the title into the search bar above. There are some really helpful visuals, tips, and tricks in it to help know exactly when the dough is ready.

You'll know it's ready to be baked when you poke the dough and the indent very slowly fills back in. At that point, you'll want to get it into the hot oven as soon as possible to prevent it from over-proofing. We hope this helps! Annabelle@KAF
I've made this recipe several times before but my results were only so-so. This time I read thru all of the reviews and noticed that some successes were based on very closely following the instructions. I admit I tend to >>not<< closely follow them. So, this time I changed things up and really did not deviate. Amazing how that works. My results were so beautiful. So, in the past, I moved thru the steps too quickly. I just didn't have the patience to get to the outcome that the pictures on the blog so clearly show. I re-learned that lesson from 3rd grade: follow instructions as written all the way to the end. The result is fantastic.
Used cast iron dutch oven - came out beautifully - and more light than chewy. Am wondering how using bread flour would change the baking and texture/crumb/flavor.

You're welcome to use Bread Flour for a slightly chewier texture, Jonathan. You'll want to add about 2 teaspoons extra water for ever cup of flour to account for the added absorption. Annabelle@KAF
Can you use King Author bread flour for this recipe? Or does the recipe perform better with all purpose King Author flour.

You can indeed, Mary, you'll just need to add about 2 extra teaspoons of water for every cup of flour to account for the extra absorption. Annabelle@KAF
This recipe really gets you the tang you expect to get from a sourdough. It truly makes great loaves and is quite forgiving if you forget to do the folds while proofing. It would be great if you could help me understand the hydration percent (%) of it ,since i do not know how the starter counts (towards water or flour %? ). water is 340g and flour 602g so that is 56% hydration, but what about the starter and the total % it leads to ?

Hi there, Christos! We're glad that you enjoy this recipe! If you feed your starter equal parts flour and water, then half of the weight of starter called for in the recipe will count towards the hydration percentage. That makes the hydration of this recipe 64%. We hope this helps and happy baking! Morgan@KAF
I'm back for more feedback, actually (review: great recipe.) Once I started weighing the flour the dough got wetter. I had been baking this bread successfully for months before I wanted to go for bigger holes in the crumb (is that correct usage?) Bought the scale and weighed the flour and it was improved but once I started weighing the flour AND starter AND water, the dough got even wetter and when it was baked and sliced, looked exactly like biscotti. The HOLES were bigger, the taste was spectacular, but the rise? Also, it's so wet that after rising, I can't weigh out my loaves because.... well, I won't waste space explaining that. Suffice it to say that I'm barely able to shape them (twice) and they don't rise on the baking tray before oven time -- they spread. So, here's the facts involved: Flour: I use King Arthur Bread flour Oven PreHeat: solid half hour -- way past the 'beep, it's ready' beep Starter: 1/2 C King Arthur AP flour to 1/4 C filtered water, fed 4 hours previous to using (at it's peak) Baked loaves until 208F Will a proofing basket (on order) prevent the spread? I can always just go back to making it the way I did before, via volume, but I guess I'm disappointed it's not working for me the 'artisan' way.

Hi Sahari! We see you're in Florida so we're going to assume it's fairly humid where you live and flour absorbs water even if it's just in the air. Our blog article "Winter to summer yeast baking" has some helpful tips including reducing the water by 10% to 15% in humid weather to prevent your doughs from being unmanageably sticky. Annabelle@KAF
This is my second time baking this recipe and I love it. I may be exposing my naivete but is it ok to split each batch into 4 instead of two? Will baking be the same? I usually bake by eye anyway. Thanks!

That should be totally fine, Milo! They'll just bake a little faster so start peeking and checking for doneness a little earlier. Happy baking! Annabelle@KAF
I made this recipe today but began it yesterday. It is amazing, forgiving and delicious!! I have large, gorgeous holes in it and great sour flavor. I haven't baked bread in over a year but this is such a great recipe that it seemed to accommodate my clumsiness and lack of experience. My starter came from a friend and I've fed it but never expected my first attempt at a Free form bread to come out like this. Thank you for a great recipe!
Baked this today, and it turned out great in my dutch oven! Perfectly tangy (but not too tangy), nice airy inside, and a beautiful loaf to boot. Great recipe and instructions!