A customized print-friendly version of this recipe is available by clicking the "Print Recipe" button on this page.
Extra-Tangy Sourdough Bread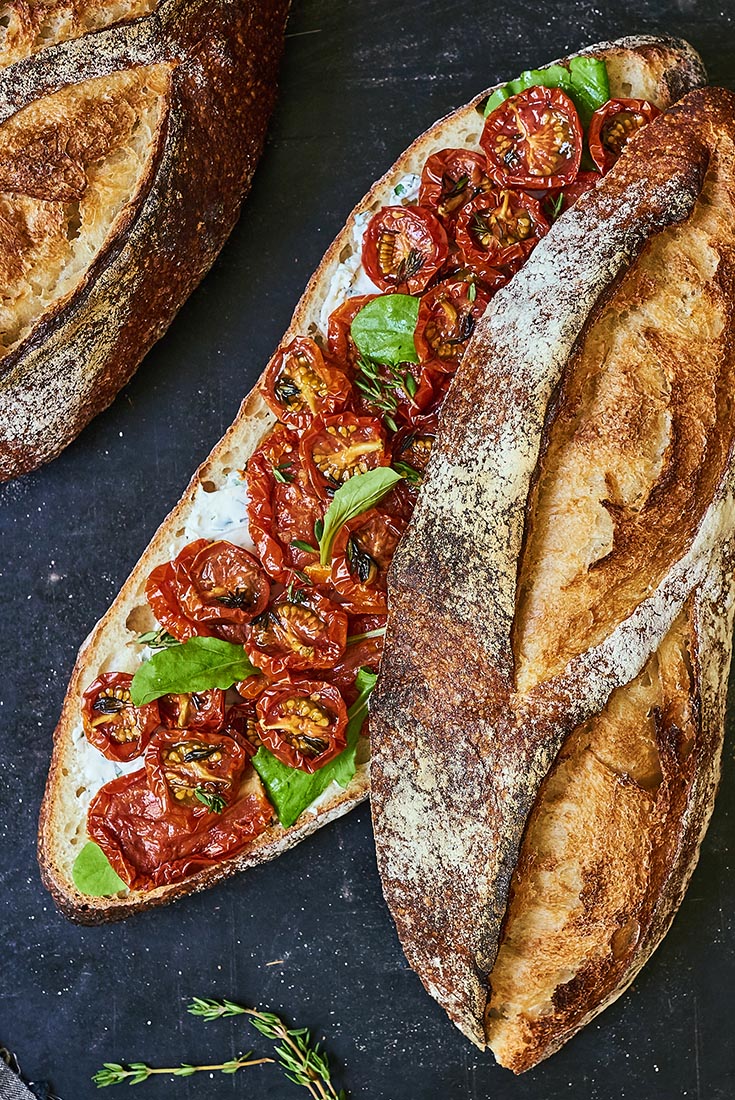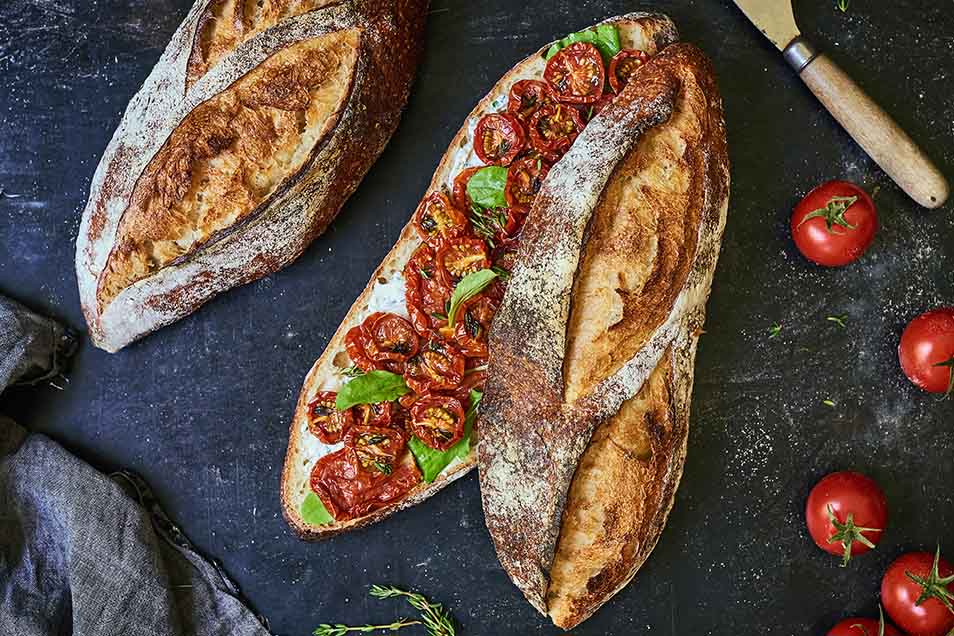 This bread, with its mellow tang, is perfect for those who like their sourdough bread noticeably sour, but not mouth-puckeringly so.
Instructions
Combine the starter, water, and 3 cups (12 3/4 ounces, 362g) of the flour. Beat vigorously for 1 minute.

Cover, and let rest at room temperature for 4 hours. Refrigerate overnight, for about 12 hours.

Add the remaining 2 cups (8 1/2 ounces, 241g) flour, and the salt. Knead to form a smooth dough.

Allow the dough to rise in a covered bowl until it's light and airy, with visible gas bubbles. Depending on the vigor of your starter, this may take up to 5 hours (or even longer), depending on how active your starter is. For best results, gently deflate the dough once an hour by turning it out onto a lightly floured work surface, stretching and folding the edges into the center, and turning it over before returning it to the bowl. Adding these folds will give you a better sense of how the dough is progressing, as well as strengthen it.

Gently divide the dough in half.

Gently shape the dough into two rounds or oval loaves, and place them on a lightly greased or parchment-lined baking sheet. Cover with lightly greased plastic wrap and let rise until very puffy, about 2 to 4 hours (or longer; give them sufficient time to become noticeably puffy). Don't worry if the loaves spread more than they rise; they'll pick up once they hit the oven's heat. Towards the end of the rising time, preheat the oven to 425°F.

Spray the loaves with lukewarm water.

Slash the loaves. If you've made round loaves, try one slash across the center, and a curved slash on each side of it; or slash in the pattern of your choice. For oval loaves, two diagonal slashes are fine. Make the slashes fairly deep; a serrated bread knife, wielded firmly, works well here.

Bake the bread for 25 to 30 minutes, until it's a very deep golden brown. Remove it from the oven, and cool on a rack.

Store bread, loosely wrapped in plastic, for several days at room temperature; freeze for longer storage.
Nutrition Information
Serving Size

1 slice

Servings Per Batch

12 per loaf
Amount Per Serving:
Calories

110

Calories from Fat

5

Total Fat

0g

Saturated Fat

0g

Trans Fat

0g

Cholesterol

0mg
Sodium

220mg

Total Carbohydrate

22g

Dietary Fiber

1g

Sugars

1g

Protein

3g
* The nutrition information provided for this recipe is determined by the ESHA Genesis R&D software program. Substituting any ingredients may change the posted nutrition information.
Tips from our bakers
For a tasty loaf using commercial yeast (for faster rising), check out our recipe for Rustic Sourdough Bread.
What makes the sour in sourdough bread? It's a combination of lactic and acetic acids, created as the dough rises and ferments. Refrigerating the dough encourages the production of more acetic than lactic acid; and acetic acid is much the tangier of the two. Thus, sourdough bread that's refrigerated before baking will have a more assertive sour flavor.
Reviews
I'm trying to bake this bread at the moment. Pulled it out of the fridge this morning after its 12 hours and could barely get the dough to take the rest of the flour. I had to add a bit of water just to make it take the flower. Now I messed left with a Shaggy sticky Mass and had to yet add more flour and needed a bit and stuck it back in the fridge. I'm stuck at this point don't know what to do. I have to leave it in the fridge for a bit as I have to leave but would like to know what I need to do when I get back thank you

We're glad you reached out to us! We encourage you to reach out to our friendly Baker's Hotline staff to talk you through the next steps at 855-371-BAKE(2253). Kindly, Annabelle@KAF
I'm a bread novice, still learning (e.g., forgot to add the salt last time :-o), but even when the crumb is a little gummy, or crust a little thick, it's so good we eat the whole thing anyway! We like extra tang so i let mine in the fridge 24 hours, to get the sour boosted, but also it works better with my work schedule. I used to live in California, and I'm so excited every time i get that bubbly crust that looks and crackles like the SF boules i used to get from La Boulange! I'm not sure why i get an excellent crumb with good sized mostly consistent holes, but even after it fully cools inside doesn't feel dry enough... I use an oven thermometer and slash the top, but but it always seems... "wet" compared to what it should. I don't think it rises as much as it should, either - the slashes don't spread apart like the photos, but it always tastes good and it's not raw inside at all. (I will say, the dough is always sticker than i think it should be after adding the remaining flour, even using a scale for all measurements.) I am using a month old wild /home grown starter raised on KAF sprouted wheat and migrated to KAF Organic Bead Flour, let it come to temp from fridge and give two feedings before use and it's very bubbly and active. Water is filtered, use a glass bowl for bulk rise, and bake on parchment in a gas oven on an aluminum sheet pan. Any advice is appreciated!

We're glad you're enjoying your sourdough journey, Rebecca! It sounds like your bread is actually coming out just as it should; moist, chewy, and sometimes even a bit sticky in the mouth. To me, a good sourdough bread almost sticks to the roof of my mouth (think peanut butter!) but if that isn't a texture that you enjoy, you could try letting the bread cool on the rack in your oven with the door cracked open. It will allow some of the excess steam to slowly leach out and give a slightly dryer texture. Happy baking! Annabelle@KAF
I'm very new to baking and a low carb kind of gal, but after returning from Europe and hearing about the health probiotic benefits from sough dough, I was on a mission. After buying the starter from King Arthur, I tried this recipe and fell in LOVE! My husband refuses to buy store bought sourdough bread! It's the perfect amount of tang for our taste buds and so easy to make, even though it takes a couple of days, but it's sooooo worth the wait. I use a banneton for proofing, I only use KA bread flour (haven't tried their organic bread flour yet so not sure how that would taste?) and prefer the dutch oven method for a moist crust. I've made this over a dozen times, sometimes leaving it in the fridge longer than the suggested time, and it turns out perfect, every....single....time. LOVE!

Susie, our organic and conventional version of bread flour are subject to similar specifications, so we don't think you'll notice a difference flavor-wise between the two flours. If you'd prefer baking with organic flour, we encourage you to give it a try in this recipe. We think you'll like the results! Kye@KAF
I've made this recipe successfully 4 times now! (Finally more successes than failures!) Recipe is very clear and with a proper starter fairly fool-proof. Also followed KAF's recipe for the starter with great success. Does anyone have any ideas for add-ins, to change things up? At what point in the recipe would I add them in? Thanks for any ideas!!

We're glad you're loving this recipe, Cathy. You might want to check out the article on our blog called, "No-knead bread three ways." Even though this recipe isn't a no-knead bread recipe, it includes a handful of delicious mix-in ideas, including cheddar cheese and jalapenos, cinnamon and raisins, and feta and olives. Happy baking! Kye@KAF
I used my starter witch I have had for over a year. I have tried many different recipes , and this one is the best and easiest. Bread came out perfect. Oven spring is great and has good ears on it. This will be my go to recipe for authentic sourdough.
After I let it rise in the fridge for 12 hours and it was time to add 2 more cups of flour, I found that my dough did not want to "accept" all of the flour. At most I might have been able to add another cup. Why would this be?

Robyn, it may be that your sourdough starter is stiffer (contains more flour) than the sourdough starter that was used to develop the recipe, which was 100% hydration (equal parts flour and water by weight). It's also important to either measure your flour by weight using a scale, or by fluffing and sprinkling the flour into your measuring cup one spoonful at a time, as shown in the Measuring Standards guide (link below the ingredients header). This will ensure that you're adding just the right amount of flour to your dough and achieving the perfect consistency. Happy baking! Kye@KAF
Thanks for the great recipes. Living in China, the only bread available is sweet and soft white bread so your website has been a really valuable resource to help me overcome those moments I miss home. I've already made your easy sourdough and tried this one, but I still don't find it to be particularly sour or tangy. I followed the directions exactly for one loaf, and the second loaf I put in the fridge overnight after shaping hoping to get some more tang. The second one is definitely tangier, but still falls far short of the sourdoughs I remember from home. Any tips on how to increase the sourness even more?

Alexander, it sounds like you might want to try finding the ingredient called Citric Acid, or sour salt and adding it to your dough. We hope you're able to find it locally baking because it's the key to making a truly tangy (albeit pleasant) loaf of sourdough bread. You can also experiment with adding some rye or whole wheat flour to your starter, or even consider taking a look at the series of articles on our blog about using a stiff starter. (Search our blog for "stiff starter" to find them.) This kind of starter tends to impart a stronger flavor. We hope that helps, and happy baking! Kye@KAF
Pretty good attempt for the first time, must say so myself! It took FOREVER...but that was expected and anticipated. I do not own a baking stone, so I used a dutch oven pan...it turned out cragglier than I would have liked, but I think that's due to the fact that I didn't use any flour in the final shaping. I'll definitely bake this again, and maybe revise my strategy. It is delicious! but doesn't quite look the way I'd like it to. And the crust is a bit thicker than I would prefer. First try: not too bad. Good recipe though
This bread came out great. Easy even though needs a little planning ahead. I have 2 questions. For this recipe or others, when it says 'fed' starter, does this means, that I have to take out my starter from the fridge 24 hours before I bake ? or do I need to feed it 24 before I bake? Second question. I baked this bread on baking sheet with parchment paper. Can I use a Banneton and if so, will the rise time will be the same?

We're glad you enjoyed it, fellow baker! Whenever we refer to "fed" starter, we mean a starter that is fully active and ready to use. How far ahead you need to pull it from the fridge and how many feedings it needs before it's ready to use will depend on how recently it has been fed. A starter that's been sitting in the fridge for 1-2 weeks may need only two successive feedings to become fully active, while one that's been there for a month may need more. To your second question, yes, you can definitely allow your dough to rise in a banetton. It helps to provide nice support for the shape of the loaf, and you shouldn't see any change in rise times. More questions? Feel free to give our Baker's Hotline a call at 855-371-BAKE. Mollie@KAF
I have made this a few times and it is very yummy! The only problem I seem to have is that I can't get the crust to have a nice color. It always comes out pale, no matter how long I bake it. Suggestions?

A pale crust is not uncommon when baking naturally-leavened sourdough bread, as the yeast consumes the sugars during the long, slow fermentation. If you'd like to achieve a darker crust, you can try adding 2 tablespoons of sugar to the dough and/or consider brushing your loaf with an egg wash before putting it into the oven. This will give it a slight sheen as well, which you might find pleasing. Happy baking! Kye@KAF