A customized print-friendly version of this recipe is available by clicking the "Print Recipe" button on this page.
Extra-Tangy Sourdough Bread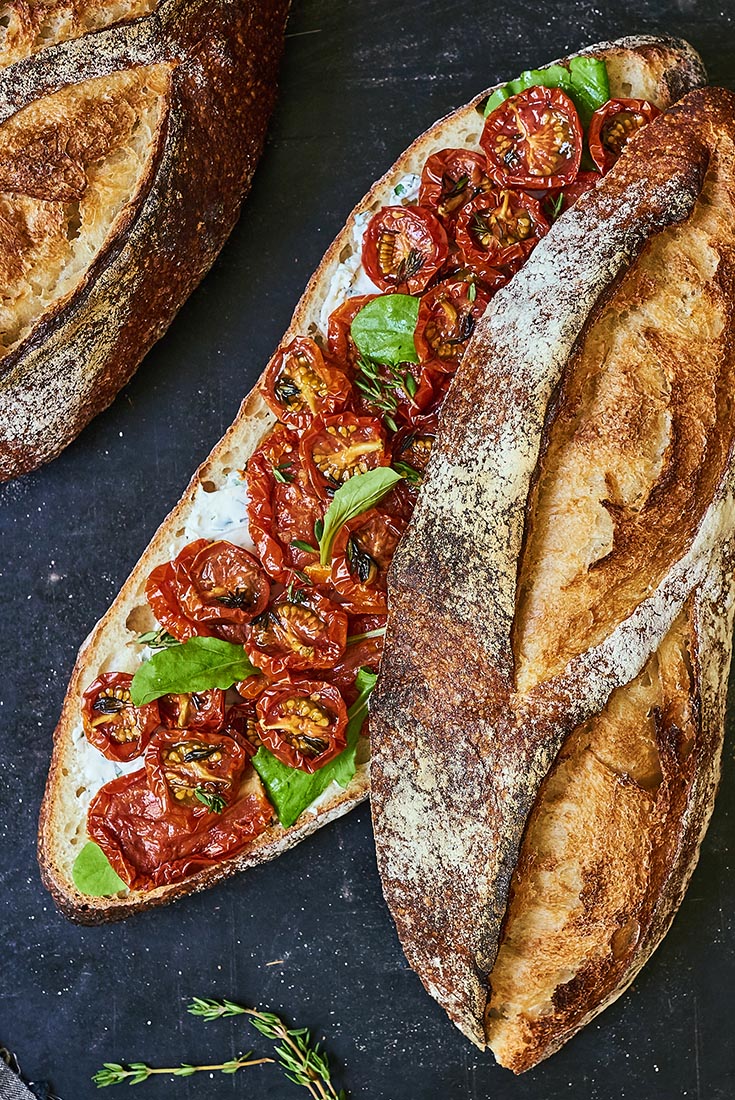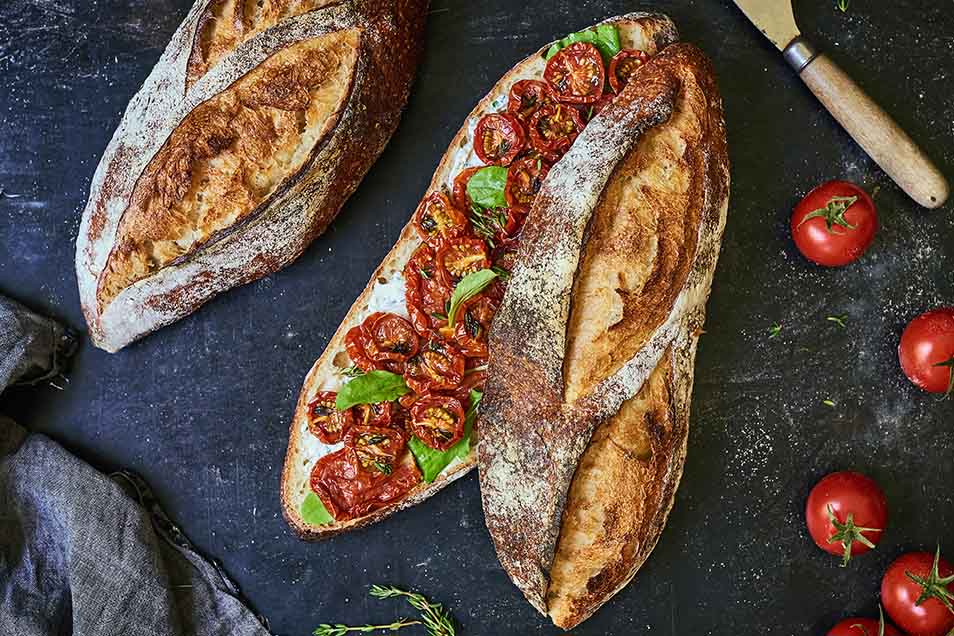 This bread, with its mellow tang, is perfect for those who like their sourdough bread noticeably sour, but not mouth-puckeringly so.
Instructions
Combine the starter, water, and 3 cups (12 3/4 ounces, 362g) of the flour. Beat vigorously for 1 minute.

Cover, and let rest at room temperature for 4 hours. Refrigerate overnight, for about 12 hours.

Add the remaining 2 cups (8 1/2 ounces, 241g) flour, and the salt. Knead to form a smooth dough.

Allow the dough to rise in a covered bowl until it's light and airy, with visible gas bubbles. Depending on the vigor of your starter, this may take up to 5 hours (or even longer), depending on how active your starter is. For best results, gently deflate the dough once an hour by turning it out onto a lightly floured work surface, stretching and folding the edges into the center, and turning it over before returning it to the bowl. Adding these folds will give you a better sense of how the dough is progressing, as well as strengthen it.

Gently divide the dough in half.

Gently shape the dough into two rounds or oval loaves, and place them on a lightly greased or parchment-lined baking sheet. Cover with lightly greased plastic wrap and let rise until very puffy, about 2 to 4 hours (or longer; give them sufficient time to become noticeably puffy). Don't worry if the loaves spread more than they rise; they'll pick up once they hit the oven's heat. Towards the end of the rising time, preheat the oven to 425°F.

Spray the loaves with lukewarm water.

Slash the loaves. If you've made round loaves, try one slash across the center, and a curved slash on each side of it; or slash in the pattern of your choice. For oval loaves, two diagonal slashes are fine. Make the slashes fairly deep; a serrated bread knife, wielded firmly, works well here.

Bake the bread for 25 to 30 minutes, until it's a very deep golden brown. Remove it from the oven, and cool on a rack.

Store bread, loosely wrapped in plastic, for several days at room temperature; freeze for longer storage.
Nutrition Information
Serving Size

1 slice

Servings Per Batch

12 per loaf
Amount Per Serving:
Calories

110

Calories from Fat

5

Total Fat

0g

Saturated Fat

0g

Trans Fat

0g

Cholesterol

0mg
Sodium

220mg

Total Carbohydrate

22g

Dietary Fiber

1g

Sugars

1g

Protein

3g
* The nutrition information provided for this recipe is determined by the ESHA Genesis R&D software program. Substituting any ingredients may change the posted nutrition information.
Tips from our bakers
For a tasty loaf using commercial yeast (for faster rising), check out our recipe for Rustic Sourdough Bread.
What makes the sour in sourdough bread? It's a combination of lactic and acetic acids, created as the dough rises and ferments. Refrigerating the dough encourages the production of more acetic than lactic acid; and acetic acid is much the tangier of the two. Thus, sourdough bread that's refrigerated before baking will have a more assertive sour flavor.
Reviews
This is a wonderful recipe & my 'training wheels' sourdough when I started baking again after 20 years. When I brush the crust with olive oil for the last 10 minutes of baking, then the loaf won't stale or harden too much for days & days. This does leave the crust softer, though, so if you're looking for a crunchy crust, don't do it. I've also make it with only 1/4 teaspoon salt, for my partner who must severely restrict his sodium. For that, I did a 20 hour first rise in the fridge to build up some tartness. It baked like a charm, and while I definitely missed the salt, the loaf was nowhere near as bland as commercial low-sodium bread. Simple & great!
Why was this recipe updated to not include the sour salt (citric acid)? I kept looking for that recipe but could only find this one, and I see in a reply to another comment that this one was updated. Why the update? The old recipe was great (as is this one, but I'm just curious about the change).

Desiree, we wanted to simply this recipe and showcase how phenomenol bread can be when baking with just a few simple ingredients. In the hopes of trying to offer a classic sourdough bread recipe, we've removed the optional sour salt. However, we think you bring up a good point that some bakers may have become acustomed to seeing this ingredient listed in the recipe and now are missing it. We've asked our Recipe Team to add the sour salt in the Baker's Tips for those looking to boost the flavor of this bread up a notch. Happy baking! Kye@KAF
I did KAF's sourdough starter recipe a little over a month ago and have maintained it since then. First of all, I love the way your instructions are laid out-very easy to follow for a beginner!I must say that with every new batch I make, the texture and taste gets better! My husband (who was a doubter at first, kept saying to just buy some from the grocery store!) keeps asking 'Is it bread day?'. So thankful for an easy to follow recipe that provides amazing sourdough bread! Also, on my first time making a loaf, I messaged your bakers with a time sensitive question (not expecting to hear back for a few days) and heard back within the hour! You guys are so helpful. Thanks so much!
I have been baking this every week for 6-8 months and love it. I have developed shoulder problems, so used a stand mixer last week and was delighted with the results. Question: I want to have this made on Wednesday to give to friends, but I do not have the time to do the 5 hr rise on Wed. Can I do that on Tuesday, then shape and refrigerate overnight, then do the 2 hr rise at room temp? I would have time for that. OR, could I do it all on Tuesday up to the bake step and refrigerate it overnight at that point?

No problem, Donna. Shape the dough on Tuesday and let it rise overnight in the fridge. When you're going to bake it, let it warm up to room temperature or until the surface is puffy. Happy baking! Annabelle@KAF
Simple, not too time consuming, and consistently delicious. This is THE recipe if you are making the jump into sourdough, as I was when I first made this.
I love this recipe. It works really well as written. My wife wants more 100% whole wheat bread for the health benefits so I've tried to modify this recipe with mixed results. I added 1 Tbsp of extra water per cup of whole wheat flour and I added 2 Tbsp gluten. However the loaves kind of break open and look rough and craggy rather than smooth and nice. My starter seems adequately active; the dough rises above the rim of my 5 qt Kitchen Aid mixer. Any suggestions on how to get similar to the written recipe but with all whole wheat flour?

We can definitely help you there, Brian. If you type "whole wheat sourdough" into the search bar on our website, the first recipe that pops up is for a wonderfully flavorful Whole-Wheat Sourdough Bread which uses whole-wheat flour exclusively. If you prefer to bake your loaves in a Dutch oven or on a sheet tray rather than in a loaf pan, go for it. It bakes especially beautifully in a Dutch oven. Bake it with the lid on for 35 minutes and then remove the lid for the final 5-10 and it will crisp and crackle in all of the glorious sourdough ways. Happy baking! Annabelle@KAF
This was my first successful sourdough boule using just my starter! It came out beautifully and had a lovely aerated crumb and tangy flavor. Too bad I can't post any pictures! I did have a question though. It's not clear to me why the recipe calls for adding extra flour after the 12 hour fermentation. What's the purpose of doing that - to give the starter a little extra boost? This is the only recipe I've seen that does that.

We're happy to answer that for you. When you mix some of the flour and water in the first step, it's equal portions of water and flour by weight. If you were to make a bread with that much water in comparison to the flour, it would be very loose, wet, and incredibly difficult to work with. Once you add the remaining flour after the 12 hours, it has the typical flour:water ratio of a standard loaf, and it can be easily kneaded and shaped. Hope this helps! Annabelle@KAF
I'm fairly new to sourdough, but have been experimenting with different long fermentation recipes. Disclaimer: I suffer from a form of celiac disease. That means I break out in a rash whenever I consume even the tiniest amount of wheat, rye, or barley in any form: OR SO I THOUGHT. Introduced to research regarding gluten intolerance and sourdough educated me on how a very long fermentation process changes the structure of grain to make it more tolerable for many who suffer. (TRY AT YOUR OWN RISK. NOT ALL WHO SUFFER GLUTEN INTOLERANCE CAN EAT SOURDOUGH) Because of my concern for a long enough fermentation time I added 12 hours to the initial stage, and 12 hours to the final proof before shaping. This is a delightful bread. Crispy crust. Great sour wheat taste. Easy. Silky crumb. LOVE IT!
Made this with some of the sourdough starter my boss let me take home that she started in 2004. I added a tsp of instant yeast due to the starter needing a spike and it came out with great flavor. Nice crust and chewy center. Made this into 6 pieces (should have done 4) for bread bowls.
Made this, first time, yesterday/today. Great taste, texture. I'm new to starter...six weeks in. So the "extra sour" component was not so, but I understand why. My dough seemed very wet. I followed recipe to the gram, using a scale and all. I kneaded with a KA mixer so didn't realize it was possibly too wet. Turns out it was NOT too wet. It was hard to handle for shaping as it felt sticky, jello like and poofy. I ran with it! Each half went into a proofing bowl after the folds. One bowl proofed at room temp, the other went directly into the fridge for next day bake. But after 2.5 hours proof I thought I was going to end up with a large cracker, so I decided to bake both boules and just move on. They both hit the oven at the same time, the 2nd direct from the fridge. To my surprise, the fridge loaf rose with oven spring 50 percent higher than the one proofed per the recipe. I've only cut into the shorter one so far and it was AMAZING! It was not dense at all. No big holes but still attractive looking slices. I won't be cutting into the high rise loaf until tomorrow. But, I wonder why the chilled loaf had such spring? It was in the fridge over 2 hours then direct to oven. I guess the whole batch was already fully proofed and wasn't needing the proofing time called for in the recipe? My room temperature ranged from 73 in the AM to 78 by bake time.

We love bread-experimentation questions, Bob. The reason the loaf from the fridge had such a big oven spring is likely because the fridge slowed down the rising. This meant that when it hit the heat of the oven, the loaf still had quite a bit of rising to do so it popped right up in the heat. We're glad you had a happy sourdough day! Annabelle@KAF