A customized print-friendly version of this recipe is available by clicking the "Print Recipe" button on this page.
Extra-Tangy Sourdough Bread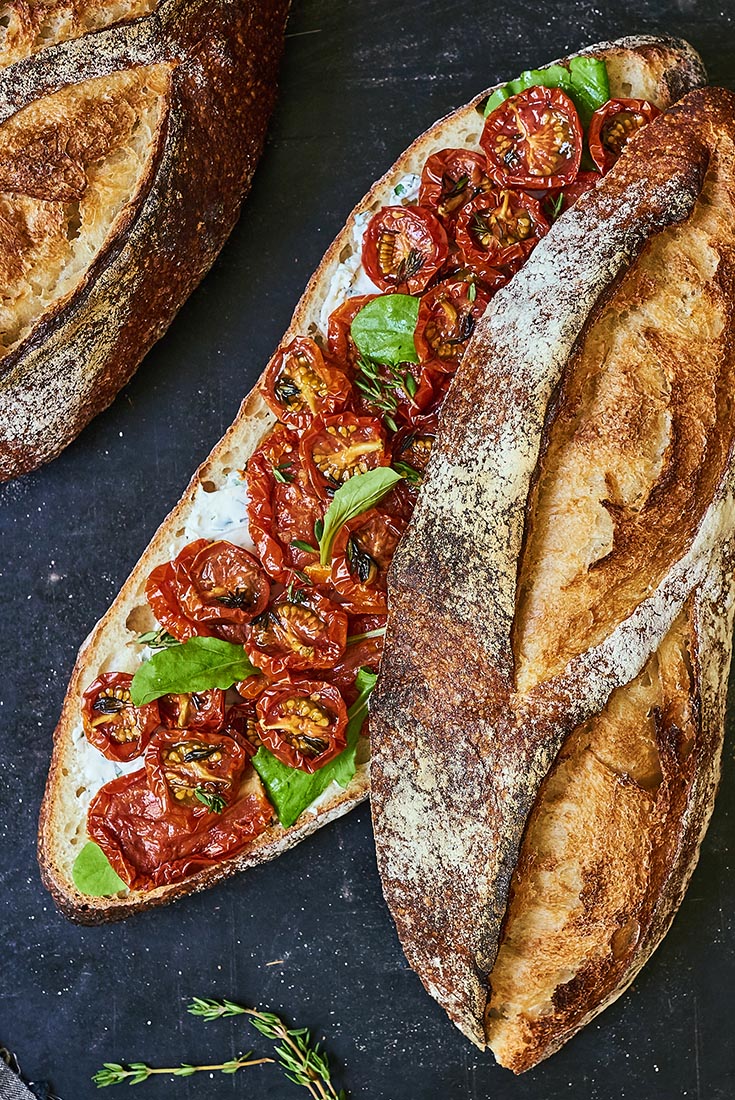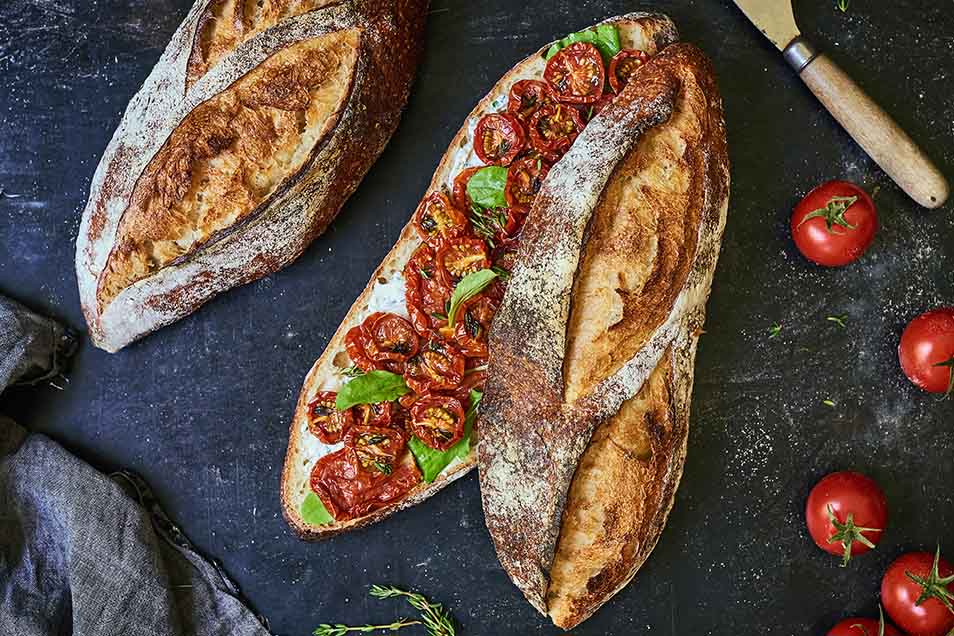 This bread, with its mellow tang, is perfect for those who like their sourdough bread noticeably sour, but not mouth-puckeringly so.
Instructions
Combine the starter, water, and 3 cups (12 3/4 ounces, 362g) of the flour. Beat vigorously for 1 minute.

Cover, and let rest at room temperature for 4 hours. Refrigerate overnight, for about 12 hours.

Add the remaining 2 cups (8 1/2 ounces, 241g) flour, and the salt. Knead to form a smooth dough.

Allow the dough to rise in a covered bowl until it's light and airy, with visible gas bubbles. Depending on the vigor of your starter, this may take up to 5 hours (or even longer), depending on how active your starter is. For best results, gently deflate the dough once an hour by turning it out onto a lightly floured work surface, stretching and folding the edges into the center, and turning it over before returning it to the bowl. Adding these folds will give you a better sense of how the dough is progressing, as well as strengthen it.

Gently divide the dough in half.

Gently shape the dough into two rounds or oval loaves, and place them on a lightly greased or parchment-lined baking sheet. Cover with lightly greased plastic wrap and let rise until very puffy, about 2 to 4 hours (or longer; give them sufficient time to become noticeably puffy). Don't worry if the loaves spread more than they rise; they'll pick up once they hit the oven's heat. Towards the end of the rising time, preheat the oven to 425°F.

Spray the loaves with lukewarm water.

Slash the loaves. If you've made round loaves, try one slash across the center, and a curved slash on each side of it; or slash in the pattern of your choice. For oval loaves, two diagonal slashes are fine. Make the slashes fairly deep; a serrated bread knife, wielded firmly, works well here.

Bake the bread for 25 to 30 minutes, until it's a very deep golden brown. Remove it from the oven, and cool on a rack.

Store bread, loosely wrapped in plastic, for several days at room temperature; freeze for longer storage.
Nutrition Information
Serving Size

1 slice

Servings Per Batch

12 per loaf
Amount Per Serving:
Calories

110

Calories from Fat

5

Total Fat

0g

Saturated Fat

0g

Trans Fat

0g

Cholesterol

0mg
Sodium

220mg

Total Carbohydrate

22g

Dietary Fiber

1g

Sugars

1g

Protein

3g
* The nutrition information provided for this recipe is determined by the ESHA Genesis R&D software program. Substituting any ingredients may change the posted nutrition information.
Tips from our bakers
Looking for a more sour/tangier loaf? Try adding 1/2 teaspoon to 5/8 teaspoon sour salt (citric acid) to the dough along with the regular salt.
For a tasty loaf using commercial yeast (for faster rising), check out our recipe for Rustic Sourdough Bread.
What makes the sour in sourdough bread? It's a combination of lactic and acetic acids, created as the dough rises and ferments. Refrigerating the dough encourages the production of more acetic than lactic acid; and acetic acid is much the tangier of the two. Thus, sourdough bread that's refrigerated before baking will have a more assertive sour flavor.
To serve as pictured above, split a loaf around the perimeter, and layer one half with oil-packed sun-dried tomatoes (or oven-roasted cherry tomatoes) and fresh basil leaves.
Reviews
I baked this bread in my baguette pan so it made three loaves and it turned out super crispy and chewy. Loved it. This is my new company is owing bread!
As with any recipe this has taken a little bit of adapting to suit my kitchen environment and my starter, but it's been working wonderfully! I've made this recipe a handful of times using a classic well-maintained active starter. I've found it gets a little dry after adding the 2 cups of flour day two, and have either added more water or left it a little more 'lumpy' after kneading than I'm used to, and both have turned out well. The only issue I've had here is that I have an electric oven that doesn't heat very evenly - the first time I baked these on parchment paper and a cookie sheet the bottom burnt to a crisp (the parchment paper was black and stuck to the bread). What I've found works, since I don't have a dutch oven, is to move the oven rack to the highest position I can get it, and then place my oldest, dark-colored cookie sheet on the bottom rack below the bread to redirect the heat. I then have been baking the bread on parchment paper & two stacked lighter-colored nonstick pans and it works like a charm! I prefer a tangier bread and would love to do this adding citric acid once I get some, but I think you do get a really nice subtle tang with this recipe as-is that you expect out of a good sourdough. 5 stars provided you are willing to finnagle a bit and adapt to your own environment!
Let me start out by saying my sourdough starter was ripe and very active. I baked my loaves in a cloche. The first one I did the final rise in a cold cloche and baked it at 450. Meanwhile my second loaf was doing it's final rise in a boule. After the first loaf was done I plopped the second loaf out of the boule onto the hot cloche and baked it. They both came out absolutely beautiful. Got a nice oven spring on both and they baked up with a nicely browned crisp exterior, with raised and darkened sides to the slashes I made in them before putting in oven. The taste was outstanding and the crumb chewy! So much more impressive than my first try which was on parchment paper on a cookie sheet. Those loaves were pale looking in comparison and did not rise nearly as well. From now on these will be baked in my cloche. Thanks KA. Another great and easy to follow recipe.
I've made this recipes so many times I don't need to look at the recipe. I've made it as two loaves, and also one big round loaf. I add additional citrus salt for a more "sourdough" flavor. I have found sourdough recipes work best in the summer when it is nice and warm and there is lots of bacteria in my kitchen. Winter loaves don't rise as well. It's great toasted, or not. With butter or PB&J, or just plain. Although most recipes call for lukewarm water, I usually use cold as has been recommended by some professional bakers. I use Bread flour for this bread, not all purpose.
Sorry I meant can I bake it in a cloche using the full recipe

Thank you for clarifying, CJ. This recipe would be a bit too big to fit in one cloche. A recipe using 3 cups of flour would fit well in one, but this calls for 5 cups. You could make a loaf in the cloche and a few rolls with any extra dough if you'd like, or do one in the cloche and make a smaller one to bake on a sheet tray. Annabelle@KAF
Can you make this as one loaf instead of two? Wouldn't you need to make it as one loaf for a Dutch oven? Does anything in the recipe change if you are making it as one loaf? Thanks

Hi CJ. You can cut this in half to make one smaller loaf that can still be baked in a Dutch oven. No other changes! Annabelle@KAF
So I'm in the middle of this recipe and by the end of Step 4 (5 hours at room temp, folding every hour), I'd timed it poorly and it was late at night. Rather than baking it at 4am, I let the dough sit overnight. This morning I tried halving it for Step 6, but it'd lost it's elasticity, was super sticky and wet. Rather than keep going, since I figured it would turn out flat and dense, I kneaded some more and put it back in a bowl hoping it'll bounce back. Any suggestions or tips would be most appreciated!

Hi Danielle, we're sorry for the delay and hope your bread turned out well! If you ever have a baking question or concern, please call our free and friendly Baker's Hotline at 855-371-BAKE (2253) and they'll be happy to help. Annabelle@KAF
I've been making this recipe weekly for over two years and I love it! I've had a few failures along the way which I determined were always operator error. ;) I do have a question: sometimes (like today) my loaves split open from the slash marks much further than the slash. What am I doing wrong?

It sounds like you're getting a lot of oven spring, Stephanie, if your loaves are opening up significantly in the oven. This means the yeast has quite a bit of energy still left within it, so try extending the rising time with your next batch. If the loaves rise more fully, you should see just a normal amount of opening in the slashes during baking. Kye@KAF
I'm new to sourdough, but not new to bread baking. Just finished baking these loaves and they are beautiful! I measured by weight and used King Arthur organic bread flour in the overnight sponge and organic all purpose in the added flour on the second day. I then bake them in a preheated cast iron Dutch oven. The crust is nice and crisp, and the crumb chewy! Very happy with this recipe.
Used this for my first attempt at sourdough bread in many years. The finished loaves didn't look so beautiful (mottled color, might have left them in the oven a bit too long), but the taste and texture were excellent, really good and sour. Was worth all the work.

To achieve a more even coloring on your loaves, try tenting them with foil at the beginning of the bake and then remove it halfway through baking. The loaves will end up browning nicely but this approach should help develop a more even color base. Happy baking! Kye@KAF