A customized print-friendly version of this recipe is available by clicking the "Print Recipe" button on this page.
Famous Department Store Chocolate Chip Cookies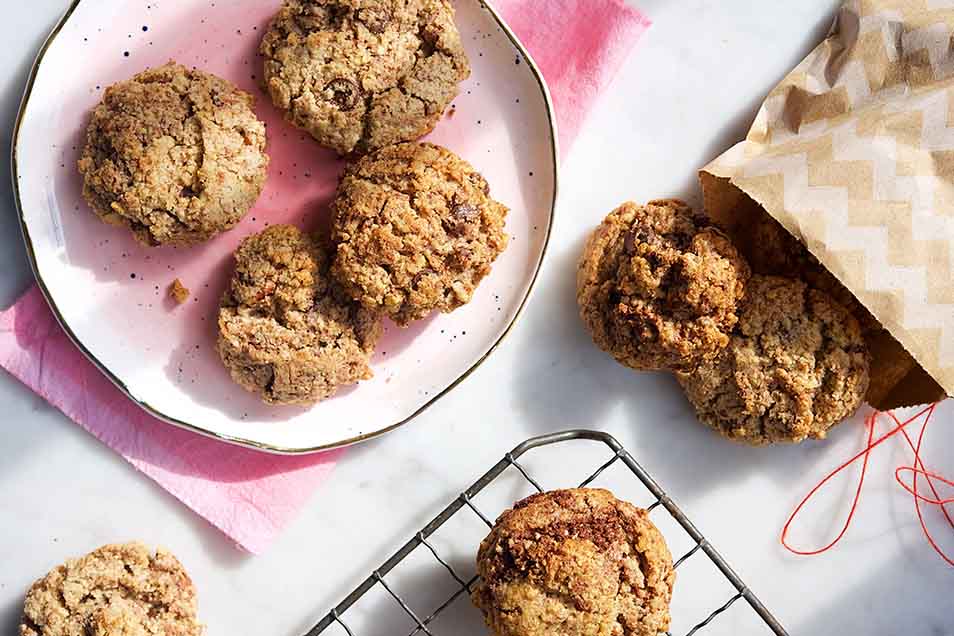 Did you hear the one about the (choose one) Neiman-Marcus, Mrs. Field's etc. chocolate chip cookie recipe?

This story has been making the rounds for years now, and shows no signs of dying down. It seems someone — usually a friend of a friend of the person telling the story — contacted some famous retailer, by phone (or at the store) for their "secret" chocolate chip cookie recipe. Told the charge would be "two-fifty," this person said to charge it to their credit card. Later they discovered the actual charge was $250.00, and then and there they decided to "tell the world" the "secret" recipe, to get even.

Well, it's a funny story, but completely untrue. Neiman-Marcus will gladly let you in on the secret of their chocolate chip cookies at no charge. One good thing has resulted from this story, however; the following chocolate chip cookie recipe.
Ingredients
2 cups (32 tablespoons) unsalted butter, softened
2 cups granulated sugar
2 cups light brown sugar
4 large eggs
2 teaspoons vanilla
5 cups rolled oats
1 teaspoon salt
2 teaspoons baking powder
2 teaspoons baking soda
3 cups walnuts or pecans, chopped
8-ounce semisweet chocolate bar, grated (1 1/3 cups grated chocolate)
4 cups chocolate chips
Instructions
Preheat your oven to 375°. Line several baking sheets with parchment paper.

Combine the butter, granulated sugar, and brown sugar until smooth.

Add the eggs one by one, then add the vanilla.

In a blender or food processor, grind oats until they're a fine powder.

Add oats, flour, salt, baking powder, and baking soda to butter/sugar mixture; mix well.

Stir in nuts, grated chocolate and chips.

Drop dough by tablespoonfuls onto your baking sheet (a tablespoon cookie scoop makes short order of this job). Gently flatten each dough ball with the palm of your hand to about 1/2" thick.

Bake the cookies for 12 to 15 minutes, or until they're beginning to brown. Remove them from the oven, and cool right on the pan.

Cookies will keep for up to a week in a closed container; freeze for longer storage.
Tips from our bakers
This version comes from Janet Matz of Norwich, Vermont, a good friend of King Arthur, who got it from "a friend of a co-worker of a friend."
Too many cookies at once? Scoop all the dough onto cookie sheets, closely packed together. Freeze until solid, then transfer the dough balls to plastic bags. Freeze for up to one month. To bake, let the cookies thaw on a tray while you preheat the oven, and bake as above.
Reviews
I did not use the grated chocolate nor the chips and nuts, as I substituted (volume for volume) milk chocolate covered raisins for those three. Everything else was the same, but we like raisins in our oatmeal cookies. Oh-- a pinch of nutmeg was nice. Your notes say to freeze half if it's too much. I just halved the recipe and was a hero--
I left out almost a cup of the chips and almost a half cup of the nuts, and I still barely had enough dough to encase the chips and nuts I had. They were a big hit with everyone, but I think less chocolate would be better so you could taste the dough. Next time I am halving the chips and nuts.
These were great Charlotte but love your (love buns) very much,,,,hmm that didn't sound right
I too have the "secret recipe" and have made it many times. The only difference is that my recipe calls for an oven temp of 375 and a bake time of 6-8 mins. The shorter time in the oven produces a softer "just baked" cookie. You take them out when they are just starting to turn golden. They will look like they still need to bake longer but you let them sit on the cookie sheet for 2 mins before removing to cool in the counter. If you like soft batch cookies, this is the way to go
I am a New Zealander and have been making this recipe for many years. It was published in a fund raising Hospice Book, from an old lady who was charged 250.00 for it in America. It was told to her as a Neiman Marcus recipe. Hospice is a charity giving relief and terminal care which had great support here. Wherever the recipe did originate, thank you not only is it a lovely go to recipe but has also raised a lot of money for a worthy charity. Thanks to whoever it wasxx
As with so many other bakers this has been my go-to recipe for years. Only modifications have been to never add nuts and no grated chocolate. The former is to avoid potential allergy situations while the latter, the family taste buds consider unnecessary. Made the full recipe a few days ago. Some in the freezer. Some in the cookie jar. Some on the way to friends.
I followed the recipe exactly as written. They were good, just really crispy and I took them out of the oven at the minimum time and they were still really crispy. Crispy like making-a-mess-when-you-eat-them crispy. I was careful with my measurements too, making sure the flour was not packed. I also used a lot of bowls measuring the ingredients so it took a while to prep and clean up. I don't think the prep time is accurate, there are a lot of ingredients to get ready, and it took a long time to spoon out that many cookies. I prefer a more chewy cookie so I will try some of the hints that other bakers have provided. They were still really good but time consuming to make so not a good cookie to make if you don't have much time available.
These are some of the best chocolate chip cookies I've ever had. I've baked them with and without nuts but otherwise have followed the recipe (both were good). My only critique is that the end up a little crispier than I would ideally likeeven at the lower end of the bake time. I'm wondering whether reducing the baking temperature to 350 may help.

Hi, Ryan! If you would like a softer cookie, you could certainly try lowering the temperature of the oven. We suggest checking them at the shorter end of the recommended baking time as you have been, but with the lowered temperature they may take a few extra minutes to bake through. Happy baking! Morgan@KAF
I have had this recipe for many years, My youngest son was 12 at the time, he is 40 now. This the only recipe that I make for chocolate chip cookies. I made the first batch at home for us a week before our church bake sale to raise money for our youth group. The second batch for the bake sale was made with the additions below. Back then I used a soup spoon that was smaller than most soup spoons but shaped like a tsp. The measurement of the spoon though would have a tiny bit more that your tablespoon scoop but not much larger..I dropped the dough onto the cookie sheet with that size so the cookies were a bit larger but not huge. I put out a dozen cookies quartered, just enough for a nice 1 bite. I was stunned wheh the entire batch sold for $100 provided they got the recipe. The yield was 12 dozen cookies. ADDITIONS MADE TO THE SECOND BATCH OF COOKIES: My spoon that I used to measure the peanut butter is the key to the peanut butter addition I made. I have a stainless steel cooking spoon the bowl of which is 4 inches long, & is barely 1/2 inch in depth and is 2 - 5/8 inches at the widest point tapering down to a rounded end but just short of a pointed end. I used this spoon to add some Jiff ExtraCrunchy Peanut Butter. The only difference in my original recipe from yours is that it simply called for "nuts". For some the idea of pecans didn't "trip my trigger". Ionly Macadamia nuts on hand, they were delicious & I also love walnuts in them. Ingredient Changes 1 heaping spoonful of Jiff Extra Crunchy Peanut Butter, heaped 2 inches higher than if it was a level spoonful. 1 16 oz. package of Toll House semi-sweet chocolate chips** 1 16 0z. package of Toll House milk chocolate chips** 1 1/2 to 2 cups of raisins, simply because we love raisins. **These additions meant that I omitted the Hershey semi-sweet chocolate bar & the 4 cups of chocolate chips from the original recipe. Of course all of these additions made the batter too stiff to stir by hand. So I called my daughter Blanche, who is a professional chef to ask "should I add more eggs or what?" (I was in a panic mode here). She told me to add some honey a little at a time until I got the right consistency. I did not roll them into balls rather I dropped them by rounded spoonfulls onto the cookie sheets. I baked them at the same temperature above for 10 to 12 minutes. I got a yield of right around 12 dozen cookies. I live in a small town & I will be baking a batch for our local fire department & a batch for our police department as a "thank you" gift for them when we receive our pension check on the 30th of this month. Wishing everyone at King Arthur flour, I used King Arthur flour for many years. Your baking products are extremely high in quality; you're only a phone call away when I have a problem or a question. Even at 81 there have been many times through the years I've taken advantage of the phone service. Thank you for being there!
I halved recipe, no nuts, just chopped "milk chocolate" - such a good recipe! The cookies keep getting better and better each week, as I make "cookies drops", freeze them, and bake 1 dozen at a time. The cookies spread so nicely! Thank you so much KAF for yet another good recipe! Appreciate it!