A customized print-friendly version of this recipe is available by clicking the "Print Recipe" button on this page.
Famous Department Store Chocolate Chip Cookies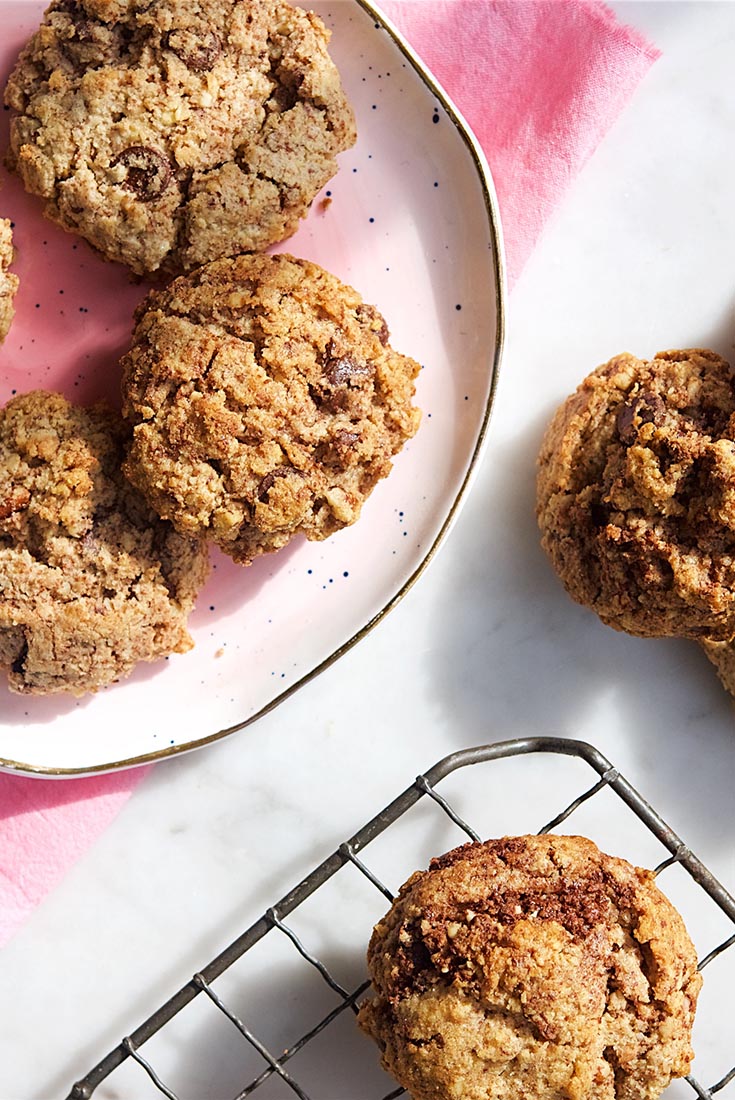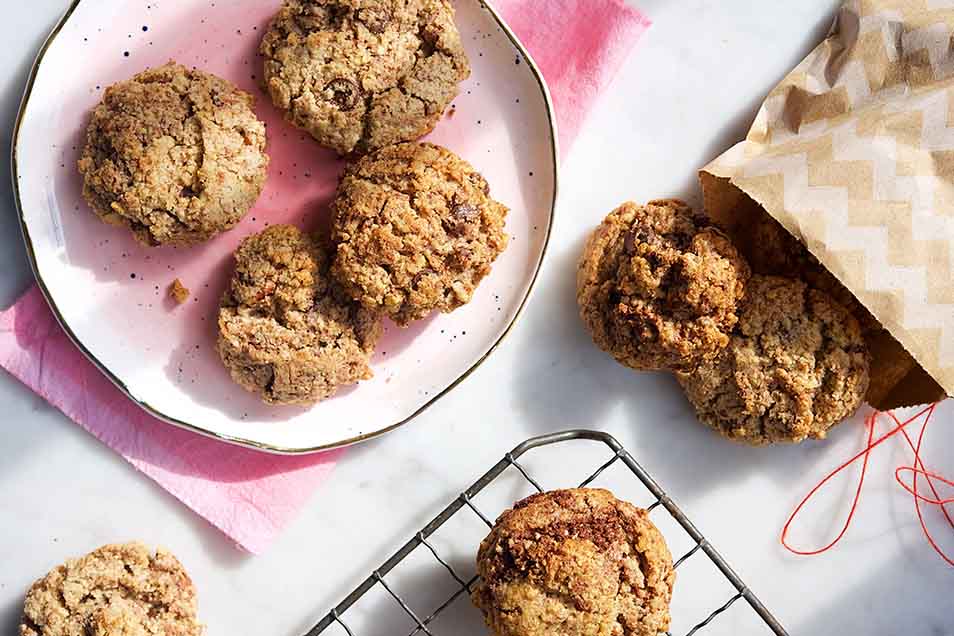 Did you hear the one about the (choose one) Neiman-Marcus, Mrs. Field's etc. chocolate chip cookie recipe?

This story has been making the rounds for years now, and shows no signs of dying down. It seems someone — usually a friend of a friend of the person telling the story — contacted some famous retailer, by phone (or at the store) for their "secret" chocolate chip cookie recipe. Told the charge would be "two-fifty," this person said to charge it to their credit card. Later they discovered the actual charge was $250.00, and then and there they decided to "tell the world" the "secret" recipe, to get even.

Well, it's a funny story, but completely untrue. Neiman-Marcus will gladly let you in on the secret of their chocolate chip cookies at no charge. One good thing has resulted from this story, however; the following chocolate chip cookie recipe.
Ingredients
2 cups (32 tablespoons) unsalted butter, softened
2 cups granulated sugar
2 cups light brown sugar
4 large eggs
2 teaspoons vanilla
5 cups rolled oats
1 teaspoon salt
2 teaspoons baking powder
2 teaspoons baking soda
3 cups walnuts or pecans, chopped
8-ounce semisweet chocolate bar, grated (1 1/3 cups grated chocolate)
4 cups chocolate chips
Instructions
Preheat your oven to 375°. Line several baking sheets with parchment paper.

Combine the butter, granulated sugar, and brown sugar until smooth.

Add the eggs one by one, then add the vanilla.

In a blender or food processor, grind oats until they're a fine powder.

Add oats, flour, salt, baking powder, and baking soda to butter/sugar mixture; mix well.

Stir in nuts, grated chocolate and chips.

Drop dough by tablespoonfuls onto your baking sheet (a tablespoon cookie scoop makes short order of this job). Gently flatten each dough ball with the palm of your hand to about 1/2" thick.

Bake the cookies for 12 to 15 minutes, or until they're beginning to brown. Remove them from the oven, and cool right on the pan.

Cookies will keep for up to a week in a closed container; freeze for longer storage.
Tips from our bakers
This version comes from Janet Matz of Norwich, Vermont, a good friend of King Arthur, who got it from "a friend of a co-worker of a friend."
Too many cookies at once? Scoop all the dough onto cookie sheets, closely packed together. Freeze until solid, then transfer the dough balls to plastic bags. Freeze for up to one month. To bake, let the cookies thaw on a tray while you preheat the oven, and bake as above.
Reviews
Wow. WOW. These were the best chocolate chip cookies I've ever made. All of the chewy-but-crisp-on-the-outside goodness without the excessive greasiness of ordinary cookies. I cut the recipe in half and got 40 cookies with my 1.5 tbsp scoop. I omitted the nuts and grated chocolate but they were delicious regardless. Mine spread beautifully and looked exactly like typical chocolate chip cookies - not the craggy, textured goodness shown in the picture above. I think this may be because I ground my oats to a fine powder, accidentally melted the butter in the microwave while softening it, and refrigerated the dough for 2 hours before baking. Do carefully watch the oven while baking to make sure they don't brown too much- at 12 minutes my first tray was a nice golden brown.
Delicious cookies! I love that you can make a huge batch and also freeze a couple dozen. I would like to know the nutritional information for this recipe and the serving size.
I have been baking these cookies for years. Following a tip for another chocolate chip cookie recipe i read in the Washington Post Food Section a few months ago, I now refrigerate the dough for 36 hours before baking. Even better.
Love the taste of this recipe, but my cookies will not spread out! Instead of grinding the oatmeal, I'm just using the exact amount of oat flour. Would that have anything to do with them just ending up like little baked mounds? They taste amazing though! I also substitute the King Arthur measure for measure gluten free flour for regular ap flour, but I don't think that has to do with the not spreading-issue. As a gluten free home baker, I substitute with it in all my baked goods recipe, and have never had this issue before.

Hi Leslie, 1 cup of oat flour weighs 3 1/4 oz. while 1 cup of rolled oats weighs 3 1/2 oz. If you're measuring out 5 cups of oats and then grinding it in a food processor, you're adding 17.5 oz. of oat flour instead of what would be required, 16.25 oz. This additional amount is likely what caused your cookies not to spread. Try measuring your oat flour by weight for best results next time, or using about 1/3 cup less oat flour. This should give you just the texture you're looking for. Happy baking! Kye@KAF
Been making this recipe for years and still making them. Stick with the recipe. No need to make any changes.
That are so many chocolate chip cookies out there and I have tried quite a few. This is now my BEST CCC! The only change I made is reducing the sugar by 50% as we do not have sweet tooth.
I made 2 batches. The first, I left out the nuts and the shaved chocolate. I used all brown sugar rather than the mixture of white and brown. I used a size 40 cookie scoop and came up with 7 dozen cookies. The second batch I used all white sugar and left out the chips and nuts. I reduced the amount of all purpose flour by 1 cup and added a cup to KA triple blend cocoa an a 1/3 cup of black cocoa. I like them both. We shall see how they go over at church tomorrow.
I love these and make every christmas and they can be herd until I watched Good Eats one day he said for a chewy cookie, take however many eggs it is and do like if it was 2 use one egg and one yolk so for this one its 2 eggs and two yolks now they aren't hard and I make them as often as I can!!
I found this recipe back when it first must have started in circulation. My recipe uses a shorter baking time and only calls for 4 oz. of choc chips...the added chips can only improve it! LOL