A customized print-friendly version of this recipe is available by clicking the "Print Recipe" button on this page.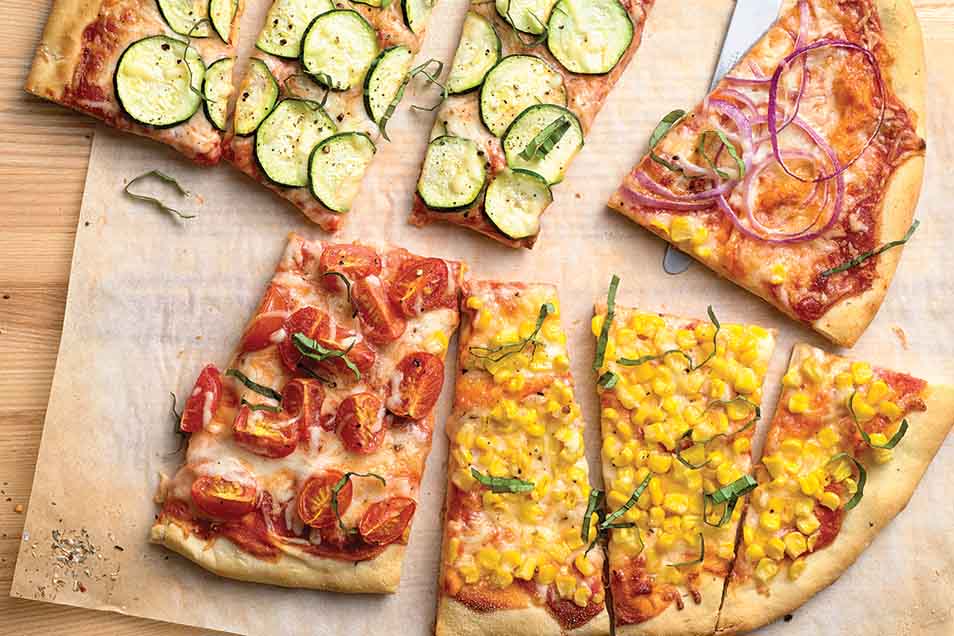 This pizza features a versatile crust topped with some of the freshest flavors of summer.
Ingredients
Topping
1/2 cup tomato sauce
1 cup shredded mozzarella cheese
1 cup thinly sliced zucchini
1 1/2 cups halved cherry tomatoes
1/2 cup corn kernels, fresh of frozen/thawed
1 small red onion (3 ounces), thinly sliced
Instructions
To make the crust: Mix and knead together all of the ingredients until a soft, smooth dough forms.

Let the dough rise, covered, for 45 to 60 minutes, then refrigerate it for 4 hours (or for up to 36 hours).

To prepare the pizza: With lightly greased hands, stretch the dough onto a lightly greased sheet of parchment into a rectangle about 15" x 11".

Cover and let the dough rest for 45 to 60 minutes.

Place a baking stone in the middle of your oven, and an oven rack above it. Preheat the oven to 450°F.

Spread the tomato sauce onto the dough.

Transfer the pizza and parchment to the hot stone with a peel or giant spatula. Bake it for 6 to 8 minutes, then remove it from the oven.

Distribute the cheese over the sauce, then top each corner with one of the four remaining toppings.

Return the pizza to the top rack, and bake for 12 to 15 minutes, until the crust is nicely browned.

Remove the pizza from the oven, and serve hot or warm.

Yield: 1 large pizza.
Tips from our bakers
Don't have our Perfect Pizza Blend? Substitute with 3 cups of unbleached all-purpose flour or 1 3/4 cups unbleached all-purpose flour and 1 1/4 cups semolina flour.
Easy-Roll Dough Improver is an optional addition to help you roll out your dough smoothly and easily.
Pizza Dough Flavor and Pizza Seasoning are both optional, but delicious ways to enhance your crust's flavor.
The refrigerator time allows the dough to develop some flavor. If you're pressed for time, and would prefer your pizza to be ready in a few hours, leave the covered dough at room temperature for 2 hours before stretching, assembling, and baking.