A customized print-friendly version of this recipe is available by clicking the "Print Recipe" button on this page.
Farmhouse Buttermilk Cake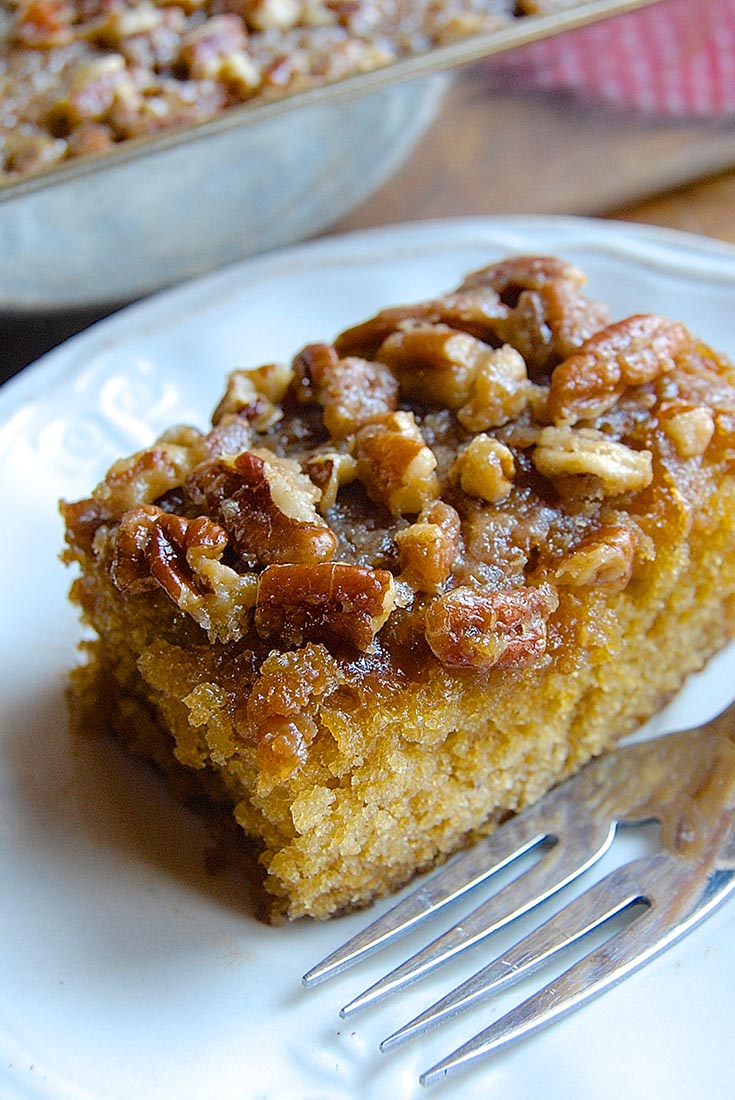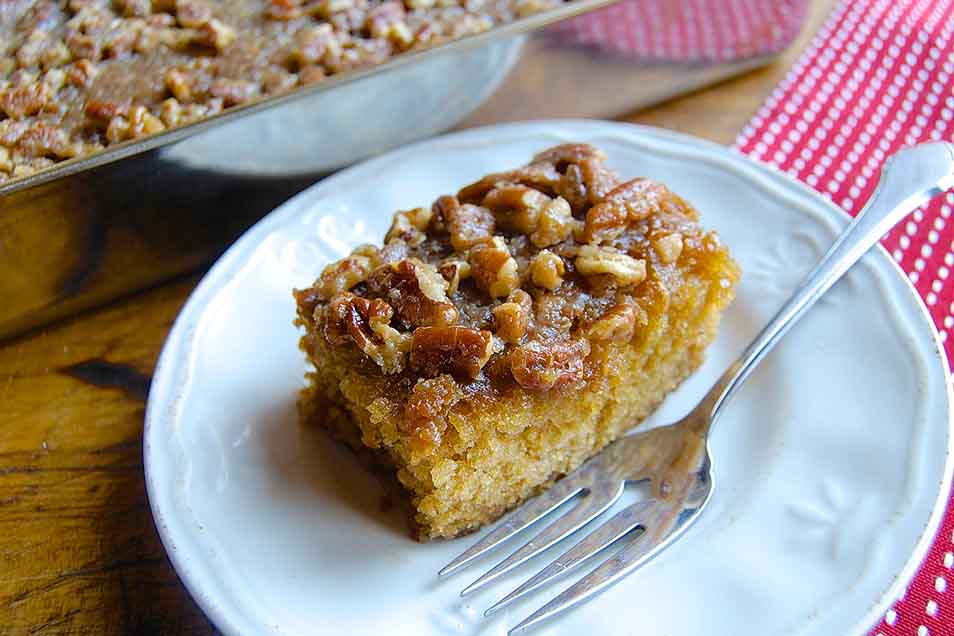 This old-fashioned brown sugar cake derives much of its delightful texture from buttermilk. The nutty pecans and sugar on top are a perfect complement to the moist cake underneath.
Ingredients
Cake
1/2 cup butter
2 cups light brown sugar
2 large eggs
2 cups buttermilk
2 teaspoons vanilla extract
2 teaspoons baking soda
3/4 teaspoon salt
Topping
6 tablespoons melted butter
1 cup light brown sugar
1/4 cup milk
1/8 teaspoon salt
2/3 to 1 cup diced pecans
Instructions
Preheat the oven to 350°F. Lightly grease a 9" x 13" cake pan.

Beat the butter and brown sugar together till smooth.

Add the eggs, beating till smooth.

Stir in the buttermilk and vanilla extract.

Add the baking soda, salt, and flour to the wet ingredients, beating till thoroughly combined.

Pour the batter into the prepared pan.

Bake the cake for 35 minutes. Towards the end of the baking time, prepare the topping.

Stir the butter and the sugar together. Add the milk, pecans, and salt. The glaze will be thick but pourable.

Top the baked cake with the topping, and return to the oven for another 10 minutes.

Remove the cake from the oven. The topping will look very runny. You can eat the cake hot, with the glaze still gooey; or let the cake sit at room temperature for a few hours, by which time the glaze will have set.

Yield: 24 servings.
Reviews
The cake had a very light and airy crumb. Poked holes in the cake so that some of the liquid from the topping would seep into the cake. Added a little whiskey to the batter and topping. Delicious!
I also had some buttermilk to use up and came across this recipe. So good and so easy! I made this in two 9" round pans (one to keep and one to give away and I didn't need to make any adjustments to the recipe. However, I'm sure glad I read the reviews about the overflowing possibility. I baked the cakes on a cookie sheet, and the overflow didn't make a sugary mess in my over. I made a note in the recipe to use pans with high sides (whether it's a 9x12 or 9" rounds). Very delicious cake.
I followed the recipe except I didn't add the pecan glaze. I baked the cake for 45 minutes and it came out perfect. I substituted the pecan glaze topping for a real maple syrup buttercream frosting. The cake was a hit and definitely a keeper.
I made this for a dinner party and it was a huge hit. My only concern was that after 35 minutes the center still seemed too soft to support the pecan topping. I baked it another 5 minutes before adding the topping but the center still sank. I used a clear glass baking dish, rather than my usual dark non-stick metal, I'm not sure if that is what made the difference or not. At the end of the baking time, the center still seemed underdone (my husband ate it all anyway - the only dessert with nuts I've ever seen him eat) and the edges were perfect. Going to try again this weekend with the darker metal pan to see if that helps it bake more evenly. I would love to hear from someone at KAF if my theory is on the right track or if there is something else to consider. Most importantly the flavor, texture, and taste of this cake is obscenely good. We planned another dinner party just so we could have an excuse to make it again. The batter is incredible and I think other toppings (cream cheese frosting, anything with caramel) would also work well. A very versatile base.
I had a little extra buttermilk in my fridge and was looking for a recipe to finish it up. I came across this recipe and made it exactly as it is written, and it was absolutely delicious ! It was not sweet at all, but just right. The cake baked so beautifully and the topping just made it scrumptious. Both my Dad and my Husband couldn't get enough either. This was a huge hit in my house and will definitely be a keeper. I will be making this again !! Thank you so much for sharing !!!
I also used this recipe to use up some buttermilk I had in the fridge, and it turned out delicious! I had to stop myself from eating more. Followed the directions and didn't change anything. Thank you!
I was looking for a recipe to use up buttermilk that I had in the fridge. Since it's spring, I decided to use Fiori di sicilia instead of vanilla and opted not to use the topping at all. Baked in two 8x8 pans, as I am giving one as an Easter gift to my neighbor. I opted to make a glaze with orange zest a little half & half and a bit of fiori di scilia. The cake turned out lovely and tastes very good. I'd make this again as it is a wonderful blank canvas for what you are in the mood to do to it if you don't follow the recipe verbatim. This recipe looks like a good candidate to use the gluten free all purpose baking mix with.
This cake is great!!! I twerked it a little by adding coffee, rhum & almond extracts, graham cracker crumbs, and a chocolate drizzle on top. It was AWESOME! I put 3/4 teaspoon coffee extract inside the cake batter and the other additives in the topping mixture! Loved it!!!
My family loves this cake. I just made it this morning. I was wondering how to store it? Should I keep it in the fridge or can I keep it on the counter?

Hi Christine. Because of the milk in the topping, if you're going to store it for longer than just overnight, we'd recommend storing it in the fridge. It will be easiest to slice if wrapped in plastic wrap or if stored in an airtight container. Annabelle@KAF
What a wonderful simple cake! I might add that I was taught to have all dairy ingredients to be room temperature, so I followed suit. This cake is not overly sweet, the topping brings the sweetness to it. That's what I love about it! I made it exactly as recipe called for, and I'll make it again!