A customized print-friendly version of this recipe is available by clicking the "Print Recipe" button on this page.
Farmhouse Buttermilk Cake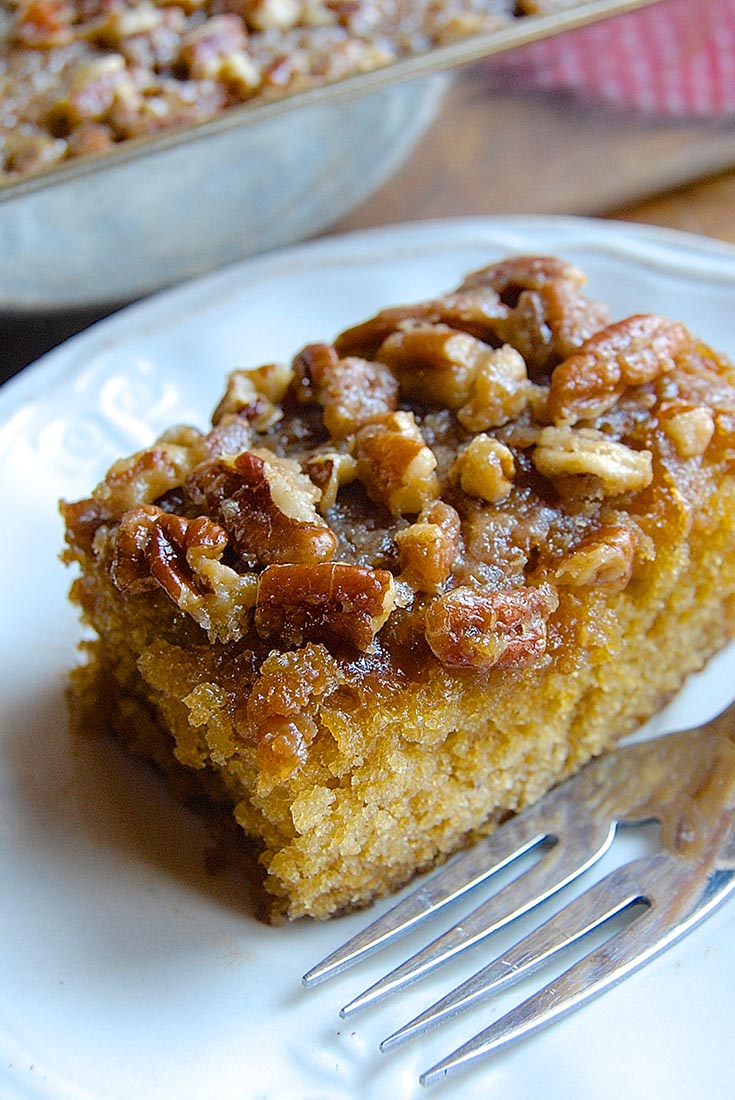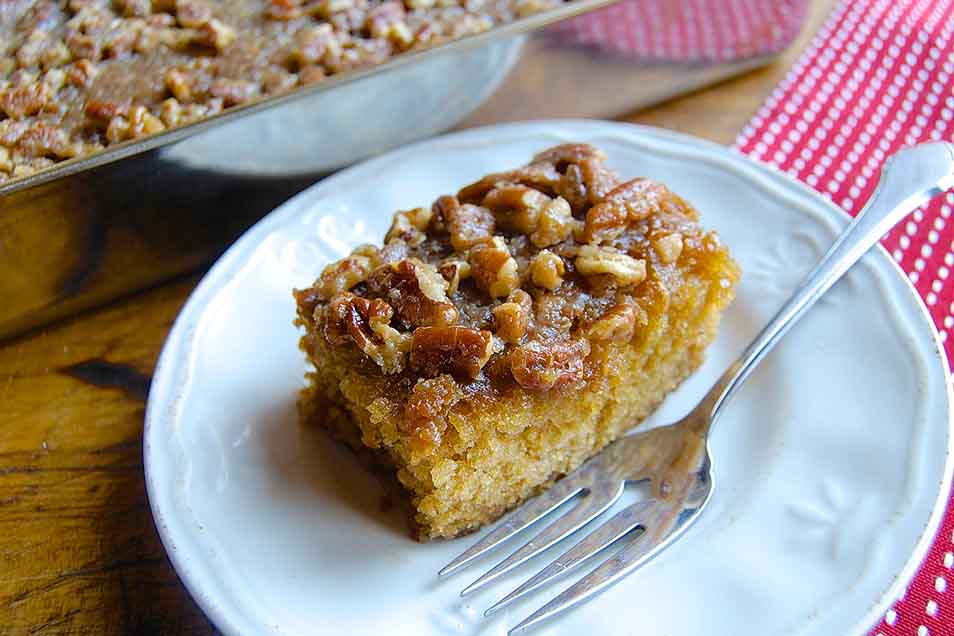 This old-fashioned brown sugar cake derives much of its delightful texture from buttermilk. The nutty pecans and sugar on top are a perfect complement to the moist cake underneath.
Ingredients
Cake
1/2 cup butter
2 cups light brown sugar
2 large eggs
2 cups buttermilk
2 teaspoons vanilla extract
2 teaspoons baking soda
3/4 teaspoon salt
Topping
6 tablespoons melted butter
1 cup light brown sugar
1/4 cup milk
1/8 teaspoon salt
2/3 to 1 cup diced pecans
Instructions
Preheat the oven to 350°F. Lightly grease a 9" x 13" cake pan.

Beat the butter and brown sugar together till smooth.

Add the eggs, beating till smooth.

Stir in the buttermilk and vanilla extract.

Add the baking soda, salt, and flour to the wet ingredients, beating till thoroughly combined.

Pour the batter into the prepared pan.

Bake the cake for 35 minutes. Towards the end of the baking time, prepare the topping.

Stir the butter and the sugar together. Add the milk, pecans, and salt. The glaze will be thick but pourable.

Top the baked cake with the topping, and return to the oven for another 10 minutes.

Remove the cake from the oven. The topping will look very runny. You can eat the cake hot, with the glaze still gooey; or let the cake sit at room temperature for a few hours, by which time the glaze will have set.

Yield: 24 servings.
Reviews
So, I baked this recipe merely for the fact that I had leftover buttermilk that I didn't want to go to waste. I am so glad that I did, too!! This cake is wonderful. To me, it's more of a breakfast cake or coffee cake, but really delicious anytime. I made the cake as instructed, with one modification. I didn't have an immediate need for the cake, so I froze it without the topping. I double wrapped it in plastic wrap in the baking dish and then popped it in the freezer, with instructions for making the topping. I defrosted it about 3 weeks later for a church event and made the topping at that time. It was wonderful. I'm planning on making it again, when I have too much buttermilk leftover. It is a very easy cake and delicious.
I made this cake and was a little scared because my butter and brown sugar didn't get Smooth when preparing it for the cake, to my surprise it worked out perfectly I didn't have any pecans so I toasted some coconut and replaced the pecans with coconut... Very very very happy it turned out amazing.. thank you for the recipe
Followed the recipe exactly as written, except that i added maple flavoring to the cake and the topping. Very moist cake, topping is just right. Bakes perfectly in the times given. I was a little concerned at 35 minutes that the cake was a little more "batter-y" than it should be, but i followed the instructions, added the topping, and 10 minutes later, the cake was done. I will definitely make this again.
THis is my second time baking this cake, and the entire family loves it! however im not much of a sugar lover, and was wondering if i could make the same cake with maple syrup/honey instead? thanks a lot!

We're so glad it's a hit recipe in your kitchen and that it's a recipe worthy of repeat-bakes. We haven't always had great success when switching to liquid sweeteners in cakes, but you're welcome to experiment!

If you use honey, you'll want to use 3/4 the amount of sugar, (1 1/2 cups honey) and decrease the liquid, buttermilk in this case, by three to four tablespoons for every cup of honey. That will bring the total amount of buttermilk to approximately 1 2/3 cups.

If you'd rather use maple syrup, you can do a 1:1 substitution and use 2 cups of syrup. You'll follow the same rule in decreasing the liquid, so 1 2/3 cups buttermilk will be perfect. We recommend allowing the maple syrup to come to room temperature before adding it so it doesn't clump up the butter in your batter.

We hope one of these options produces a cake that you and your family still love. Happy baking! Annabelle@KAF
I made a homemade blue cheese dressing and wanted to use up the leftover Buttermilk. I found this delicious Farmhouse Buttermilk cake recipie. My cake turned out delicious! I baked it exactly according to directions. It is moist and the pecan topping is delicious! I read all the reviews first. My cake did come to the top of my cake pan but did not overflow. I can see if your cake pan is not high enough that it could flow over. This cake is like a coffee cake recipie and I will definitely make it again!
The cake was amazing!! I was wondering if I could replace the sugar in the topping with maple syrup? Thank you!

We haven't tried it, Anna, but encourage you to experiment. Use a 1:1 substitution of one cup of maple syrup, and give it a go! Annabelle@KAF
I had been looking at this recipe for about two weeks, and I finally made it today for the first time for my husband's birthday. He LOVED it! Me, too! It turned out moist and delicious. My husband is a fan of walnuts so I made two modifications to the recipe: 1) I added about a cup of walnuts to the cake batter (yum!) 2) I used a cup of chopped walnuts in the topping instead of pecans (super yummy!). My husband told me that the walnuts on top reminded him of the candied walnuts we used to buy in Munich, Germany on New Year's Eve. I HIGHLY recommend this recipe. Thank you for sharing this wonderful recipe, "King Arthur Flour!"
This cake was simple, easy, and very tasty. Perfect with a scoop of vanilla on top. I don't know how peoples cakes overflowed. mine was just right. Will make it again!
Followed exact recipee. Took others advice for pan size and baking time and tooth pick testing. Looks picture perfect. But way too sweet, and cake is too soggy. Possibly will try again with less brown sugar and no topping, then maybe it would be a good flavored cake. I dont like to bother with a recipee that doesnt turn out perfect the first time.

Hi Mary, we're sorry to hear this recipe didn't please your taste buds. It's true that this cake has a unique texture that's quite different than a traditional cake or coffeecake. We like to think of this dish as having a pecan-pie-like-filling on top of a moist, quick-bread-like cake. It sounds like this just wasn't quite what you were looking for, which we apologize for. Perhaps our recipe for Cinnamon-Streusel Coffeecake (if you're looking for something breakfast-y), or our Golden Vanilla Cake (for something more suitable for dessert). We hope you find what you're looking for, Mary! Kye@KAF