A customized print-friendly version of this recipe is available by clicking the "Print Recipe" button on this page.
Farmhouse Buttermilk Cake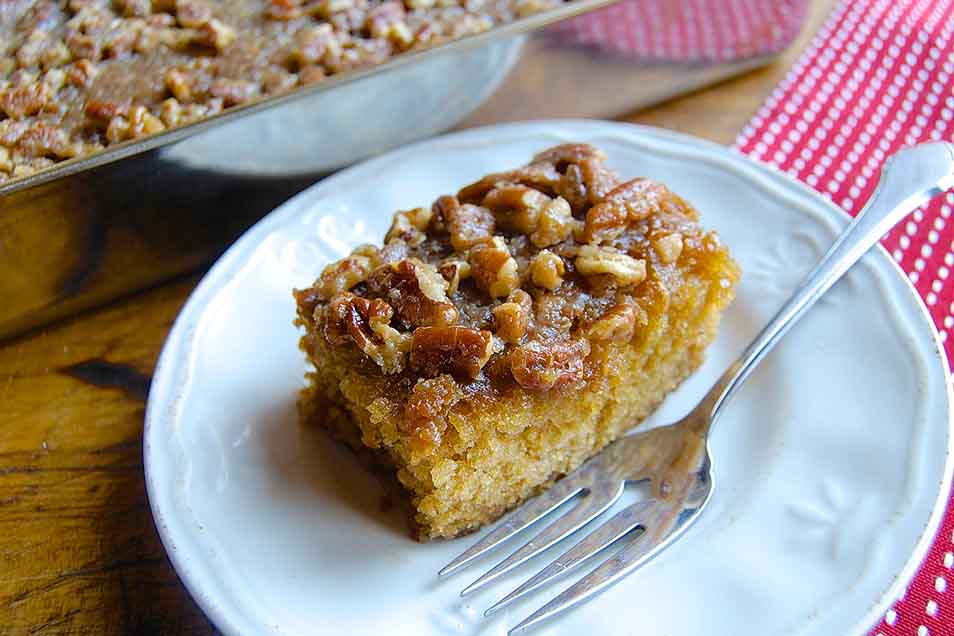 This old-fashioned brown sugar cake derives much of its delightful texture from buttermilk. The nutty pecans and sugar on top are a perfect complement to the moist cake underneath.
Ingredients
Cake
1/2 cup butter
2 cups light brown sugar
2 large eggs
2 cups buttermilk
2 teaspoons vanilla extract
2 teaspoons baking soda
1 teaspoon salt
Topping
6 tablespoons melted butter
1 cup light brown sugar
1/4 cup milk
1/8 teaspoon salt
2/3 to 1 cup diced pecans
Instructions
Preheat the oven to 350°F. Lightly grease a 9" x 13" cake pan.

Beat the butter and brown sugar together till smooth.

Add the eggs, beating till smooth.

Stir in the buttermilk and vanilla extract.

Add the baking soda, salt, and flour to the wet ingredients, beating till thoroughly combined.

Pour the batter into the prepared pan.

Bake the cake for 35 minutes. Towards the end of the baking time, prepare the topping.

Stir the butter and the sugar together. Add the milk, pecans, and salt. The glaze will be thick but pourable.

Top the baked cake with the topping, and return to the oven for another 10 minutes.

Remove the cake from the oven. The topping will look very runny. You can eat the cake hot, with the glaze still gooey; or let the cake sit at room temperature for a few hours, by which time the glaze will have set.
Reviews
Great recipe. I didn't have pecans so substituted almonds - pecans would have been better but this was good! My husband even liked it and told others to try some! Will make this one again!
This cake was o good!! I did one modification- because there was so much sugar in the cake when it came to the topping instead of 1 cup of brown sugar I did 1/2 c brown sugar and 1/2 c flour and then the rest of the ingredients and it came out great.
Super moist and tasty; added 2 teaspoons vanilla extract, a capful of vegetable oil and 1 cup coconut sugar. Expect curdling but smooth out when dry ingredients added. Very good cake
I made it with King Arthur Gluten Free Measure to Measure Flour, and it turned out amazing! An old fashioned cake, and I made it in 2 round pans so I could give one to a friend.
Kids and I had a craving for dessert, and I had some buttermilk to use, so we decided to give this recipe a try. I followed the directions exactly, or so I thought. Unfortunately, my cake turned out more like a lava cake, all gooey in the center, and I even baked it an additional 10 minutes beyond the time listed in the recipe. It's DELICIOUS though, so I will definitely try again and double check myself during the mixing process! Also, agree with another reviewer who asked for clearer instructions, such as what the cake should look like when you add the topping at the 35 minute mark. Overall we loved it (I personally like the gooey pieces!) and will definitely bake again!
Yum! I made this Christmas morning with sour milk instead of buttermilk. Came out wonderfully!
This recipe is amazingly moist and dense. It was an instant success at home. I changed a few things that made it taste awesome. I added a ripened banana that was lingering, and about 1/2 cup extra flour to absorb the banana's moisture. For the pecan topping, I reduced it by half, and also made a cinnamon streusel topping seeing as my kids do not like nuts.
I love this recipe very much and so did my husband and friends. I have even recommend the recipe for family members. However, I have a problem with it. It is already the second time I make it and the cake keeps forming a dome that makes it difficult to keep the glaze on the top of it. So, the edges end up having more of the glaze. What can I do for it to rise evenly? Am I the only one having this issue?

Hi Cake lover, if you're looking to make a flatter cake, you might consider using cake strips. They're an insulated material that wraps around the outside edges of your pan and prevents the edges from becoming overbaked and setting too early. You can find these in the shop section of our website and at many specialty retailers. Other tips: Bake your cake in a light-colored metal pan if you aren't already, and consider letting the batter rest for about 10 to 15 minutes in the pan before baking. Good luck! Kye@KAF
Fabulous! Everyone loved it. Followed the recipe exactly. Will definitely be making this again!
Made this a day ago. Happy to say it's nearly all gone. Took some to work and it was a HUGE hit! Sweet with out being overly so. Nice and moist and not dense at all. Will make again.