A customized print-friendly version of this recipe is available by clicking the "Print Recipe" button on this page.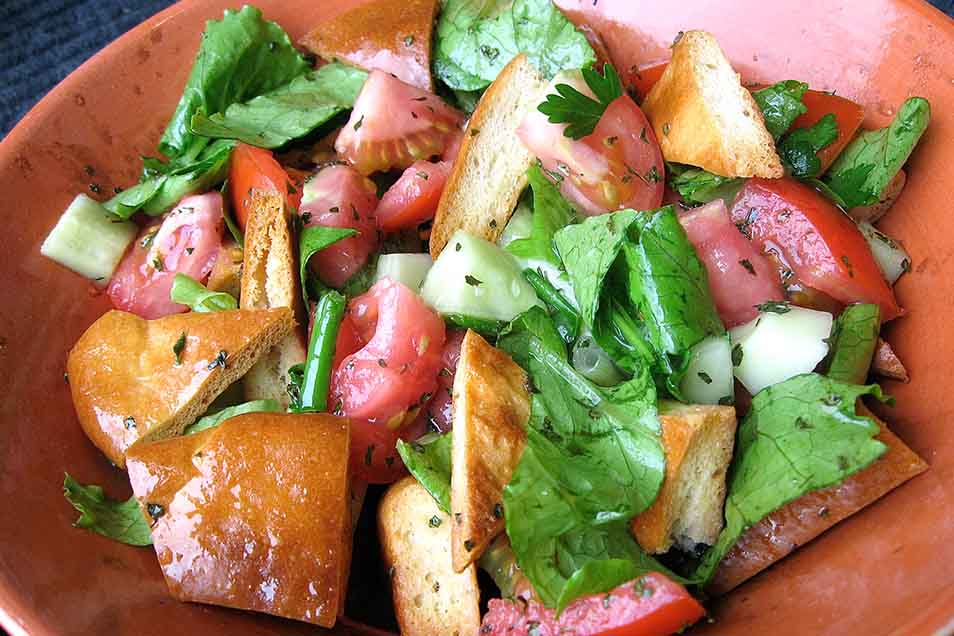 Italy's panzanella, that inspired marriage of vegetables, chopped basil, olive oil and chunks of day-old Italian bread, has a cousin in the Mideast: Fattoush. This pita bread salad is right up there with tabbouleh in popularity as far as everyday family-type salads go; it'll turn up at lunch, alongside a pita-bread sandwich, or as a first course later in the day. You might say fattoush is the Lebanese equivalent of America's iceberg-lettuce-and-tomato.
This salad goes through several transformations on its journey from full bowl to gone. At first the pita chips are very crunchy, almost jarringly so; but after 10 minutes they begin to soften and absorb the other flavors in the salad: the tomato juice, olive oil, lemon juice, and assorted vegetable juices.
The salad is at its peak up to about 40 minutes after preparation; at that point the bread begins to become soggy. However, the only way you'll discover this is if there's any left after 40 minutes; and if our tests here at King Arthur are any indication, the bowl will be empty long before that!
Ingredients
3 small-to-medium pita breads
3 tomatoes, 1 1/4 to 1 1/2 pounds total, cut in wedges
1/4 head romaine lettuce, chopped
1 medium cucumber, peeled, seeded and cubed
6 scallions including about half of the green part, chopped
1/2 cup fresh parsley, snipped
1/3 cup olive oil
1/4 cup lemon juice
1 1/2 to 2 tablespoons dried mint, or 4 to 6 tablespoons fresh mint, snipped
salt and pepper to taste
Instructions
Cut the pita bread into 1 1/2" wedges.

Place the pita on a baking sheet, and bake in a preheated 375°F oven for 12 minutes or so, turning once, until it's dry and crisp. Set it aside to cool.

About 10 minutes before you're ready to serve the salad, toss together the vegetables, herbs, olive oil, lemon juice, and seasonings.

Add the bread to the dressed vegetables. Toss to combine (your well-washed bare hands are the best tools here), and serve within 15 minutes or so.
Tips from our bakers
If you're going to be serving the salad as soon as you put it together, there's no need to toast the pita wedges. Simply toss the bread and salad together JUST before serving; bread should remain fairly chewy/not soggy for up to 30 minutes.
Reviews
Hey PJ, to answer Joe's comment, you left out the garlic and sumac and you didn't use enough mint, is all. Add a clove of mashed garlic and a teaspoon of sumac (the Middle Eastern spice, not the tree), and increase the mint up to 1/4 cup dried or 1 cup fresh. You can also reduce the scallions to 3 but use them completely, green tops and white bulbs; add in one finely chopped small yellow or white onion as well. My recipe calls for more dressing in a one-to-one proportion, 1/2 cup olive oil, 1/2 cup lemon juice; also one small minced hot pepper--but it says the pepper is optional. The most important thing to remember when cooking Lebanese food, especially the salads, is that you cook to taste--so if that much mint or the sumac is too much for you, leave them out. If the dressing is too much, cut it back. If all you have is six green onions, use them and don't worry about the yellow onion--and vice versa. My Grandma and my Dad both always cooked to the family's taste. Lebanese home cooking is all about showing your love.
In response to Joe's comment, I too am lebanese and I make this salad at home at least once a week. The recipe is not wrong, it is just missing a couple of important ingredients: Garlic, radish, and I also add fresh chopped thyme. I crush 2 to 3 cloves of garlic, and add that to the lemon and olive oil. Sliced radishes are a common addition to the salad. As for the bread, we usually fry it in vegetable oil, and add it to the salad just as we are ready to serve it. The bread should be crunchy, not soggy, and frying the pita helps it stay crunchy a little longer.
Nice salad...certainly Americanized. Fatoush features sumac, doesn't it?
What kind of fattoush is this? I'm Lebanese and I should know something about fattoush. That recipe is completely wrong.

Joe, my thought is that there are probably many variations on this theme. Who's to say what's "right" or "wrong"? That said, our version may be totally Americanized. Why not send us your version, so we can understand what "the real thing" looks like? Thanks - PJH