A customized print-friendly version of this recipe is available by clicking the "Print Recipe" button on this page.
Favorite Fudge Birthday Cupcakes with 7-Minute Icing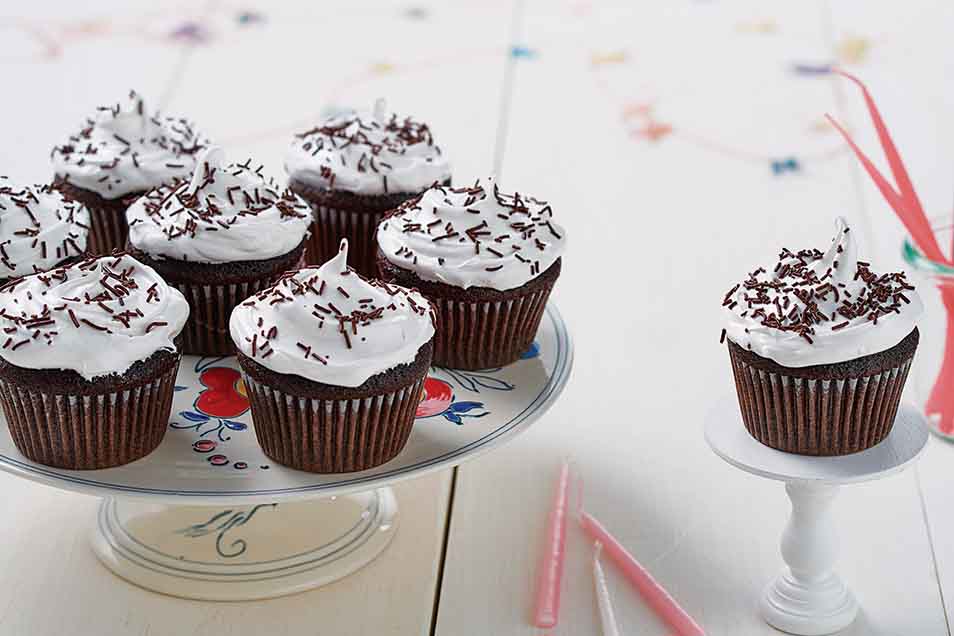 These moist, deep-dark chocolate cupcakes are topped with a thick swirl of classic 7-minute frosting, made in a non-traditional way: no 7 minutes of beating in a double boiler on the stovetop required.

Note: The USFDA advises against consumption of raw eggs in any form. If you're worried about possible egg contamination and health issues, please be sure to use pasteurized egg whites in the frosting for these cupcakes.

Read our blog about these cupcakes, with additional photos, at Flourish.
Ingredients
Cake
Batter for Favorite Fudge Birthday Cake*
*Want to use your ingredients more efficiently? Reduce the vegetable oil from 3/4 cup to 2/3 cup; and add 2 egg yolks to the batter along with the 4 whole eggs, reserving the 2 whites for the frosting.
Frosting
2 large egg whites
1 cup sugar
1/4 teaspoon cream of tartar
1/3 cup water
1/8 teaspoon salt
1 teaspoon vanilla extract
Instructions
Preheat the oven to 350°F. Line two cupcake or muffin pans with papers, and spray the papers with non-stick vegetable oil spray, if desired.

Prepare the cake batter from our Favorite Fudge Birthday Cake recipe.

Divide the batter evenly among the cupcake cups; you'll pour a scant 1/4 cup batter (about 58g) into each cup. A muffin scoop works well here.

Bake the cupcakes for about 25 minutes, until a cake tester or toothpick inserted into the center of one of the cakes in the middle of the pan comes out clean.

Remove the cupcakes from the oven. In about 5 minutes, or as soon as you can handle them, remove them from the pan, and place them on a rack to cool.

When the cupcakes are cool, make the frosting. Place the 2 egg whites in a large mixing bowl or the bowl of your stand mixer. Beat until the egg whites are foamy and thick; they should mound in the bowl, without holding a peak. Set them aside while you prepare the sugar syrup.

Combine the sugar, cream of tartar, water, and salt in a saucepan. Bring to a boil, stirring frequently; the sugar should be dissolved. If the sugar hasn't dissolved, cook and stir a bit more, until it has. Once the sugar has dissolved, boil the syrup, undisturbed, for 2 minutes, or until the syrup registers 240°F on a candy thermometer or instant-read thermometer.

Begin to beat the egg whites, and immediately pour the boiling sugar syrup into the egg whites in a slow stream, beating all the while. As you beat, the mixture will thicken.

Once all the syrup is added, stir in the vanilla, and continue to beat until the frosting is thick and will hold a peak.

Spoon the hot frosting atop the cooled cupcakes, swirling it decoratively.

Decorate while warm with sprinkles, mini chocolate chips, sparkling sugar, or the decorations of your choice, if desired.

Yield: 2 dozen iced cupcakes.
Reviews
This frosting was so easy to make and delicious! This is the recipe I have been looking for, fluffy and light and not too sweet.
I only made the frosting to go with my chocolate cupcakes. I've been searching for a good 7 minutes icing that's not as labor intensive - so delicious! This will be my go-to from now on!
Beautiful and delicious! Looks just like the picture! Crowd pleaser for sure! Thank you for the awesome recipe! Hubby and son approved!
I love the icing!!! I was wondering if you are able to freeze the icing to use at a later date?

Joeleen, we're so glad you enjoy it! Meringue doesn't tend to freeze and thaw well, so we'd recommend making the time to make it fresh as needed. Happy baking! Mollie@KAF
Thanks so much for this frosting recipe, it worked out great for my brothers birthday cake. I got some help from Laurie in the live chat with the thermometer part ,since I didn't have one. Thanks much fabulous people at KAF.
I only made the frosting portion of this recipe - as I was looking for something to compliment some homemade chocolate cupcakes - and it was amazing. I realized too late that I was out of granulated sugar - and powdered sugar worked exactly the same. Be sure to boil the sugar syrup to exactly 240 degrees if you have issues with the frosting holding its shape. This frosting is perfect. Will definitely be making this over and over again!
This was pretty easy to do (though my husband helped) and it tasted fabulous and looked very impressive. I would definitely make this again. When people asked what it was I said marshmallow icing because it was so similar to a marshmallow.
Not very chocolatey flavor. Was disappointed in the taste. They were very pretty, puffy and round like a real cupcake should be though!
Delicious and easy! This recipe has a great consistency, piped beautifully onto cupcakes. Frosting also held up great, frosted the cupcakes in the morning for a late afternoon party, frosting did not get stiff or sticky, was perfect. This is a keeper!
I'm not a cake baker, and chose these because they looked easy. They really were! I did call the Baker's Hotline ahead of time with some questions, and John was very helpful. Based on his advice I did not bother spraying the pans or cups, and make the frosting immediately before I frosted. I made mini cakes and ended up with 72 and some batter in the trash because I ran out of cups and patience. 12 minutes in my oven had them perfectly done. The frosting was also easy to make and apply. I frosted about 2.5 hours before the cupcakes were served and they still looked great.