A customized print-friendly version of this recipe is available by clicking the "Print Recipe" button on this page.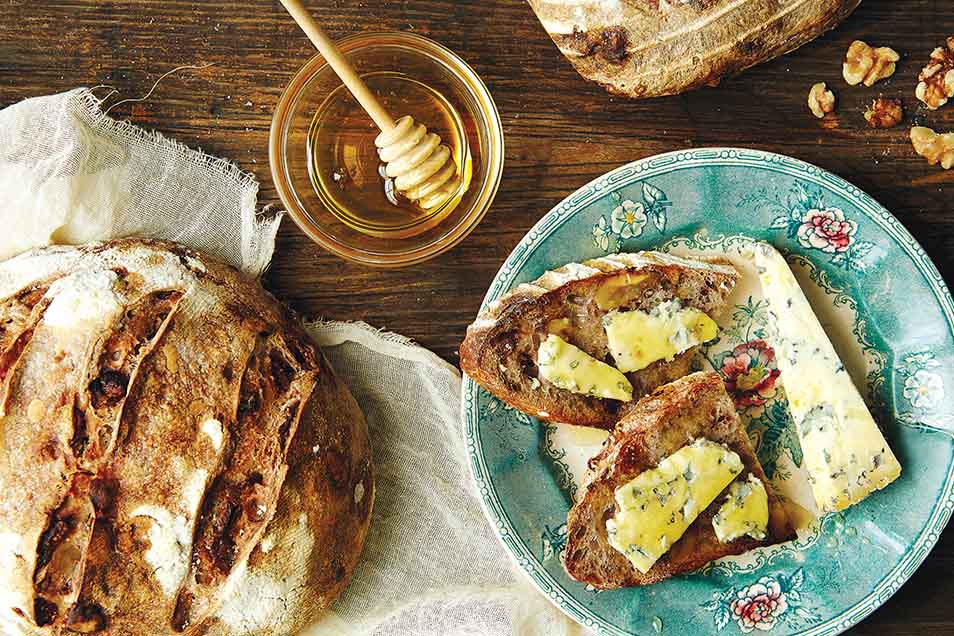 This robust, crusty sourdough is studded with rich figs and crunchy walnuts. It's a terrific partner for any artisanal cheese. If you don't have figs, dried cranberries are a tasty and colorful substitute.
Ingredients
1 1/4 cups ripe (fed) sourdough starter
1 cup water
1 1/2 teaspoons salt
1/4 teaspoon instant yeast (optional)
1/2 cup diced dried figs or cranberries
3/4 cup walnuts, roughly chopped
Instructions
Combine the starter, water, and flour in the bowl of your mixer just until smooth. Cover the bowl and let the mixture sit (autolyse) for 1 hour.

After an hour, add the salt and yeast (if using), and knead the dough with your mixer's dough hook on medium speed for 5 to 7 minutes. Just before the kneading is done, mix in the figs or cranberries.

Stop the mixer and add the walnuts, using a dough scraper to fold them gently into the dough. Cover the bowl again and let the dough rise at room temperature for 40 to 60 minutes.

Turn the dough out onto a lightly greased surface (it will be fairly wet and possibly a bit sticky).

Scoop up the edge of the dough with your dough scraper and bring it to the center, pressing down. Give the circle of dough a quarter turn counterclockwise, and repeat three or four more times. You're stretching the dough a bit and rounding it at the same time. For two smaller loaves, divide the dough in half and round each.

Flour the banetton(s) you want to use, or a tea towel placed inside a bowl with a shape you find pleasing. Place the rounded dough into the banetton or bowl, bottom side up, cover with plastic wrap, and refrigerate overnight.

The next morning, preheat the oven to 450°F with a baking stone in the lower third. Put 1" of water into a small skillet that can go into the oven. Take your breads out of the refrigerator. They may not have risen a lot; that's OK.

Bring the water in the skillet to a simmer and place it in the bottom of the oven. Place a piece of parchment on a baker's peel or the back of a baking sheet.

Turn the loaves out of their banettons onto the parchment. Slash the top(s) of the loaves, and slide the bread(s), paper and all, onto the stone in the oven. Spray the inside of the oven generously with water from a spray bottle and set a timer for 5 minutes. Spray once more when the timer goes off, and bake for another 35 minutes, until the center of the loaf reads 200°F when measured with a digital thermometer. Remove from the oven and cool on a rack before slicing.
Nutrition Information
Serving Size

1 slice, 50g

Servings Per Batch

20
Amount Per Serving:
Calories

125

Calories from Fat

27

Total Fat

3g

Saturated Fat

0g

Trans Fat

0g

Cholesterol

0mg
Sodium

176mg

Total Carbohydrate

21g

Dietary Fiber

1g

Sugars

3g

Protein

4g
* The nutrition information provided for this recipe is determined by the ESHA Genesis R&D software program. Substituting any ingredients may change the posted nutrition information.
Tips from our bakers
What is "ripe" sourdough starter? It's a starter that's been fed and allowed to work at room temperature until at its peak level of activity. It should be full of bubbles; if you watch it for 10 to 15 seconds, you should see bubbles coming to the surface and popping, as if a slow-motion boil is happening.
What's the 1/4 teaspoon of yeast doing in the ingredients? In this case it shortens the rise times a little bit. You can make a great loaf without it, which is why it's optional in the ingredients list; you'll want to keep an eye on the character of your dough and possibly adjust your expectations for rising times.
Reviews
I love this bread. I make it with dates and it is unbelievable.
Just backed this as my first sourdough recipe ever and it's amazing. Exactly like an Artisan bread. So pleased at the results definitely going to be making another very soon as I have a tree laden with figs. As mention delicious with honey and blue cheese.
This bread was amazing! It turned out perfectly, with a lovely crust and a nice, slightly moist interior. I completely agree. It is absolutely divine with goat cheese and honey! Enjoy!
I added extra figs, walnuts and dried cranberries. I baked the bread in an preheated Dutch oven for 20 min with the lid on, and then 12 min total without lid. Came out picture perfect and very tasty. Great crust. Very good with goat cheese and honey.
It is a fantastic recipe I add1/2 cup more walnut
I used my stiff starter using a lesser amount of starter to it's liquid equiviant. My autolyse went 90 minutes; since I slept through my alarm, I added the yeast and salt and mixed in my kitchen aid. I incorperated toasted the walnuts and breifly soaked the figs by hand. After about 45 minutes I shape it into a blunt batard and placed in a banneton and cooler proofed it for about two hours as it was fully proofed. I tossed it into the polin deck next to some baguettes. It had great crust and the crumb looked amazing but the flavor of the crumb was a bit flat. I will make it again butt commit the yeast as it proofed too quickly. On I side note I used the gram measurements and noticed the water us listed as one cup I used 227grams which I hope was correct.

You were definitely close enough, Dave. Our weight chart reads that one cup of water weighs 222 grams. Thanks for giving this recipe a go! Annabelle@KAF
is this a real sourdough? doesn't seem like it.

Norm, the definition of "real sourdough," varies drastically among bakers. If you consider bread that is naturally leavened (meaning no commercial yeast is added) to be real sourdough, then you're welcome to omit the optional 1/4 teaspoon of commercial yeast. It's important to have a healthy, vigorous starter that's at the peak of ripeness if you opt for this method. Check out the Baker's Tips section for more details about both ripe sourdough and omitting the commercial yeast. Happy baking! Kye@KAF
My husband said this is better than any "artisan" bread we ever bought, it looked like it came from a high end bakery. We served it as recommended, with really good Stilton and honey....unbelievable. I cut it in half, it makes a GOOD sized loaf, and wrapped it in heavy duty foil, and Ziplock. Thawed it 2 months later, sliced and toasted for breakfast....WONDERFUL, do recommend toasting on second pass. It was WELL WORTH the time it took to prep for this bread.
Wow! This is a keeper. I added 100 g of dried cherries in addition to the dried figs and walnuts. It is delicious plain or toasted, with butter or cheese. I'm going to start another loaf tomorrow to bake for the weekend.
On my second try, the bread worked out well. It all depended on the starter and reading the whole recipe to find out what "ripe starter" meant. Would like to try other add ins.