A customized print-friendly version of this recipe is available by clicking the "Print Recipe" button on this page.
Fiori di Sicilia Springerle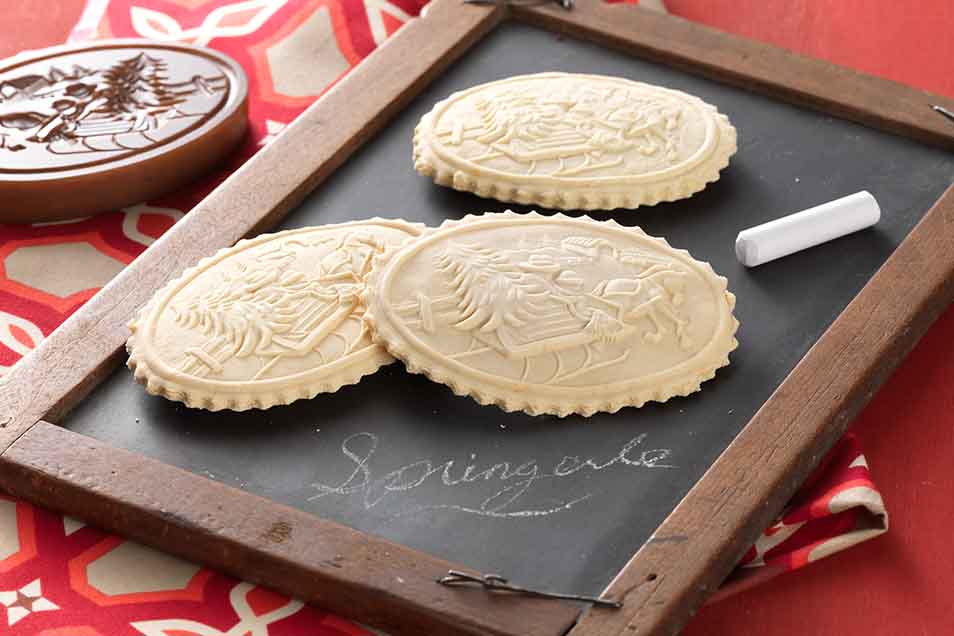 These elegant holiday cookies are a yearly tradition for the King Arthur Flour test kitchen team. This year, to feature our stunning springerle molds and pins, we've dreamt up a creamy citrus variation. The cookies, thanks to cake flour, have a slightly crispy exterior, and a dense, moist, cake-like interior. Note, though, that they're still springerle — a continental cookie typically much harder-textured than American-style cookies.
Ingredients
3 large eggs
3 cups confectioners' sugar
1/2 teaspoon salt
1/4 teaspoon Fiori di Sicilia flavor or 1 teaspoon vanilla extract
1 tablespoon grated lemon or orange rind (zest), or a combination of both
Instructions
Lightly grease two baking sheets, or line them with parchment.

Beat together the eggs, sugar, salt, Fiori, and zest for 5 to 6 minutes, until the mixture is very light and falls in thick ribbons from the beater.

Gradually mix in the flour to form a stiff dough. Wrap the dough in plastic and allow it to rest at room temperature for 30 minutes.

Lightly dust your work surface and springerle mold with flour. Tap the mold to remove excess flour.

Divide the dough in half, re-wrap one piece in plastic, and roll the other piece ¼" thick.

Press the mold firmly into the dough, then remove. Cut around the design with a knife, and transfer the cookie to a baking sheet. Repeat until you've used all the dough.

Repeat with the remaining piece of dough.

Allow the unbaked cookies to dry at room temperature, uncovered, for 24 hours, turning them over once during that time.

Preheat the oven to 250°F.

Bake the cookies for 35 to 40 minutes, until they're firm but not brown. Remove them from the oven, and transfer them to a rack to cool completely.

Yield: 2 1/2 to 3 dozen cookies.
Tips from our bakers
To shape cookies using a springerle rolling pin: Dust your work surface lightly with flour. Divide the dough in half. Working with one piece at a time (leaving the other piece covered), use a regular rolling pin to roll the dough into a 1/4"-thick rectangle, roughly the same size as your springerle pin. Use a pastry brush to brush a very light coating of flour onto the dough. Flour your springerle pin, then give it a couple of sharp raps to knock off excess. Slowly roll the springerle pin over the dough, pressing down hard enough to leave a good impression. Cut the cookies apart with a pizza wheel or sharp knife.
Store the cookies in an airtight container. To keep them from becoming rock-hard, we suggest placing a piece of soft bread, a slice of apple, or a cookie softener in the container with them.
For more traditionally-flavored springerle, substitute 1/4 to 1/2 teaspoon of anise oil for the fiori di Sicilia flavor or vanilla extract and omit the grated rind (zest). To impart more flavor to the cookies, you can sprinkle anise seeds onto the prepared sheet pans before transferring the cookies. This will also allow air to circulate around the bottom of the cookies, ensuring they dry thoroughly.