A customized print-friendly version of this recipe is available by clicking the "Print Recipe" button on this page.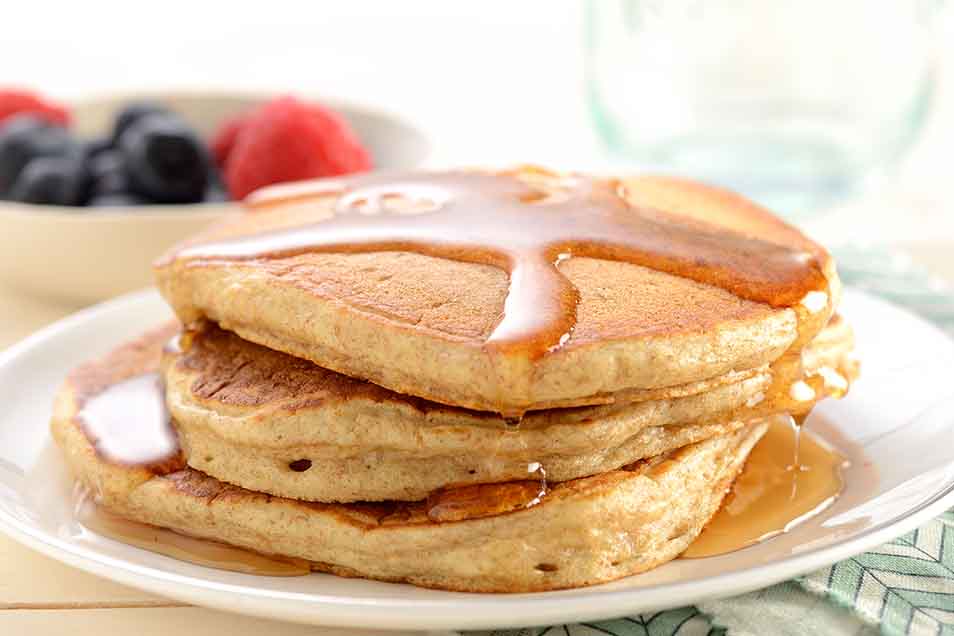 These hearty, delicious pancakes feature the goodness of flax. Whole flax meal is finely ground to make the nutrients in the flax accessible; and stabilized to keep the nutty flavor fresh.
Ingredients
1/3 cup dried buttermilk powder*
2 tablespoons brown sugar or honey
1/3 cup whole flax meal
1 1/2 teaspoons baking powder
1 teaspoon baking soda
1/2 teaspoon salt
2 large eggs
2 tablespoons vegetable oil or melted butter
1 1/2 cups water*
*Or substitute 1 3/4 cups (14 ounces) of buttermilk in place of the buttermilk powder and water
Instructions
Mix the dry ingredients in a large bowl.

Whisk together the eggs, oil or melted butter, and water.

Add the liquid ingredients to the dry ingredients, and whisk until blended. Let the batter sit for 10 minutes ? it will thicken slightly. Add extra water or flour to adjust the consistency for thinner or thicker pancakes.

Preheat a griddle to medium high (350°F), and grease it well.

Scoop the batter by the 1/4-cupful onto the griddle.

Cook until bubbles on the top begin to pop, then turn and brown the other side.

Serve hot with maple syrup, or fresh fruit and yogurt.

Yield: 1 dozen 4? pancakes
Reviews
Great, simple recipe when I looked for a way to use my new powdered buttermilk. It will be my go-to pancake recipe from here on out. I added a splash of vanilla and will mix it up with other flavorings in the future. Oh, I followed someone else's suggestion and used liquefied coconut oil instead of butter. This recipe seems very adaptable, which I love.
everytime i try a new KAF pancake recipe, it becomes my favorite. this one is no different. delicious! easy! fluffy!
These pancakes were delicious. I followed the recipe exactly, then added a little cinnamon and vanilla. They were light, fluffy and my family devoured them.
Yum, Yum, Yum! This is the pancake recipe I was looking for! I substituted the all purpose flour for White Whole Wheat flour and used brown sugar as the sweetener. I used liquid buttermilk and melted coconut oil. Absolutely delicious! They freeze very well between parchment paper and just have to be warmed up in the microwave. No more searching for the perfect healthy pancake. Thanks KAF!
Easy and delicious! I only used egg whites and added vanilla extract. This was my second time making these the same way in a week. Portioned them out with an ice cream scoop for uniform cakes and made venison sausage patties to make pancake sausage sandwiches. Froze my leftovers. Delicious!!!
Made these this morning - absolutely delicious! Added a bit of cinnamon and vanilla, otherwise followed the recipe exactly. Topped them with sliced bananas and toasted walnuts. Best breakfast ever!
This is one wonderful, sturdy recipe! And I am going to call them my I Love Lucy pancakes. I wanted a new recipe for pancakes as my pantry is nearly empty, so searched KAF and found these. I had the BakOmega flax, and used it as a base to make a wheat free (and these were Gluten Free as well) version. I used the recipe as written, using the brown sugar option, but added 1 teaspoon vanilla, and 1/4 teaspoon Fiori di Sicili (to balance off the ancient grain slightly grassy taste and smell). For the flours, I put 3 Tablespoons of the Hi-fiber Maize Cornstarch and topped the 3/4 cup with GF AP flour, then put 3 Tablespoons Oat flour in the next 3/4 cup, filling it with Ancient Grains whole grain flour. I used 1 tsp. Xanthan gum with the flours. The batter was thick, and using your batter whisk I added water, 2 Tablespoons at a time. This is when the whole thing turned hilarious. That batter was like a yeast batter, and moved around the bowl like it was an oiled bowl and it was trying to get away from me! Trying to mix in the fluid with such a spongy, stretchy dough, not wanting to mix up, sticking to the spoon and scoop to put in the pan, jumping and turning in the bowl was funny, or maybe it was just the late hour!) I tried to cook a pancake when I finally managed to mix in about 1/2 cup water. It was perfect, but a bit too thick yet. To shorten the tale, I can tell you it took about 1 to 1 1/2 cups of water, and milk together (I switched to nonfat milk for added nutrition). The batter seemed just fine, only thicker, and with great elasticity. I made the pancakes, and they were just like the picture, and were light, great soft texture, and perfectly delicious. I ended up with 20 pancakes.I froze the leftovers, and then I made brunch today with some 'melted' blueberries and whipped cream. Heaven on a plate. Now I know what to expect, I am encouraged to continue to convert some floured recipes to non-wheat. I wondered...this is the first time I tried the maize hi fiber...was it the maize that created such a demand for additional liquid or the Xanthan gum or both? The Xanthan gum is added to each converted recipe in all instructions, I have found, proportioned out according to the product made. Pancakes were to be 3/4 tsp. per cup of flour, I used less. As I watched the batter and could see it wasn't 'crashing', I continued to carefully work it until it made exactly what I wanted. I realize a cake or cookie may not be as forgiving. But so far, so good! I will keep trying. I prefer converting over just using hi carb GF alternatives for most things since it is only wheat of which I am intolerant/allergic. These certainly did the trick!
Love these, I don't even want to try another pancake (unless healthier and great tasting). It is important to make sure you let the batter rest for 10 minutes, as the directions say. These are not going to be like light as a feather pancakes, you need to expect that with something that has half whole wheat flour. I have healthy taste buds so they taste amazing to me, I can eat them plain on the go. My husband who has pickier taste buds did enjoy them as long as there is a good pat of butter and maple syrup on them. Preparation is fast and quick, I had everything in the house to make them. I freeze the uneaten ones and they are just fine warmed up.
I followed the recipe exactly using buttermilk. The pancakes were cooked in a cast iron skillet over medium heat. My kids loved them.
They turned out very moist, tender and delicious. I'll make them again for sure. I didn't have flaxseed flour so I used ground flaxseed meal instead. Also I used 1 3/4 cups of butter milk instead of powdered butter milk and water. My husband and kids loved them. I put some thawed frozen blueberries on each pancake after pouring in the pan. The recipe doesn't call for vanilla extract but I used 1 tsp. I think it made them even more delicious.